Everything you need to know about the trailblazer cocktail for boozy coffee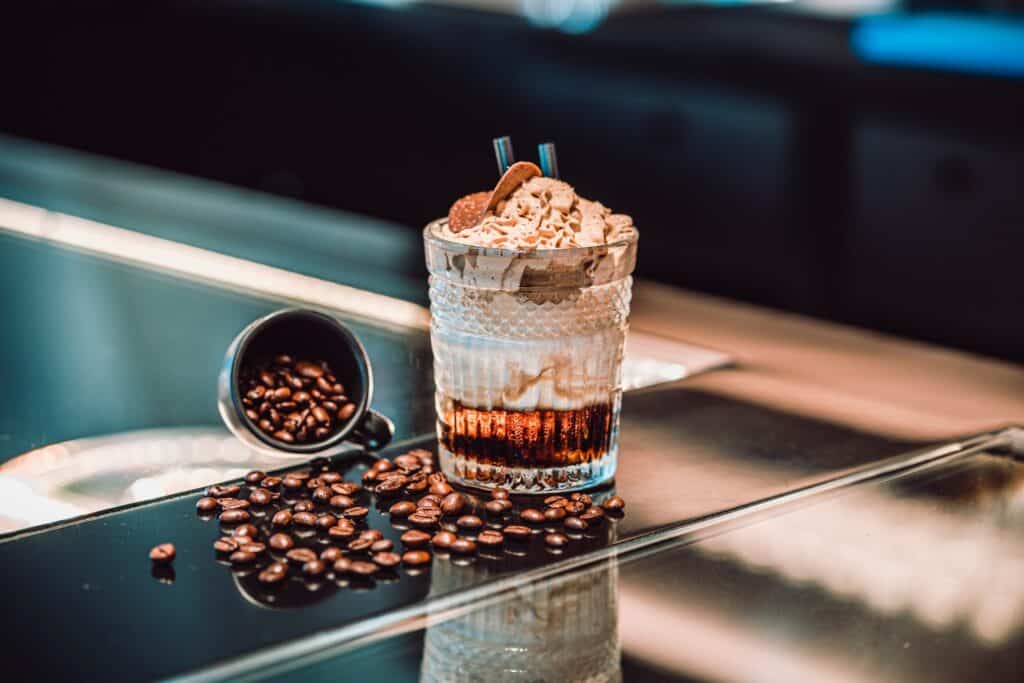 White Russian cocktail is when vodka, coffee liqueur, and heavy cream strike the perfect balance between the boozy and sugary.
The no-frills cocktail pretty much embodies the adult version of a milkshake – it's caffeinated, elevated with a dose of vodka and topped off with cream.
It sounds like the go-to boozy concoction when your mission for the day is to stay awake and boozy while looking fancy. High-class look? Check. Sophisticated name? Got that too. But is this alcoholic mixture as Russian as it presents itself? Let's find out.
History
If the White Russian cocktail makes you imagine the scenario where an unflinching Tsar wipes cream off his mustache, we'd say it is pure fantasy. That's because *spoiler* the White Russian cocktail has little to no connection with Russia at all.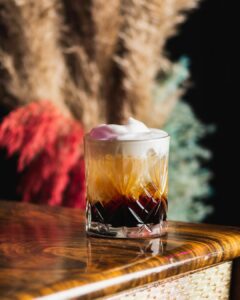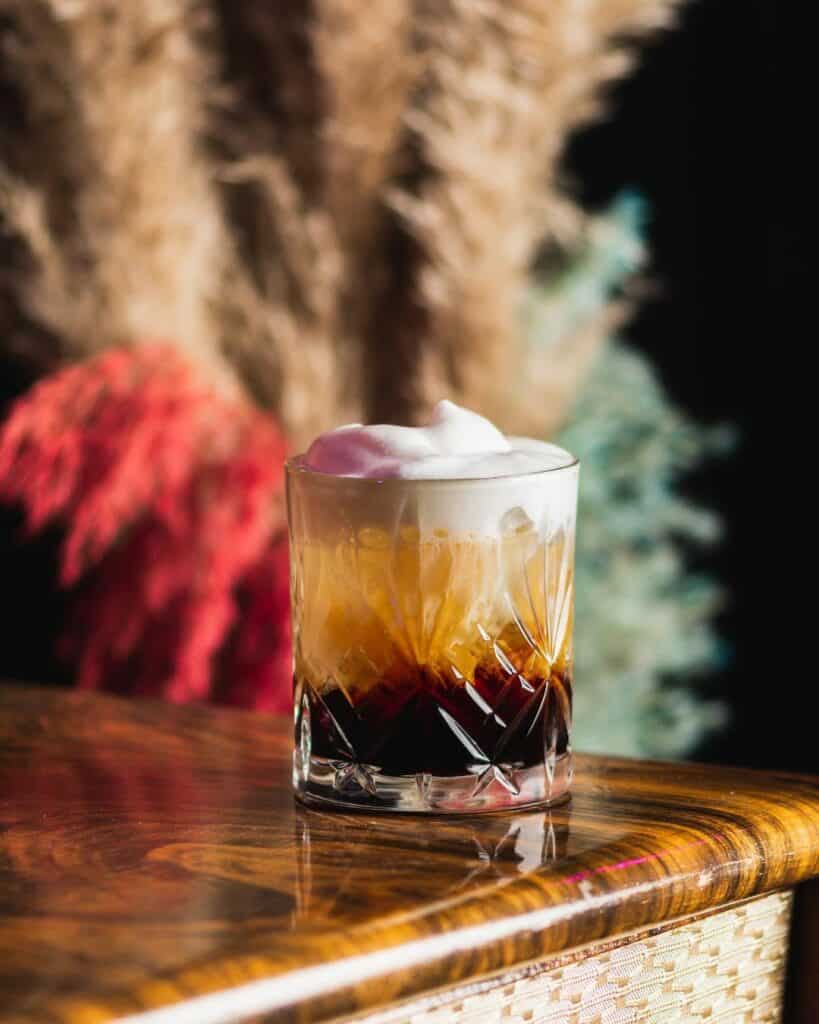 The legend goes like this – the cocktail was born in 1949 when a Belgian barman named Gustave Tops was working at Hotel Metropole in Brussels.
One day, he felt courageous and creative enough to add cream to the classic Black Russian. If you don't know what a Black Russian is, imagine a White Russian minus the cream and you will get the idea.
Still wondering about the Russian connection? Vodka, of course – and we're afraid the connection ends there.

It was not until 1965 that the cocktail gained international recognition.
Back then, California's Oakland Tribune published its official White Russian cocktail recipe featuring vodka, cream, and Southern – with Southern referring to the then-popular coffee liqueur brand.
Hall of Fame
But what catapulted White Russian into the stratosphere of worldwide fame was 1998 The Big Lebowski film. Actor Jeff Bridges's character "The Dude" is seen throughout the film being hooked to the White Russian, which he dubs the "caucasian".
We can thank him for putting the cocktail on the mixology map – and also converting it to the cult-classic status.
What's in it
White Russian packs a punch with just four ingredients. With them being available in every supermarket and corner shop, you're most probably less than a kilometer away from a White Russian no matter where you are.
Here's what goes into the drink:
The alcohol content in the drink is generally considered to be around 25%. So be prepared for a strong after-effect unless you want to look like someone swaying after a double iced cafe latte.
How it's served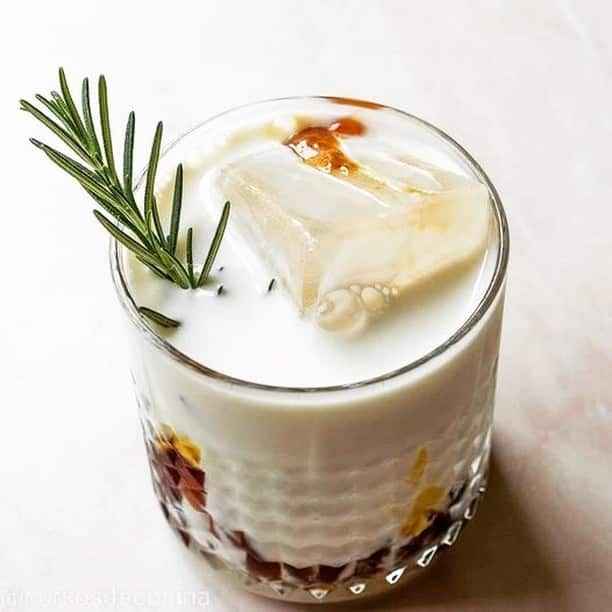 The White Russian cocktail is served in an old-fashioned glass of 180-300 ml. This no-frills drink is put together in a clean, straightforward manner without any other ingredients.
After it is poured over ice, it is topped with thick cream.
If you are feeling a bit rebellious, you can sprinkle some nutmeg or cinnamon for the oomph feeling.
Variants
The rich White Russian is a staple – maybe that's why it doesn't feature as many reinterpretations as one would expect. But of course, it's your drink and you can play around with it as much as you want to. Here are some twists and reiteration of the boozy concoction.
Black Russian is not derived from White Russian, but rather the other way round. Still, go old-school by eliminating the cream if you are a vodka fan and a coffee liqueur devotee.
I'm Dreaming of A White Russian is a holiday special that this mixologist and recipe developer tried out. Adding a dash of peppermint extract provides the classic recipe an unexpected (and minty) twist.
Want to get buzzed and can't resist coffee? Get the best of both worlds with Dalgona Russian, which combines the traditional recipe with a dollop of creamy Dalgona Coffee.
Do It Yourself
At first glance, White Russian may seem like a knotty cocktail – but don't get intimidated by its swanky appeal. Behind the imperial façade lies an uber easy recipe.
Throw some ice rocks into a squat glass. Pour vodka first and then top it off with the yummy coffee liqueur. After that, you can top the cocktail off with some thick cream. Give it a gentle stir if you don't want to mess up the cocktail's creamy quality. Don't forget to watch the moment where the cream blends with the vodka – it's a sight worthy of an Instagram boomerang.
If you like your boozy concoctions more to the sweet side, you can be a little generous with the liqueur.
But if for you heaven translates into thick alcoholic drinks, you should be anything but shy with the heavy cream.
Featuring an eclectic fusion of sweet, bitter, and boozy, the White Russian is the kind of cocktail that could easily become everybody's go-to.
Since it's both a dessert and nightcap, this bad boy is the ideal potion for any occasion – be it a 2 AM sugar craving or a fancy lounge bar.
From obscure origins to becoming a power cocktail, the White Russian is here to stay. The perfect way to enjoy it? Paired with chocolate-covered Pretzels while watching The Big Lebowski. The Dude would approve it.