Adelaide's nightlife is all about the Australian spirit with laid-back drinking spots and beachside venues.
Starting with a cocktail-and-view session at Rocket Bar & Rooftop and ending with a German feast at The Original Pancake Kitchen, this is how you can experience an amazing night out.
Here's your essential guide to Adelaide nightlife.
Get your view fix at Rocket Bar & Rooftop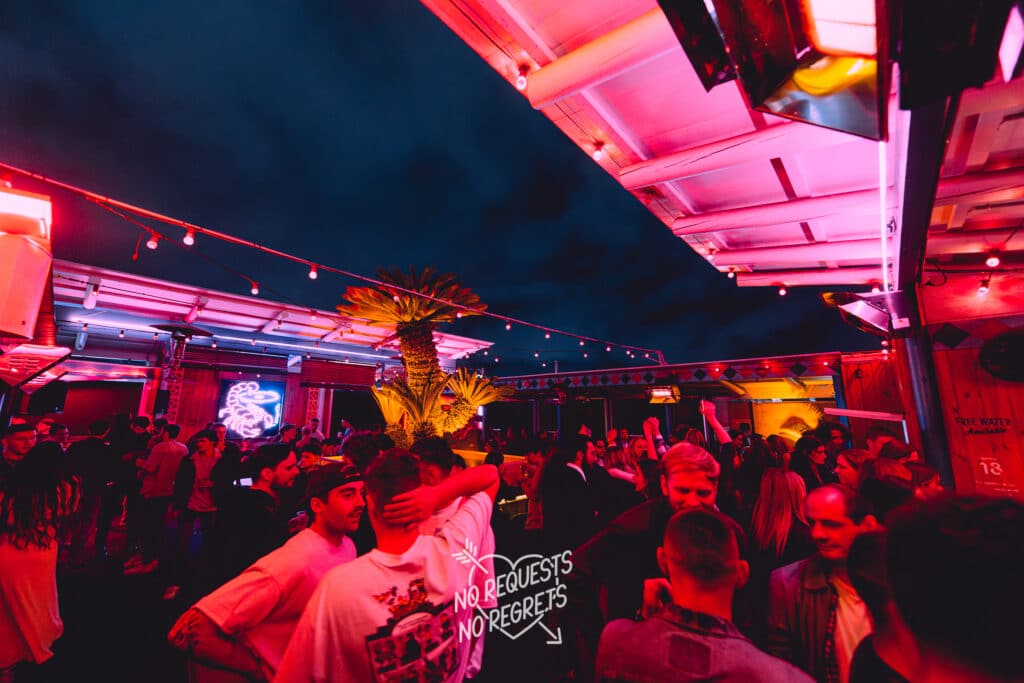 A big hit among locals and travelers alike, Rocket Bar & Rooftop feels like a neon-tinged dream. Perched atop a three-story building, the venue shapeshifts from a live music spot to a tranquil haven serving fuss-free cocktails.
At the boozy sanctuary, Palm Springs meets Cuban yachting aesthetics. A white color scheme set against the starry sky, artificial turf, and splashes of greenery create an urban jungle feel that's both chic and casual.
If you shift your gaze slightly downward, you'll discover the open-air terrace surrounding a 120-year-old Cycad tree, with plenty of space to lounge and relax.
When it comes to drink offerings, Rocket Bar & Rooftop isn't content with just reaching for the stars – it's hell-bent on catching them. Expect an ultra-diverse menu that puts premium spirits, classic cocktails, and beer on a pedestal.
Since the rooftop bar is more Gen Z and hippie-focused, most patrons are young professionals looking to wind down in a homey environment.
Be Insta-worthy at Rundle Lantern
Lighting up Adelaide since 2008, the Rundle Lantern is an eye-catching piece of electronic public art. It's like the Cinderella of city infrastructure – by day just another multi-story car park; by night, a veritable disco ball with 748 panels of LED wizardry.
The Lantern is interactive, displaying vibrant designs that evolve, twirl, sparkle, and zoom. Its high-tech facade lets the city's artists take the reins, making it a constantly changing testament to Adelaide's creative spirit.
Catch the sunset at Glenelg Beach
Every self-respecting city has a go-to spot for sunset chasing. Much in the way Paris lays claim to the charming Trocadero, and Barcelona to the robust Castillo de Montjuic, Adelaide holds dear the breathtaking beauty of Glenelg Beach.
Immersed in history, Glenelg Beach has long been revered for its sun-kissed coastlines and pristine waters. Echoing the laid-back Australian beach culture, it hosts an array of lively bars, restaurants, and boutique shops that line the vibrant Marina Pier.
But fresh seafood and refreshing cocktails are far from being Glenelg Beach's unique selling point. Its west-facing orientation over the Gulf St Vincent provides an unhindered view of the sun descending over the water, a sight relatively uncommon in many parts of the world.
Discover Glenelg's nooks and crannies
To say Glenelg has a 'vibe' is an understatement. It's a mood, a moment, a movement. It's the barefoot joy of the beach days and the sophistication of a cosmopolitan night out all rolled into one.
Brimming with sun-kissed sandy beaches, the seaside suburb balances trendy modernity and rich history.
A plethora of global eateries punctuate the streets, their warm, inviting glow mirrored in the glassy surfaces. With fusion menus serving as gastronomical passports, a culinary journey around the world is a promise, bringing together a diverse array of flavours that capture the cosmopolitan spirit of Glenelg.
And the watering holes in Glenelg are not just about serving spirits, they are about reinventing them. Take the Grand Bar, a seaside spectacle where patrons indulge in craft cocktails while the ocean waves provide the background score.
Their weekend DJ nights are especially notorious, whipping the crowd into a rhythmic frenzy.
A few blocks down, the Moseley Bar and Kitchen reinvents the beachside evening with its vibrant indoor club. They have mastered the art of mixing gastronomy with revelry, serving up scrumptious bites alongside foot-tapping beats.
Sip on the Pisco Punch cocktail at Pink Moon Saloon
Bold and boozy, the Pisco Punch is a blend of Peruvian pride and American audacity. As a cocktail party in a glass, the boozy concoction features a never-seen-again mix of pisco, fino, citrus, black pepper, green apple, and parsley.
Despite its vibrant nature, the originator of this punch may easily go unnoticed. Pink Moon Saloon is sandwiched between two office buildings in a former bin alley, creating a speakeasy feel with an alternative vibe.
The Adelaide nightlife venue is designed and built in a traditional hut style, evoking the nostalgia of childhood campfire cooking.
Its decor fuses Scandinavian simplicity and Japanese minimalism through timber frames, locally sourced woods, and a forest-y color scheme.
Crowning its unique appeal, Pink Moon Saloon has become a beacon for Adelaide's cocktail enthusiasts. Its menu generously features a range of options, from seasonal cocktails and timeless concoctions to signature drinks.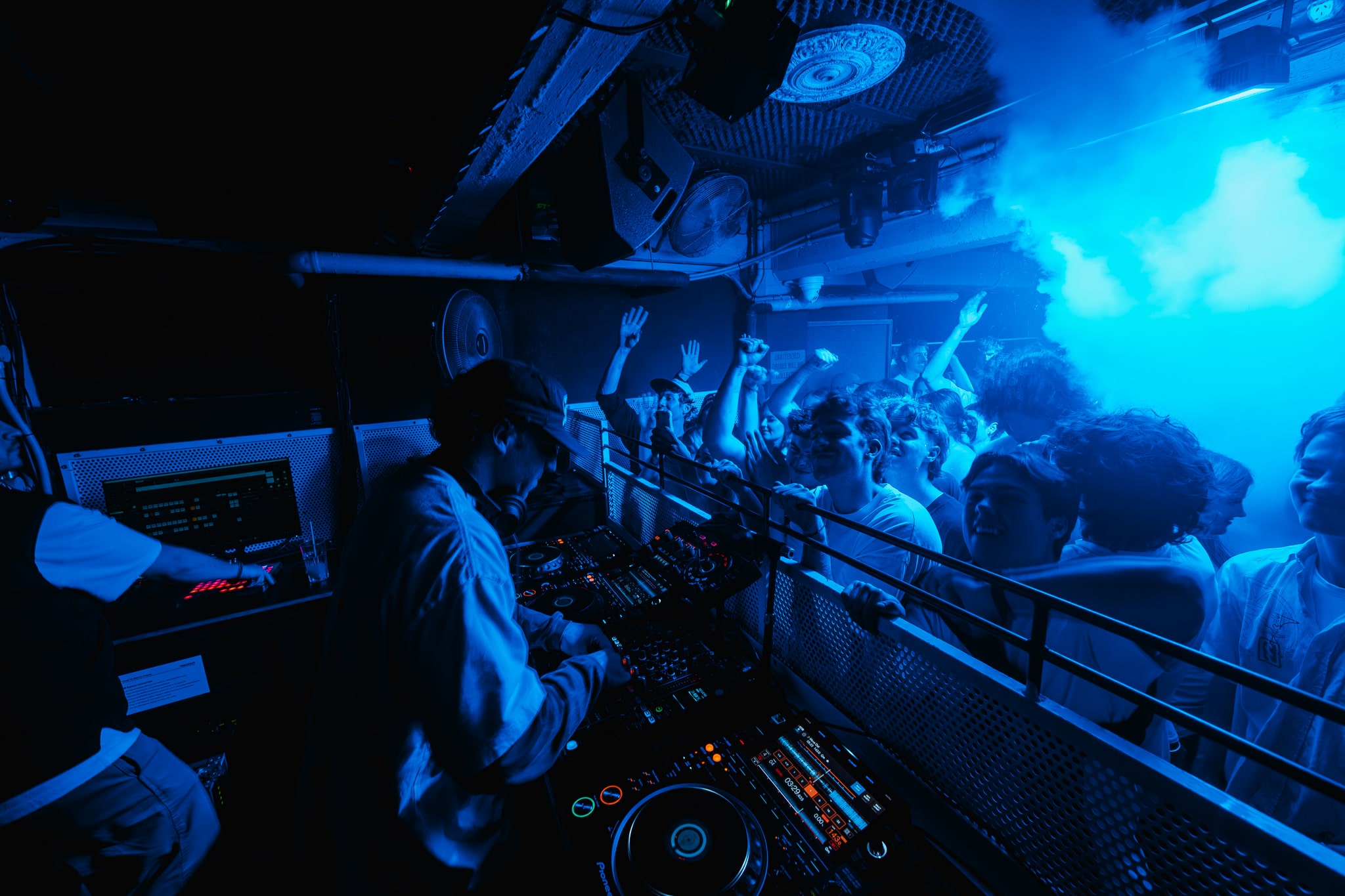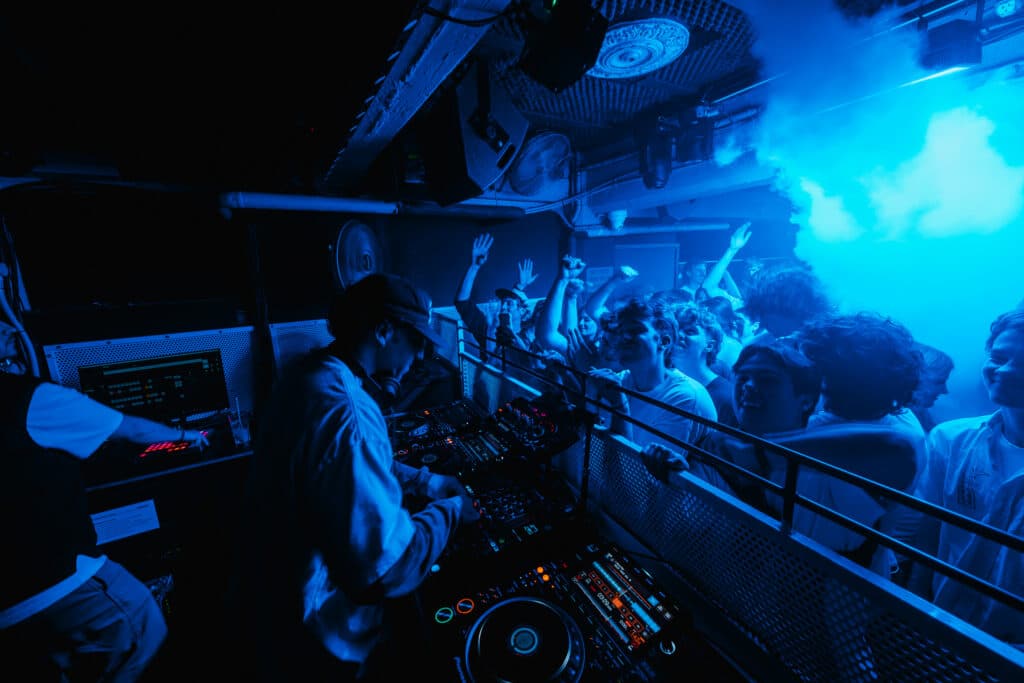 While most Adelaide clubs pick the multi-genre vibe, Electric Circus is loyal to one playlist – electronic. Bringing Berlin's sound and aesthetics to the Australian city, the nightclub welcomes everyone from house aficionados to commercial techno greenhorns.
Not to mention its star-studded events – which featured names like Chris Lake and Dillon Francis – are a plus.
Indulge in a German feast at The Original Pancake Kitchen
The German feast transforms the mundane into a multicultural dish, using pancakes, sausages, tomatoes, and good ol' bacon and eggs.
There's a saying you've probably heard – or slurred – after a long night out in Adelaide: "All roads lead to The Original Pancake Kitchen."
Stepping into the Original Pancake Kitchen is like falling down a rabbit hole of vibrant kitsch and homely warmth. The eclectic decor is like a tipsy tango dance between a Bavarian beer house and a Brooklyn diner, an endearing blend of nostalgia and flair that feels as authentic as the food.
The Pancake Kitchen's food ethos stands as a beacon for all those who believe that the heart (or, in this case, the stomach) knows no bounds of time. Serving breakfast all day, every day, it redefines the adage that it's never too late for anything.
Its menu welcomes everyone, whether you're an adventurous nocturnal nibbler or a daytime brunch enthusiast.