Athens' nightlife is a vibrant tapestry of bustling bars, pulsating nightclubs, and to-die-for rooftop terraces.
Starting with Ermou 18's view of the iconic Acropolis and ending with lamb and fries at Hoocut, this is how you can experience an amazing night out.
Here's your essential guide to Athens nightlife.
Explore Athens' panoramic beauty at Ermou 18 Beyond the Horizon
In Athens, everything seems to revolve around the Acropolis – and Ermou 18 is a living testament to that. Set seven floors above the bustling Syntagma, the rooftop bar is a pro at delivering sweeping views of the most striking Greek complex.
A place where mortals and Greek gods sip cocktails side by side, Ermou 18 brings a new meaning to raising the bar. Its decor is a flirtatious blend of elegant minimalism and unabashed luxury with sleek lines, metallic accents, and rattan chairs.
Like the shifting panorama surrounding it, the watering hole is ever-changing, morphing from a sun-kissed lounge to a glittering hotspot. For the epicurean, there's a compelling parade of Mediterranean-inspired bites ready to shift attention from the view to the plate.
At Ermou 18, you'll find in-the-know locals lounging beside curious tourists.
Make Little Kook your Instagram background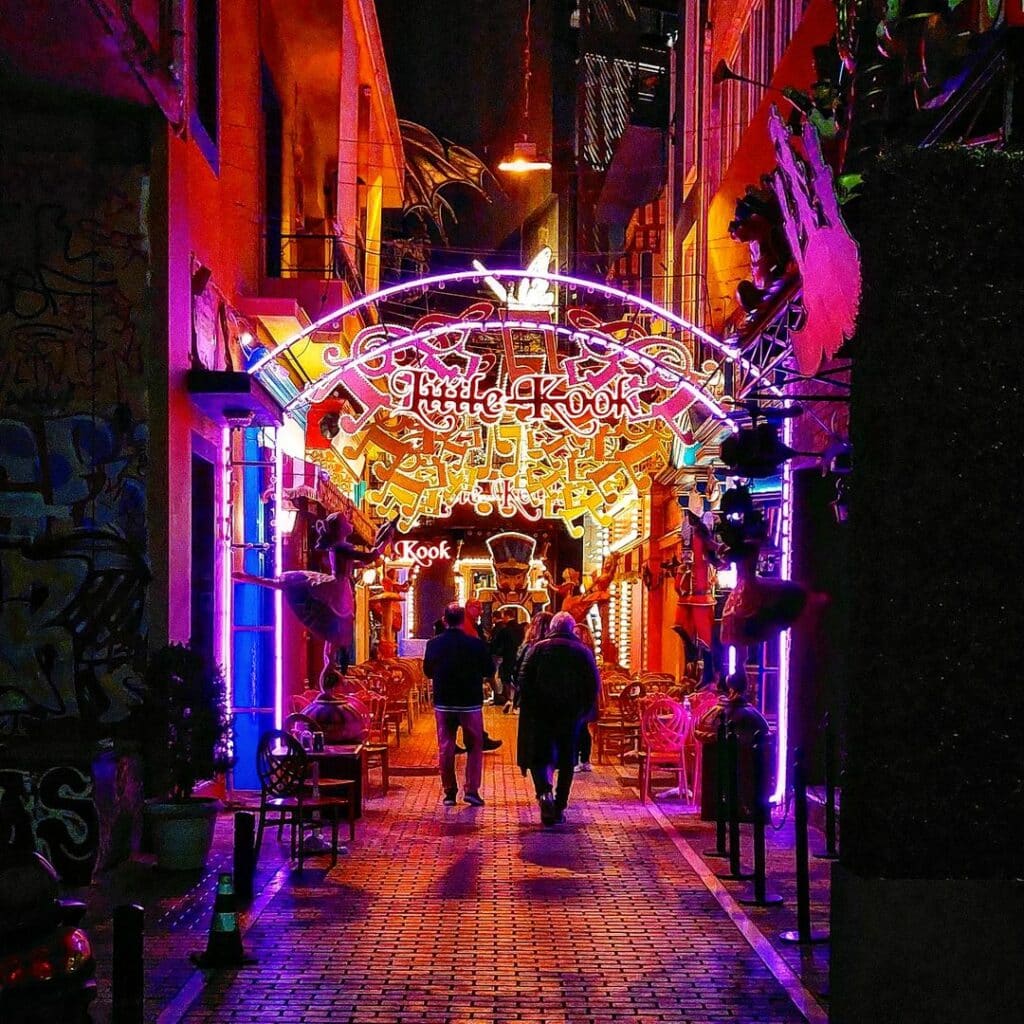 While Little Kook is the dessert hotspot that would make a diabetic cry, the fairytale-inspired cafe feels like having a tea party in Alice in Wonderland.
Since its 2015 inception, Little Kook has been the talk of the town – and not just for its delicious cakes.
With its whimsical decor – which includes a Cinderella-inspired carriage and a roof-perched dragon – the Athens nightlife hotspot creates an Insta-worthy backdrop that will make netizens look twice.
See the Acropolis from Areopagus Hill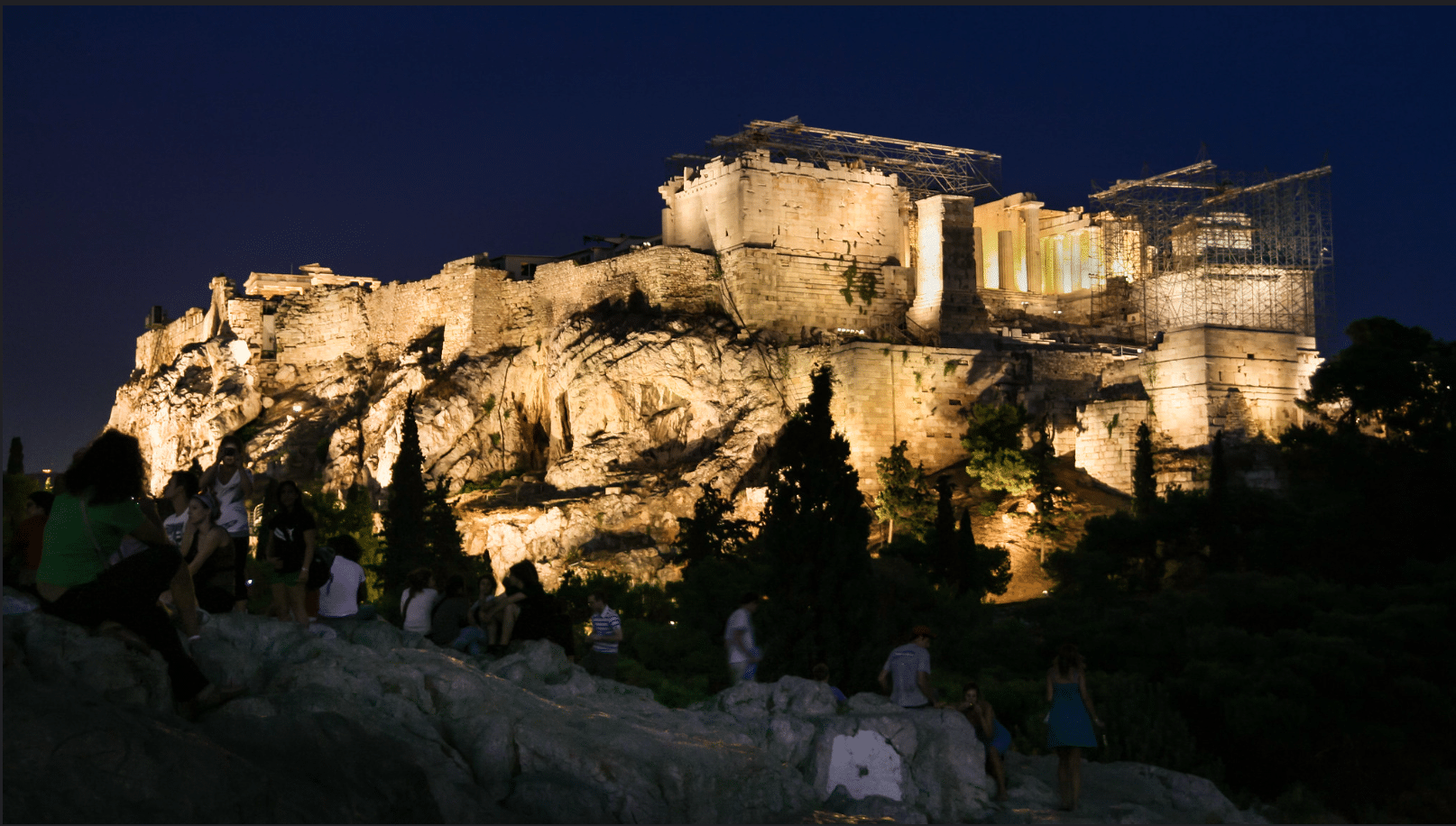 In a city where mythology isn't just a subject but a next-door neighbor, the Acropolis stood as a sentinel witnessing the rise and fall of civilisations.
Built as a homage to the city's patron deity, Athena, the ancient sanctuary whispers tales of the city's period as the epicenter of Western philosophy, art, and democracy.
Despite the centuries that have carved their history into the marble stones, the Acropolis' weathered facades still beam thanks to strategically-placed artificial lights.
And while the landmark is visible from many Athenian vantage points, Areopagus Hill takes the cake. Once a meeting point for the ancient city's elders, the summit offers tête-à-tête sessions with the lit-up Acropolis.
Observing the Acropolis from the Areopagus Hill is not just an evening activity. It is a glimpse into the past where gods roamed, yet strikingly relevant to Athens' current status.
Unleash your inner adventurer in the culturally-rich Monastiraki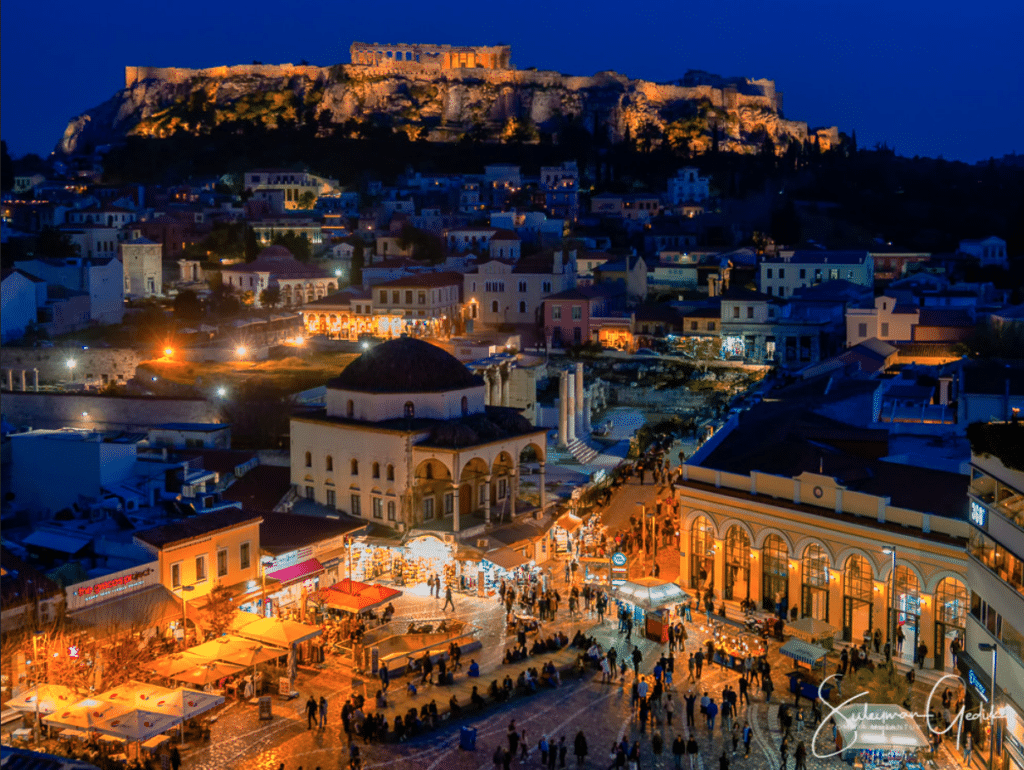 Imagine weaving your way through sprawling Byzantine churches, flea markets, and cutting-edge rooftop bars, and you won't be far from Monastiraki's streets.
Translating to 'little monastery,' the nightlife hotspot has been a significant district since Athens was just a twinkle in the eye of ancient gods.
As one might guess by its cobblestoned streets, Monastiraki thrives on its ability to mesh the old with the new. But beyond its well-kept landmarks, the area is popular for its eponymous flea market, where you can haggle for everything from vintage vinyl records to ancient Greek replicas.
For all things nightlife, Six d.o.g.s is a cultural entertainment hub mixing up gigs, exhibitions, and an outdoor garden. When you're ready to hit the dance floor, Cinderella provides a combo of vintage decor and retro beats.
For those less into dancing and more into sipping, rooftop bars like 360 Cocktail Bar provide stunning spots to wind down after a night of Athenian adventures.
Quench your thirst with the Peacock cocktail at Gypsy Jungle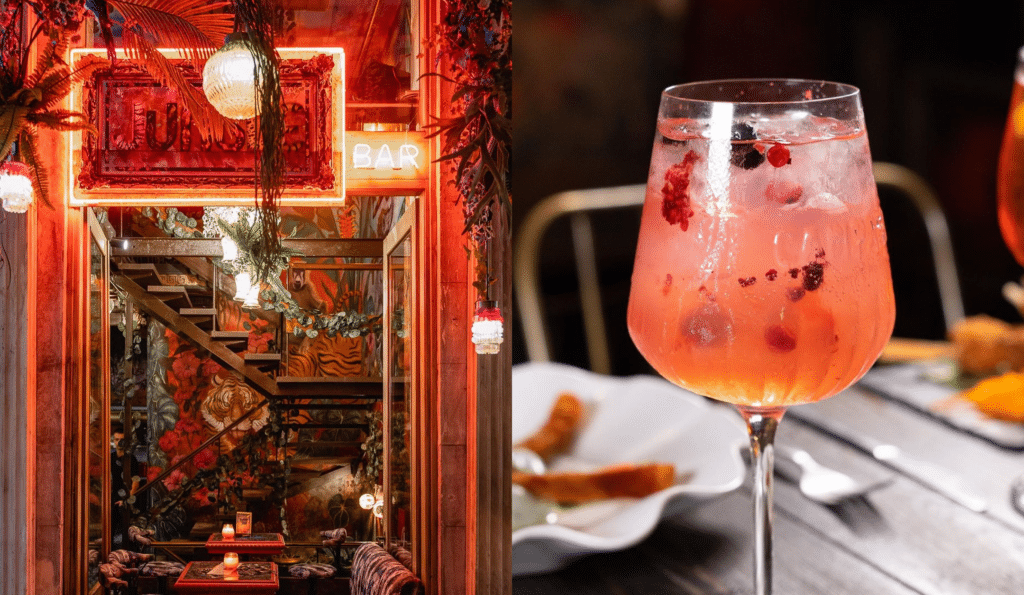 When it comes to the Peacock cocktail, subtlety takes a backseat and flamboyance takes the wheels. While each sip starts with hibiscus-infused vodka, passion fruit, cherry tomatoes, and yogurt sauce provide a creamy, tangy counterbalance.
Now that you know the taste, let's take you to the birthplace – Gypsy Jungle. A fever dream of tropical kitsch, the watering hole sits in a historic space dating back to the 1870s.
Unapologetically quirky, the bar lives up to its name with jungle motifs, eccentric artwork and offbeat furnishing.
Gypsy Jungle has built its reputation on a solid list of never-seen-before cocktails, making it the go-to spot for bohemian souls, creative minds, and high-society swans.
Burn up the dance floor at Dybbuk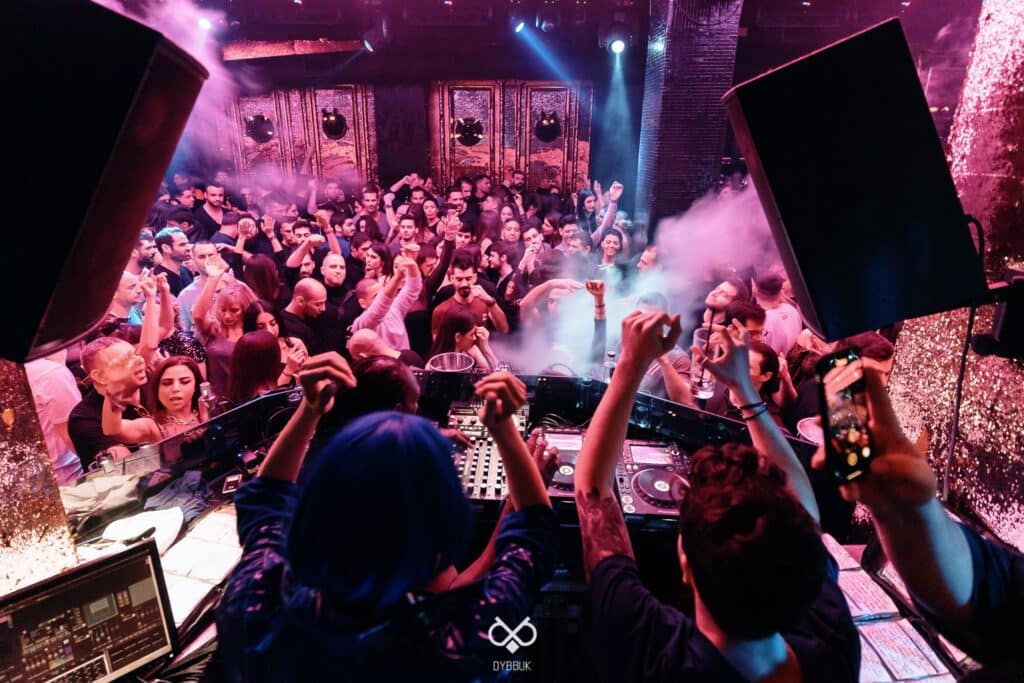 Stepping into Dybbuk is like walking into a modern-day Bacchanalia. In other words, it is a realm where electronic music, high-energy vibes and Dionysian spirit blend together.
Since its launch, the clubbing destination has shaped Athens' nightlife sound. And yet, the party hub keeps patrons on their feet all night long with more than internationally-acclaimed DJs.
Treat your tastebuds with fries and lamb at Hoocut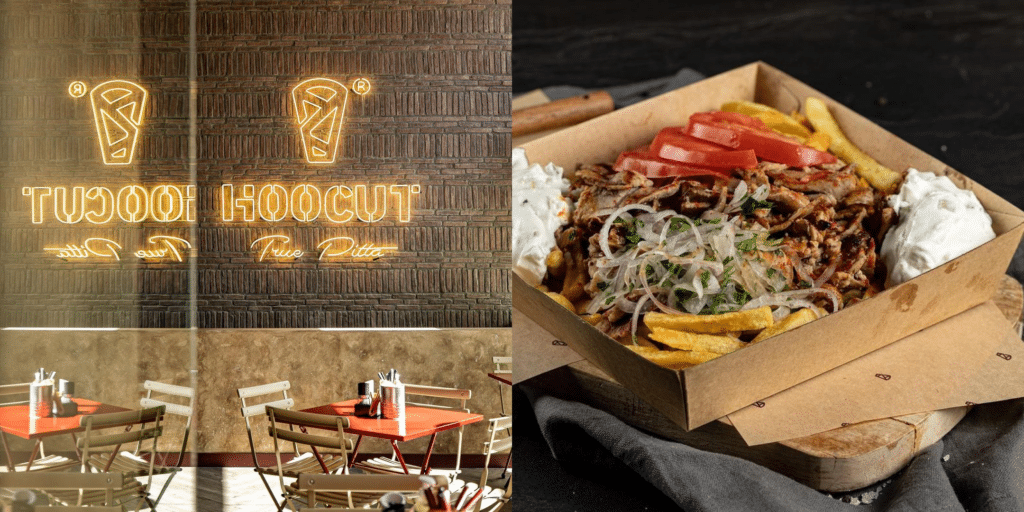 Ancient Greeks had a god for almost everything but overlooked one vital deity – the patron of late-night food. Thankfully, the Atenians have paid homage to this unsung hero in their own way with the fries and lamb duo.
Slow-cooked to perfection, the post-party treat is a carnival of flavors with Greek herbs, melt-in-your-mouth textures and Mediterranean salt.
As for where to find this mythical combo, there's one place that stands above the rest. Tucked away in downtown Athens, Hoocut is where classic Greek taverna meets industrial chic, creating a laid-back atmosphere.
The open kitchen gives you a front-row seat to the culinary spectacle, the sounds and smells of sizzling fries and roasting lamb pulling you into a comforting embrace.