Bali is renowned for its energizing and tropical nightlife.
Starting with Sunset Park's sweeping views and ending with a four-layer pizza at Monsta Pizza, this is how you can experience an amazing night out.
Here's your essential guide to Bali nightlife.
Awe-inspiring horizons await at Sunset Park at Desa Potato Head
There aren't many rooftop bars sitting on the Indian Ocean's shores. Luckily, Sunset Park at Desa Potato Head is one of them.
Despite its 3rd-level nest, the watering hole is highly skilled in offering panoramic outlooks. Surrounded by awe-inspiring views of the ocean, Sunset Park truly lives up to its name.
Somewhere between upscale and cozy, the rooftop bar unveils the seamless transition from day to night in the most idyllic way possible.
Often referred to as Bali's ultimate sundown experience, the Indonesian-meets-European spot is renowned for sustainable luxury and environmental consciousness. A testament to the power of design, it features a deck where the pièce de résistance is a beautifully-lit bar.
As one might expect, Sunset Park rooftop attracts a diverse blend of urban explorers, nature enthusiasts, and socializers seeking something else from their nighttime journey.
Get your phone ready for an Instagram-worthy shot at La Plancha
Vibrant beachfront by day and coveted Instagrammable spot by night, La Plancha has a soft spot for the boho-chic vibe.
Eye-catching and playful, the sandy oasis proudly displays a ubiquitous kaleidoscope of colors. Everywhere you look, there's at least one umbrella, bean bag or piece of wooden furniture ready to pose as the ideal backdrop.
Dive into the nighttime wilderness at Bali Safari Marine Park
As the epitome of animal kingdom, Bali Safari Marine Park is home to over 100 animal species. Contrary to popular belief, the wildlife wonderland isn't just a day trip destination, as the park's night tours provide a fresh perspective on Mother Nature's beauty.
Aboard a specially equipped tram, thrill-seekers and nature lovers get front-row tickets in Earth's exotic ensemble.
Mind you, this is not your typical zoo visit. It's a rare opportunity to see wild animals in their most active state, displaying behaviors that are often unseen during the day.
With a caged safari concept, the Bali nightlife tour uses specifically designed vehicles with protective cages or bars. These allow individuals to get up close to animals while staying safe.
Bold and adventurous, Bali Safari Marine Park allows you to reconnect with the wild by observing creatures and gaining a deep understanding of their lifestyle.
Explore Canggu's vibrant aura
A tropical paradise from A to Z, Canggu has become the next hip-and-happening destination for pretty much everything. Most tourists call it a surfing paradise – thank you, golden beaches and challenging waves – but the Bali nightlife hotspot is much more than that.
Away from its luxurious villas, five-star stays and Australian-style eateries, the village resort blends traditional clubbing with modern trends. Canggu promises the kind of memories you'll tell your grandkids about every weekend with its neon-lit streets and cozy establishments.
Its nightlife is as diverse as its clientele, ranging from laid-back beach clubs to underground music temples. Just speak your preference and Canggu will deliver.
Night owls can kick off their drinking session at Old Man's, a beachfront gem that effortlessly combines a casual atmosphere with an electric party vibe.
There is no shortage of clubbing spots, as Vault delivers a festival-like atmosphere, and Finns Beach Club features world-class beats.
Time is relative in Canggu, as the resort is a must-visit spot during both day and night.
Journey into Bali's mixology with The Muse cocktail at No Mas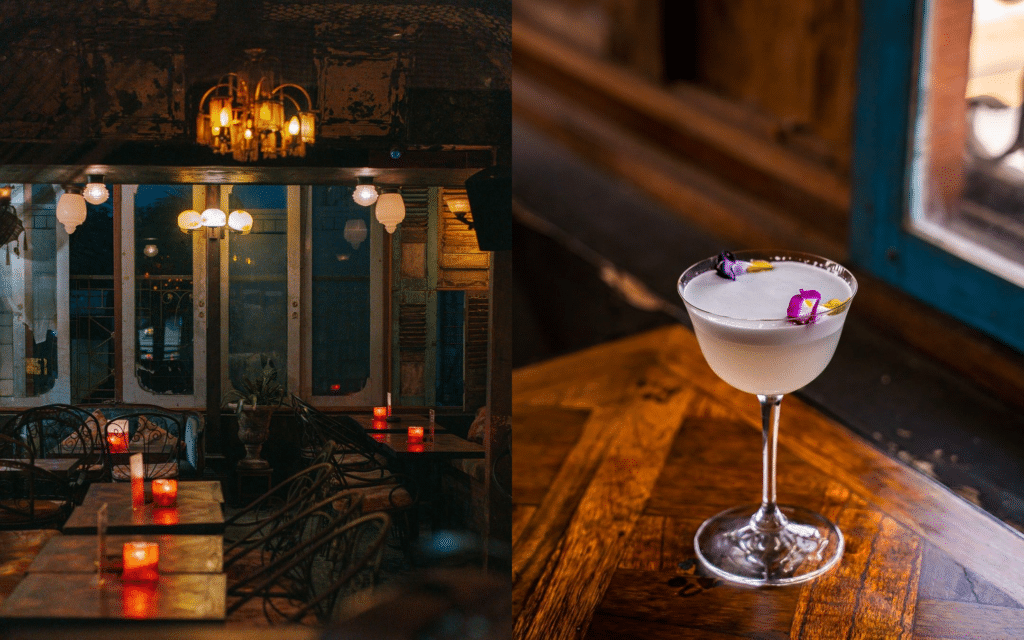 Floral, fruity, and worth ordering another round, The Muse cocktail infuses dry rum with butterfly pea, lavender, fresh lemon, and egg white foam. With every sip, this boozy concoction makes your taste buds happy while styling loyal to Bali's cultural heritage.
Save your yoga session and Eat, Pray, Love moments for another day.
Ubud's No Mas cocktail bar is ready to shake up your chakras every day of the week. Unlike most watering holes, this cute and cozy nightlife sanctuary doesn't waste time on pretentious fads.
While most of the interior is rugged and raw, the decor is a whimsical mix of retro and tropical aesthetics. No Mas feels like a beach club from Ibiza's early days, with wooden hut-like ceilings and vintage furnishings repurposed and used as decor elements.
Since this is the place where crafted cocktails are done right, most of Ubud's hippies gather here every weekend.
Party the night away with the locals at La Favela
La Favela knows that foolproof clubbing sessions aren't enough to make patrons return over and over again. Instead of following the herd, the Bali nightlife venue boasts modular spaces, each serving a distinct purpose.
If you aren't into its open-format playlists (which, frankly, would be hard to believe) La Favela's outdoor area serving Mexican-inspired dishes will answer your call.
Satiate your late-night hunger with pizza at Monsta Pizza
Pizza might be a timeless and comforting drunk food choice, but those savory slices are anything but average at Monsta Pizza. True to its name, the late-night eatery specializes in four-layer pizza.
Made of homemade dough, a cheesy base and a generous variety of flavors, this dish is for those who can never decide what toppings to pick.
Monsta Pizza has become a legendary Bali destination thanks to its constant commitment to pushing the boundaries of traditional fast food. Fuss-free and super casual, the late-night eatery believes customization is key to fulfilling one's pizza fantasies.
If pizza is not your thing, don't sweat. Despite its name, Monsta Pizza specializes in other finger-licking dishes, such as chicken wings and crabs.