Bangkok nightlife is a melting pot of finger-licking street food, bustling markets, and neon-lit streets.
Starting with a cocktails-and-views session at Tichuaca Rooftop and ending with savory Pad Thai at Fai Ta Lu, this is how you can experience an amazing night out.
Here's your essential guide to Bangkok nightlife.
Explore Bangkok's panoramic beauty at Tichuaca Rooftop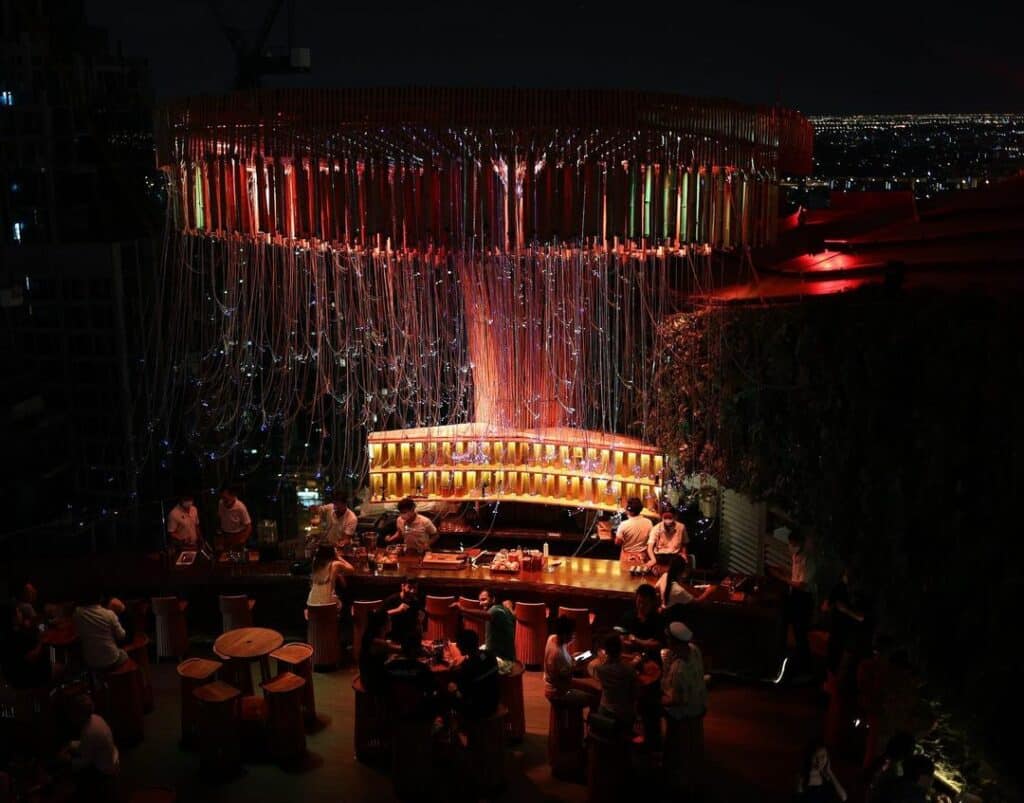 Jungle-themed and always ready to deliver impressive views, Tichuaca Rooftop is a three-story bar. Contrary to other sky bars, the high-rise venue is not on a roof per se but on T-One building's 46th floor.
There are plenty of reasons why Tichuaca is the talk of the town, but there's one head-turning feature capturing everyone's attention. Away from the rattan stools, wooden furnishings, and lush greenery, a LED-lit tree gracefully sways behind the bar.
Loyal to its tropical aesthetics, the Bangkok nightlife spot serves an equally exotic menu. Whether you're into tiki-style potions or cocktails served in coconut and pineapples, just speak your preference and Tichuaca will deliver.
Locals consider it an after-work escape and tourists label it a bucket list priority, so expect groups of cocktail connoisseurs and urban adventurers.
Use Na-Oh as an Instagrammable background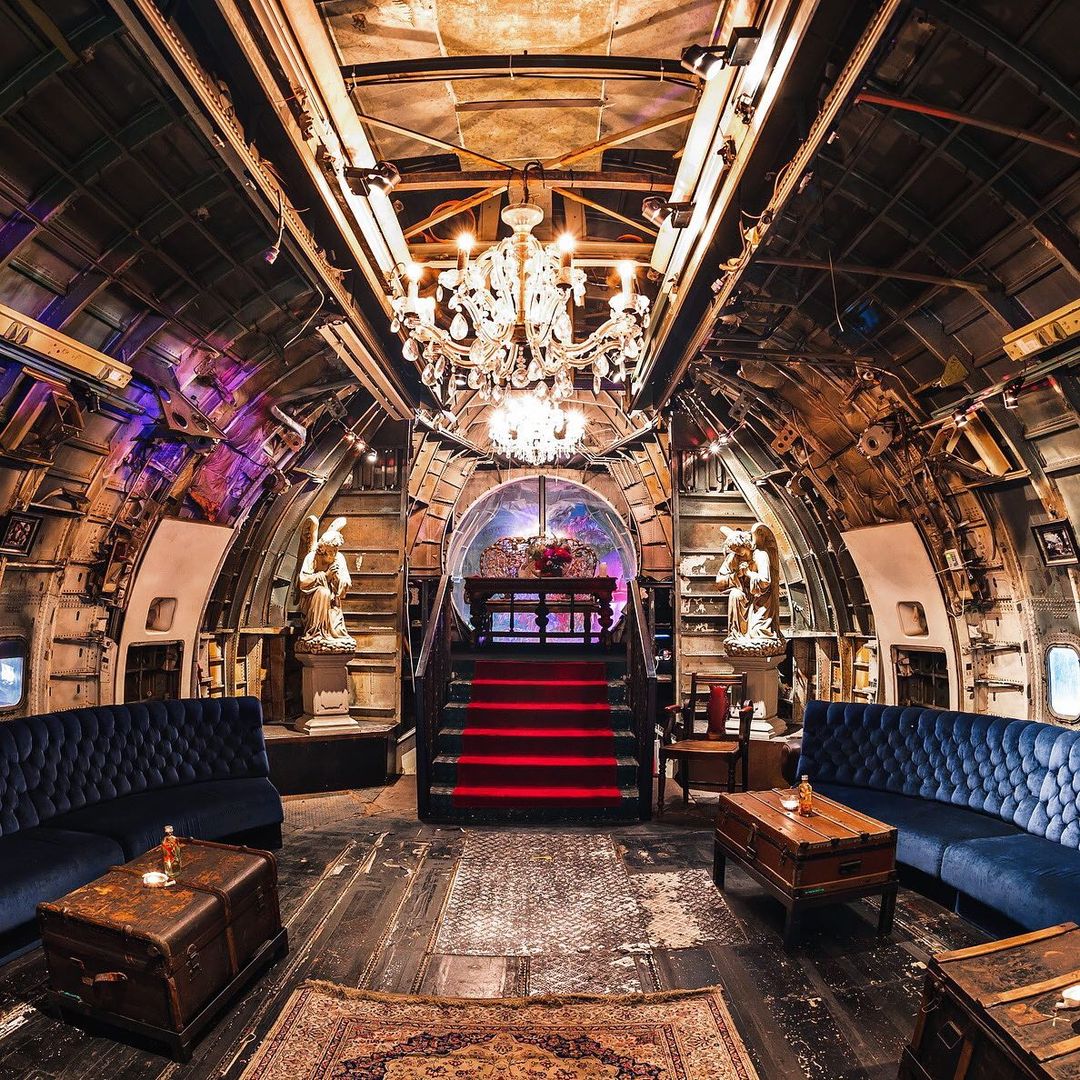 Every city has its fair share of quirky restaurants, but Bangkok takes the prize with the upscale Na-Oh. Nestled inside a decommissioned airplane, the chic bistro is renowned for its labyrinthine interiors and Alice in Wonderland vibes.
With its quirky fusion of vintage aviation and decor, Na-Oh is a visual feast that'll make social media engagement soar.
Experience local cuisine at Amphawa Floating Market
Step off the well-trodden tourist trail and forget about renowned night markets.
Giving off a Venice vibe but mixing it with traditional Thai culture, Amphawa Floating Market transforms a sleepy canal-side village into a bustling water market.
Here, traditional stalls are traded for longtail boats and market ailes transform into a canal labyrinths. Manned by local merchants, the wooden boats are home to a mind-boggling array of spices, foods, and ready-to-eat dishes.
But beyond traditional desserts like sticky rice and fresh seafood, the Bangkok nightlife spot also sells souvenirs and trinkets.
Think of handmade crafts and vibrant textiles because that's what Amphawa Floating Market is all about. The water bazaar is also a haven for history buffs, as the canal-side wooden houses date back to the Ayutthaya period.
Unleash your inner adventurer in Khao San
Primarily known as Bangkok's urban jungle, Khao San is a bustling market by day, but a high-energy playground by night. Despite its rich, gritty character, the hotspot isn't ancient but fairly new – which explains why its establishments are in touch with current trends.
In this neon-lit wonderland, street vendors sell everything from the ubiquitous Pad Thai to culinary dares like scorpion skewers. Local DJs spin the decks from open-fronted bars and clubs, each venue vying for your attention with bass-thumping EDM and nostalgic tunes.
Since Khao San is often dubbed the backpackers' mecca, the area has no shortage of legendary clubbing spots.
Laid-back bars like Thachang offer cheap pre-drinking sessions, while larger-than-life dancing spaces like The Club give party-goers enough space to mingle and groove.
Day or night, Khao San Road beckons with its vibrant allure, offering a thrilling experience at every hour.
Sip on the Mama Mellow cocktail at Baby Bar
In the mixology game, the daring combination of flavors can make you swoon, pucker, or wince. Sometimes, mixologists craft a libation so sinfully sweet that one can't pass – like Mama Mellow.
Seductive and soothing, the cocktail is a nod to yesteryear's campfire treats by mixing marshmallow syrup with earthy rum, creamy Baileys, and fresh milk.
We can thank Baby Bar for this sugary libation. A not-so-secret hideaway, the watering hole translates into a world where pink is king and good taste comes in drinks. Bathed in peachy hues, Baby Bar impresses the cocktail-loving community with a cozy poolside.
While the decor is a hodgepodge of decades past, the boozy potions are unapologetically forward-thinking. Visually pleasing and worth ordering another round, the menu items lure in a melting pot of locals, expats and tourists.
Dance the night away in the larger-than-life ONYX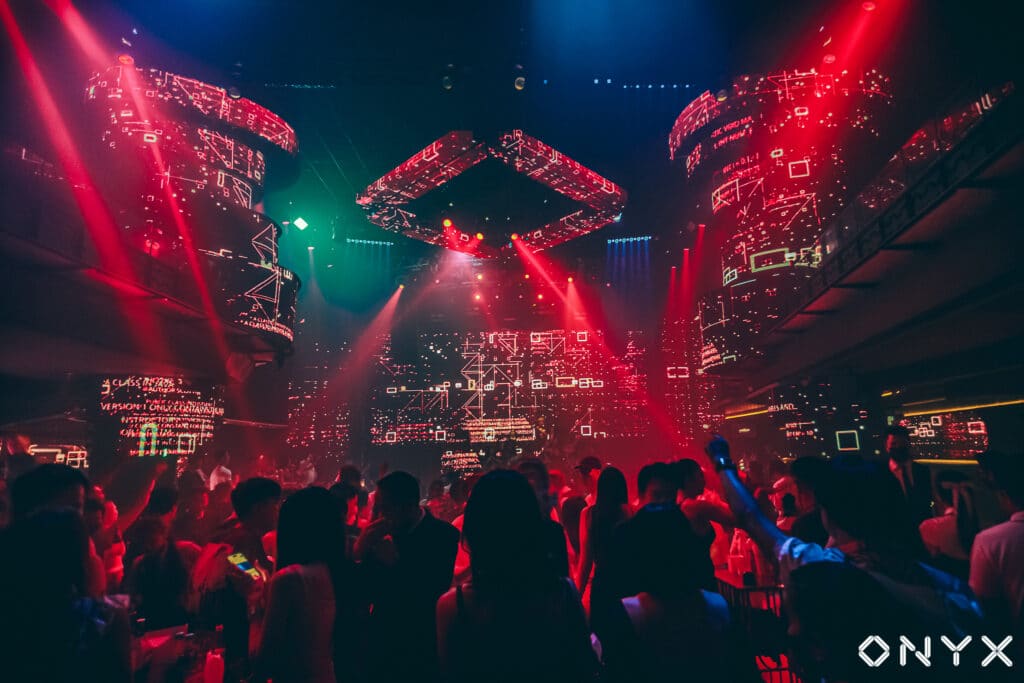 ONYX is not your average electronic music temple. Transcending the boundaries of traditional venues, the VIP nightclub sheds the seedy warehouse stereotype and treats patrons to upscale booths, immersive visuals, and a state-of-the-art soundsystem.
Parties at ONYX defy the ordinary thanks to cutting-edge beats, multiple dance floors, and permanently buzzing vibes.
Treat your taste buds with Pad Thai at Fai Ta Lu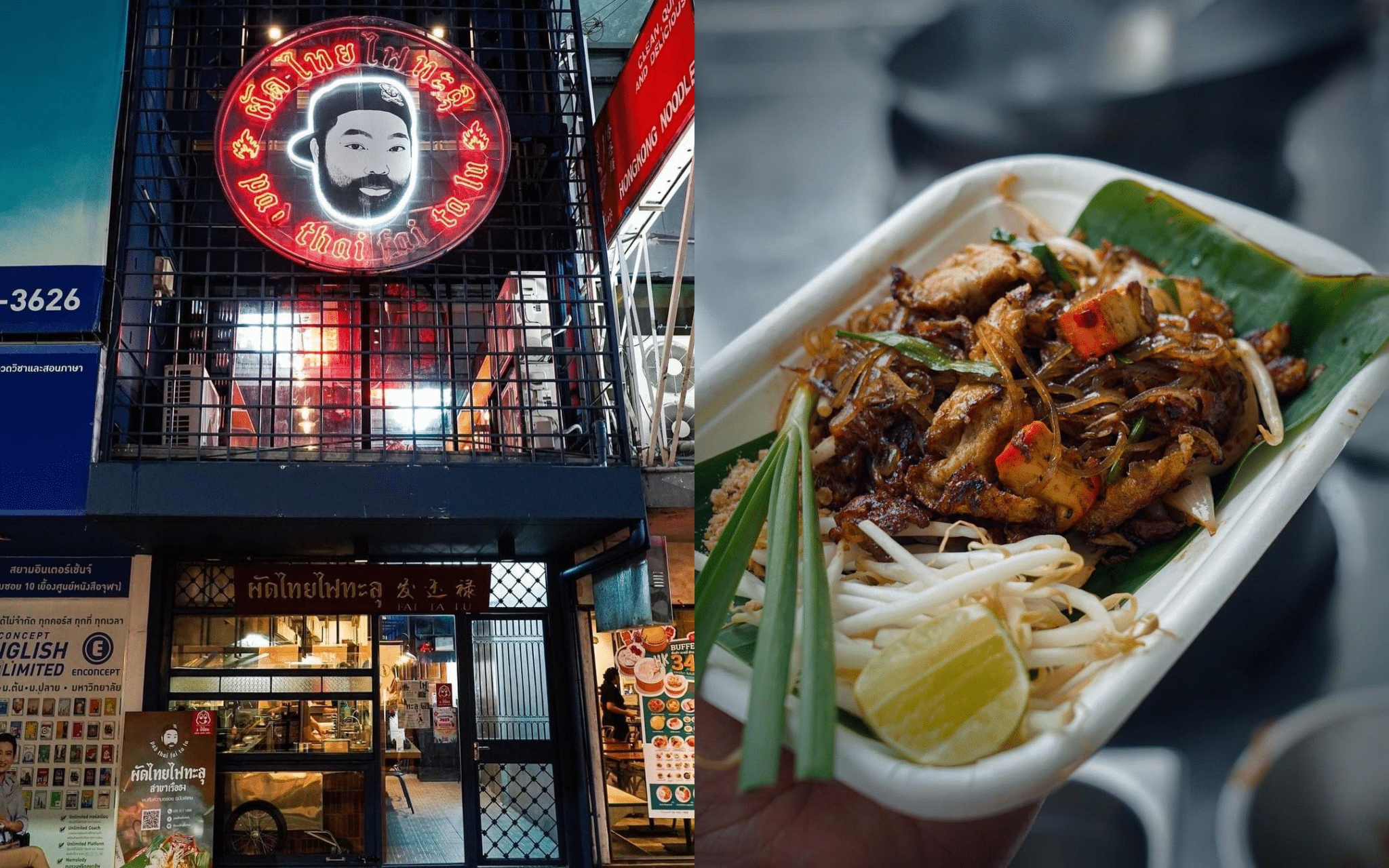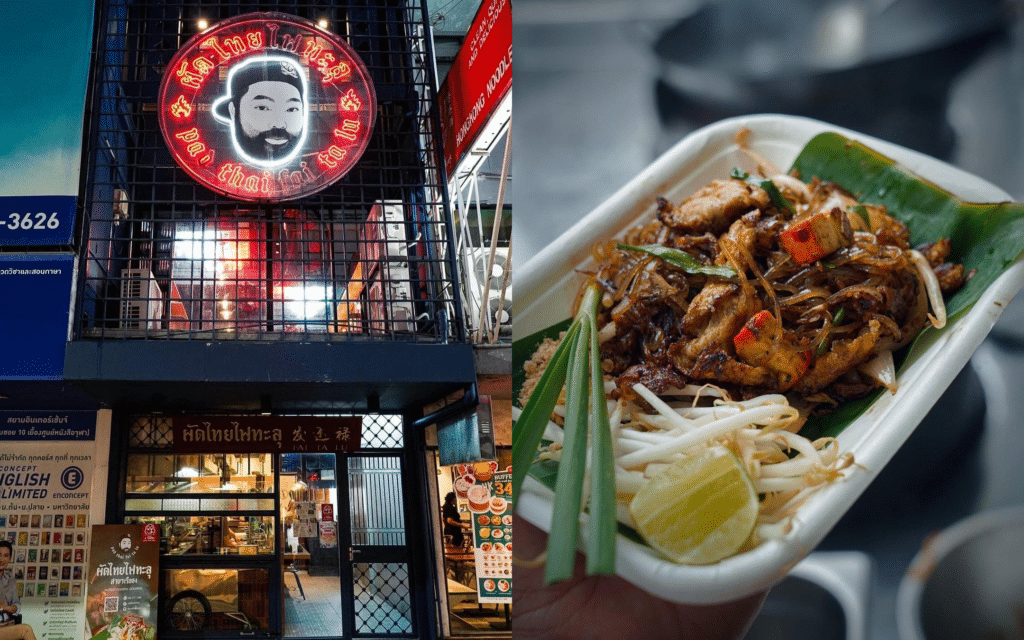 Nothing screams Thailand more than Pad Thai, the noodle dish that has won the hearts (and stomachs) of worldwide foodies.
In this savory drunk food, silky rice noodles get tossed in a wok with succulent chicken, shrimp or tofu, and crunchy bean sprouts, all topped with fish sauce.
In Bangkok nightlife, streets hum with culinary creativity, but Fai Ta Lu beats its own drum. A love letter to traditional Thai flavors, the fuss-free eatery is proof that less is more.
With minimal decor and a casual atmosphere, Fai Ta Lu brings in night owls and curious tourists with fresh and locally-sourced ingredients. The menu is a gastronomical kaleidoscope, ranging from local favorites like Som Tum to mouth-watering meat skewers.