Beirut is famous for its culturally-rich nightlife.
Starting with a cocktail and a view at the quirky Spine Rooftop Bar and ending with a Bombastic Taouk at Sandwich W Noss, this is how you can experience an amazing night out.
Here's your essential guide to Beirut nightlife.
Enjoy the view from the high-kicking Spine Rooftop Bar
Spine doesn't follow the herd – it redefines rooftop drinking experiences. Nestled on the 12th floor of one of Beirut's tallest buildings, the nightlife spot offers panoramic vistas of the ocean.
By striking a balance between quirky elements and a lounge feel, Spine is the kind of rooftop bar you don't meet twice. Spacious and striking, the watering hole has no visual boundaries.
Its cozy terrace features comfy couches and bar stools, but the real head-turner is the square structure. With a futuristic and hi-tech appeal, the modern architecture gives patrons the illusion of floating, lit-up squares.
Although Spine is a bit on the pricey side, it is a bang for the buck. The city's bad and boujee seeking an otherworldly cocktail experience are the patrons filling the bar's seatings.
Be Insta-worthy at Beirut Souks
Beirutis have a soft spot for the 'shop 'till you drop' motto, and Beirut Souks is a testament to that. An ideal spot for retail therapy, the commercial district spans 200 boutiques, offering everything from high-end to mass market.
During nighttime, the commercial district becomes a treasure trove for Instagrammers, offering endless possibilities for stunning backgrounds.
Enjoy a live jazz performance at Salon Beyrouth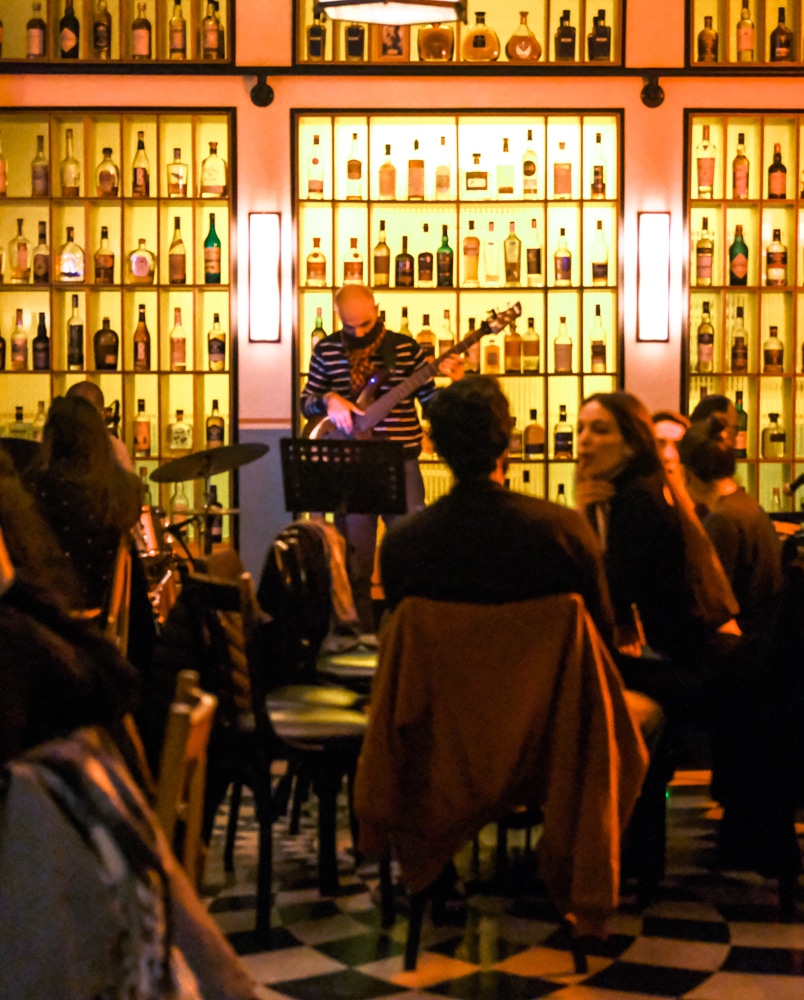 The Paris of the Middle East takes a shine to jazz's sultry sounds and smooth beats. While the vibrant city is not loyal to any music genre, its affinity for jazz is obvious at festivals and nightlife venues.
One of the hubs responsible for Beirut's thriving jazz community is Salon Beyrouth. A distinctive establishment in Clemenceau, the resto-bar is anything but shy in displaying its love for anything jazz.
The nightlife spot brings wailing saxophones and steady rhythms to Beirut, from the salon-inspired interior to its unmissable live performances.
With its music ethos, Salon Beyrouth adds another layer to the city's nightlife scene. From delectable brunches to live jazz nights, the spot it's a place that feels like a home away from home.
Stroll Downtown Beirut's streets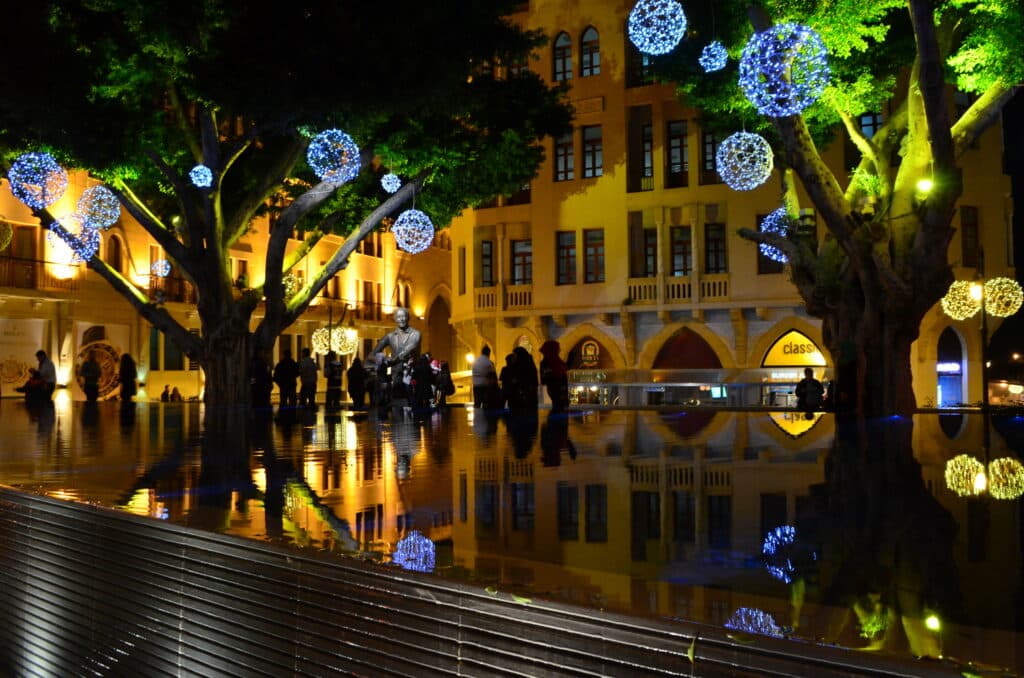 Although it was completely destroyed during the Lebanese Civil War at the end of the 20th century, Beirut's Downtown rose from its ashes like a Phoenix. Now considered the Middle East's party core, the area is where tradition and modernity coexist.
Often underrated but always ready to deliver an all-inclusive nightlife experience, the Beirut hotspot is best known for its pedestrian energy and lively hubs, blending into one cosmopolitan celebration.
With clubs transforming centuries-old buildings into multi-level party spaces like AHM and White, Beirut boasts a vibrant late-night party culture. Elsewhere, the area's sky bars and quirky watering holes are the go-to place to sober up with a shisha and a snack.
No matter the season or hour, Downtown Beirut is always filled with the hookah's sweet scent, dimly-lit lounges, and lively chatter.
Give Ales and Tales' Grandmas Treat cocktail a try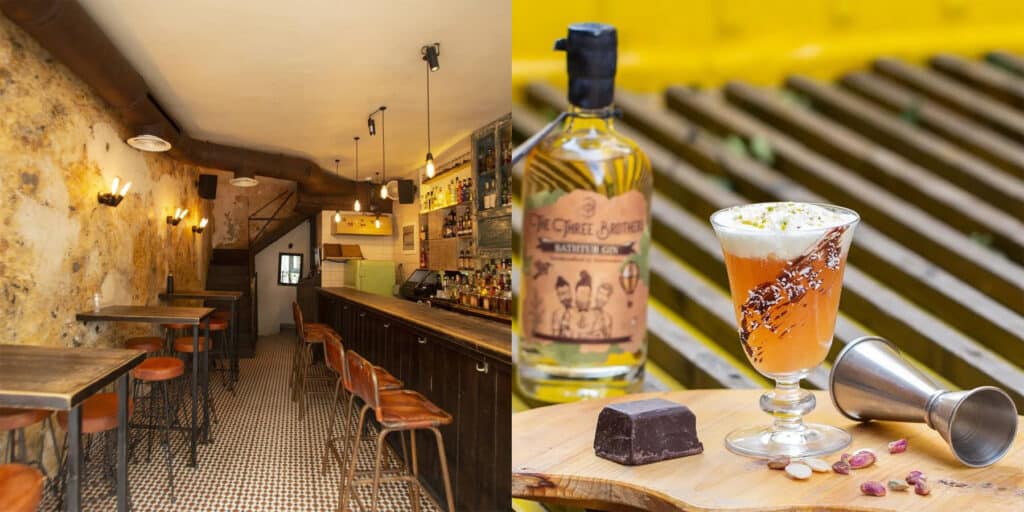 Far from being your grandma's candy-coated treat, this boozy cocktail features a coconut-infused blend of gin, meghli spices, almonds, and pistachio. Tropical from A to Z, Grandmas Treat cocktail is an aesthetically pleasing canvas for flavors worth more than one round.
Ales and Tales lies in the trendy Mar Mikhael neighborhood as a three-floored mix of steampunk mood and a bar-canteen layout. While its interior oozes a warm and inviting atmosphere, the cocktail bar packs a punch with its rotating selection of beers.
Rumour has it that Beirut's best mixologists are behind Ales and Tales' bar. That probably explains why the city's cocktail aficionados and laid-back drinkers have the watering hole as a weekend priority.
Party the night away at Caprice
With a 'we love it, we live it, we dance' motto, Caprice stands tall in Beirut's nightlife hierarchy. Boasting an impressive interior that embraces modern elements while staying loyal to Beirut's cultural heritage, the party hub is renowned for its themed parties and urban-focused playlists.
Munch on some Bombastic Taouk at Sandwich W Noss
The Bombastic Taouk is the kind of dish that makes your taste buds happy while delivering your much-needed vitamin intake. Inspired by the traditional taouk, which features marinated chicken on skewers, the drunk food combines bombastic sauce with tender meat and fresh vegetables.
Its creator, the cute and cozy Sandwich W Noss, opened its doors with one mission – bringing authentic Lebanese cuisine back into the mainstream. Based on snacking experiences, the late-night eatery serves everything from classic sandwiches to crispy fries.
What makes Sandwich W Noss a coveted nightlife oasis is the homemade feel. Fuss-free but passionate about traditional cuisine, the street food restaurant puts fresh ingredients on a pedestal.