Berlin is known for unapologetically hedonistic nightlife.
Starting with foot-tapping DJ sets Roof Garden at House of Weekend and ending with the famed currywurst at Curry61, this is how you can experience an amazing night out.
Here's your essential guide to Berlin nightlife.
Enjoy the view from Roof Garden at House of Weekend
Nestled high above Berlin's bustling city streets, at a breathtaking altitude of 60 meters, sits a cozy rooftop bar. Called Roof Garden at House of Weekend, the urban oasis offers patrons breathtaking panoramas of Berlin's TV Tower.
From the moment you step inside, you'll feel the magnetic pull of the dance floor. Electric can best describe Berlin's rooftop energy – it might be because of the DJ's pulsating beats or the intimate-meets-vibrant atmosphere.
Whether it's the peak of summer or the depths of winter, the rooftop bar offers sky-high vibes to anyone passing through its doors.
Be Insta-worthy next to Berghain's iconic entrance
The ultimate test of any trip to Berlin is gaining entry to the infamous Berghain – the exclusive nightclub with a notorious reputation for its selective door policy and legendary parties.
No matter the outcome, you'll have a story to tell and some Insta-worthy photos to prove your bravery. Nothing is sure in this hallowed ground of techno beats and wild abandon – but its graffiti-soaked entrance makes a good spot for your next social media feed addition, be it day or night.
Take a sunset stroll around the iconic Brandenburg Gate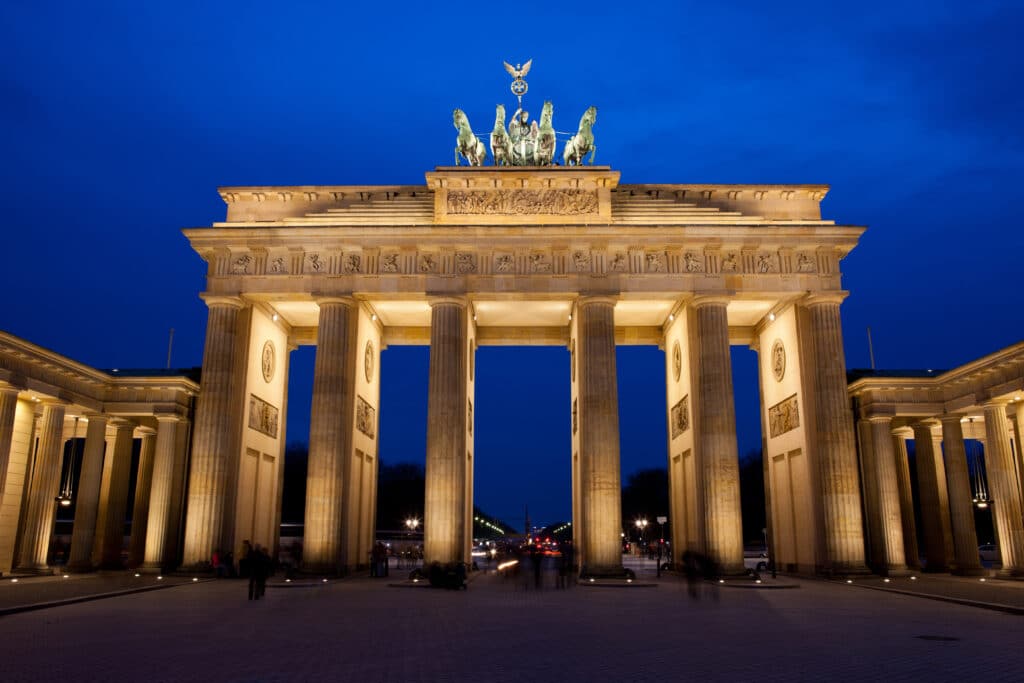 When the sun sets over Berlin, the Brandenburg Gate comes alive with a breathtaking beauty that will leave you awestruck. Built in the 19th century at the orders of Prussian king Frederick William, the iconic landmark stood time's test and become a symbol of national peace and unity.
The gate is bathed in a golden glow at night, casting shadows on the cobblestoned surroundings while illuminating its intricate carvings.
As you wander around this historic monument, you'll be surrounded by a bustling mix of people from all corners of the globe.
Explore the vibrant Mitte
Nestled at the heart of Berlin, Mitte is more than just a central district. Its name, which translates to 'middle,' reflects its importance as a hub of culture, art, and nightlife.
For the party animals, Mitte offers an array of genre-blending nightlife options, translating into quirky bars and hidden nightclubs. As you wander through its bustling streets and labyrinthine alleys, you'll discover hidden gems that cater to everyone's taste.
You can embark on a one-of-a-kind experience at the Berlin Icebar with the Hansa, a 19th-century exploration ship. This unforgettable journey has become an iconic tourist attraction beloved by locals.
Mitte truly comes alive at night, so head to this vibrant district and immerse yourself in the pulsing energy of Berlin's nightlife scene.
Enjoy Aufnahme + Wiedergabe at Dream Baby Dream Bar
The Aufnahme + Wiedergabe cocktail is a stunning concoction of fiery colors and a sweet-meets-tangy explosion of Bulleit bourbon, Massenez apricot cream, citrus, and raw sugar.
Dream Baby Dream is Berlin's hidden gem, an electronic cocktail bar with underground music and irresistible drinks. The buzzing watering hole offers an atmosphere that's nothing short of electric, with a promise of non-stop fun and excitement. Adding to its charm, local DJs take over the decks every weekend, keeping the energy levels high.
With an edgy yet cozy vibe, this bar is a post-work drinking staple, drawing crowds of locals and tourists alike.
Experience untamed clubbing sessions at KitKat Club
Berlin's nightlife has long been known for its wild and untamed party scene, where anything goes and inhibitions are left at the door. KitKat Club is the perfect embodiment of this spirit, a place where hedonism and sexual liberation reign supreme.
What sets KitKat Club apart from other nightclubs is its pièce de résistance – a Tiki-themed pool. Yes, you read that right. Imagine the thrill of diving into the cool waters of the club's pool, surrounded by a sea of bodies lost in the rhythm of the music.
It's no wonder that KitKat Club is one of the most popular party spots in Berlin, drawing both locals and visitors from around the world eager to experience its unique blend of music, dance, and sensual pleasures.
Dig into some saucy Currywurst at Curry 61
As you wander Berlin's streets, a culinary heaven awaits you at Curry61. Among their standout dishes is a meat-free option, widely hailed as the "perfect vegetarian currywurst."
Step inside the sleek and industrial-style establishment for a quick dine-in experience, or grab your order to-go for curbside pickup. Sadly, the late-night eatery doesn't offer delivery, but it's worth the journey. At least you'll have the opportunity to witness the kitchen's magic firsthand as the staff prepares Curry61's secret sauce recipe.
The cozy eatery has earned its reputation as a hotspot for currywurst aficionados with its signature recipe, backed up by the bold mantra: "Life without currywurst is possible, but pointless."