When in Miami, a tasting tour of the city's best cocktails is a must. From the whiskey-heavy Mexico Stirred at Sweet Liberty to the tropical Jungle Bird at Gramps, it's guaranteed you can find unmatched boozy drinks in the city's menu.
Here's your essential guide to the best cocktails in Miami.
Mexico Stirred at Sweet Liberty
A foolproof blend for whiskey aficionados, Mexico Stirred brings Latin America to Miami's heart.
With a unique blend of Abasolo whiskey, aged tequila, and Mexican corn whiskey, the boozy elixir is alcohol-heavy from the get-go. But aromatic elements like chocolate mole bitters, herbs, and spices bring a hint of spice and sweetness.
Envisioned, shaped, and created by award-winning bartenders and hospitality moguls, Sweet Liberty celebrates The American Dream culture. Its interior oozes gentleman-like aesthetics, with leather couches and retro-modern decor. Whether sitting at the bar or lounging in a cozy booth, the cocktail bar is a visual feast.
Sitting tall in Miami's mixology hierarchy, Sweet Liberty is a staple for cocktail enthusiasts. Its large selection of vintage spirits – some over 100 years old – might be at fault for that.
Marisol Key at The Corner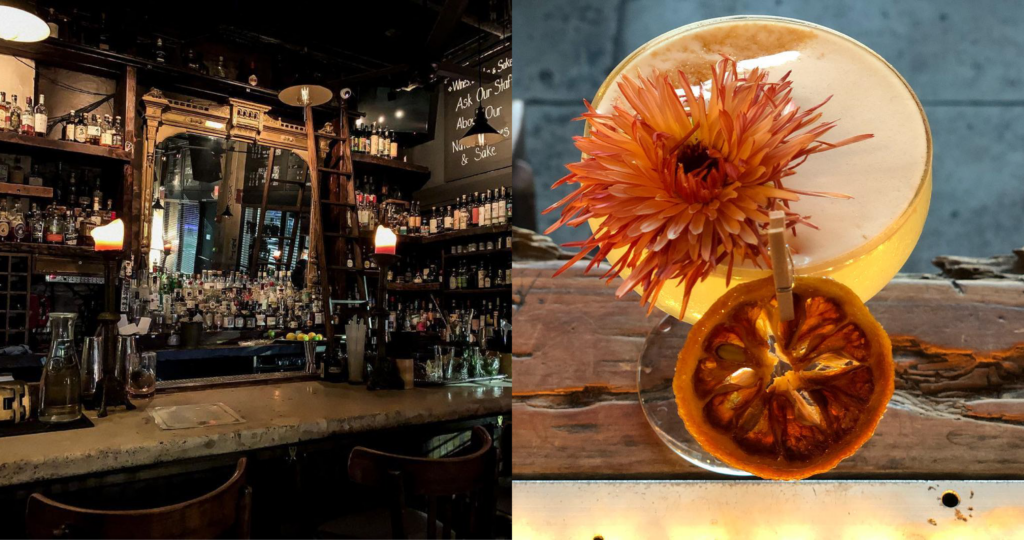 Crafted with a perfect fusion of Havana white rum, tangy key lime, frothy egg white, and sweet sunflower seed syrup, the Marisol Key cocktail is summer in a glass.
Located in one of Miami's oldest neighborhoods, The Corner bar exudes a vintage vibe that transports its patrons back to the roaring Jazz Age. The establishment's bar, constructed from 150-year-old wood, is a true work of art that exudes both elegance and rustic charm.
What sets The Corner apart from other bars is its carefully curated selection of ingredients. Each ingredient is thoughtfully sourced, from agave syrup to habanero bitters, and adds a unique touch to the served drinks.
As a hidden gem in Miami's bar scene, The Corner attracts a trendy and eclectic crowd of locals and hipsters who crave a unique and authentic drinking experience.
Maduro Old Fashioned at Café La Trova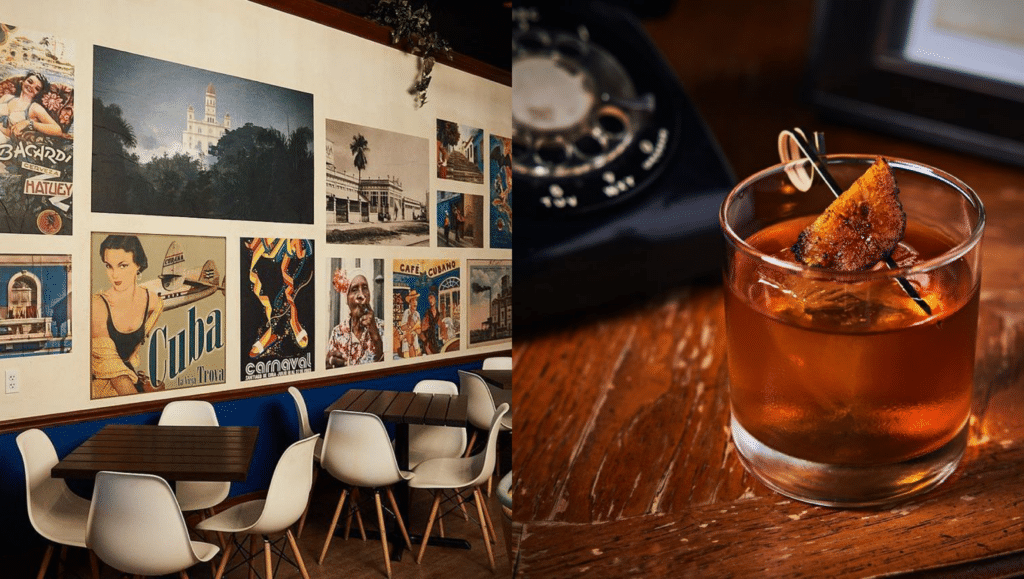 Don't let its name fool you – Maduro Old Fashioned is a Cuban reiteration of the timeless Old Fashioned. The cocktail is named after the ripe plantains used in Cuban cuisine, and for a good reason.
Paying homage to The Land of Rum and Cigars, the alcoholic creation features aged plantain-infused whiskey as its base and adds demerara syrup and chocolate bitters for the oomph effect.
Cafe La Trova displays a cozy setting with an authentic Cuban style, but that's far from being its secret weapon. The Little Havana cocktail bar uses the island's historic 'cantinero' serving style. Before pouring your drink, bartenders pull off an acrobatics show, throwing shakers and strainers in the air.
While Cafe La Trova opens its arms to everyone, most familiar faces are cocktail lovers who appreciate Cuban culture.
Swan Mule at Bar Bevy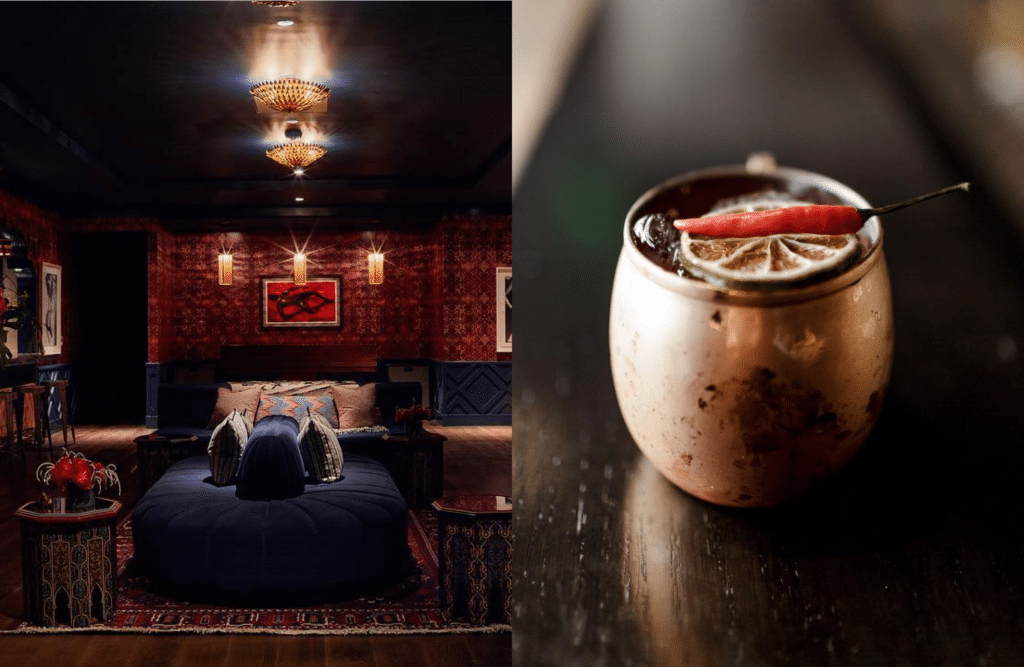 Swan Mule is the Miami cocktail that nobody asked for, but the boozy concoction that everybody needs. Complex and served in a copper mug, Swan Mule infuses Santa Teresa 1796 rum with the fruity flavors of pineapple and apricot – yes, spicy ginger is also part of the mix.
A sophisticated cocktail calls for an equally chic venue. Co-owned by renowned artist and music producer Pharrell Williams, Bar Bevy displays an upscale lounge aesthetic. Plush velvet seats dominate the scene, while lighting fixtures create a mysterious air.
Always on top of the mixology game, the cocktail temple is not one for penny-pinchers. Bar Bevy is about the ritzy life, from top-shelf liquor to eye-watering menu prices.
What's Up Doc?! at Broken Shaker
Inspired by Bugs Bunny's famous catchphrase, What's Up Doc?! doesn't count as your five in a day, but it's not far from it. To create this health-forward Miami cocktail, bartenders juice fresh carrots and make it boozy with smoky agave liquor and tropical Chinola.
Broken Shaker Miami is a tropical backyard oasis nestled in Freehand Miami, a vintage Art Deco Hotel. While sitting on the bar's patio, surrounded by plants and palm trees, you experience a tipsy wonderland of locally-sourced ingredients.
When we say local, we really mean it. The retro watering hole grows fruits and plants in its garden to later use them in crafted cocktails and signature drinks.
Its commitment to delivering lip-smacking drinks attracts a crowd of locals who care about what goes in their cocktails.
CBD Espresso Martini at Lost Boy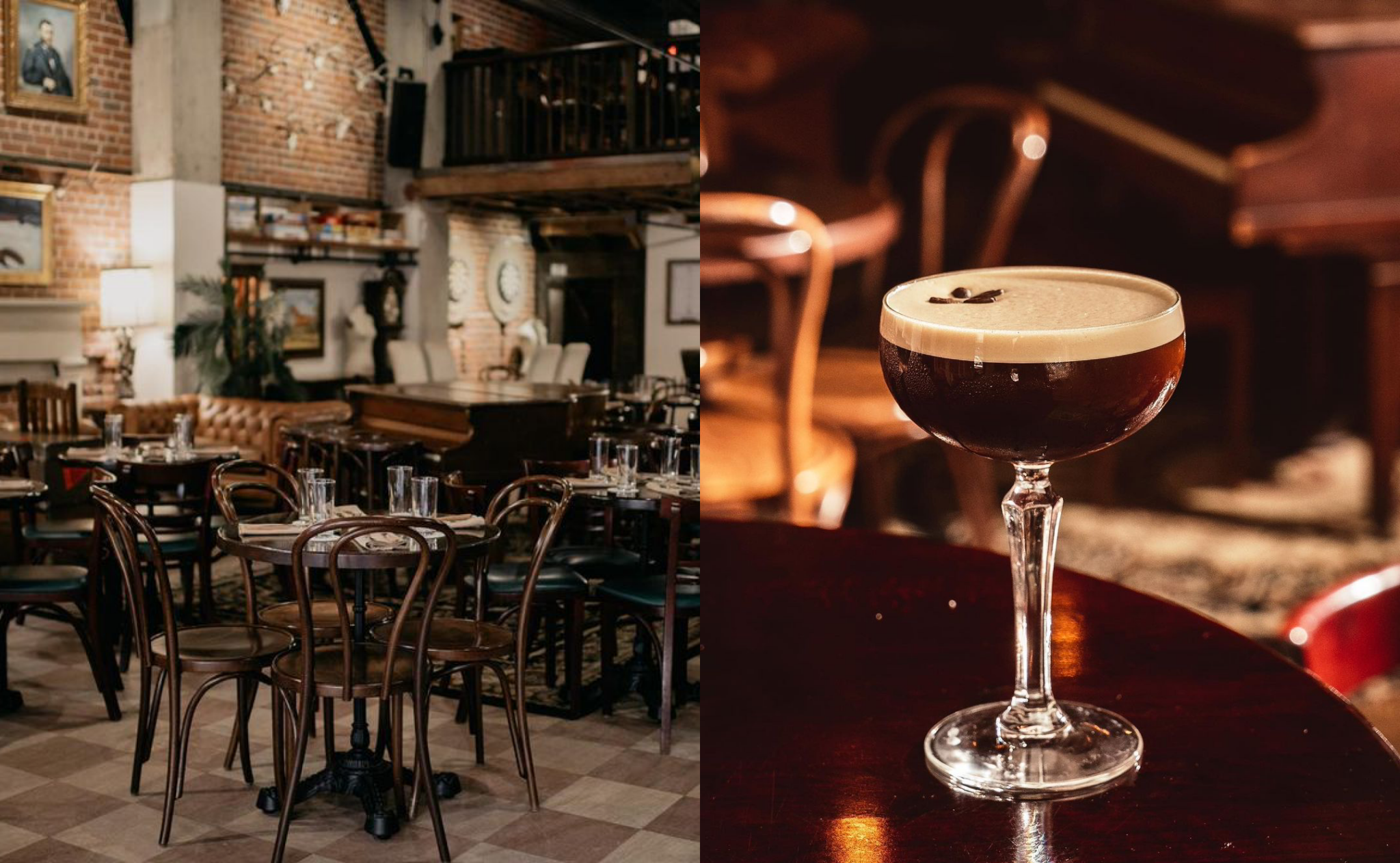 Getting a caffeine boost while getting high seems challenging, but CBD Espresso Martini makes it look effortless. As you might have already guessed, the cocktail puts a calming twist to the classic Espresso Martini. Foamy, bitter, and with a dash of CBD, the blend features vodka, coffee liquor, and espresso.
Oozing an English pub energy, the old-school Lost Boy cocktail bar speaks of a bygone era. Aside from serving finger-licking bites like charcuterie boards and sandwiches, the spot is popular for using unusual ingredients, like activated charcoal and edible glitter.
From trendsetters to hippie individuals, Lost Boy attracts a diverse crowd united by one thing – a shared love for the art of mixology.
Green Light at The Sylvester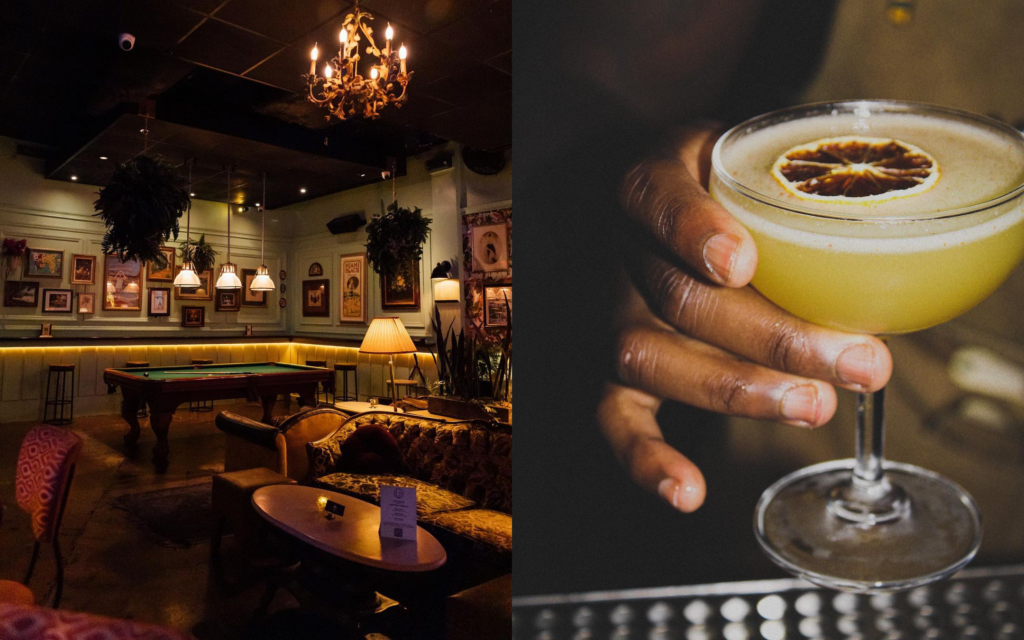 Green Light is calling your name if you're in the mood for some cocktail exploration. Beautifully layered and eye-catching, the alcoholic elixir features a sour-meets-citrusy blend of mint, fresh cucumber, Bacardi rum, and lime juice.
Its creator, the dimly-lit The Sylvester cocktail bar, is anything but shy in showcasing its love for vintage decor. Part of its undeniable appeal stands in the seatings' different textures, colors, and patterns – no sofa or armchair is the same in this room.
Away from the pool table and nostalgic designs, the bar is the main character. Serving 1970s-inspired cocktails, The Sylvester features modern interpretations of timeless classics.
Young professionals from the creative industry flock to the cocktail bar for an upscale cocktail experience that's (somehow) budget-friendly.
Jungle Bird at Gramps
Rumor has it that the Jungle Bird cocktail was first crafted in 1978 at Kuala Lumpur's Aviary Bar. Its Miami version displays tiki-style aesthetics and a balanced blend of lime juice, Jamaican rum, simple syrup, and pineapple juice.
Located in the artsy Wynwood, Gramps combines cocktail experiences with laid-back picnics. Very much focused on the outdoors, the watering hole has picnic tables, antique mirrors, and vintage items scattered throughout the space.
Gramps knows that top-notch cocktails alone won't make patrons over and over again. A fan of live entertainment, the bar brings stand-up comedy shows, DJs, and cultural events to its intimate stage, adding a dash of fun to traditional drinking.
As a safe and inclusive space, the Miami cocktail spot is the go-to place for post-work drinks and impromptu catch-ups.