Your big night out in Amsterdam isn't complete without a taste of the city's best drunk food.
From the crunchy croquette at Febo to the Real Bite Burger at Burger Bar, Amsterdam has everything your taste buds might crave late at night.
Here's your essential guide to the best drunk food in Amsterdam.
When in Amsterdam, your night out wouldn't be complete without the ultimate late-night food – Febo's hot croquette.
A classic Dutch deep-fried roll filled with a ragout made with spices, meats, veggies, and breadcrumbs is everything your taste buds crave after a boozy clubbing session.
Taking the fast-food concept to the next level, Febo serves its food in an automatic format. Golden and crispy, their croquettes are kept in small compartments to make sure they are warm. Nothing is simpler than this – insert coins, open the door, and gorge.
BBQ ribs at Cannibale Royale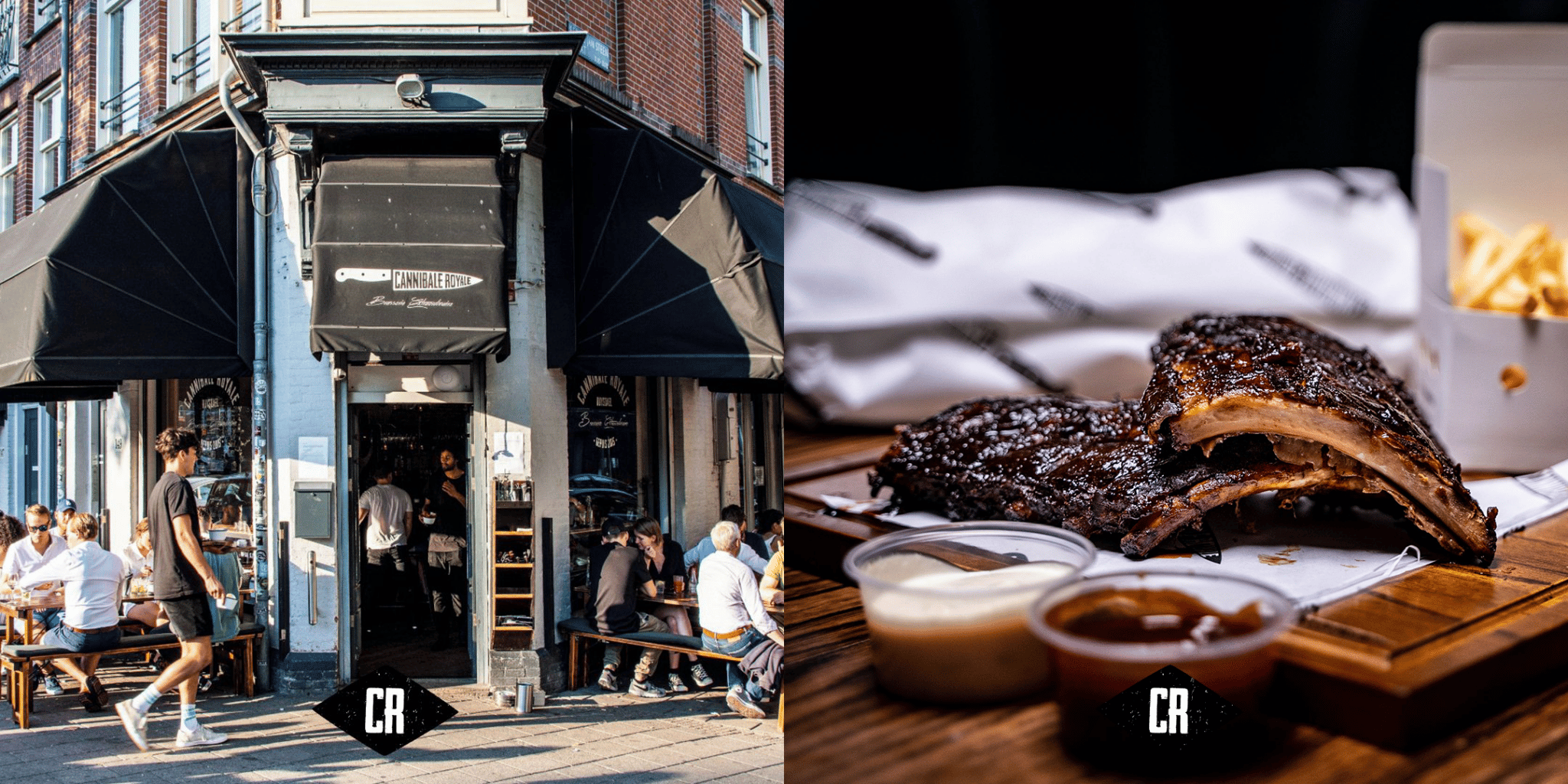 For a greasier late-night dish, head down to Cannibale Royale. Their trademark Cannibale's Favourite Ribs is a finger-licking plate of slowly roasted ribs glazed, all washed in a sweet marinade.
Situated in central Amsterdam, the drunk food eatery mixes the chicness of a French brasserie with cavemen vibes.
Besides its savory and tender meats, Cannibale Royale has garnered serious popularity as a late-night spot due to its quality ingredients and cozy setting.
Broodje shawarma at Sefa Restaurant BBQ & Grill-Room
When nothing seems to scratch your itch, a warm broodje shawarma from Sefa Restaurant BBQ & Grill-Room is all you need. At the end of the day, a juicy lamb shawarma is everything you need to prevent a post-clubbing dreadful hangover – or at least make it more bearable.
The late-night eatery is well-known for its masterful way of adding the right amount of seasoning. If the cozy location hasn't convinced you, should we add that the restaurant keeps its ingredients fresh?
Flamboyant Shrimpz at Vegan Junk Food Bar
Dear vegans, this Amsterdam drunk food really understood your assignment. Both mouth-watering and meat-free, those deep-fried shrimps are topped off with spicy sauce, crunchy spring onion, and chives.
The mastermind behind this meal, Vegan Junk Food Bar, has innovativeness running through its veins – and we are not (necessarily) talking about its awe-inspiring decor.
In other words, the late-night eatery always puts quality on a pedestal with a menu that protects the environment and satisfies vegans' taste buds.
The Real Bite Burger at Burger Bar
A staple Amsterdam drunk food is Burger Bar's Real Bite Burger – a delicious combination of Irish beef on a sesame bun, topped with provolone cheese, fig jam, crispy onions and bacon.
Whether it's their locally-baked buns or their fresh lettuce leaves, Burger Bar throws the quality ingredients card on the table.
Not to mention you are in charge of creating your ideal recipe, as the build-your-own system lets you choose everything that's going on in your burger – from the vegetables to the bun.