Cairo's nightlife is where Arabian music meets the intoxicating aroma of hookah smoke.
Starting with Anzu Rooftop Lounge's views and ending with Koshari at Koshari Hind, this is how you can experience an amazing night out.
Here's your essential guide to Cairo nightlife.
Explore Cairo's cocktail scene at Anzu Rooftop Lounge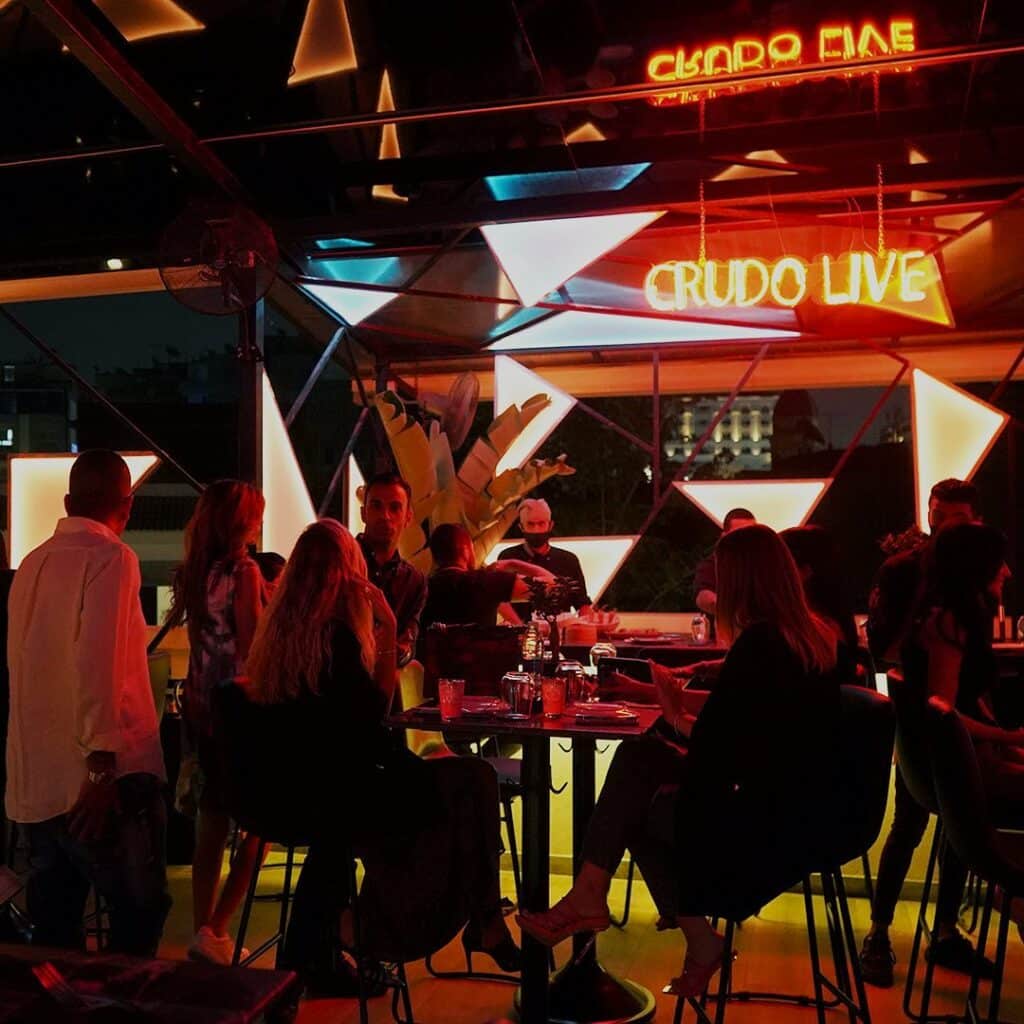 A thrum in the desert night and a neon spectacle perched atop a retro boutique hotel, Cairo has never seen anything like Anzu. As the brainchild of innovative Lebanese lounge lovers, the rooftop bar takes dining to another level.
And by another level, we mean neon-illuminated, geometric shapes playfully winking at you while you chow down on spicy baos.
You'd be forgiven for thinking you'd stepped onto a Daft Punk album cover when entering Anzu. From the abstract interior to the neon glow, the watering hole is as much an art installation as it is a trendy rooftop bar.
But Anzu is more than just a pretty face. Its gastronomical ethos is Asian-inspired, taking patrons on a taste journey from succulent shrimp to crispy salmon bowls.
Make a social media feed addition at Tahir Square Obelisk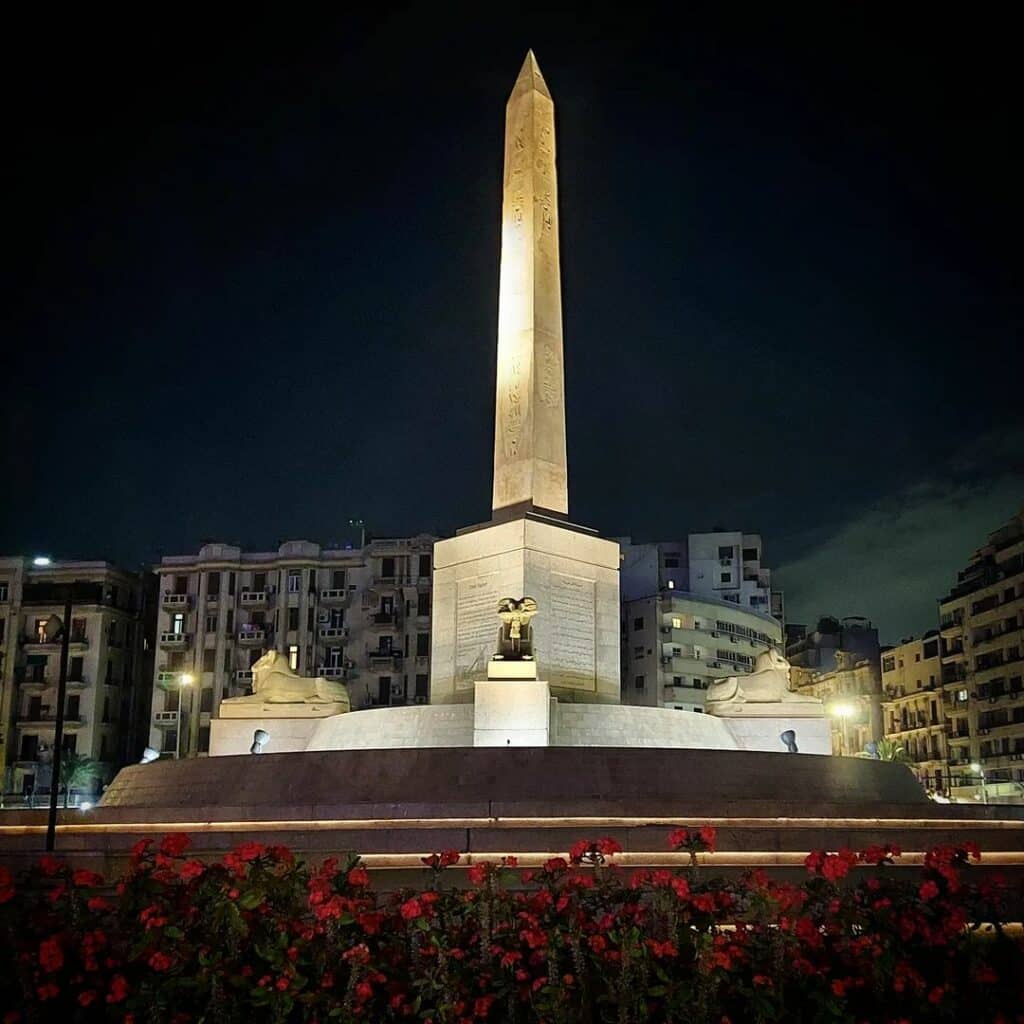 Tahir Square's Obelisk has unassumingly morphed into a social media stage, a site steeped in history, marinated in cultural significance, and topped off with an architectural elegance beyond mere bricks and mortar.
Eclipsing its surroundings with its tall, slender form, the Obelisk harks back to civilization's dawn. Made of granite, its sharp lines and smooth finish are a testament to ancient Egyptians' architectural sharpness.
Lounge in haze and indulge in hookah at Hookah Lounge
Considered by some as the Pharaoh's version of a nicotine nightcap, the hookah represents a tangible manifestation of Egypt's deep-seated tradition of nocturnal socialization.
But rest assured, this is no run-of-the-mill, puff-and-pass routine. It's a historic hoot, a nostalgic nod, and an absolute riot, all tangled together in the intoxicating tendrils of hookah smoke.
A veritable Shisha Shangri-La, the Hookah Lounge is a Cairo nightlife adventure wrapped in sweet-scented smoke.
As the city's worst-kept secret and best rendezvous point for puffing bliss, the spot boasts an impressive array of flavors – from classics like Double Apple to the exotic Arabian Night's Dream.
Explore the bustling Zamalek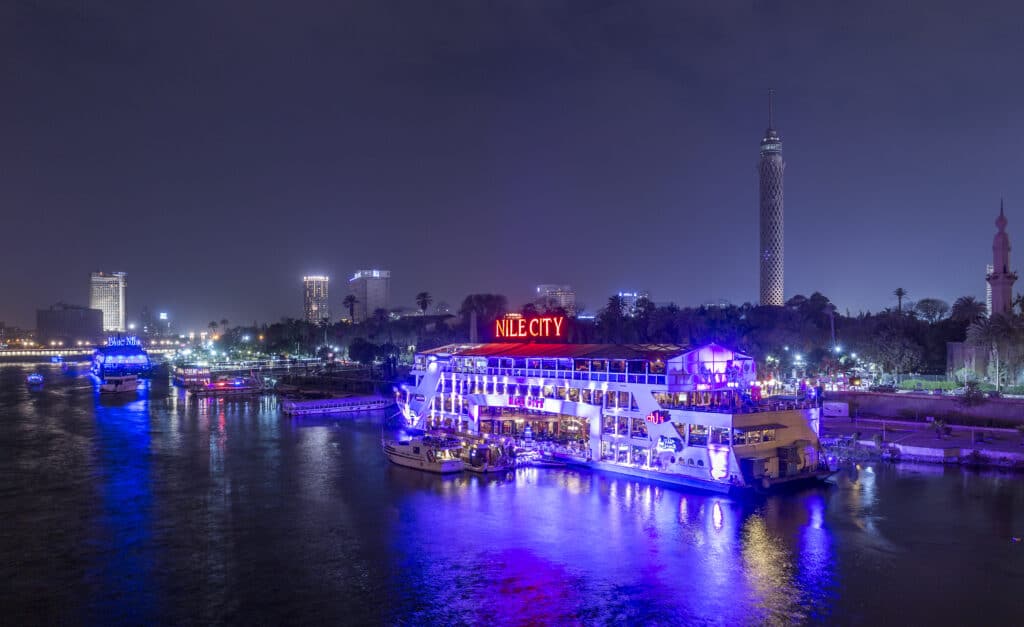 In Zamalek, the past smashes up against the present like nowhere else in the world. Until the late 19th century, the Cairo nightlife hotspot remained uninhabited – but fast forward to today, and the island neighborhood is one of the city's most coveted areas.
A cocktail of European chic and Arabian mystique, Zamalek is a bona fide living tribute to Cairo's cultural heritage.
We're talking a multi-era architectural catwalk, flaunting everything from whimsical art deco to neoclassical styles and the occasional Islamic flair.
You can savor tapas at the Spanish-infused Agouza locale or nip over to the heart of the island for some U Bistro & Bar Parisian fare. From there, make a pit stop at Pub 28, a well-loved establishment where locals and tourists mingle over shared tales and hearty Egyptian grub.
If it's music that gets your toes tapping, Zamalek hits all the right notes. It's a symphony of genres, an auditory mosaic that echoes through the city's nighttime canvas.
The Cairo Opera House hosts everything from ballet to orchestral performances, while Cairo Jazz Club, a stalwart on the nightlife scene, teems with music enthusiasts.
Sip on the Coke Go Nuts cocktail at Sachi
Every good cocktail is a story, and the Coke Go Nuts narrative begins with the careful, surgical pour of smooth, slick vodka. But the magic starts with the delicate squeeze of fresh lime, fig leaf, and Coca-Cola.
You might have come to Sachi for a quick bite or a casual sip, but leave your expectations at the door. With the hand of a mixology wizard, Sachi is less of a restaurant and more of an alchemic experience. Think of the Cairo nightlife venue as a time machine, blending vintage elegance with a contemporary twist.
Aesthetic aficionados will drool over the symphony of textures – plush velvet seats, sleek marbled surfaces, and warm wooden accents that take a playful detour from the cookie-cutter minimalist trend.
Sachi's bartenders don't just serve drinks but shake never-seen-again libations. Blends of fig liqueur, champagne, and Egyptian spices attract a cocktail-loving clientele looking for what's new and next in mixology.
Ready, steady, groove at Echo Prive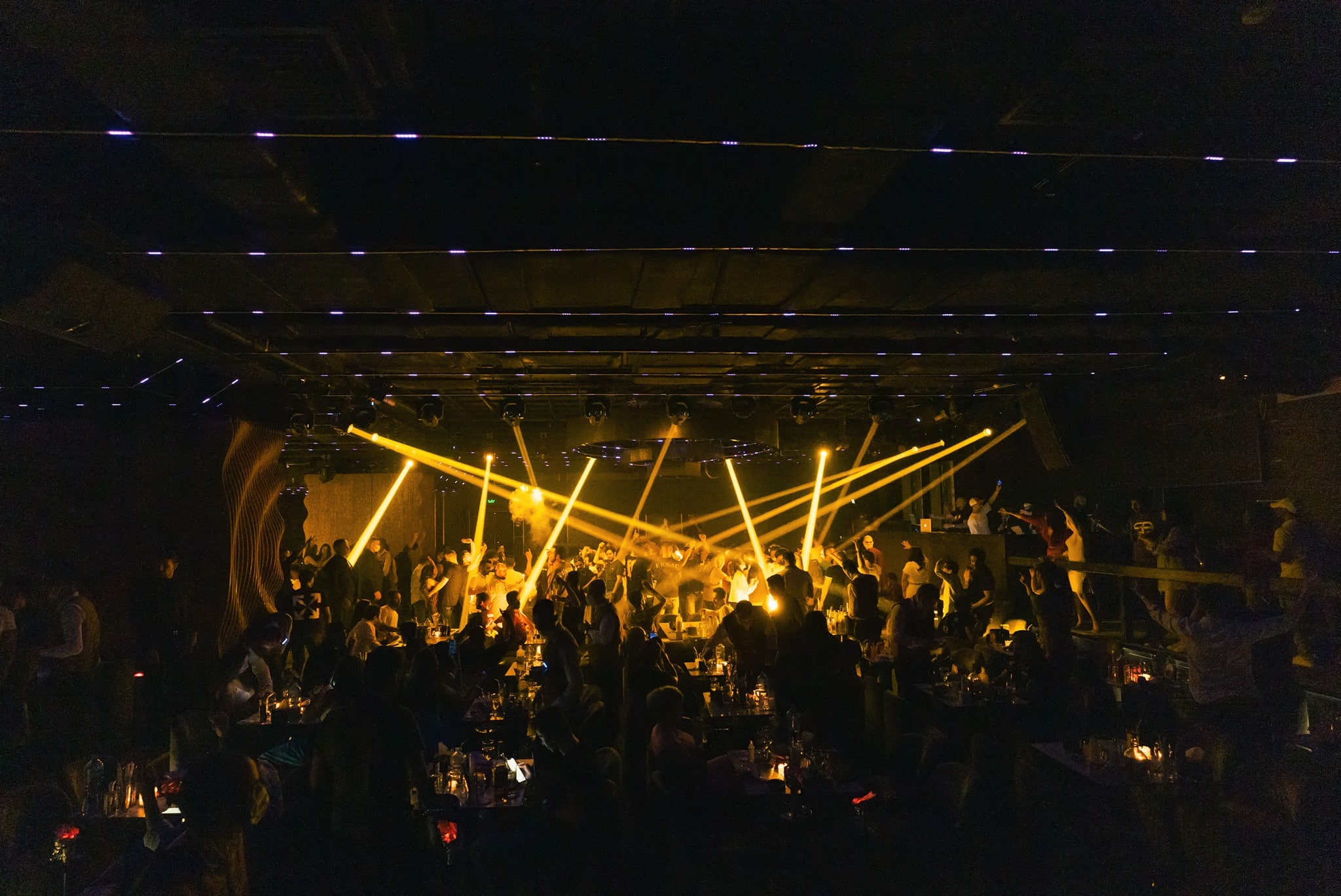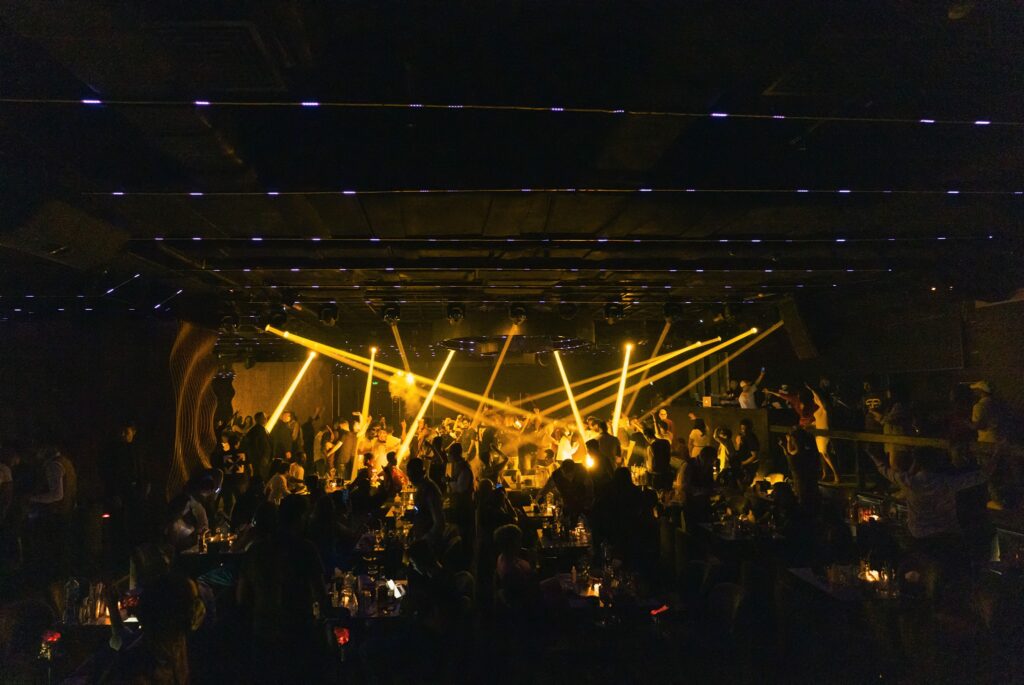 As a pinnacle of luxury nightlife, Echo Prive Cairo is no stranger to hosting foolproof clubbing sessions.
Its high-end sound system and entrancing light displays orchestrate a non-stop symphony of revelry, while strategically placed tables across the dance floor offer the perfect pit-stop for revelers needing a breather.
Nourish your inner foodie with Koshari at Koshari Hind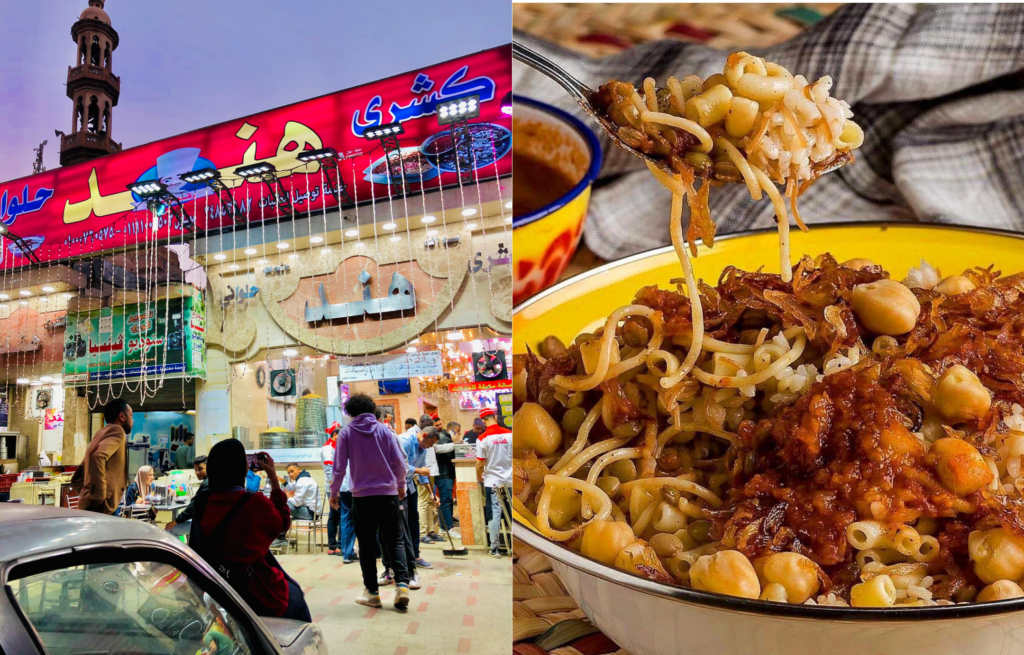 Think of Koshari as that quirky friend at the party who's a delightful mishmash of all things. The unexpected ensemble might take you aback at first, but a single conversation (or bite, in this case) will turn you into an ardent fan.
It's the carbohydrate-loaded, bean-filled, pasta-sprinkled, fried-onion-topped superstar that the Pharaohs never had but would have approved.
Koshari Hind is a no-frills, all flavors, much like your best nights out. Mosaic tile work, reminiscent of the old city charm, meets vibrant pops of color, and the smell of simmering sauce and fried onions gives Chanel No.5 a run for its money.
But its Koshari is far from being a one-hit-wonder. Cairo's foodies also rave about their Ta'meya, the Egyptian falafel.
These golden orbs of delight, made from fava beans instead of chickpeas, are lighter and fluffier than their Middle-Eastern cousins. Dip them in Tahini or stuff them in a pita with a salad, and you'll soon understand why they're the perfect alternative drunk munchie.