Dubai nightlife is renowned for its cosmopolitan partying style.
Starting with a cocktail in hand at SoBe and ending with a juicy burger at Lads Burger, this is how you can experience an amazing night out.
Here's your essential guide to Dubai nightlife.
Enjoy a view-and-cocktail session at Sobe Rooftop
The trendy Sobe might not be the only Dubai rooftop boasting panoramic views, but it's the only one that matters. Nestled in the tree-shaped Palm Jumeirah island, the sky bar found its forever home on W Hotel's 5th floor.
As one might expect from its first-class location, the neon-tinged Sobe delivers Insta-worthy panoramas of the vast ocean.
With an unapologetic beach club vibe, the boozy sanctuary displays an alfresco terrace where palm trees, fairy lights, and lit-up paths. Tropical aesthetics are interrupted with purple neon when the sun goes down, adding a dash of art deco visuals.
Open nightly, Sobe brings a slice of South Beach Miami to Dubai with Latin American-inspired dishes like corn quesadillas. That probably explains why the rooftop bar attracts an international clientele.
Pose next to the iconic Burj Khalifa
Would your Instagram feed be complete without a snap of the towering Burj Khalifa? Probably not.
Standing at a soaring height of 828 meters and 163 floors, the building holds several world records, including being the tallest freestanding structure in the world.
Hope on an Al Wasl Dhow Cruise
There aren't many Dubai nightlife experiences that combine sightseeing with drinking and dining – but luckily, Al Wasl Dhow Cruise is one of them.
Often billed as a floating restaurant, the wooden boat – called Dhow – gives night owls the opportunity to see, taste, and drink Dubai's culture in a two-hour journey.
As the Dhow leaves the shore, the stunning vistas start unfolding. From the posh Dubai Marina to unmissable spots like the captivating Burj Al Arab and Palm Jumeirah, the Al Wasl Dhow Cruise gives you the best of both worlds.
The award-winning cruise speaks of a bygone era through its structure – the Dhow is a traditional sailing vessel used in maritime trade in the Arabian Peninsula – while embracing the present's grip with a cityscape flanked by landmarks and skyscrapers.
Explore the opulent Jumeirah
While Jumeirah has witnessed significant urban development since its beginnings as a fishing village, the nightlife hotspot proudly preserves Dubai's cultural heritage.
Among its traditional houses and museums telling the story of the UAE's formation, a slew of nighttime businesses – from bars to clubs – remind visitors why Dubai is a party capital.
Within Jumeirah's vibrant tapestry, every venue is a portal to a unique experience. From hidden speakeasies to sultry underground clubs, the ritzy area ensures that every taste and preference finds its nocturnal haven.
For those seeking a glamorous atmosphere, Gold on 27 sets the stage for signature cocktails and Dubai's elite. Jumeirah nightclubs are not to be sniffed at either, with party destinations like Mirage and Bling keeping the area awake until late at night.
Thanks to its dynamic lifestyle, Jumeirah reveals itself at night with shimmering lights, vibrant energy, and to-die-for parties.
Give the Goddess of Nature cocktail a try at at Galaxy Bar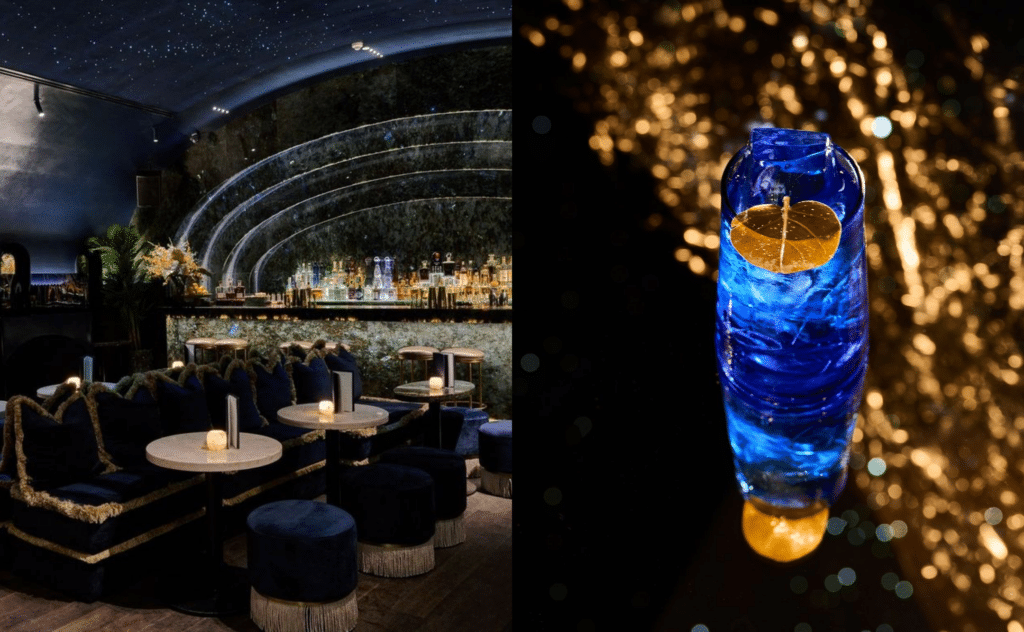 Inspired by the bounties of nature and too visually pleasing to be downed, the Goddess of Nature cocktail is both eye candy and soul food. By combining botanical notes and citrus accents, the boozy elixir creates a balanced, savory, and timeless umami.
A stellar drinking experience from A to Z, Galaxy Bar would make one believe that the cosmos is a venue. Featuring celestial motifs, futuristic designs and a color palette reminiscent of the night sky, the bar nods at Greece's magic.
As the place where Greek architecture and Mediterranean flavors like Metaxa rule with unrivaled presence, Galaxy Bar doesn't play safe. Instead, it delivers an otherworldly cocktail with a constellation-inspired menu and creative ingredients like umeshu, saffron bitters and sandalwood tea.
Naturally, the Dubai cocktail bar attracts sophisticated globetrotters and travelers seeking a world-class nightlife experience.
Party on the waters at Float
Float doesn't strive to be your average nightclub – on the contrary. With a Vegas partying-like feel, Float shares the same cruise ship with an uber-expensive hotel.
Permanently docked in the Rashid port, the music temple is the go-to spot for R&B beats, top-notch bottle service, and unique clubbing moments.
Treat yourself to a juicy burger at Lads Burger
A staple in Dubai's nightlife, the mouthwatering burgers feel like a gastronomical revelation. Each bite is a savory explosion of golden buns, finger-licking sauces, and perfectly seasoned meat – in other words, exactly what your booze-induced cravings desire most.
While several burger joints fight for the Dubai throne, Lads Burger constantly levels up the drunk food game. From timeless classics to bold creations, each food item uses locally-sourced ingredients, freshly-baked buns, and premium protein.
Although the late-night eatery is committed to culinary excellence, it showcases a laid-back atmosphere. Burger aficionados feel like they found heaven on Earth, while hungry revelers find food comfort within Lads Burger's walls.