Helsinki's nightlife pulsates with eclectic music, hidden dance clubs, and gourmet adventures.
Starting with Rooftop Miami's lip-smacking cocktails and ending with a juicy burger at Treffi Pub, this is how you can experience an amazing night out.
Here's your essential guide to Helsinki nightlife.
Get a sky-high thrill with Rooftop Miami's vistas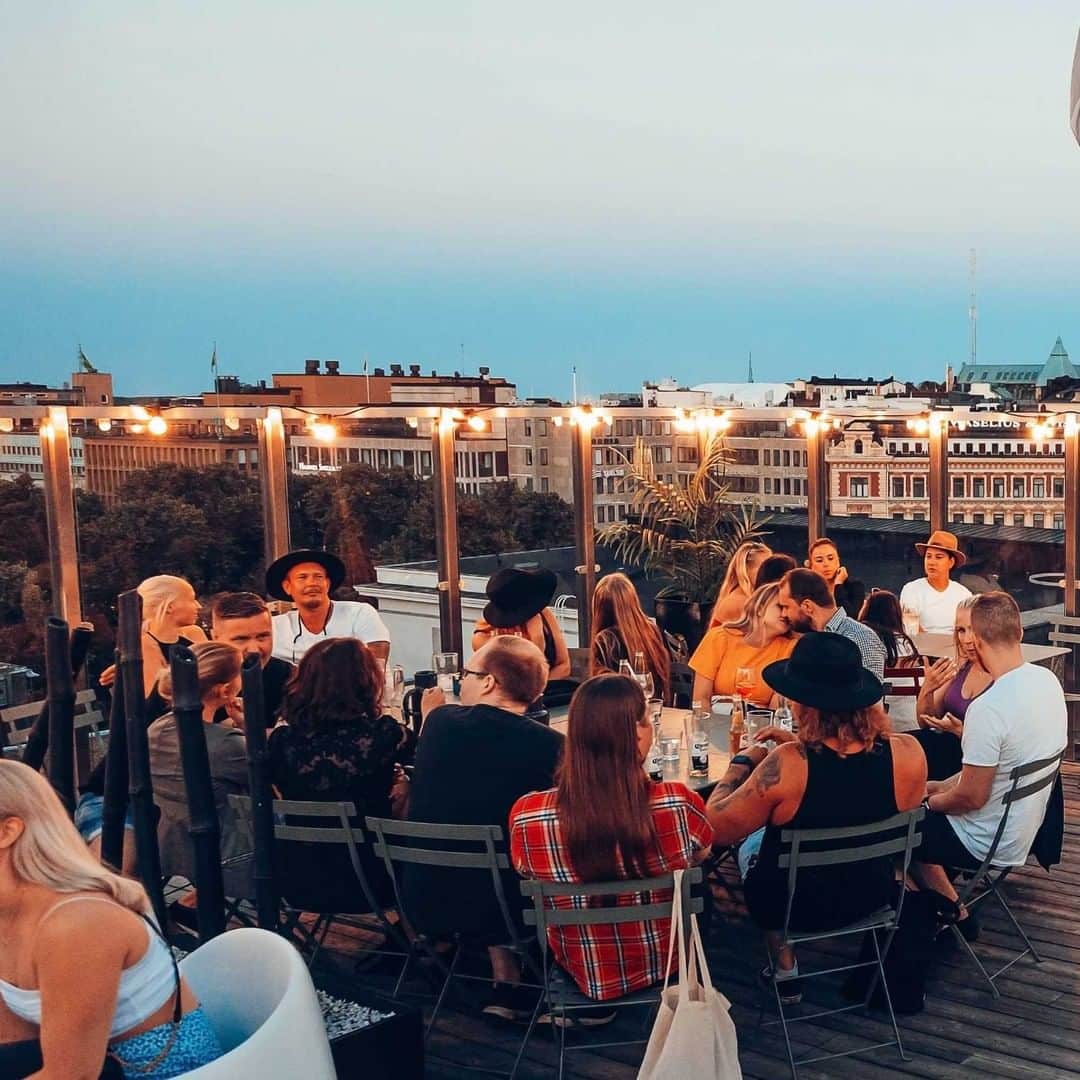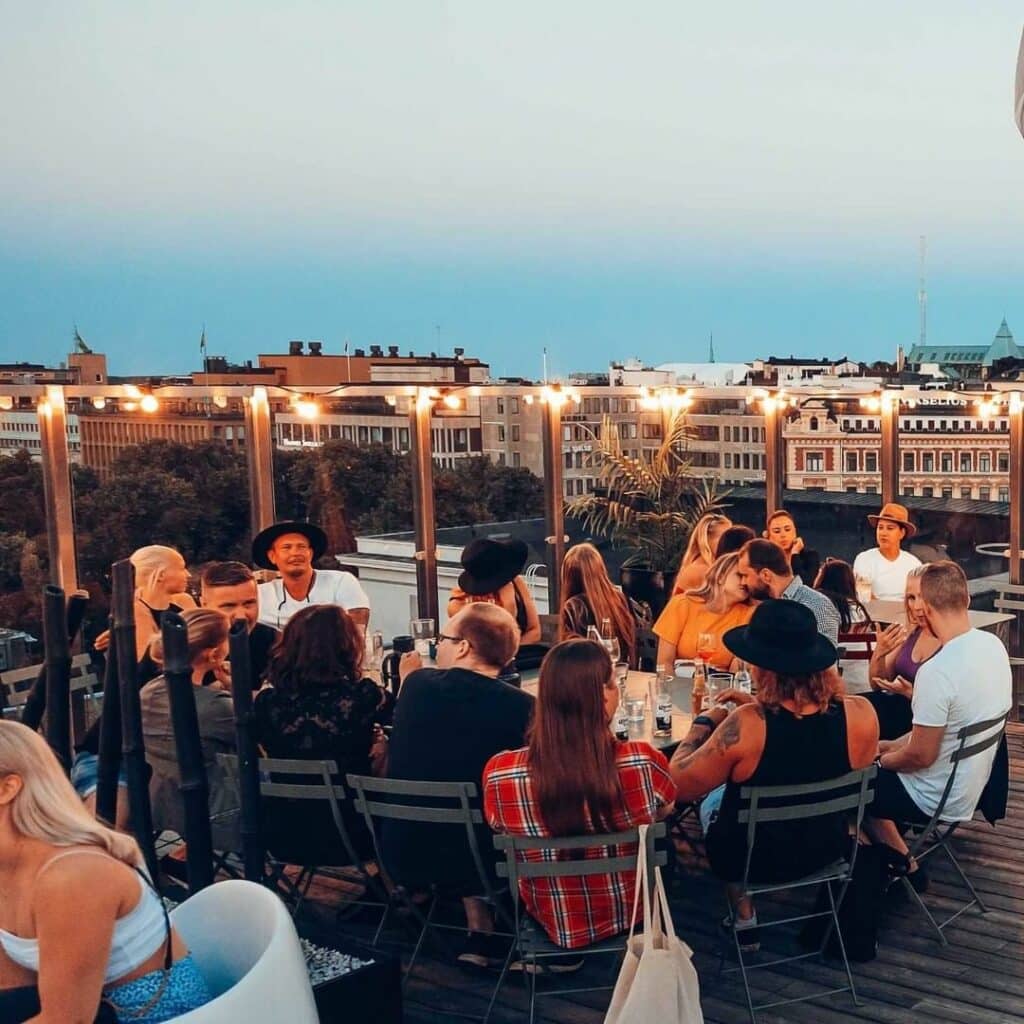 When someone says, "Let's take a trip from Miami to Helsinki," you'd probably think they're comparing apples to igloos. Yet, up there on the eighth floor of the iconic Stockmann in Helsinki, a Floridian miracle has sprouted from Finnish concrete, casting its vibrant glow into the Nordic sky.
Spanning three levels, Miami Rooftop is no average sky bar. As soon as you step onto its wooden deck, your eyes will be instantly glued to the clever mesh of vintage furniture and cozy decor elements.
Architecturally, the layout is fluid, designed to evolve with the day's progression. Its ephemeral nature keeps the atmosphere in perpetual motion, seamlessly transitioning from a sun-kissed terrace to a glitzy moonlit club.
No Miami-inspired hotspot could be complete without a menu bursting with a mosaic of flavors. At Miami Rooftop, Nordic culinary sensibilities waltz with Latin American flair to create a sizzling medley of classics and bold creations.
From sun-soaked socialites and pinstriped patrons to trendsetters eager to groove, the rooftop hums with a multifaceted mix of Helsinki's finest.
Snap a pic at Helsinki Cathedral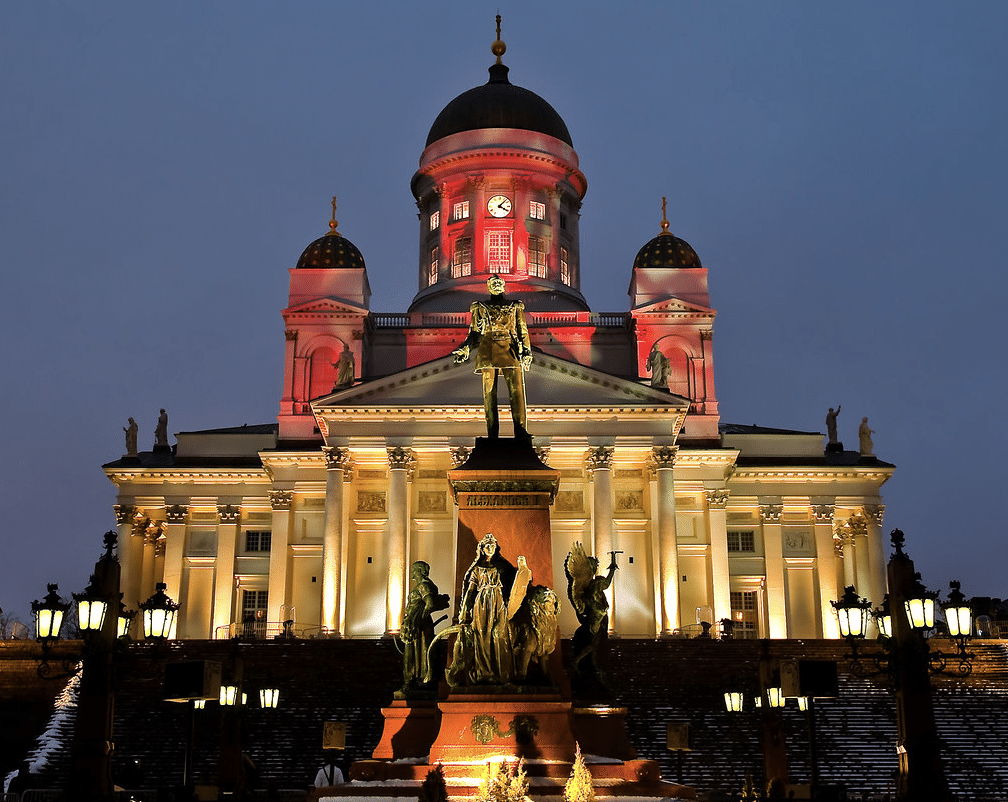 This stunning mid-19th-century dame doesn't do ordinary or basic. An oasis of divine elegance with a dash of Neoclassical spice, the Helsinki Cathedral acts like a charming peacock waiting to be snapped, hashtagged, and double-tapped.
Its exterior boasts a line of 12 stone apostles keeping a vigilant eye on the city's shenanigans.
Take a refreshing dip under the stars at Allas Sea Pool and Sauna
What do you get when you combine Finnish sauna culture, the Baltic Sea, and the thrill of nocturnal escapades? You get Hesinki's Allas Sea Pool, a splashy experience that turns traditional nightlife on its head.
As an urban wellness oasis, Allas goes big and bold with its two massive pools – seawater and warm water pools. While the latter is heated to a consistent 27°C throughout the year, the seawater pool mimics the chilly Baltic waters, hinting at Finland's cold plunge culture.
But what truly sets Allas Sea Pool apart is its saunas. You'll realize 'sauna' isn't just a room with heated stones – it's somewhere between a social institution and a sacred retreat.
In line with Finnish tradition, it's almost essential to plunge into the chilly sea (or snow) after your sauna session. A bit overwhelming, sure, but it's a tradition that's stood the test of time.
At Allas, you have two unique saunas to choose from: one for women, one for men. With the scent of birch wafting through the air, these steamy chambers are where the Finns come to sweat, chat, and unwind.
Immerse yourself in Kamppi's hidden gems
Situated in the heart of Helsinki, Kamppi is steeped in history that dates back to the 19th century. The district's origins are a blend of trade and transportation, but the cultural evolution makes it a charming relic of time and progress.
Today, Kamppi's streets are lined with modernist architectural wonders, stunning glass facades nestled seamlessly among time-honored structures.
Within Kamppi's nocturnal landscape, each club and bar sparkles with its unique character, forming a constellation of hedonistic retreats.
Son of a Punch bar leads this lineup, challenging New York's Brooklyn with its blend of rustic ambience and inventive mixology. More than pre-drinking spot, it serves an unforgettable experience, crafting cocktails inspired by the district's old-world charm.
On the other hand, HelsinkiBar Loose is for those who believe rock'n'roll's spirit pairs well with a fine gin. This bar epitomizes grungy chic, where the music is loud, the atmosphere is electric, and the beer is always cold.
Leading the crescendo is Butchers, a far cry from your traditional club. Heavily inspired by the Meatpacking District, the Helsinki nightlife spot feels like a classic American diner infused with pop, electronic, and R&B sounds.
Sip on The Clairvoyance cocktail at Bardem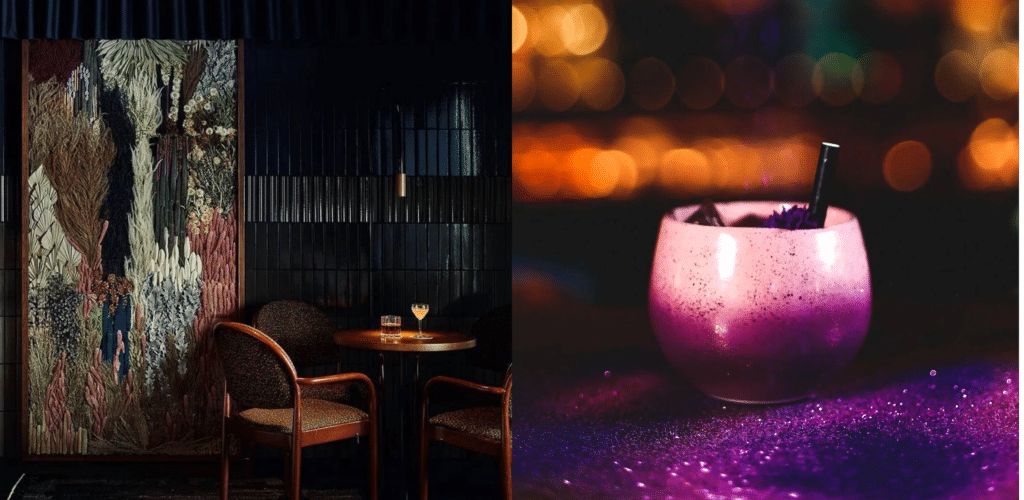 As prophesied by its name, The Clairvoyance is not just a drink – it's a premonition of flavors yet to come. This blend of mezcal, Licor 43, watermelon, coffee, vinegar, and lemon is an enchanting oracle that leaves you savouring the future, one sip at a time.
With its bold ingredients list, The Clairvoyance heralds the ethos of its birthplace, Bar Bardem. An intriguing mélange of past and future, classic and eccentric, traditional and adventurous, the bar invites guests into an intimate, dimly-lit world of deep-blue glossiness.
From '80s-inspired elements to contemporary stylings, Bardem is a modern-day speakeasy where time periods collide.
Although intimate with its 40 seats, the watering hole's aura is undeniably expansive. The Helsinki nightlife spot offers a wide array of libations, from vintage cocktails to low-alcohol mixes and alcohol-free mocktails, providing something for everyone.
Party like there's no tomorrow at Maxine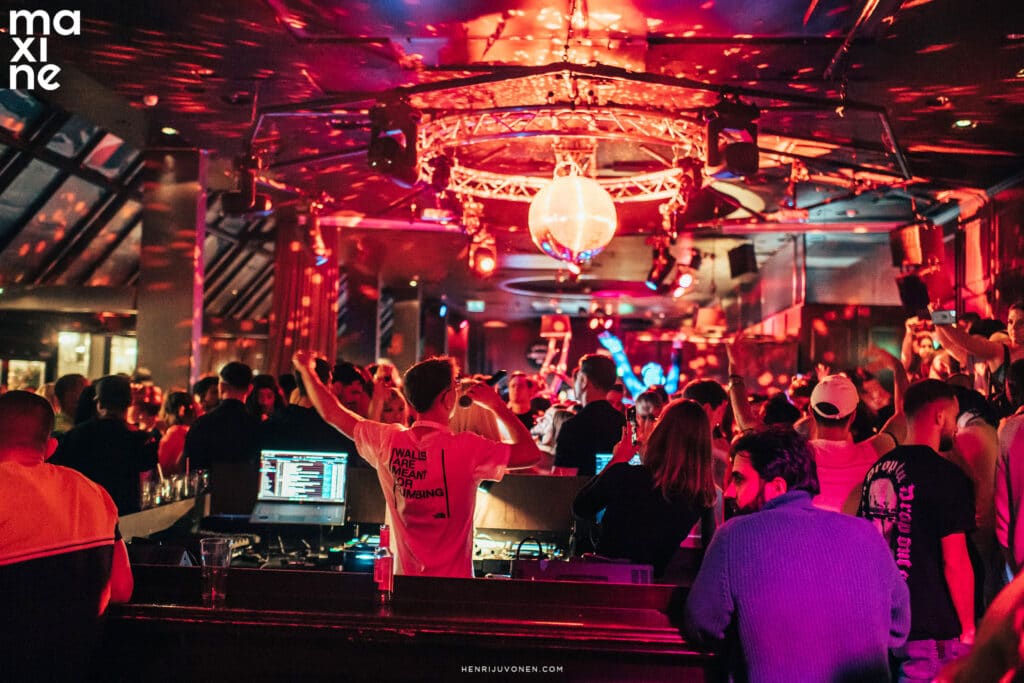 Maxine is one of Helsinki's most sought-after clubbing spots, but not for the reasons you think. Table service isn't a must and no A-list celebrities are making impromptu appearances – but that's part of Maxine's popularity.
Laid-back but always ready to throw high-energy parties, the nightclub serves everything from all-time hits to chart-topping songs.
Treat yourself to a burger at Treffi Pub
When the moon usurps the sun and nocturnal revelry reigns, Treffi Pub's prodigious burger steals the spotlight. Not your average drunk food, the epicurean juggernaut uses open-fire grilled beef steaks, briossi bun and adds pickles, and onions to the mix.
But Treffi Pub isn't just about gourmet burgers. The late-night eatery is a feast for your senses, where a rustic allure whispers tales of Helsinki's cultural heritage.
Its expansive menu is as diverse as Helsinki's nightlife – a fusion of traditional Finnish fare with an adventurous twist – ensuring that no night ends without an edible encore.