Hong Kong's nightlife offers party animals everything they ever wanted – from bustling night markets to hidden speakeasies.
Starting with SKYE's panoramas and ending with black garlic chicken soup at NMC noodles, this is how you can experience an amazing night out.
Here's your essential guide to Hong Kong nightlife.
Explore Hong Kong's stunning panoramas at SKYE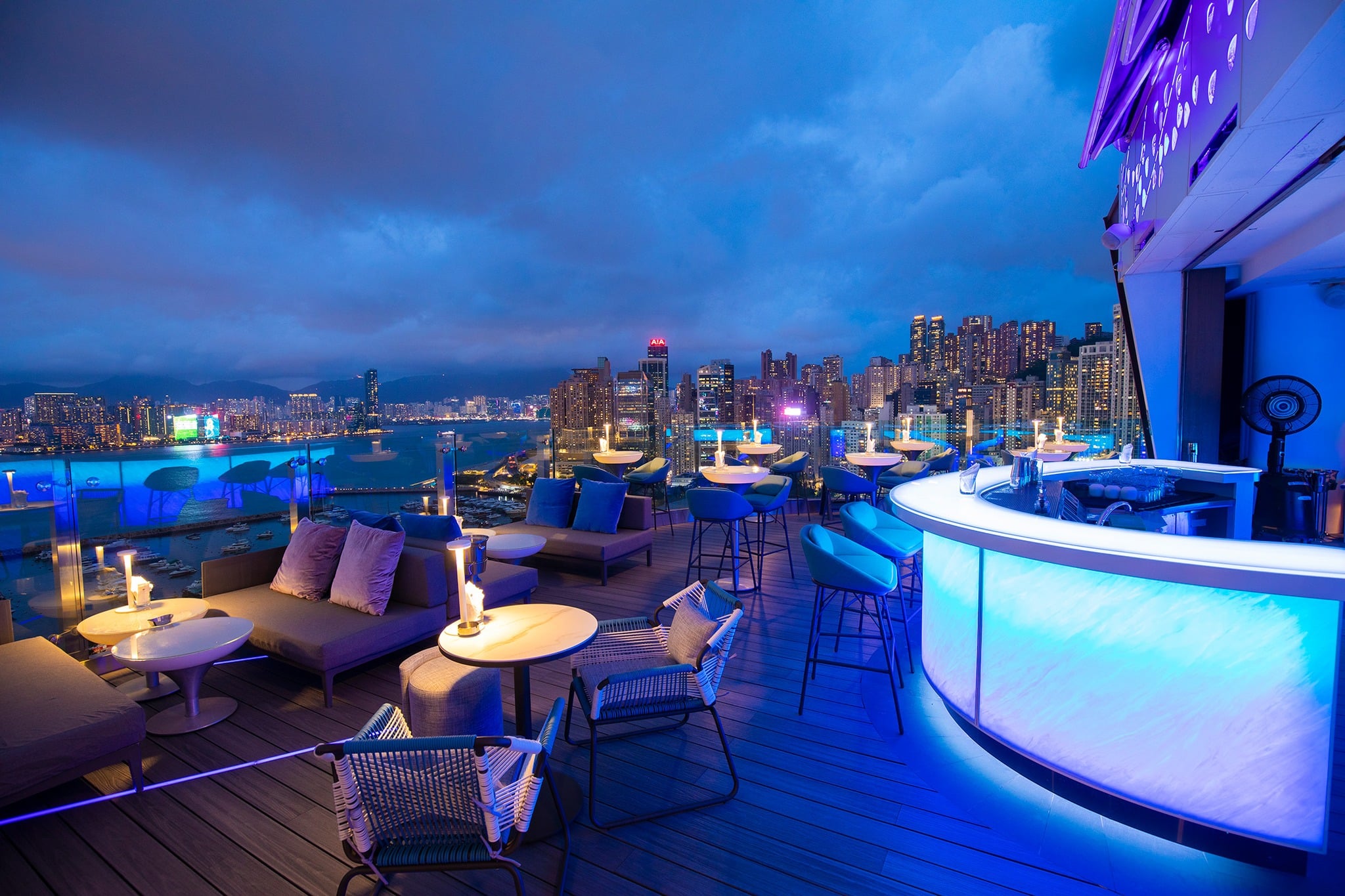 Perched like a sophisticated socialite on the swanky Park Lane Hotel's 27th floor, SKYE is no wallflower. Following a million-dollar makeover, the rooftop bar became a pro at delivering Insta-worthy views of the Hong Kong harbor.
Step inside the high-kicking bar's spaceship-like facade, and you'll feel like you've not only climbed 27 stories but may also have rocketed into a 23rd-century Prohibition era.
Sleek and minimalistic, the space is illuminated by blue hues and chrome accents.
SKYE's menu reads like a passport, taking you on a gastronomical trip around the world. While feasting your eyes on the vistas that stretch before your eyes, order the finger-licking Foie Gras Terrine or seafood platters.
You can keep your whistle wet with a curated selection of wines or boozy concoctions inspired by zodiac signs. That may be why SKYE is constantly packed with professionals and occasional celebrities hoping to remain incognito behind designer sunglasses.
Use SoHo's graffiti murals as your Instagrammable background
Imagine Hong Kong's cityscape as a spray-painted, open-air museum, and you'll be in the multicultural SoHo. Each of its graffiti splashed across the concrete canvas is an unmissable carousel post in the making.
From the flirtatious gaze of Marilyn Monroe to the in-your-face Bruce Lee, every mural is a chapter in Hong Kong's sprawling visual diary.
Book the ultimate front-row seat to Hong Kong's cityscape at HKOW
When night descends upon Hong Kong, the city hands over the spotlight to a nightlife icon. Cue the Hong Kong Observation Wheel, an entertainment titan spinning a spectacle that would put constellations to shame.
Each of its 42 gondolas is cocooned in climate-controlled comfort, allowing you to soak up a unique perspective of Hong Kong, free from the everyday hustle and bustle down below.
The glistening skyscrapers, the harbor, the stars, and everything in between create a 360° view that's yours to savor.
Even the dimensions of this wheel are a testament to the city's passion for the grandiose. Standing at 60 meters – about the height of the Leaning Tower of Pisa – the Hong Kong Observation Wheel is a remarkable feat of design and engineering.
Stroll Lan Kwai Fong's streets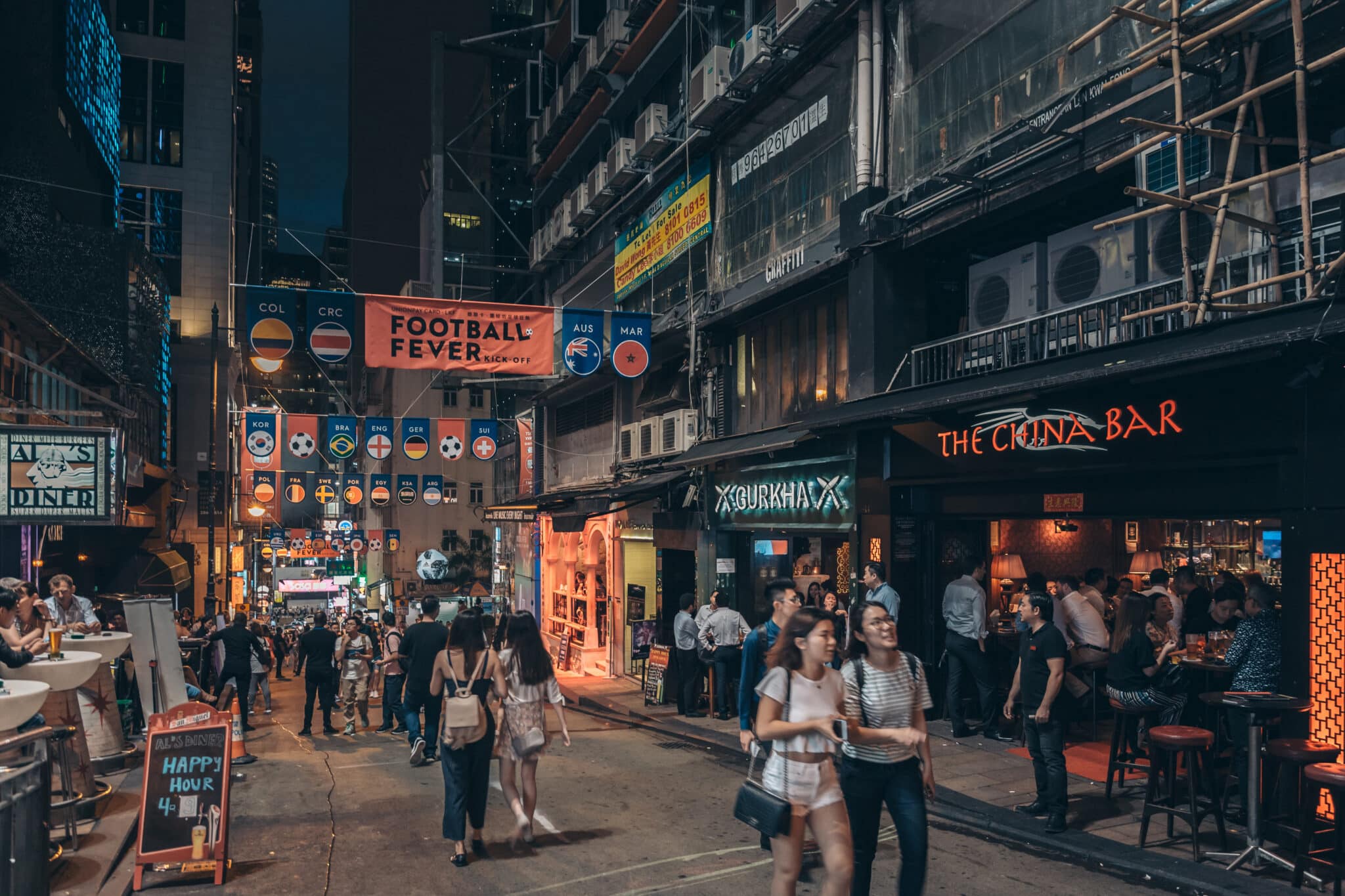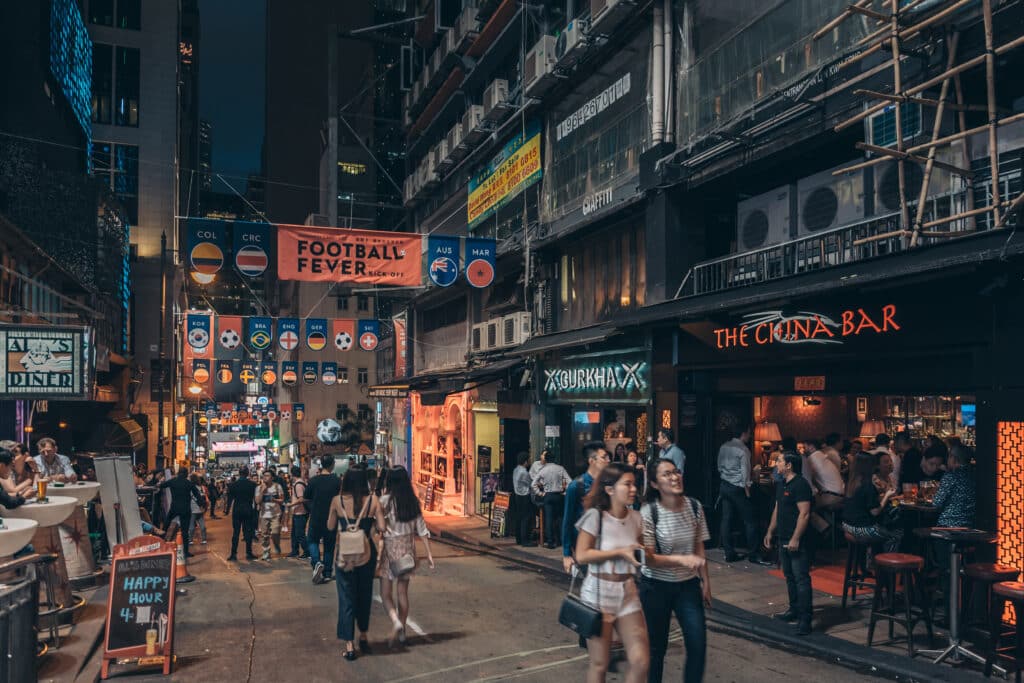 Hong Kong's Lan Kwai Fong – a scrappy, storied L-shaped wonder – has a penchant for turning regular evenings into extraordinary nights. As the younger sibling of the city's buttoned-up districts, the neon-tinged area is home to dozens of pre-drinking spots and late-night eateries.
Once a quaint neighborhood of hawker stalls, Lan Kwai Fong is now a celebration that refuses to close doors before midnight.
Over a hundred establishments found their home within the L-shaped street – whatever your inner nightcrawler might desire, the Hong Kong nightlife spot has it on its menu.
Stroll into Stormies, where maritime merriment meets cocktail artistry. It's not an exaggeration to say they serve up a typhoon of tropical flavors – their drinks are a liquid rainbow captured in a glass.
Or perhaps slide into Dragon-i, where you'll rub shoulders with A-listers while world-renowned DJs guide your feet. Take a turn further down and you'll find Hard Rock Cafe, a hallowed ground for rock 'n' roll enthusiasts and occasional air-guitar virtuosos.
By the time you've zigzagged around this cornucopia of nighttime delights, dawn might be teasing the horizon. But the party never stops in Lan Kwai Fong – it merely waits for the sun to set again.
Sip on the Mrs. Mordecai cocktail at Please Don't Tell (PDT)

In the mystical spirits sanctuary, Mrs. Mordecai doesn't merely exist. She insists on being savored, not sipped, with a bold mix of hibiscus, pink guava, and blackcurrant.
But if you shift your attention from the cocktail to its maker, you'll find yourself at Please Don't Tell. An artful blend of old-world charm and cutting-edge chic, the Hong Kong nightlife spot feels like a time capsule. Wooden finishes, moody lighting, and whispers of Jazz age decadence make this no ordinary bar, but a cocktail cathedral.
PDT's commitment to elegance doesn't stop at decor. Its curated menu serves enigmatic libations such as the cacao-based Wonka's Tonic, along staples like New York Sour.
At Please Don't Tell, the cosmopolitan elite rubs shoulders with bohemian dreamers, and the conversations are a heady mix of art, politics, and philosophy.
Party like there's no tomorrow at Zentral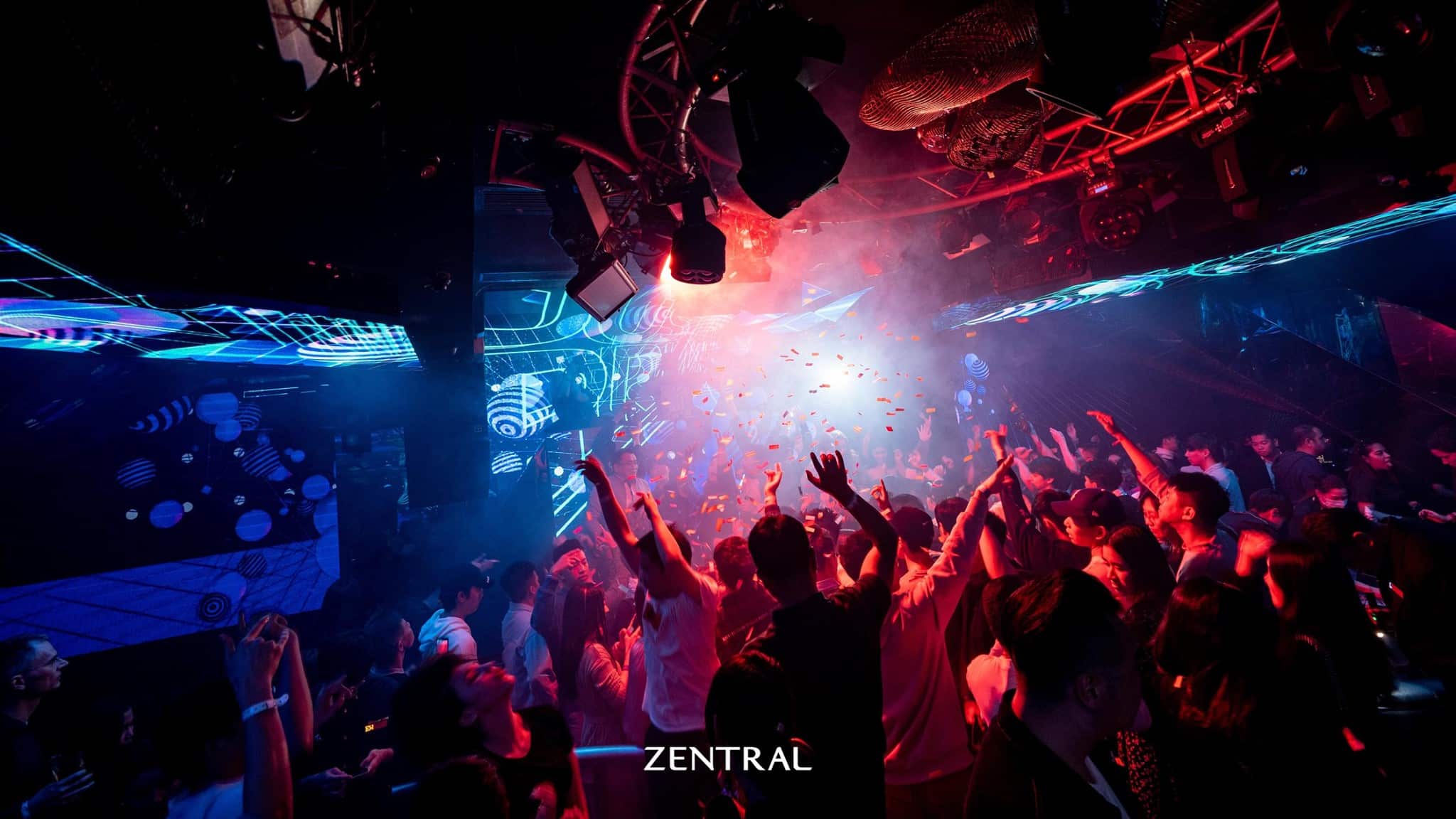 Vibrant, vibe-y, and Gen Z-focused parties at Zentral redefine Hong Kong's nightlife. Unlike most of the city's clubbing destinations, Zentral opens its arms to Western influences and features a playlist to get any European party animal on his feet.
Nourish your inner foodie with Black Garlic Chicken Soup at NMC Noodles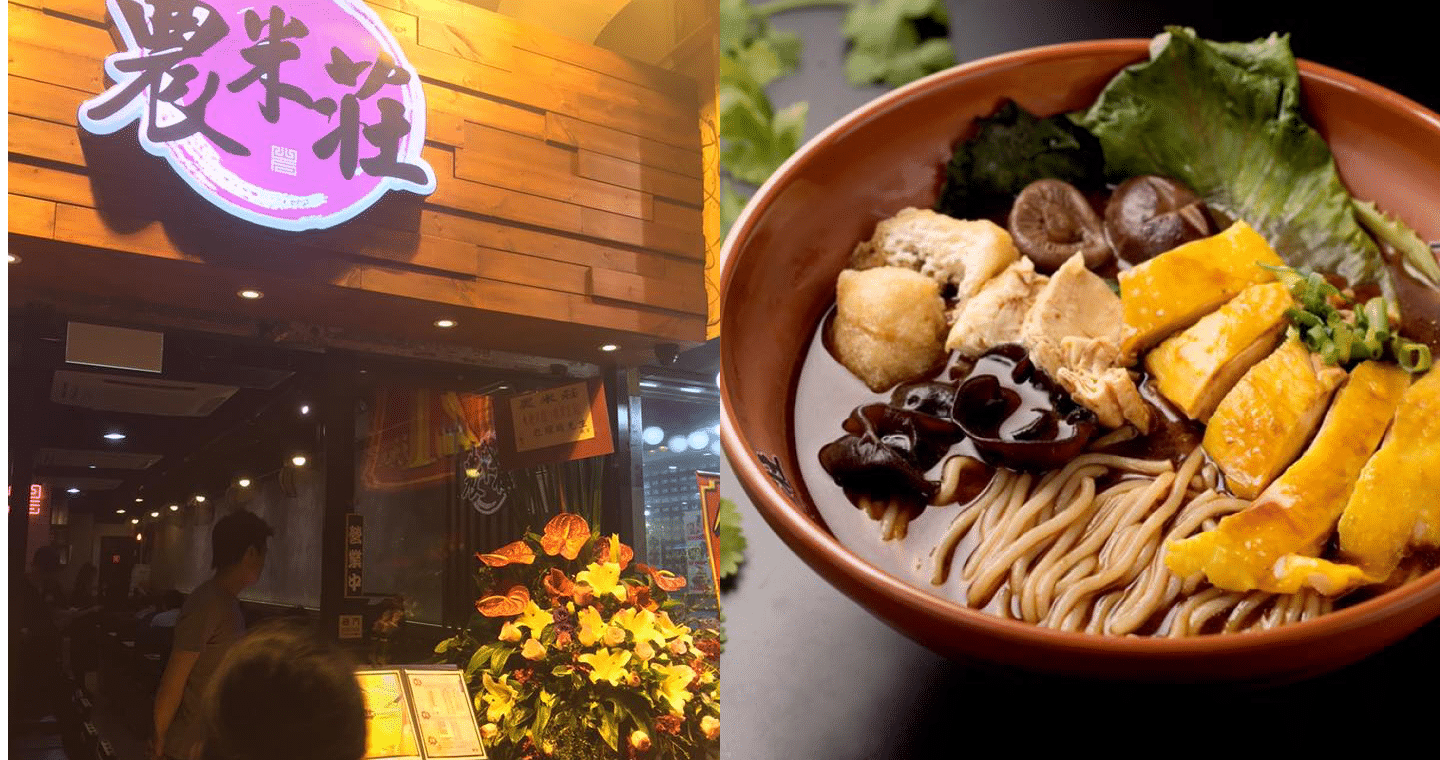 Born of traditional Chinese medical wisdom and elevated by contemporary gastronomy, this midnight feast boasts an ingredient with a unique edge – garlic. Aged and caramelized to perfection, the cloves are the pièce de résistance in a brew of chicken and rice noodles.
Since the dish is part of China's cultural fabric, the battle for the best garlic chicken soup is feisty. But NMC Noodles – or the noodles wonderland, as locals call it – wins the throne.
While the brew is one of the restaurant's most coveted foods, its spicy beef noodle soup shouldn't be overlooked.