Ibiza is known for its legendary nightlife.
Starting with Maymanta's cozy views and ending with a cheesy quesadilla at Tiki Taco, this is how you can experience an amazing night out.
Here's your essential guide to Ibiza nightlife.
Bask in the awe-inspiring views from Maymanta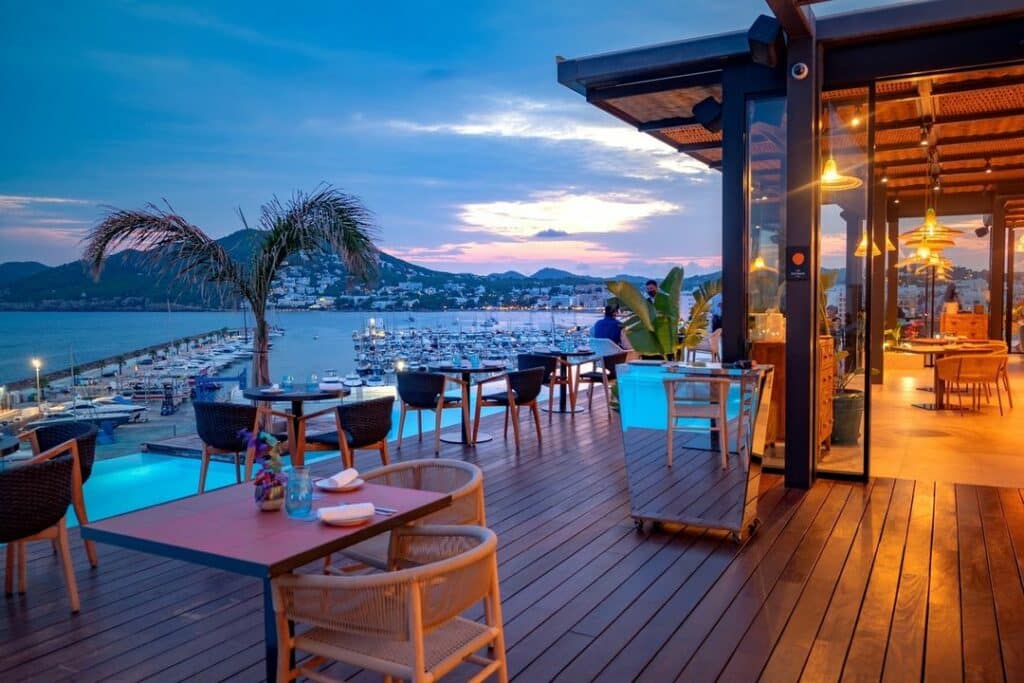 A marriage of Mediterranean aesthetics and intricate details, Maymata would make even a seasoned nightcrawler say, "wow, this is new." Nestled on the 6th floor of the lavish Aguas de Ibiza Grand Luxe Hotel, the rooftop lounge whisks patrons away to Ibiza's sun-soaked coastline.
Maymanta translates to 'from our land' in Quechua, an indigenous language of Peru.
The high-kicking watering hole lives up to its name, as the upscale decor can be best described as a fusion between Mother Nature and a Peruvian artisan.
It's a meandering journey through neutral colors and geometric designs, all framed with rustic wooden elements and tropical foliage.
In this alfresco drinking experience, patrons can sip on everything from classic cocktails to Pisco-infused potions. Expect to rub shoulders with a vibrant crowd of international jet-setters, tastemakers, and starry-eyed bohemians.
Snap your next Instagram addition at Paradiso
Beyond its reputation as an art deco hotel, Paradiso Ibiza offers a visual feast that seems tailor-made for social media enthusiasts.
Paradiso's decor takes you back in time, paying homage to the retro-chic aesthetics of the '70s and '80s. Vintage-inspired furnishing, eye-catching patterns, and nostalgic design elements transform every corner into an opportunity to curate visually-pleasing content.
Unleash your inner party animal on Float Your Boat's nautical bash
Don't expect average sightseeing cruises from Ibiza's party culture. While landmarks can be immersive and tour guides' insights add valuable insights, Ibiza's cultural sightseeings take a backseat to the show's real star – the dance floor.
We're not talking about terra firma clubbing sessions. Boat parties are a testament to Ibiza's indomitable spirit of revelry, capturing the island's musical heritage and injecting a fresh, salty breeze into its veins.
The award-winning Float Your Boat agency does just that. Disrupting the conventional dance floor by swapping tiles for wooden decks, the San Antonio-based boat tour is a voyage into the unseen Ibiza.
With the help of heart-thumping electronic sets and the Mediterranean sunset, Float Your Boat is an invitation to drop your anchors, lose your inhibitions, and embark on a nautical rave.
Roam the vibrant San Antonio
Once a sleepy fishing village and now Ibiza's nightlife epicenter, San Antonio might look humble, but it's far from feeling like Dullsville. Like a club remix of a classic tune, the Ibiza nightlife hotspot has a rich history of Roman invasions, Arabic influences, and Spanish heritage.
By the early 90s, the village caught the electronic fever and morphed into a clubbing mecca. Fast forward to today, San Antonio feels like a giant Rubik's cube of nightlife.
Each street turn adds another layer to its nocturnal playground, with superclubs like Eden and iconic spots like Es Paradis. The brightest jewel is the West End, a vibrant strip offering everything from flea markets to late-night eateries.
In San Antonio, the party isn't just about letting loose. It's also a spiritual ritual. For a more Zen vibe, Cafe del Mar and Cafe Mambo provide the perfect soundtrack to nature's grand show.
Time is relative in Sant Antoni, so it doesn't matter when you decide to visit it.
Sip on the Hot Oaxaca cocktail at Amante Ibiza
In Ibiza's nightlife, there's a constant battle for the White Island's most coveted boozy drink. But with its duet of citrus, tequila base, spicy jalapeno pepper and bitter tonic, Hot Oaxaca is the undisclosed winner.
Amante Ibiza, the mastermind behind the Mexican-inspired cocktail, is a secluded haven that merges natural beauty with refined elegance. Nestled amidst rugged cliffs, the Mediterranean nightlife spot stays away from Ibiza's hustle and bustle.
But Amanate's allure extends beyond its tranquility. The cocktail-and-dinner spot is renowned for live performances and an extensive collection of crafted drinks. Whether you're in the mood for a tropical escape or a timeless classic, Amante has something for everyone.
Maybe that's part of the reason why the retreat appeals to everyone from international globetrotters to local night owls.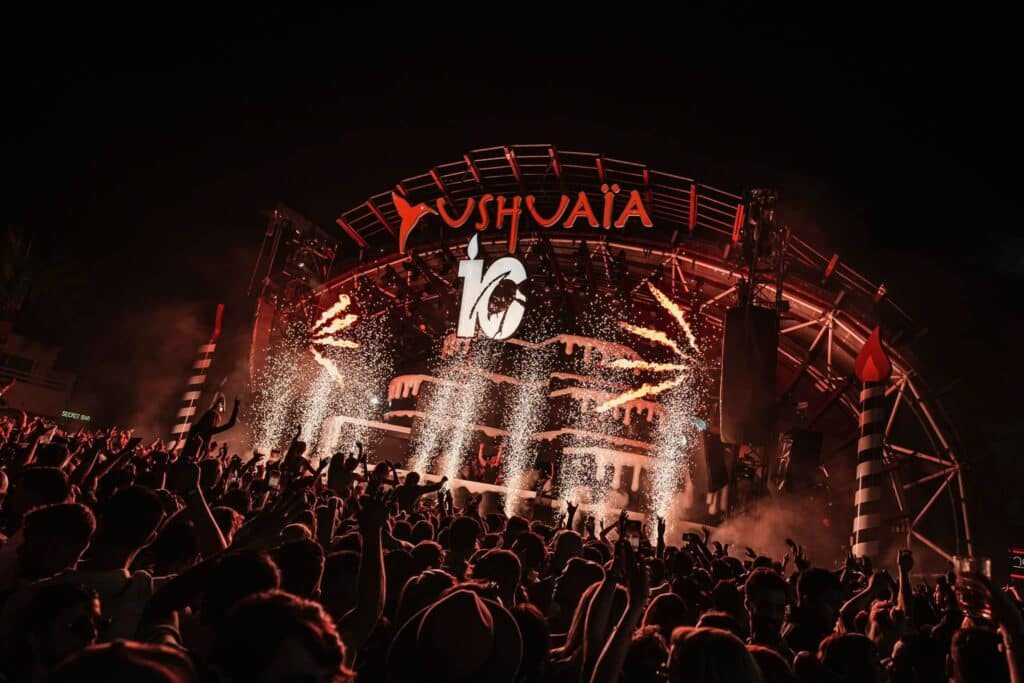 When Ushuaia was born, the nation of day clubbing was an alien to Ibiza's late-night culture. As years passed, the open-air music temple became the go-to spot for blue-blooded electronic DJs and immersive visuals.
Thanks to its mini-festival vibes and themed events, parties at Ushuaia have a high-energy-meets-approachable appeal – but don't let that make you forget about its VIP rank.
Satiate your booze-induced hunger with quesadilla at Tiki Taco
Quesadillas are living proof that less is more. With a combination of soft tortilla, melty cheese, and a sprinkling of your favorite fillings, the drunk food dish is the epitome of post-party satisfaction.
Just like the best parties, the quesadilla is all about versatility. It can move from being a simple cheese and tortilla combo to a multi-layered feast filled with veggies, beans, and meats.
While many nightlife spots serve quesadillas in Ibiza, Tiki Taco is a first-class ticket to a culinary adventure. The eatery captures the beach-bum vibe of Polynesian culture through its Tiki-inspired decor and laid-back atmosphere.
Despite its exotic touch, Tiki Taco serves the kind of food that feels like a high-five after a wild night. It's familiar and adventurous, homey and exotic, all at the same time.