Jakarta nightlife brims with gastronomic treasures, laid-back clubbing spots, and upscale bars.
Starting with Henshin's cocktail sessions and ending with Tom Yum Noodles at Dim Sum Inc, this is how you can experience an amazing night out.
Here's your essential guide to Jakarta nightlife.
Enjoy a cocktail-and-view session at Henshin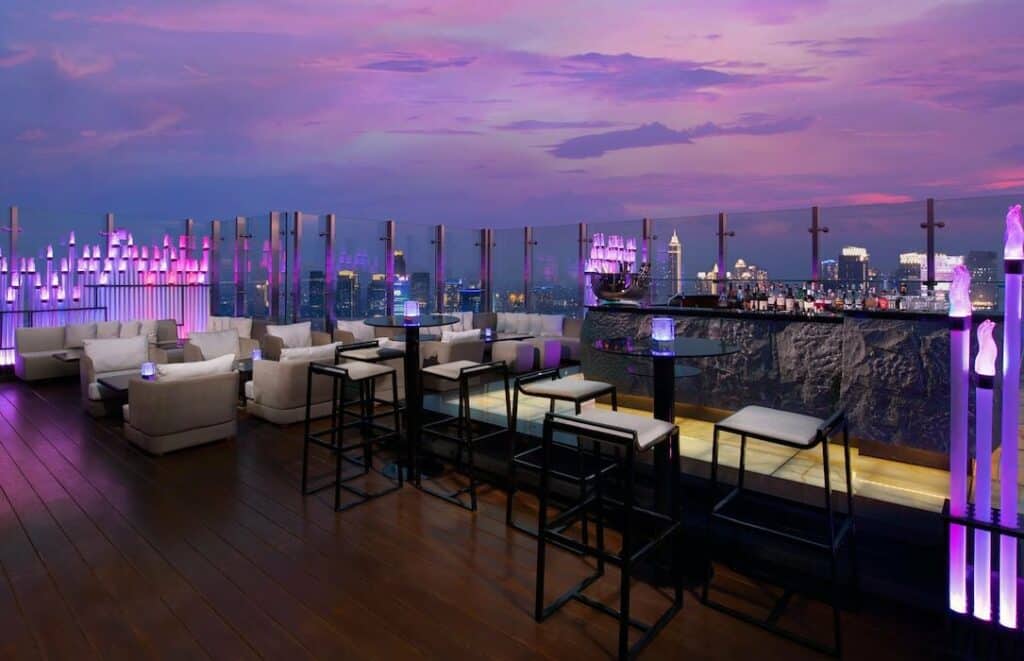 Bringing the best of both worlds is not an easy feat, but Henshin does it like it's a hobby. As Indonesia's highest rooftop bar, the multi-dimensional venue takes over three levels, from the 67th to the 69th.
To say that the sky-high sanctuary delivers sweeping views of Jakarta's cityscape would be an understatement. With a 360° approach to stunning panoramas, Henshin could steal a breath or two.
Unapologetically dramatic, the rooftop bar has a soft spot for the finer things in life. While the indoor restaurant boasts floor-to-ceiling windows and a moody color palette, the open-air terrace mixes industrial-meets-chic elements with comfy seating.
As tantalizing as its decor, the venue's menu is a gastronomic masterpiece. Offering a fusion of Nikkei cuisine, Henshin's chefs excel at everything from sashimi to chive.
Despite its hefty price tag, the rooftop bar teems with a diverse crowd, from passionate foodies to corporate hotshots.
Ready, steady, pose at Eco Skywalk
A pedestrian bridge for unobservant passersby and an ideal backdrop for social media influencers, Eco Skywalk pays homage to Jakarta's cultural heritage while alluding to its forward-looking vision.
Suspended above the city, the Skywalk comes alive at night, enveloped in radiant light rings. From capturing the glowing structures to framing shots of the city, the background possibilities are as infinite as the circles.
Discover Ancol Beach's nocturnal charms
Ancol Beach is far from just a seaside escape; it's a hauntingly beautiful relic of Jakarta's vibrant past. Known as Pasar Ikan (Fish Market) during the Dutch colonial period, Ancol was an integral part of Batavia's trade lifeline.
Well-curated signage scattered throughout the beach transports you through epochs, making Ancol Beach a treasure trove of history illuminated under the star-studded Indonesian sky.
When night settles in, Ancol Beach's culinary scene comes alive, creating an irresistible gastronomic constellation. Local vendors conjure culinary wonders, from sizzling satay to succulent bakso, each dish narrating a tale of Jakarta's multicultural heritage.
Observing the age-old rituals and ceremonies performed by locals at the beach's revered shrines, such as Keramat Ancol, offers a profoundly immersive cultural experience.
Wander Kuningan's skyscraper-filled streets
Named after the Indonesian word for 'brass', Kuningan was once a humble trade district known for crafting the alloy. Today, the only brass you'll encounter here is the metaphorical kind – the unyielding spirit that transformed a brass-crafting legacy into an emblem of vivacious nightlife.
Kuningan's nocturnal charisma lies in its uncanny ability to balance the corporate and the cool, the traditional and the trendy, the planned and the spontaneous.
Somewhere between nostalgia and futurism, the district is where skyscrapers waltz with historical facades. Standing among these glittering giants, you'll find Menara BTPN, whose rooftop bar is famed for its views and heart-thumping beats.
A casual stroll might lead you to hidden side streets where speakeasies like St. Regis Bar pair up mixologist-prepared drinks with jazz tunes.
For those seeking a slice of the local culture amid the glitz and glamor, head over to Boka Buka, a vibrant French-Indonesian fusion restaurant that hums with authentic flavors and lively chatter.
Savor the flavors of the Black River cocktail at Nautilus Bar
Birthed from Nautilus Bar's creative minds, the Black River cocktail is no hocus-focus tale from an old bard but a testament to the power of mixology.
Not one for cocktail rookies, the boozy libation translates into a bold blend of Black Tears spiced rum, Bacardi Black, rose syrup, yuzu-lemon Campari and activated choral.
With its gothic aesthetics, the drink might make one think it is responsible for the 'black is the new black mantra' – and that's not far from the truth.
The Black River doesn't flow just anywhere; it finds its home in the celebrated Nautilus Bar. The bar, an alchemical blend of vintage aesthetics and cutting-edge cocktail wizardry, is a time machine with a liquor license.
Amid its wood, brass accents, and nautical charts, you half expect Captain Nemo to walk in, demanding his favorite drink.
Classics like the Manhattan coexist with signature concoctions, drawing in a medley of patrons. Of course, a crowd as diverse as an explorer's guild frequents Nautilus: the novices and the connoisseurs, the locals and the wanderers, the critics, and the creators.
Party the night away at Colosseum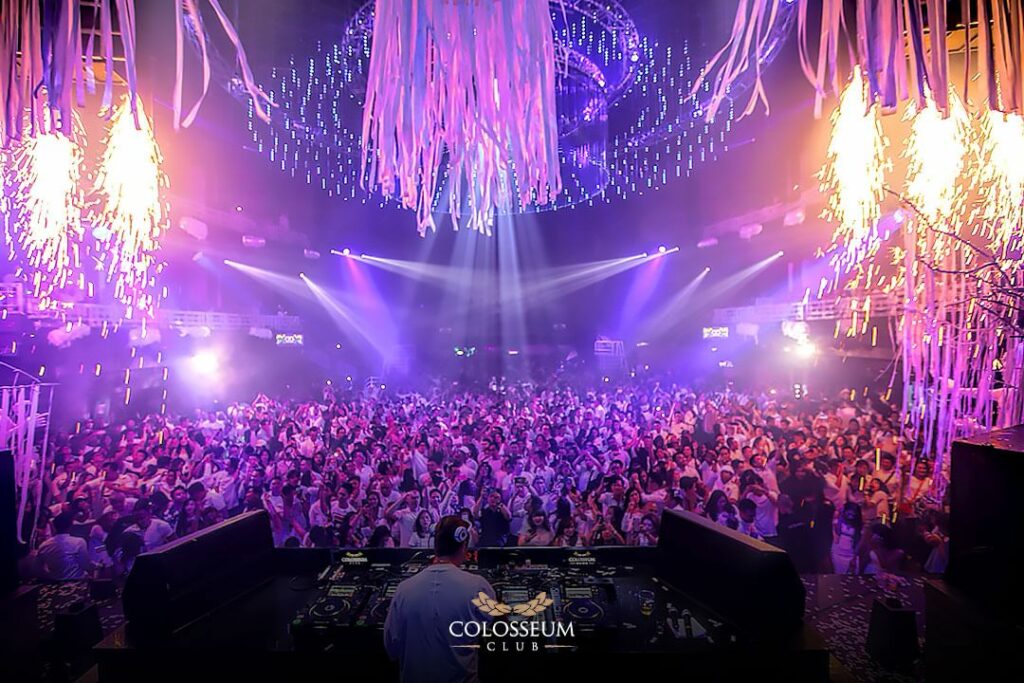 An undisputed titan in Jakarta's nightlife, Colosseum is a beacon for the city's after-dark reveliers. Swept up in its immersive rhythms and generous space, parties in this clubbing destination are something to look forward to.
As internationally-renowned DJs weave their sonic magic, the colossal dance floor ebbs and flows beneath a chandelier of shimmering lights.
Call it a night with Tom Yum Noodles at Dim Sum Inc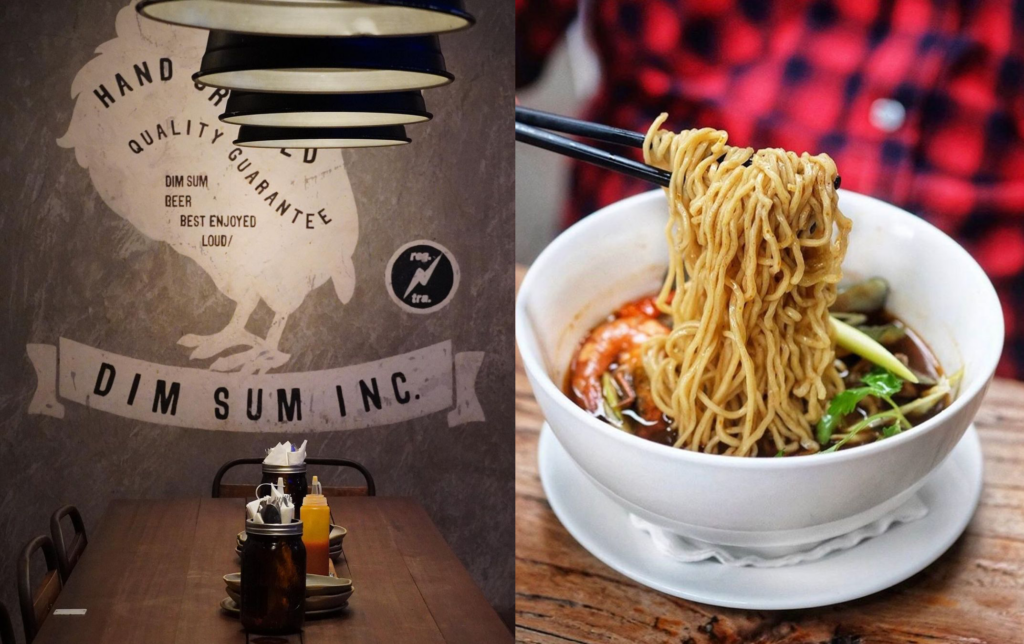 It's Saturday night, and the city is alive with the rhythmic pulse of music and a hodgepodge of electrified chatter. But the Jakarta's notorious nightlife has an unofficial love affair.
Between the clinks of emptied glasses and high-heels clatter, weaves the aromatic trail of Thailand's culinary export – Tom Yum Noodles.
Firstly, the noodles, often rice vermicelli or egg noodles, provide a comforting, starchy base, satisfying that universal post-drink craving for carbohydrates.
Secondly, the broth, a fiery blend of aromatic lemongrass, kaffir lime leaves, galangal, and chili, carries a spirited kick capable of slaying any beer-induced haze.
Undoubtedly, one of the front-runners in serving these gastronomical delights is the renowned Dim Sun Inc. Although it has an unassuming facade, the establishment has been the midnight refuge for the city's nocturnal tribe for years.