Kuala Lumpur's nightlife is renowned for its mix of gleaming skyscrapers, myriad of bars, and cultural hotspots.
Starting with Heli Lounge Bar's quirky location and ending with Shelout Set at Kantin Mini Kampung, this is how you can experience an amazing night out.
Here's your essential guide to Kuala Lumpur nightlife.
Enjoy a bird's-eye perspective from Heli Lounge Bar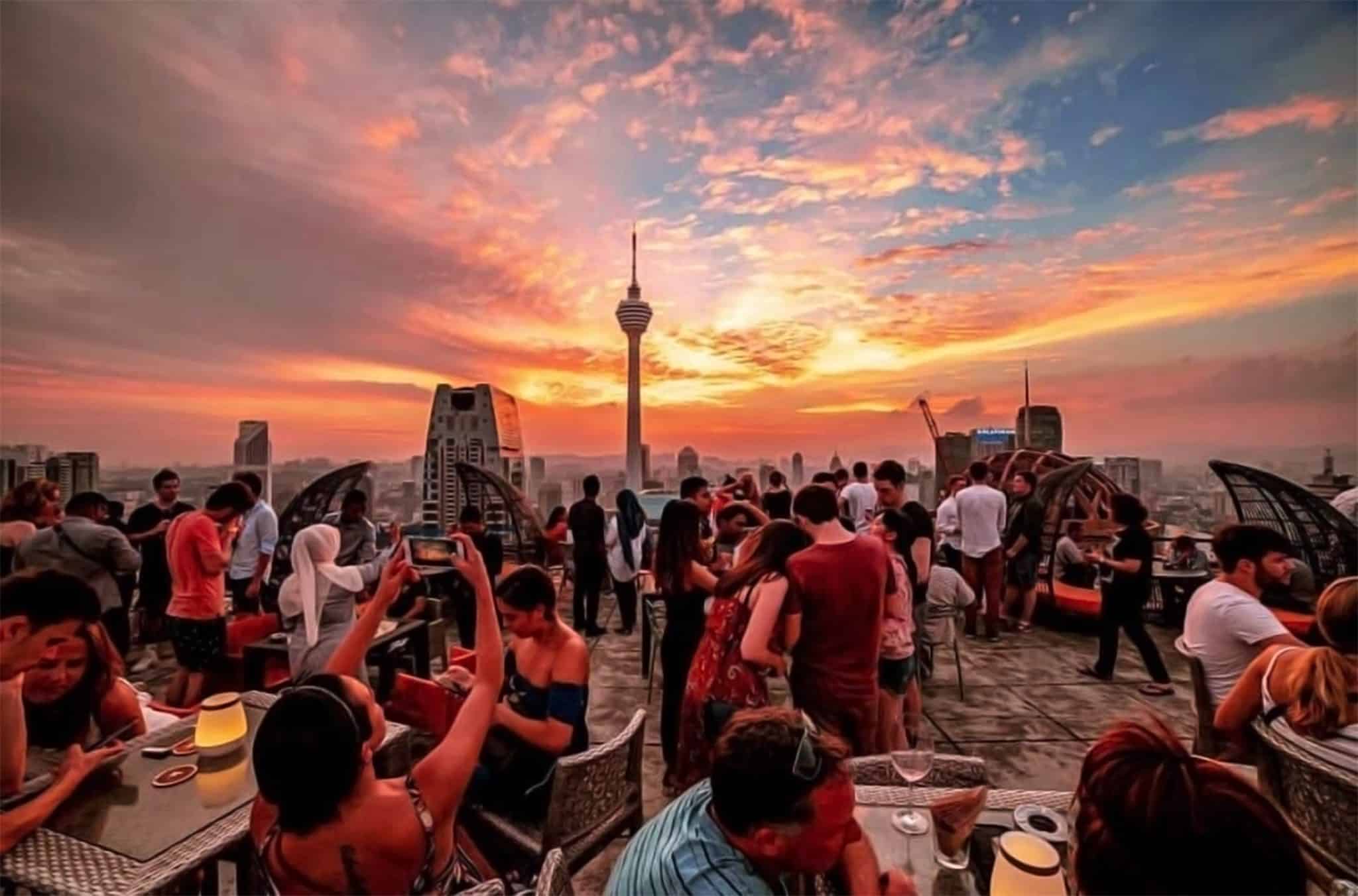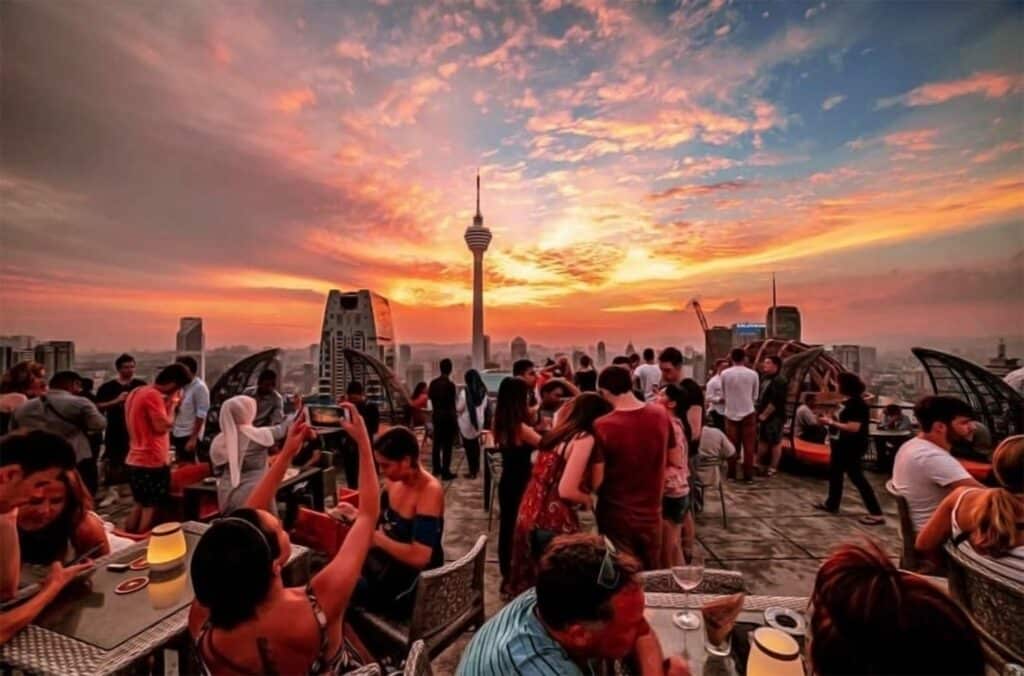 Perched high above Kuala Lumpur's bustling streets, a helipad-turned-bar sits where the city's skyscrapers tickle the cotton candy clouds. Loyal to its namesake, Heli Lounge Bar sends your evening spiraling into the stratosphere.
While the indoor bar is on the 34th floor, you must climb extra flights of stairs to reach the helipad. Not one for altitude avoiders, the Kuala Lumpur nightlife venue unveils sprawling, unobstructed cityscape views.
You won't find luxurious frills up here – the helipad, after all, is still working. On the open-air terrace, raw aesthetics are cooled off by urban bar stools and egg-shaped seating.
With a flight to fancy feel, the main lounge boasts an aeronautical-themed decor. We mean it – the DJ booth features parts of a refurbished Boeing 747 and a reconstructed cabin seat.
Drinking is almost an afterthought considering the sweeping vistas, but it's still a priority for Heli Lounge Bar. A dizzying amount of in-house cocktails like Hopper draws in sunset-chasing tourists and local socialites.
Pose next to the Petronas Twin Towers
An architectural marvel that exudes charm, grandeur, and a bit of digital-age magic, Petronas Twin Towers are the tallest twin towers in the world – and their status has remained unchallenged since 1996.
As if the structure's 88-story height wasn't enough of a trump card, the glowing skyscrapers could easily be the crown jewels of any Instagram portfolio.
Discover Malaysia's largest entertainment hangout at TREC
Short for Taste, Relish, Experience, and Celebrate, TREC lives up to every bit of its all-embracing acronym. Also known as Kuala Lumpur's largest nightlife spot, the complex is Malaysia's first and only purpose-built freehold entertainment enclave.
TREC follows the same design philosophy as the Malaysian capital – modern, sleek, and forward-thinking.
From the al fresco dining spots at Terraces and high-energy clubs at Electric Boulevard to the bespoke boutiques at Hive, the architectural layout makes it a quintessential one-stop destination for nighttime thrills.
Home to more than 40 nightlife outlets, the commercial destination brings the best of both worlds – or, better said, all of the planets.
You can experience an exclusive wine tasting at Château DeCanter, enjoy a quiet night at IKKI whiskey bar, or test your karaoke skills at Le Noir Lounge.
For the party animals, TREC boasts Zouk – also known as one of Asia's premier venues – among other leading nightclubs.
Uncover Bukit Bintang's hidden gems
The saga of Bukit Bintang, which translates to 'star hill,' began as a residential area for colonial civils in the 19th century. Fast forward to today, the Kuala Lumpur nightlife hotspot is a shining constellation of retail, culinary, and party-fueled experiences.
A walk down the famous Jalan Alor is a stroll through the city's historical culinary chronicles. It's an unassuming lane by day, but as the night falls, the street transforms into a bustling food bazaar, where wafts of sizzling satay and aromatic stir-fries fill the air.
Likewise, PS150, a bar in a pre-war building, transports you to a bygone era with its vintage, speakeasy-style charm.
Not to mention you can feast your senses in the variety of live music spilling out from the establishments. From foot-tapping jazz tunes at No Black Tie to the latest electronic beats at Zouk Club, the choice is as broad as your musical palette.
Sip on the Royal Flush cocktail at PS150
Shaken or stirred, in highball glasses or martini flutes, each cocktail stands as its own unique hand. However, amid Kuala Lumpur's menagerie of boozy concoctions, a card is trumping all others – the Royal Flush.
The boozy libation is no bluff, and its ingredients are a testament to that. At its core, the Royal Flush is a blend of vodka and mezcal, citrusy lemon, and homemade ulam syrup.
What do you get when you combine a pre-war colonial building, a cocktail bar, and a dash of Asian history? No, this isn't the start of a riddle.
It's the introduction to PS150. The retro-fit watering hole extends its charm beyond the clandestine entrance, as the interior pays homage to different eras of cocktail history: discreet, playful, and almost uncannily transporting.
PS150's menu speaks to connoisseurs and curious alike. Its eclectic patronage, from discerning mixologists to fun-seeking tourists, revel in the cocktail catalog's mix of indigenous ingredients and international influences.
Party like there's no tomorrow at Spark
Bubbling with vibrancy and a cosmopolitan flair, Spark Kuala Lumpur is revolutionizing the city's nightlife. A rendezvous for world-class DJs, high-spirited crowds, and hi-tech partying experiences, the music hub is a testament to the city's dynamic after-dark scene.
Treat yourself to Shelout Set at Kantin Mini Kampung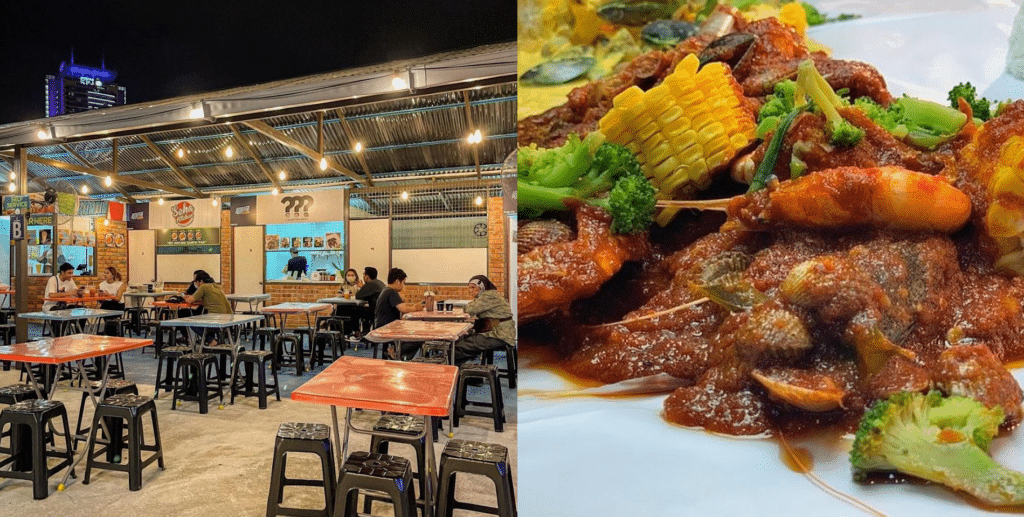 Best described as a protein-packed delight, the Shelout Set features marinated chicken or beef, along with a mix of fragrant coconut rice and refreshing veggies.
There's only one way to savor this drunk food – head to Kantin Mini Kampung. Despite its traditional village ambiance, the late-night eatery packs a punch with its vibrant blend of urban and rustic. Not only that, but the fuss-free restaurant also specializes in traditional Malay dishes.
From spicy sambal to the ever-popular nasi lemak, the menu is a veritable treasure trove of culinary delights, each offering the opportunity to explore Malaysia's rich food culture.