Las Vegas nightlife is an electrifying tapestry of glitz, glamor, and world-class entertainment.
Starting with Ghostbar's Insta-worthy views and ending with juicy ribs at Project BBQ, this is how you can experience an amazing night out.
Here's your essential guide to Las Vegas nightlife.
Explore the city's stunning panoramas at Ghostbar at Palms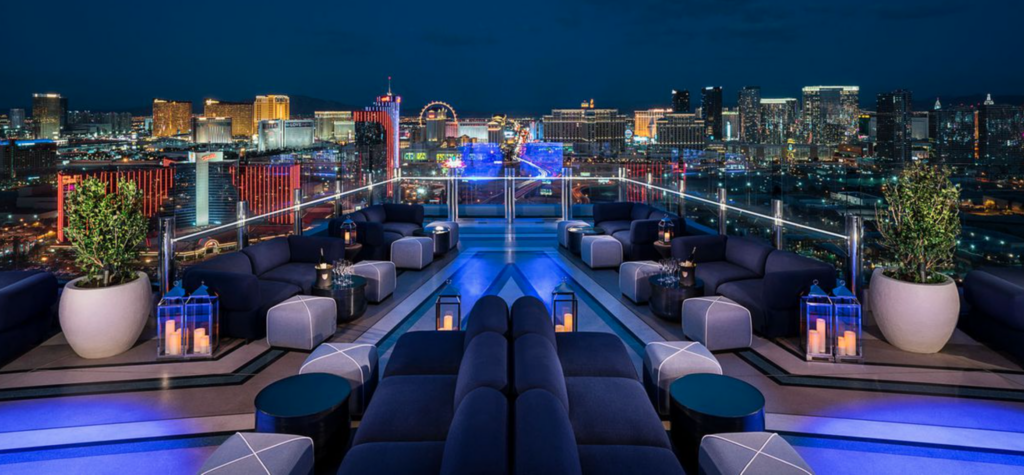 From Downtown Las Vegas to the Red Rocks, there is no point in the city that's not visible from Ghostbar. Press the 55th-floor button at the luxurious Palms Casino Resort to immerse yourself in the sky-high hangout's decor, awe-inspiring vistas and lavish menu.
Sleek and intimate, Ghostbar is meant to be experienced indoors and outdoors. While a bold color scheme of white, black, and fuchsia dominates the interior, the venue's trademark is the glass-bottomed patio.
In true Las Vegas fashion, the nightlife spot combines clean lines with gleaming metallic accents and chic furnishing, creating a cohesive and upscale environment.
Naturally, Ghostbar is up to date with what's new and next in the mixology game by modernizing large-format shareables and innovative concoctions. A magnet for the glamorous elite, the sky bar lures celebrities and trendsetters to sip, marvel, and mingle.
Elevate your Instagram feed game at OMNIA Nightclub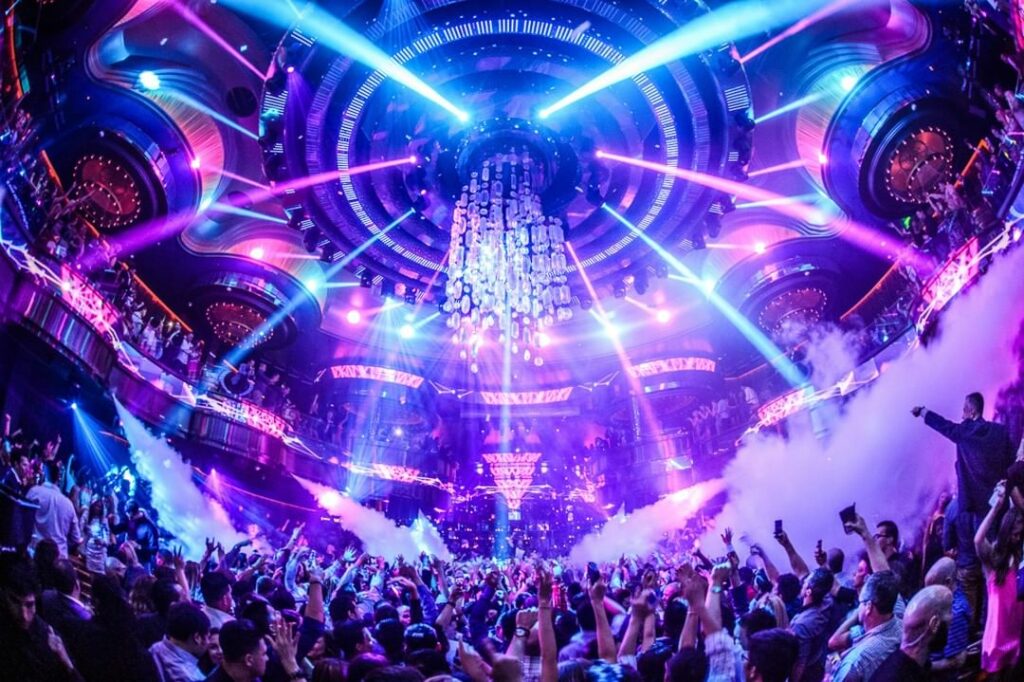 Probably Las Vegas' most sought-after dance mecca, OMNIA Nightclub stands tall as clubland's king. Its generous size – spanning over 75,000 square feet – gives revelers enough space to groove, rave, and snap Instagram feed additions.
From the awe-inspiring kinetic chandelier that dances above the crowd to the luxurious VIP Heart of Omnia room, every inch of this legendary nightclub is an Instagrammer's dream.
Test your fortune at a casino
Whenever Las Vegas is mentioned, the glittering allure of casinos, high-stakes bets, and gambling machines immediately dance through one's imagination. Nevada might not have been the first state to legalize gambling, but it pioneered the casino movement.
In the 20th century, visionary pioneers invested heavily in developing luxury casino resorts.
From the Golden Gate to Caesars Palace, the world's entertainment capital offers an unparalleled concentration of world-class casinos.
As the realm where gaming floors stretch as far as the eye can see, Las Vegas' casino culture comes equipped with everything from slot machines and thrilling table games to poker rooms and bingo halls.
But these establishments are not mere gambling dens.
Over the years, casinos morphed into carefully-curated wonderlands that boast opulent and themed environments, transporting both gambling rookies and connoisseurs to the Old Hollywood era.
Delve into the vibrant tapestry of the iconic Las Vegas Strip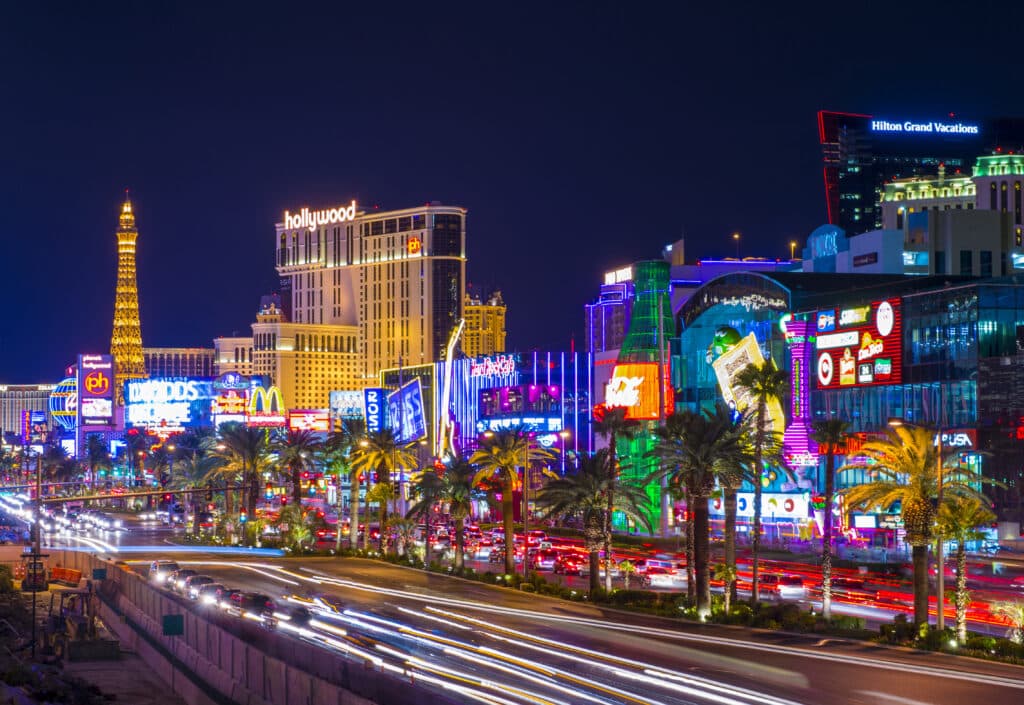 Also dubbed as Las Vegas' nightlife epicenter, the iconic Strip is the nocturnal wonderland where boundaries blur, inhibitions fade, and the spirit of adventure reigns supreme.
Although its journey started in the 1940s as a gambling hotspot, the area received a second life as a neon-lit extravaganza. Whether you are into clandestine bars or futuristic dance floors, name your preferences, and the Las Vegas Strip will deliver.
Explore lavish rooftop venues such as Skybar, where you can sip handcrafted cocktails beneath the stars.
If upscale lounges are not your vibe, clubbing destinations such as the renowned Hakkasan and unmissable OMNIA are the epitome of the famous 'What happens in Vegas, stays in Vegas' saying.
The Strip's timeless beauty shines day and night, but its vibrant nightlife makes it a must-visit party spot.
Quench your thirst with the Tiki-Tipple cocktail at Golden Tiki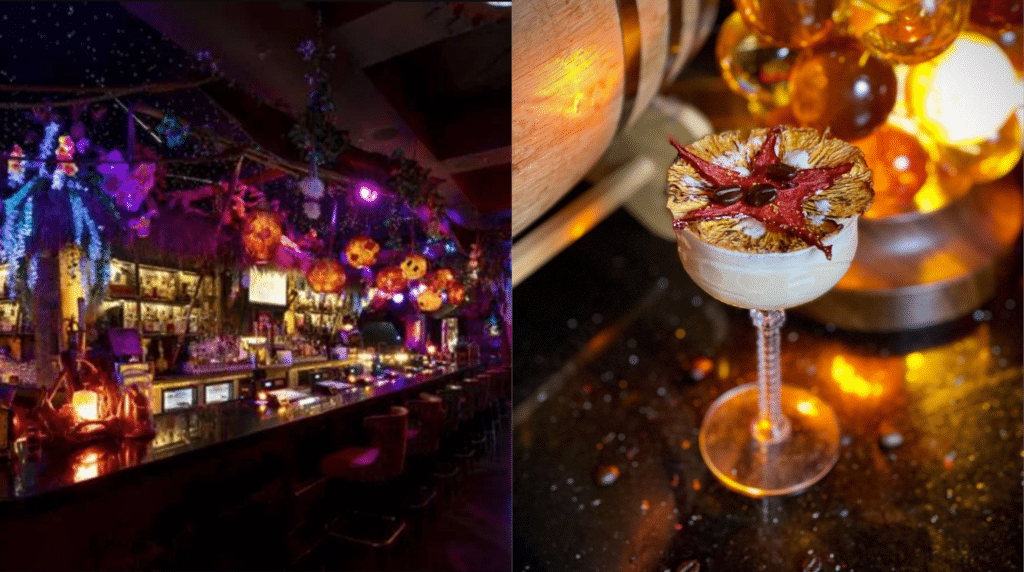 Sweet, tropical, and rich, the Tiki-Tipple cocktail is more than a visually-pleasing concoction. The alcohol-fueled libation embodies the Caribbean carefree spirit by combining top-shelf rum with the rangy embrace of exotic fruits.
It seems only natural for an equally exotic watering hole to create the tropical cocktail. Richly decorated to evoke the feel of a Polynesian island, Golden Tiki is home to a kitschy yet playful interior.
Think bamboo structures, hand-carved tiki statues, and a beach-inspired bar because that's what this Las Vegas spot is all about.
Golden Tiki isn't as much a bar as it is a backstory. Recounted on the back of the menu, the tale unfurls the captivating narrative of a mythical artifact that ultimately led to the downfall of the fictional character, Captain William Tobias Faulkner.
At Golden Tiki, a fusion of cocktail connoisseurs, nostalgia seekers, and adventure seekers converge, embracing the essence of tiki culture.
Party like there's no tomorrow at Hakkasan
Hakkasan stands as the pinnacle of clubbing destinations, beckoning party hoppers to experience the electrifying revelry where the elite indulge in Sin City's nightlife.
The club's opulent decor, featuring lavish chandeliers, hi-tech details, and a striking blend of contemporary and traditional elements, sets the stage for EDM journeys.
Nourish your inner foodie with juicy ribs at Project BBQ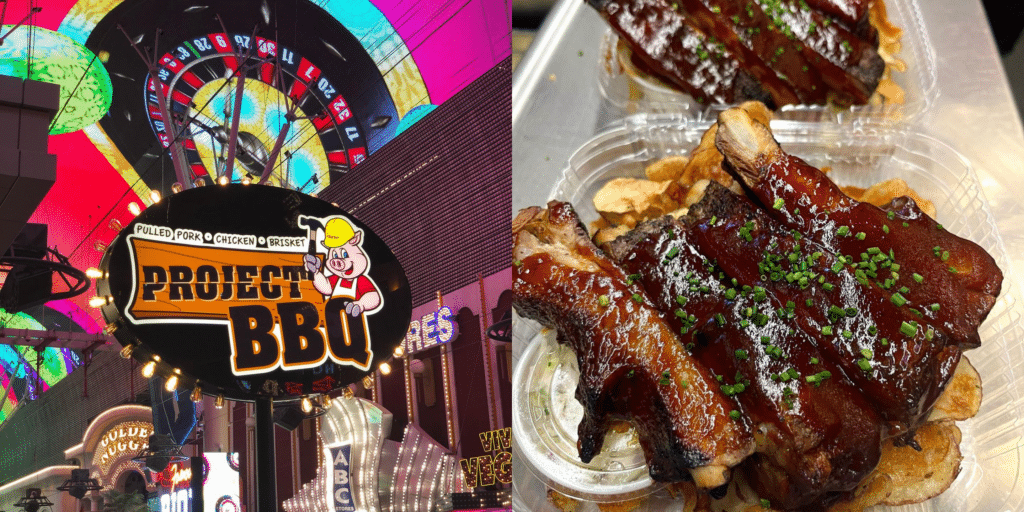 Crafted with love and accompanied by sides like creamy coleslaw and buttery cornbread, smoky ribs are a barbecue bliss.
By combining tender textures with a melt-in-your-mouth sensation, Project BBQ's ribs offer a hearty option to satisfy your late-night cravings.
The eatery features a food-truck style, making it easily accessible for grabbing a quick bite without a long wait. With its tantalizing gourmet sandwiches, the culinary gem doesn't follow the herd but serves up signature items.
At the heart of Project BBQ's menu is a selection of perfectly smoked meats, including mouth-watering ribs, tender brisket, juicy pulled pork, and flavorful sausages. It attracts a diverse crowd of hungry night owls, street food lovers, and barbecue enthusiasts.