London is known for its free-spirited nightlife.
Starting with Savage Garden's sweeping views and ending with a delicious fish & chips at Hobson's Fish & Chips, this is how you can experience an amazing night out.
Here's your essential guide to London nightlife.
Enjoy the view from Savage Garden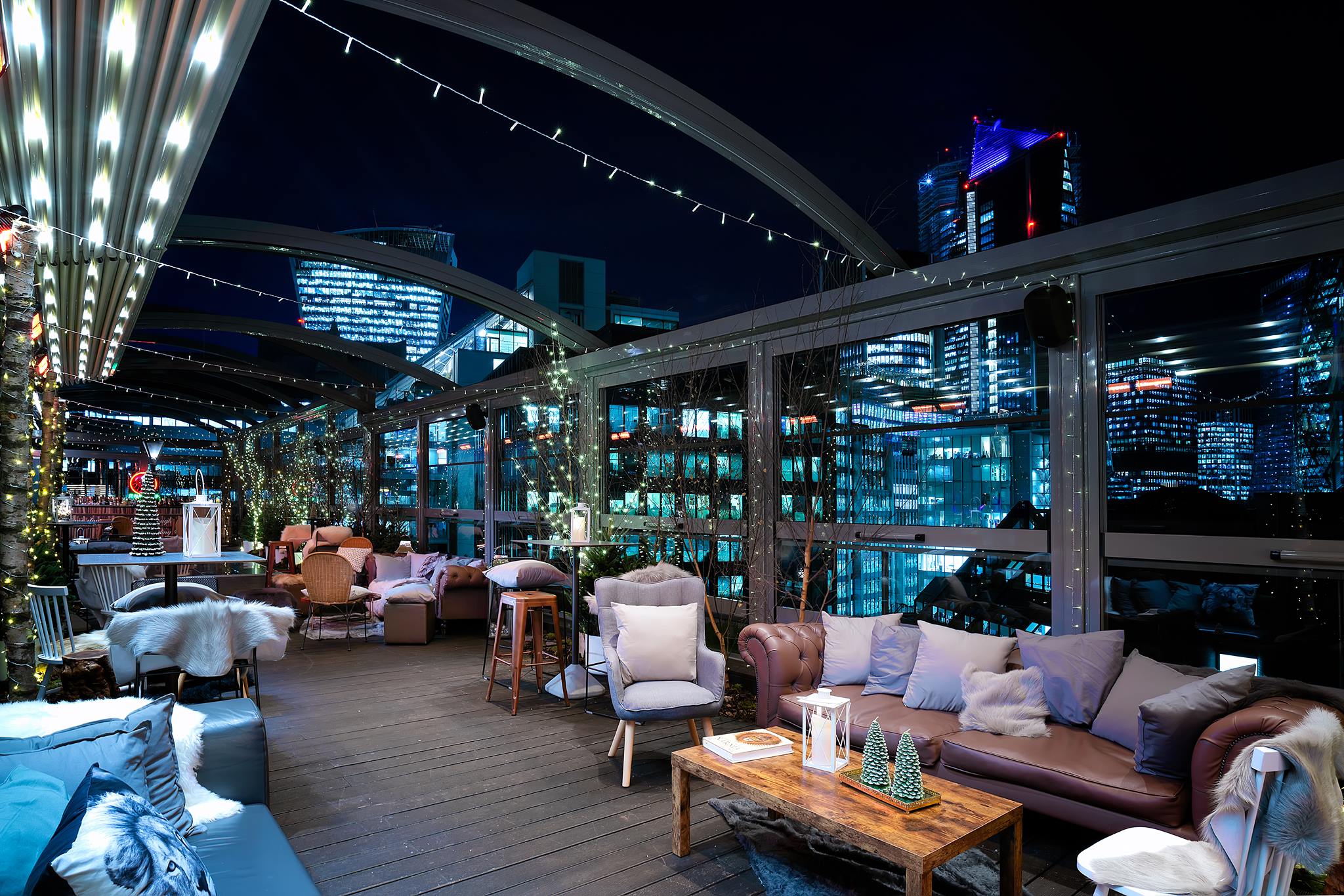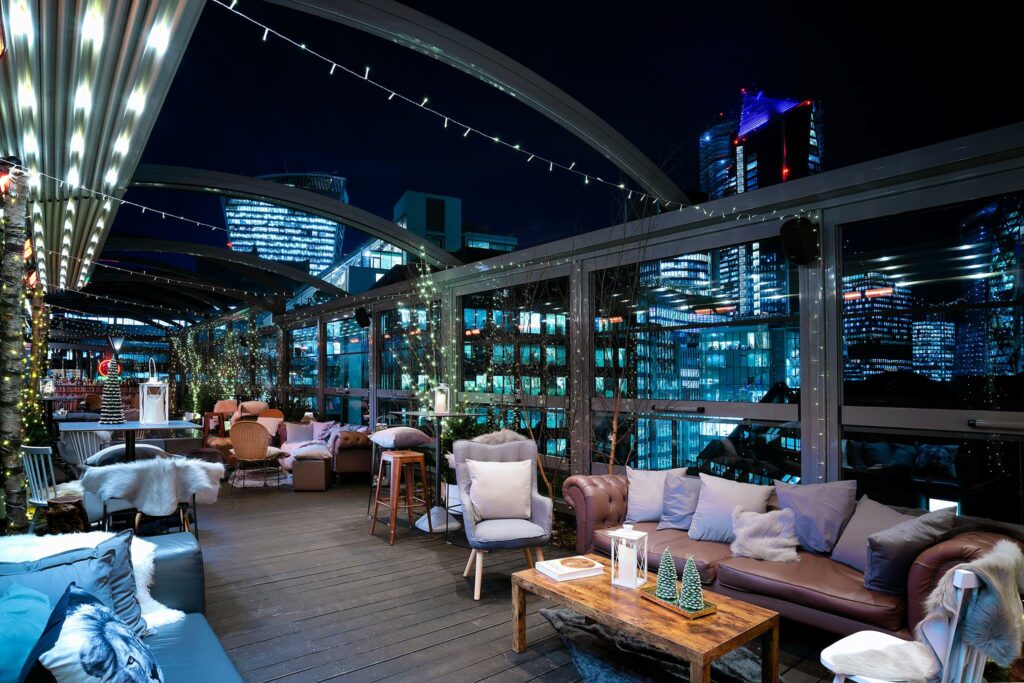 For one of the most spectacular views in London, take a trip up to the 12th floor of DoubleTree by Hilton and experience Savage Garden. This exclusive rooftop bar offers incredible vistas over Canary Wharf, The Shard, and Tower Bridge.
The watering hole has a modern-chic appeal – it's either because of its stylish pinkish hues or opulent interior design.
Savage Garden's seemingly laid-back ambiance belies a wild side, reflected in its cocktail menu where cheeky concoctions like Devil's Advocate and Horny Beast, await to tantalize your taste buds and imagination.
Let's take Horny Beast's provocative flavors – Beefeater pink gin, coconut rum, almond, lime, green strawberry, oak bitters, apple, rhubarb, and cinnamon soda. This daring elixir promises to excite your senses with every sip.
Take a picture at Harrods' beautifully lit store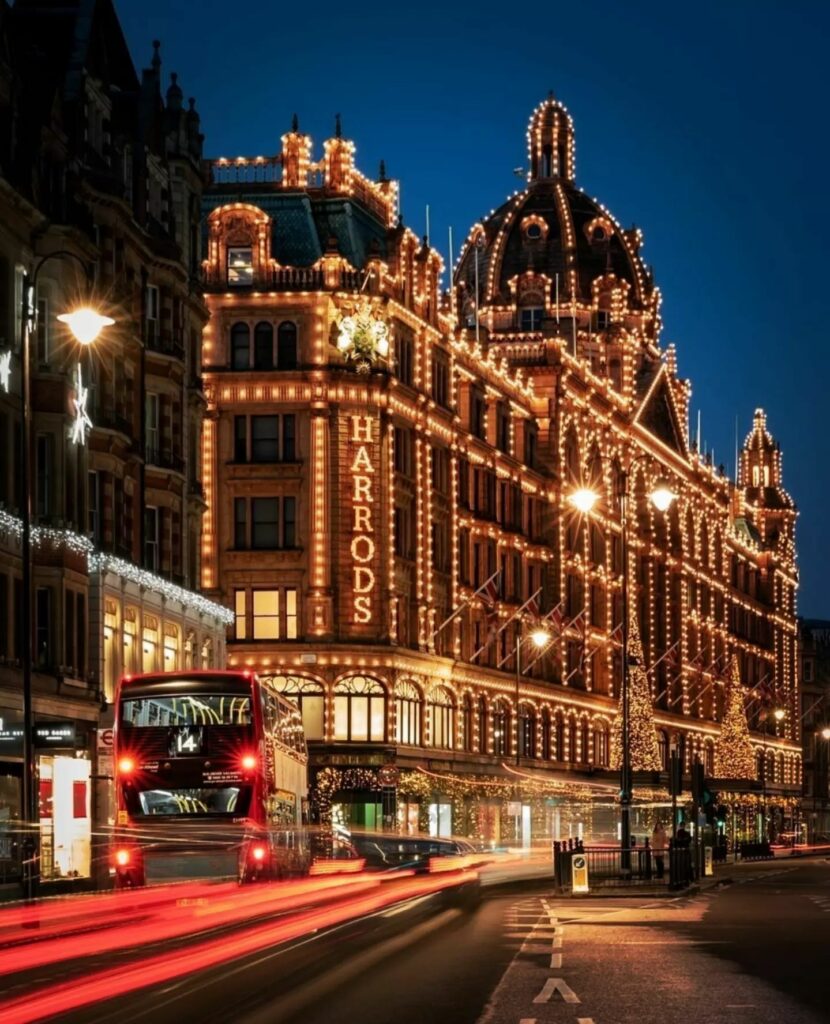 High atop the list of must-visit Instagrammable spots is Harrods. Boasting an iconic status among Europe's luxury department stores, it's no surprise this shopping haven has become so renowned.
Step inside and you'll find a variety of designer fashion pieces, exquisite jewelry, delectable food options, plus all sorts of other sumptuous trinkets across its eight floors.
But it's not just the interior that counts – outside, the illuminated shop provides a sensational backdrop for Insta-worthy photos.
Give Circle Line Pub Crawl a try
Do you consider yourself the ultimate heavy drinker? Test your drinking skills and alcohol tolerance by giving the Circle Line Pub Crawl a shot (no pun intended).
Make your initial stop at the Circle Line Pub Crawl and get a head start – 35 pubs will take some time. Many have attempted this challenge, yet whether anyone has successfully completed their mission is still unknown.
Explore Soho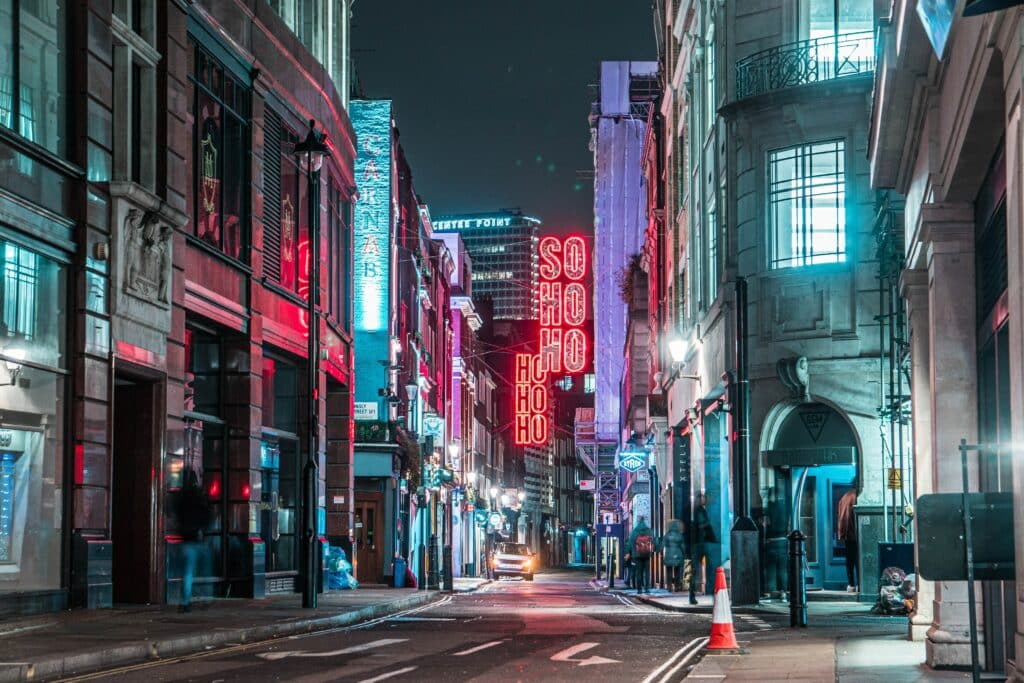 Boasting a vibrant atmosphere, Soho has it all when it comes to entertainment. From electrifying LGBT+ bars and pubs to relaxing shopping sessions, this area is the perfect destination for any adventure-seeker.
Soho's hyped-up nightlife, tasty late-night eateries, and buzzing sex shops give the district a lively atmosphere.
Grab some innovative, boozy drinks at Experimental Cocktail Club to get started at this London hotspot. Once the glasses have been downed and dusted, head to Piano Works West End, the UK's 11th Best Bar.
By day, the bustling streets of Soho are filled with tourists and locals alike, making it perfect for when you want to splurge on shopping. If you seek a clubbing night, wait until the late hours to see what the vibrant area has in store.
Enjoy The Black Narcissus at The Bloomsbury Club
When you mix rum, Belsazar aperitif, passion fruit, kumquat liqueur, and Bloomsbury Club Grenadine, you get The Black Narcissus.
Step into the glamorous, vintage-style atmosphere of Bloomsbury Club and immerse yourself in a selection of classic golden-age cocktails. For those who want more than just a cocktail, the spiritual guide will use Tarot cards to explore their emotional state, leading to a personalized drink recommendation.
The Bloomsbury Club presents a unique Tarot-themed cocktail experience, with 14 drinks inspired by the fourteen states in Pamela 'Pixie' Colman Smith's remarkable Tarot illustrations.
For cocktail connoisseurs and those captivated by the innovative art of mixology, The Bloomsbury Club is an ideal destination.
Party like there's no tomorrow at Cirque le Soir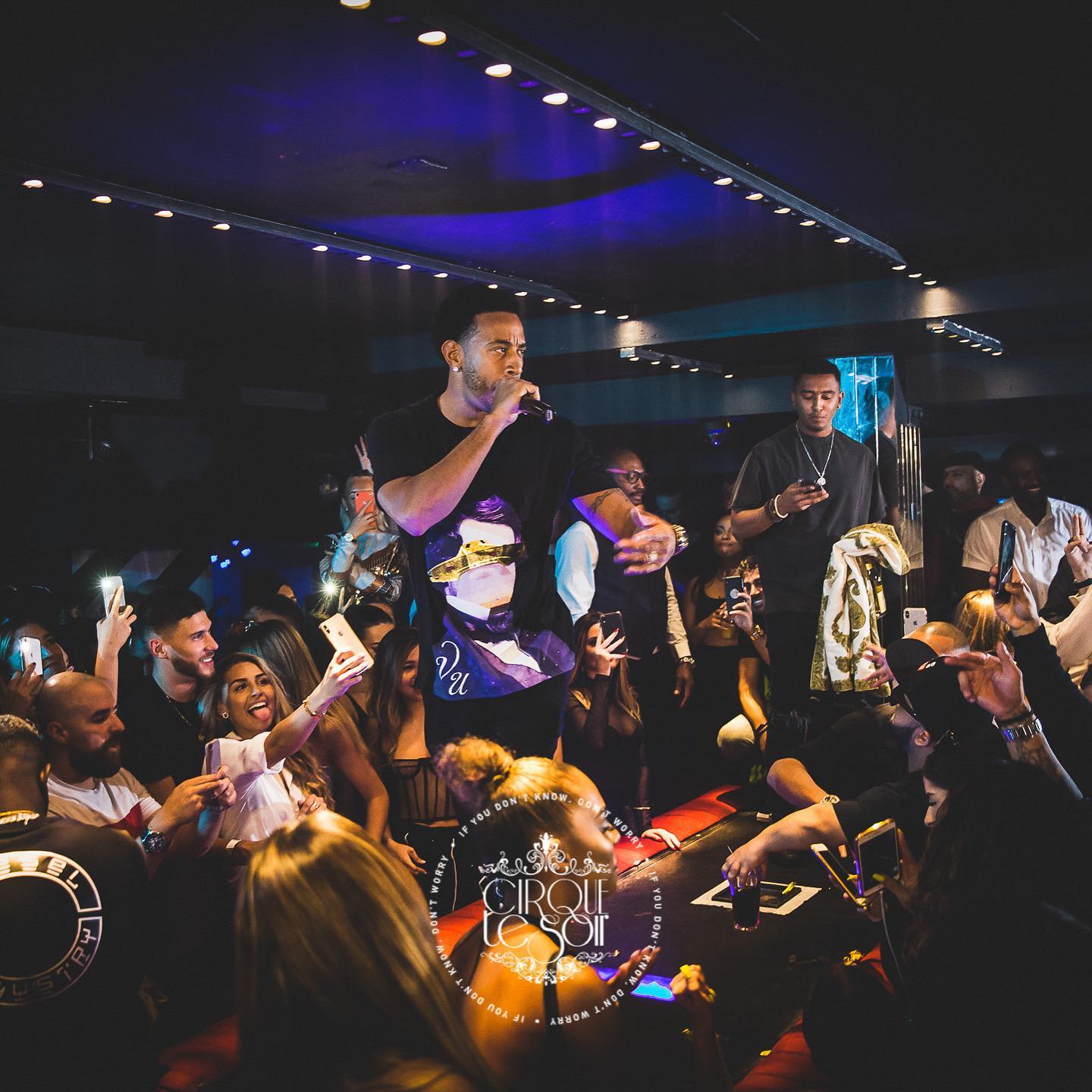 If you're seeking an exceptional party in London's nightlife, Cirque Le Soir has got you covered. This high-end club is far from your typical night out, offering a wild and extravagant experience.
With burlesque performances and eccentric decorations, it immerses you in a circus-like atmosphere. Combining luxury and quirkiness, Cirque Le Soir isn't for the reserved but for the party animals who prefer their clubbing to be impulsive and daringly wild.
Taste a delicious Fish & Chips at Hobson's Fish & Chips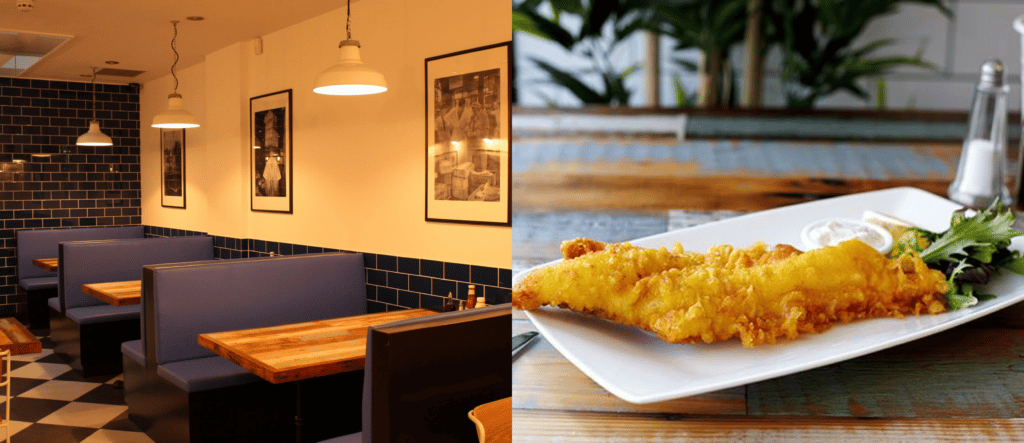 A British classic, the iconic fish & chips combo is a gastronomic delight.
For 25 years, family-run Hobson's Fish & Chips has been serving up piping hot British classic dishes and other grilled fish meals. With only the freshest ingredients used to ensure an authentically delicious taste, you can't go wrong with this stylish late-night eatery.
If you want the ultimate drunk food experience in London, Hobson's Fish & Chips is a must-visit spot. Open daily until midnight, there's no reason to skip out on this culinary adventure.