Madrid is known for its dynamic and culturally-rich nightlife.
Starting with a cocktail-and-views session at Casa Suecia's and ending with the piping hot churros at San Gines, this is how you can experience an amazing night out.
Here's your essential guide to Madrid nightlife.
Enjoy the view from Casa Suecia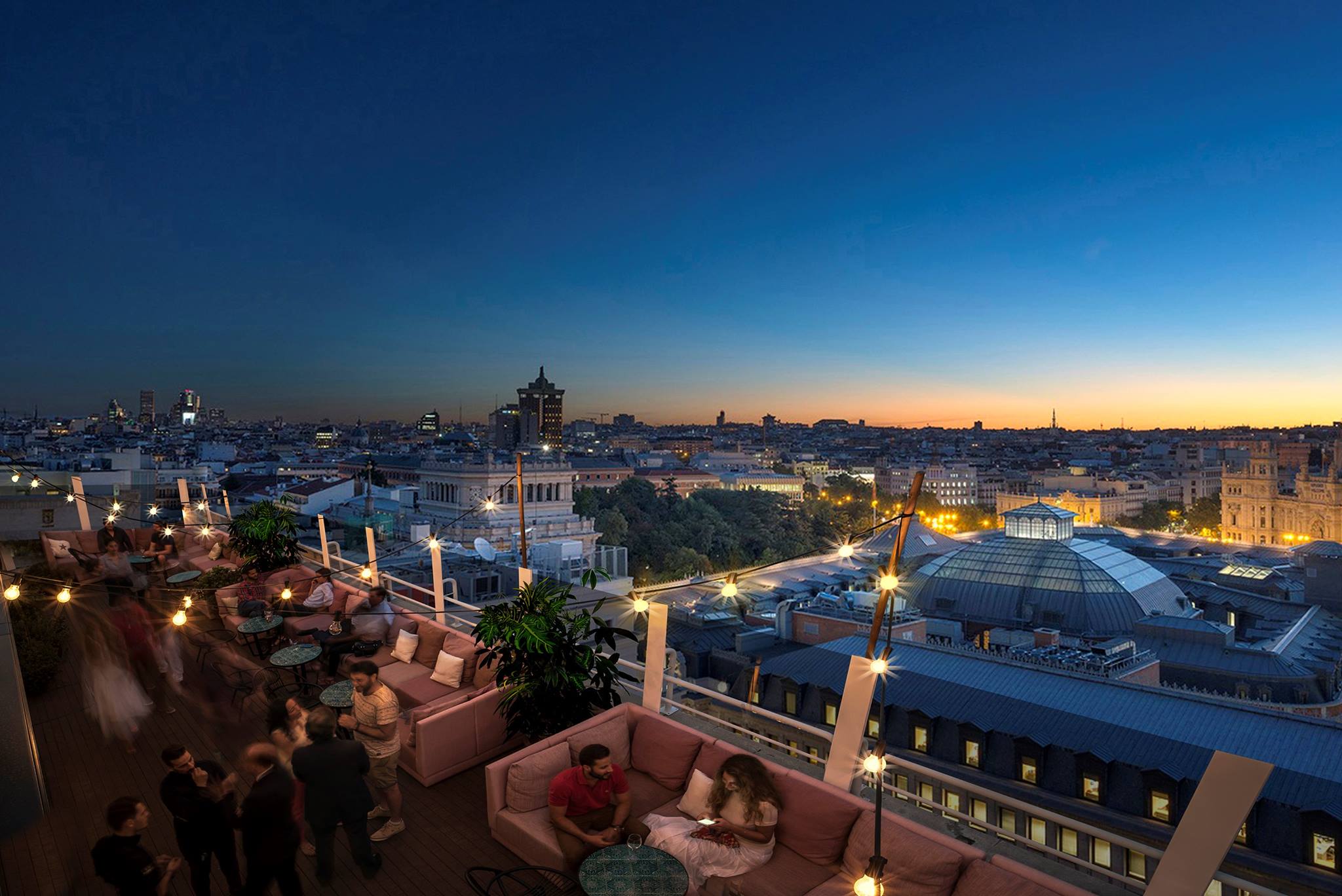 Seeking a charming rooftop bar to unwind with a drink in hand? Look no further than Casa Suecia. Perched on the 11th floor of the NH Collection Madrid Suecia, this boho-chic bar offers stunning panoramic views of the city skyline, making it a prime destination for any thirsty traveler.
Sit on one of the cozy sofas and soak up the stunning views while sipping on a delicious boozy elixir. With its welcoming and laid-back atmosphere, the Madrid rooftop bar provides the perfect escape from the hustle and bustle of the city below.
As the sun sets and the evening sets in, Casa Suecia comes to life with the sounds of resident DJs, filling the air with upbeat and lively tunes.
From cocktail-loving locals to curious tourists, everyone comes to Casa Suecia for its little slice of paradise sky.
Take the 'it' rooftop snap at Azotea del Círculo
If you're looking for an Instagrammable place to visit in Madrid, Círculo de Bellas Artes is where you must go. A feast for the eyes with panoramic views of the city's architecture, the rooftop bar offers more than crafted cocktails.
From this high vantage point, patrons can snap incredible shots of Madrid's skyline while getting creative with the myriad of vibrant backdrops. Whether you want to capture the grandeur of the Cibeles Palace or the Gran Vía's foot traffic, this rooftop bar offers plenty of options to make your Instagram feed pop.
Go bar-hopping in Malasaña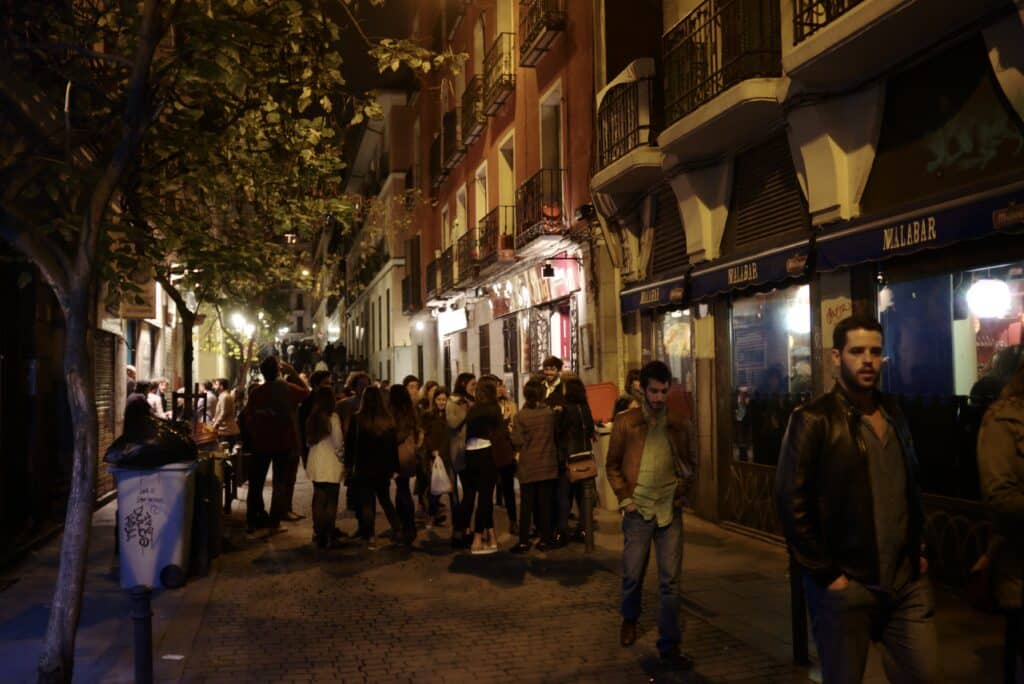 Ready for a boozy adventure? Take a sip of Malasaña's rebellious spirit and discover its eccentric bar scene.
This cultural melting pot has become a haven overflowing with bars, so you can choose from plenty of watering holes. Start your journey at El Penta, a legendary bar of the iconic Movida movement in the 80s that stood time's test with a foolproof atmosphere and delish drinks.
Next up is Fábrica Maravillas, a visually-stunning brewery that creates unique beers exclusively for Malasaña's funky crowd.
Malasaña's bohemian bars have drawn in trendy hipsters and indie kids from around the globe, all searching for the city's coolest drinking spots.
Take a stroll around Chueca
Welcome to Chueca, Madrid's fabulous and flamboyant gay district where the party never stops. Whether you're part of the LGBT+ community or a proud ally, this neighborhood has all the glitz and glamor to make your night unforgettable.
Stroll through the Plaza de Chueca to soak up the lively atmosphere and enjoy a drink – or two – at one of the many chic terraces. When the time comes to hit the clubs, check out Bearbie Madrid and Delirio for pop hits and drag performances. Or, if you're feeling more low-key, Fulanita de Tal is an excellent spot for casual live music and lesbian crowds.
There's always something to celebrate in Chueca with wild and themed parties. The Madrid nightlife spot is where you'll find the city's most creative and free-spirited people, so don't skip it.
Sip on the En Búsqueda De La Luz at Salmon Guru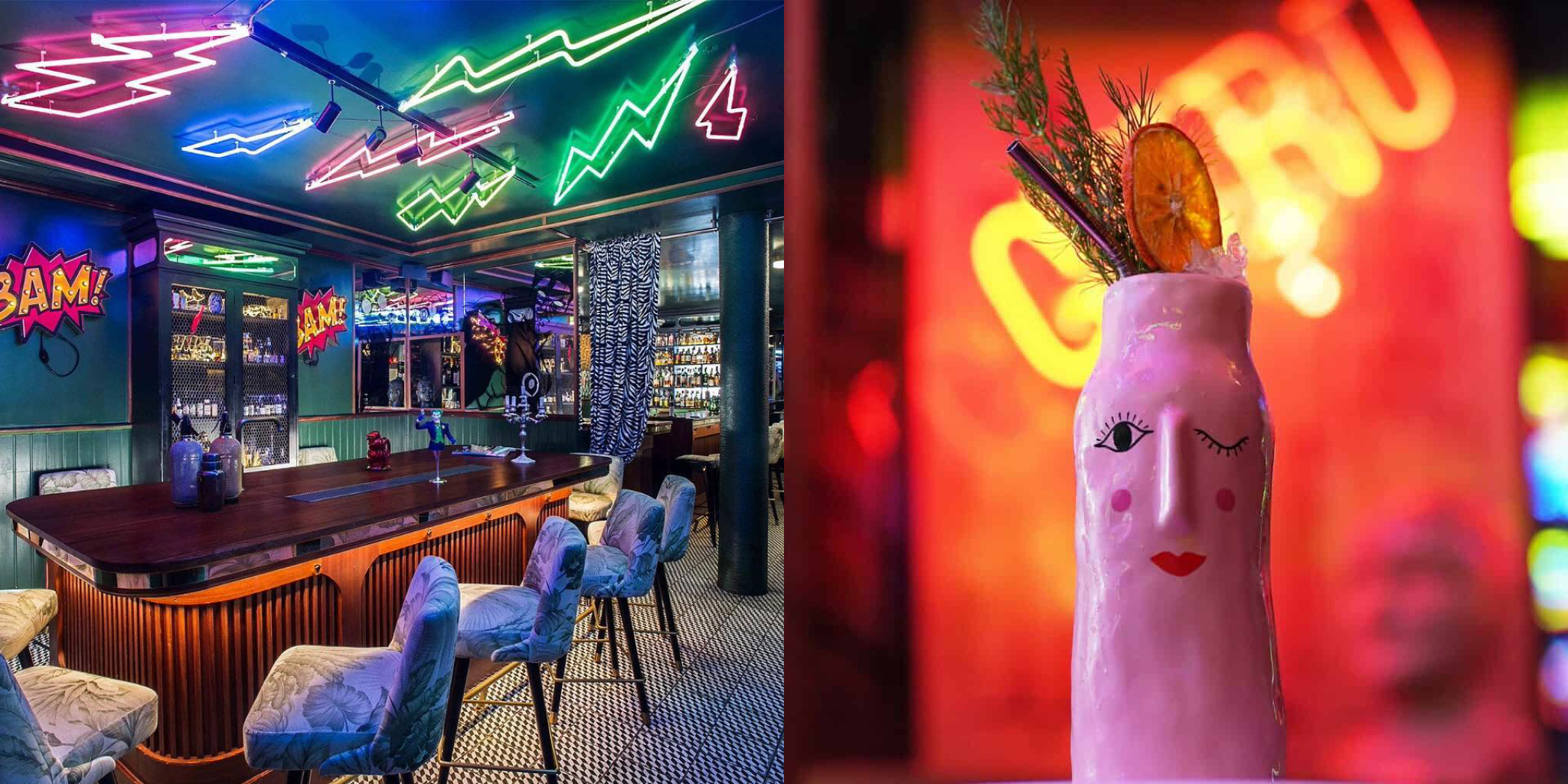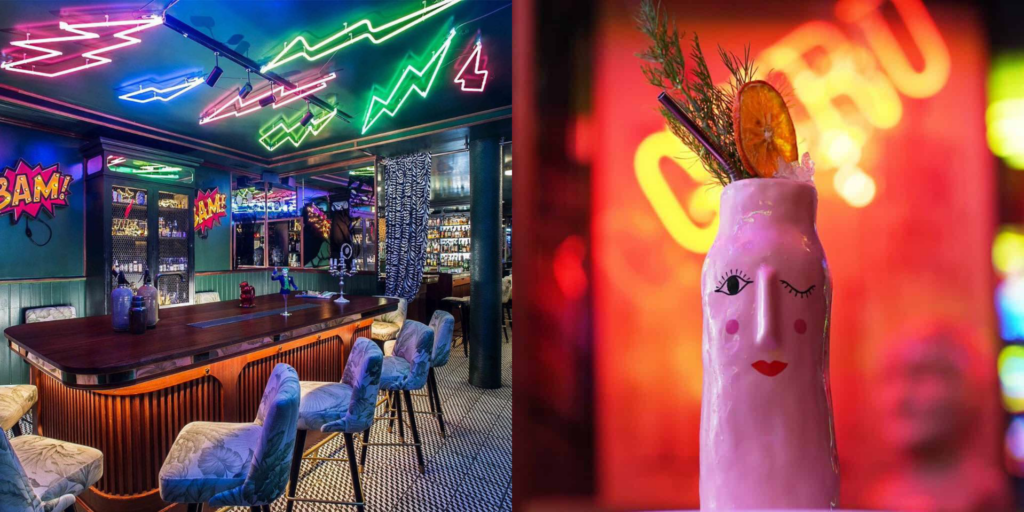 En Búsqueda De La Luz is the perfect cocktail to add some spark to any drink menu, made with Brugal 1888 rum, Pimm's, lemon juice, chai syrup, and Schweppes limón. Its name, meaning "in search of the light," is as intriguing as its sweet and tangy taste.
Nestled in the lively Calle de Echegaray, a street with a past as colorful as its buildings, lies the holy grail of booze: Salmon Guru. This watering hole has not only won locals' hearts but has also earned a spot amongst the world's best bars.
Don't be surprised if you bump into everyone you know – it's practically a rite of passage for anyone visiting Madrid.
Dance the night away at the famous Teatro Kapital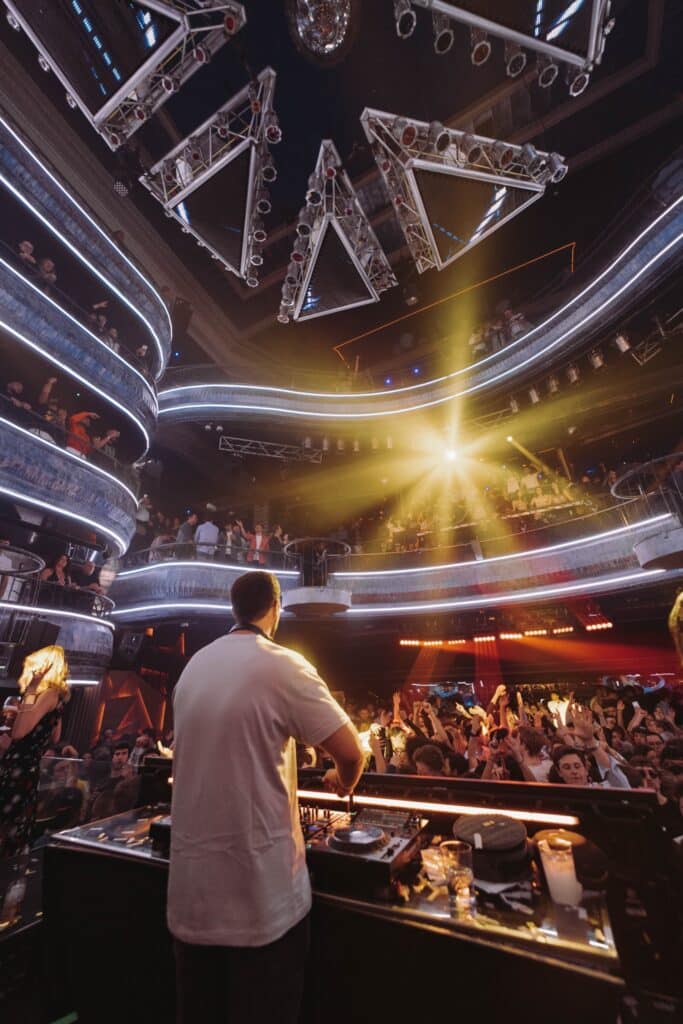 Are you ready to up your clubbing game and become a proper party veteran? Then you better strut your stuff on the dancefloor of Teatro Kapital, Madrid's ultimate nightlife destination.
With not one, not two, but seven floors of non-stop music and themed rooms, Teatro Kapital will keep you dancing. If that's not enough, this nightlife mecca boasts a cocktail bar, a karaoke area, and a breezy rooftop terrace to chill out between dance sets.
Satisfy your tastebuds with Chocolate con churros at Chocolatería San Ginés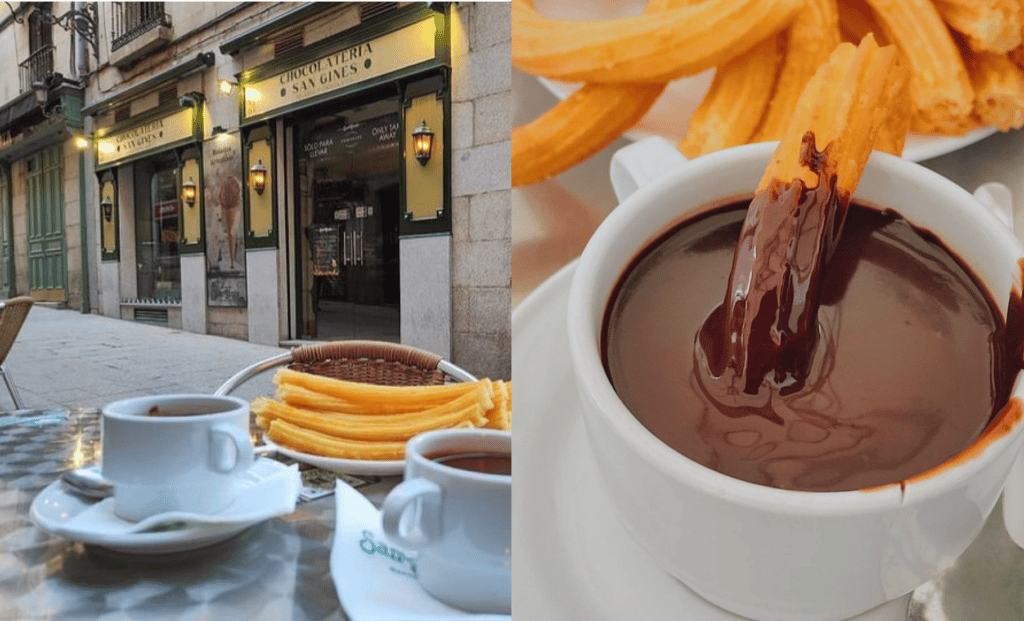 Indulging in a plate of churros from Chocolatería San Ginés is a round-the-clock affair – this legendary chocolate cafe never sleeps, and neither does our sweet tooth.
In a city known for its rich history, San Ginés has its own story to tell, having served up piping hot churros for more than a decade. Their secret? A divine hot chocolate that's a match made in heaven with the crispy, crunchy churros.
San Ginés transports you to Madrid's past with vintage wood panels, marble tables, and plush green velvet seats. From the wee hours of the morning to the bewitching hours of the night, this spot is always ready to satisfy your churros cravings.