Marrakesh nightlife is the place where cultural heritage and late-night culture meet.
Starting with watching the sunset from DarDar Rooftop to diving into the Middle Eastern cuisine at Kabana, this is how you can experience an amazing night out.
Here's your essential guide to Marrakesh nightlife.
Marvel at the stunning skyline from DarDar Marrakech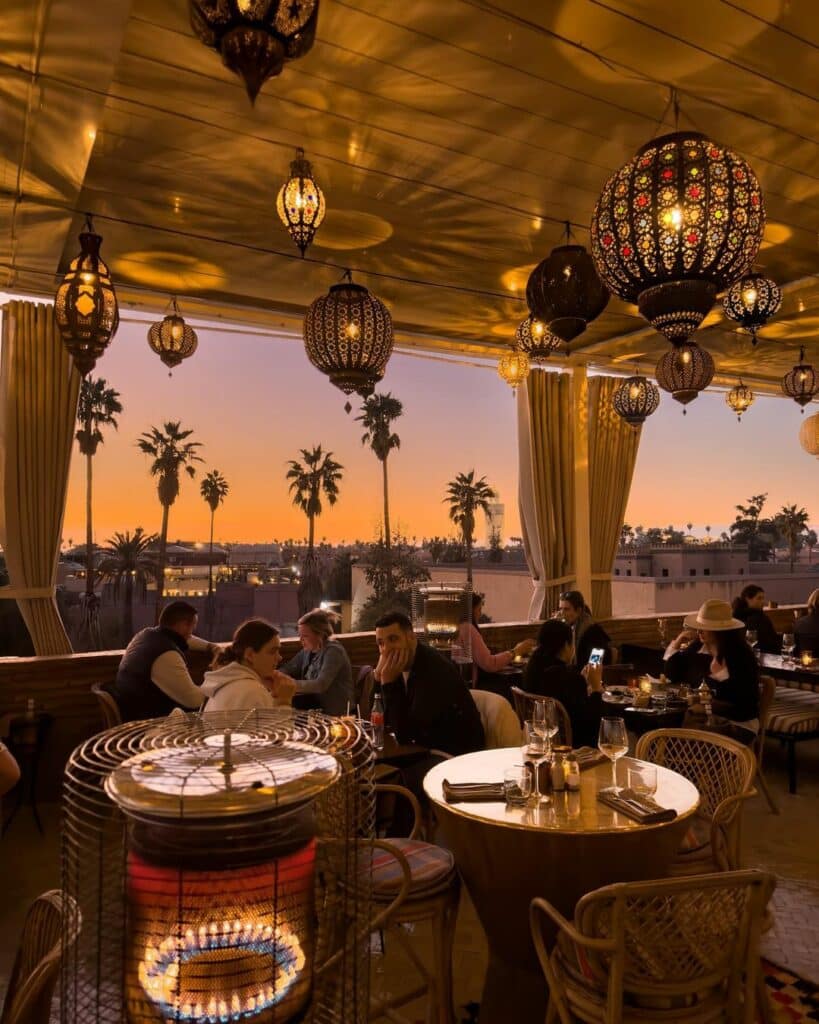 Nestled in Medina, Marrakesh's old town, the ritzy DarDar Rooftop is a pro at delivering Instagrammable sunsets. With stunning views over Medina and the Atlas Mountains, the sky retreat acts as a celebration of the city's creative spirit – and its decor is a testament to that.
The old saying "it's not about the destination, it's about the journey" must have been on DarDar's decor mood board. Not the type to sleep on both ears, the high-kicking watering hole raises the bar through artisan-crafted lanterns, rattan chairs, and natural materials.
When patrons are done exploring the Marrakesh nightlife spot' nooks and crannies, the journey only begins.
Innovative culinary offerings and lip-smacking cocktails take center stage to accompany customers through their sunset voyage – and possibly convince them DarDar should become a weekly habit.
Capture a gram-worthy shot using La Trattoria's decor
The name says it all – La Trattoria Marrakesh is an upscale gastronomical experience that lives by pasta and pizza. Since 1974, the Oriental-meets-Italian restaurant has been delivering more than mouth-watering plates.
As much a feast for the eyes as it is for the taste buds, La Trattoria is a fashionista at heart. By showcasing a stunning blend of traditional Moroccan style and Mediterranean flair through intricate tilework and ornate patterns, the spot's atmosphere deserves a social media appearance.
Watch a belly dancing show at Comptoir Darna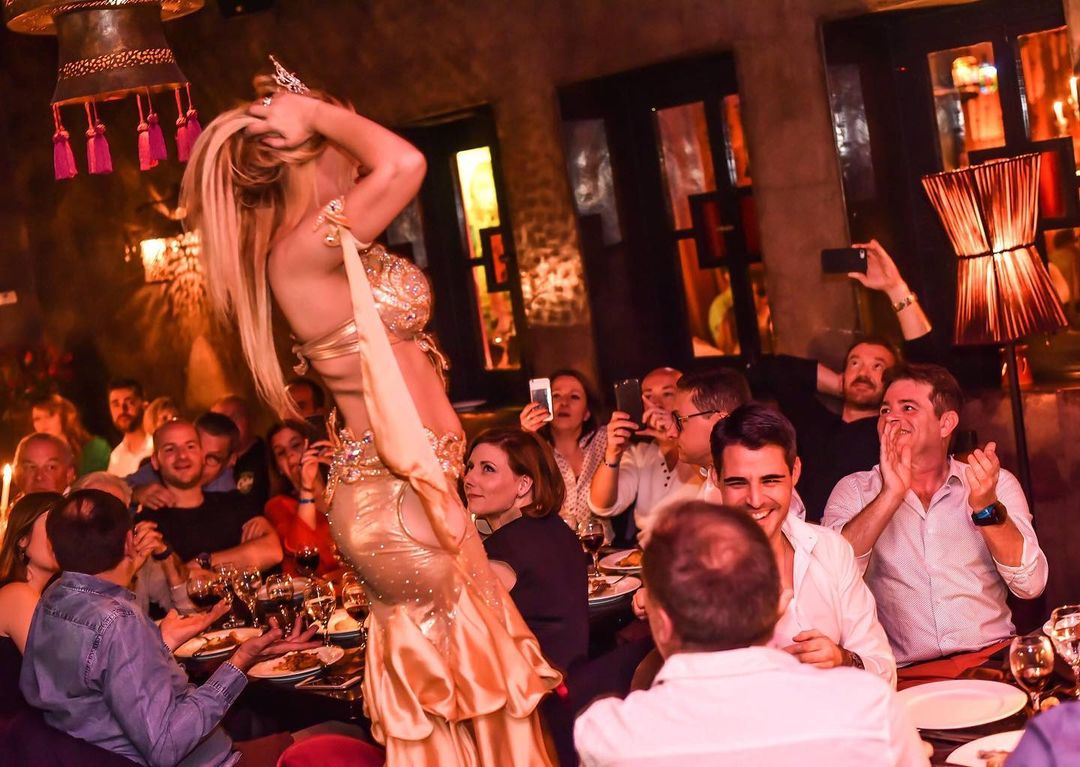 In Marrakesh, belly dancing – or shikhat, as locals call it – is an old-age tradition that immerses watchers in Morocco's vibrant culture. Just like the Italian aperitivo, the oriental dance usually sets the stage for a wine-ing and dining program.
Once the sun sets, nightlife establishments like Comptoir Darna come to life with Moroccan cuisine and traditional beats. For the restaurant-turned-nightclub, belly dancing is a form of art that should be treated accordingly.
Sought-after for its lounge atmosphere, Comptoir Darna has long been a go-to spot for Marrakesh's jet set. But forget about the crafted cocktails and tasty treats because those are far from the only reasons behind Comptoir Darna's roaring success.
Better prepare for sequin-clad belly dancers, live Arabian performances, and flavourful hookah.
Wander Hivernage's lively boulevards
Despite Marrakesh's rich history dating back to the 11th century, Hivernage is a relatively new district. Originally designed as a sunny winter retreat, the neighborhood quickly became a haven for French diplomats seeking balmy destinations.
But that's not to say it doesn't shelter a sought-after nightlife – on the contrary. Thanks to its rather late birth, Hivernage is the one district that can adapt to ever-changing times and seemingly unpredictable trends.
Since it oozes an unapproachable daytime appeal – the high concentration of five-star hotels might be at fault – it seems only natural for Hivernage to exude the same unapologetic ritziness when the moon rises.
Some of the city's most coveted clubbing destinations – including the two-story Theatro – found their forever home on Hivernage's palm-lined streets. Burning up the dance floor isn't everybody's thing, so the district boasts everything from Morocco's first casino to cocktail lounges.
There's always something to do in this Marrakesh nightlife hotspot, be it day or night.
Quench your thirst with Heindrick's in Kech at Azar Restaurant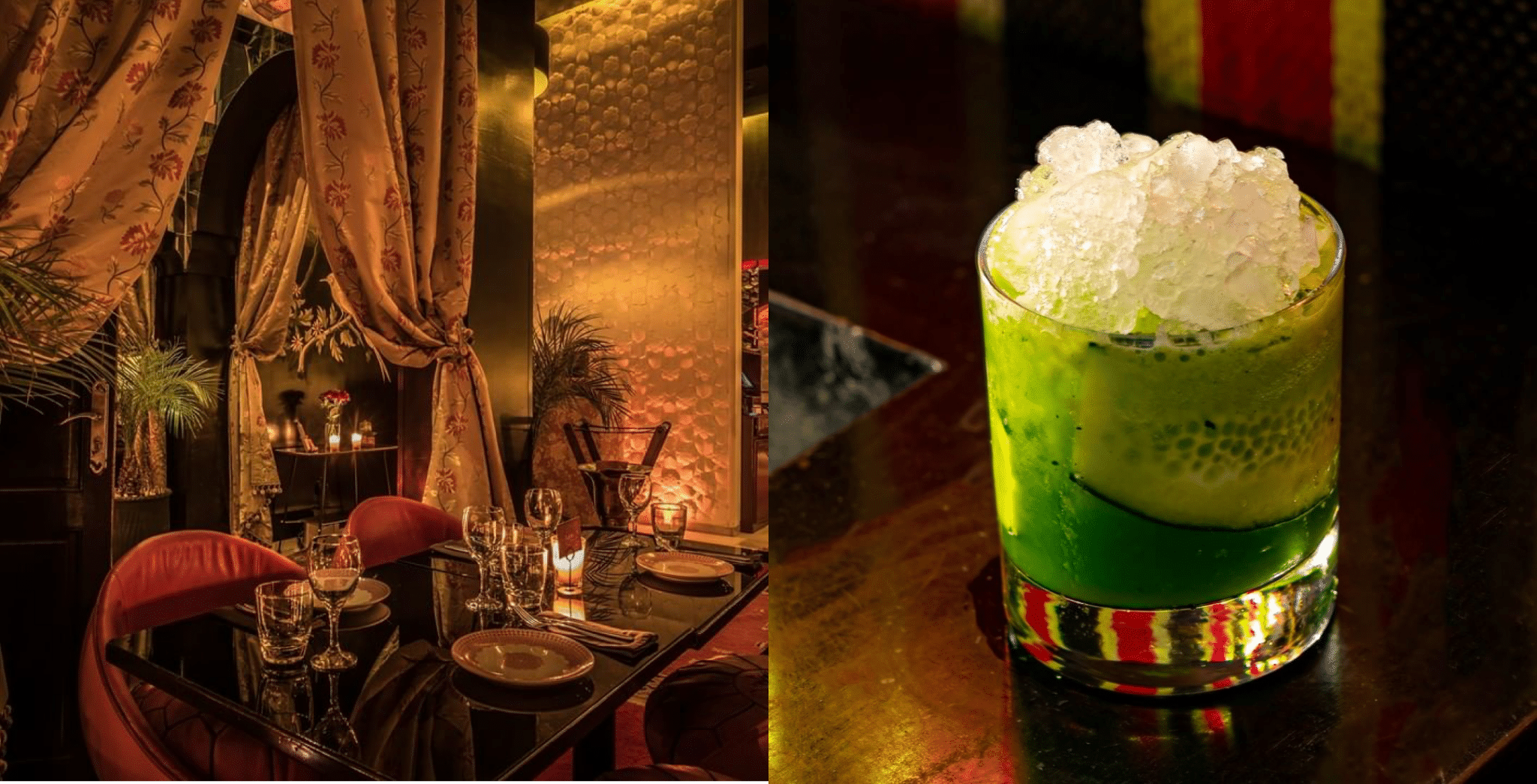 Both refreshing and visually appealing, Heindrick's in Kech is a gin aficionado's dream in a glass. By mixing top-shelf gin with a botanical blend of cucumber juice and rose water, the boozy elixir masterfully creates a balanced flavor palette.
While Azar Restaurant's top-notch Lebanese cuisine fills its tables every weekend, the nightlife spot is much more than that. Away from its savory dishes and contemporary sophistication, Azar draws inspiration from the flavors of the East to craft cocktails.
At this family-owned establishment, talented bartenders take the mixology game to the next level by infusing each creation with local ingredients, exotic fruits, and fragrant spices.
From foodies to the ones seeking what's new and next in cocktails, whoever wants to experience Marrakesh's traditions always head to Azar.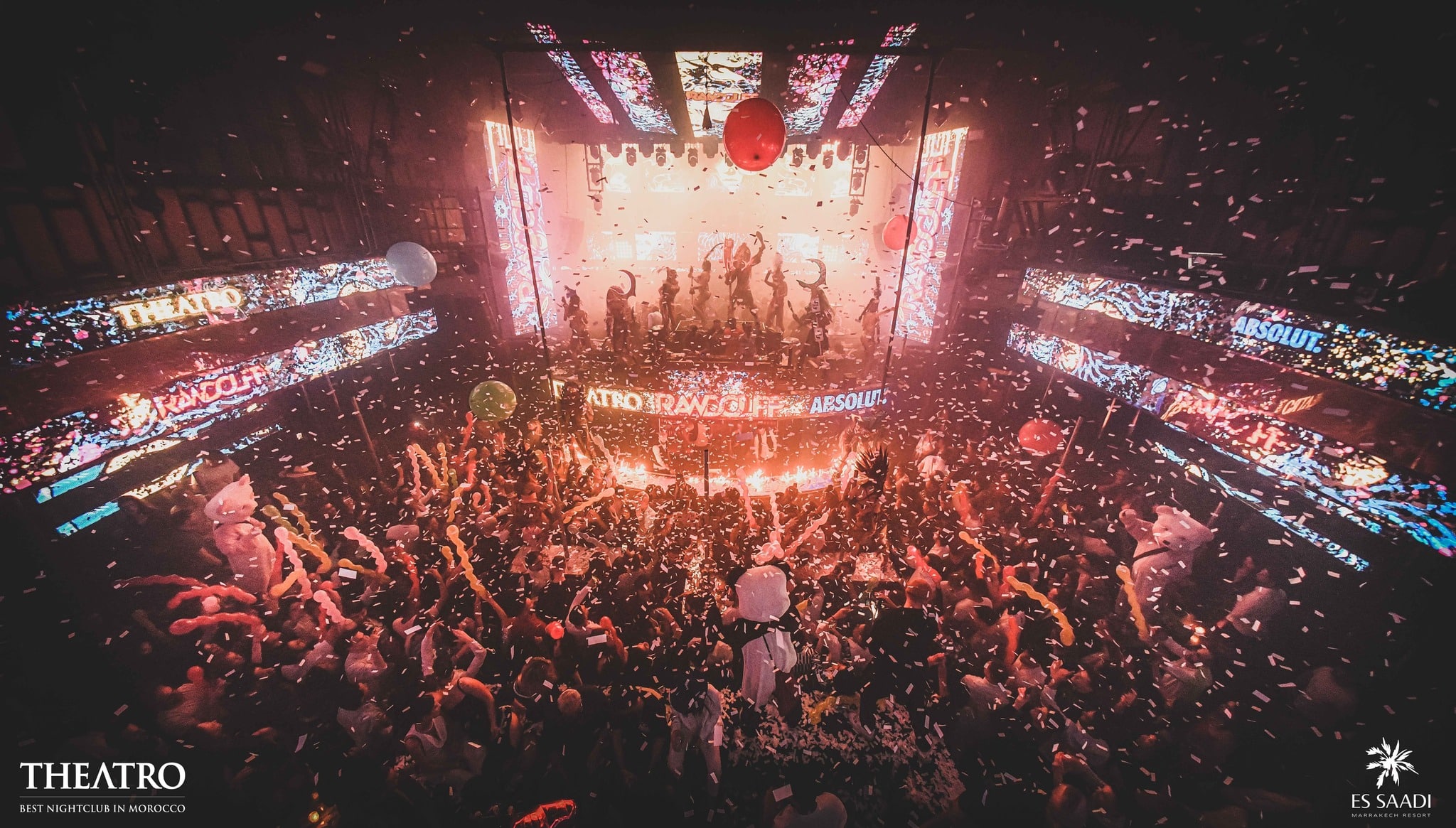 Voted one of Morocco's best clubs, Theatro is the party destination that needs no advertising to fill its rooms. Grand in size and essence, the nightclub proudly spans a 2,000-capacity space, giving revelers enough space for their nighttime adventures.
Since its inception, Theatro has played host to an impressive events roster, ticking the boxes for everything from international DJs to acrobatic shows.
Embark on a culinary journey with Kabana's crispy falafel
Although the versatile falafel recently boomed as a meat-free option for vegetarians and vegans, the Middle Eastern staple dates back thousands of years. It is traditionally made from chickpeas or fava beans along with herbs and spices, such as cumin, coriander, and garlic.
A fan of Mediterranean classics that stays loyal to its heritage, Kabana receives bonus points for its rooftop location. Beyond its sweeping views, the open-air restaurant feels like a home away from home thanks to the vibrant cushions, flickering lights, and comfy seatings.
Anything but shy about delivering unmatchable alfresco experiences, its menu features a fusion of Latin flavors and vegetarian options.