Milan's nightlife can be described by three things: upscale clubs, cobblestoned streets, and the aperitivo culture.
Starting with Ceresio 7's sweeping views and ending with some much-needed linguine all'astice at Le Capannelle, this is how you can experience an amazing night out.
Here's your essential guide to Milan nightlife.
Enjoy a cocktail session with a view at Ceresio 7
Often dubbed one of Milan's best spots, Ceresio 7 is the bellini at the cocktail hour – sparkling, sophisticated, and unabashedly stylish. As the city's response to the need of vertically versatile rendezvous, the bar boasts panoramic views with its 4th-floor location.
Serving more than views of Milan's financial district background, the nightlife spot is a charming paradox. One part retro, two parts chic, and with a garnish of lush vegetation, Ceresio 7 playfully winks at the future with leather seating and two perfectly perched pools.
If we speak cocktails, the upscale bar takes inspiration from the timeless allure of classic American establishments.
But Ceresio 7 takes things up a notch and invites patrons to see it through an Italian lens.
As for the clientele, it's as eclectic and stylish as the establishment itself. From couture-clad fashionistas to savvy businessmen, Ceresio 7 buzzes with those who appreciate the finer things in life.
Capture a gram-worthy show at Duomo di Milano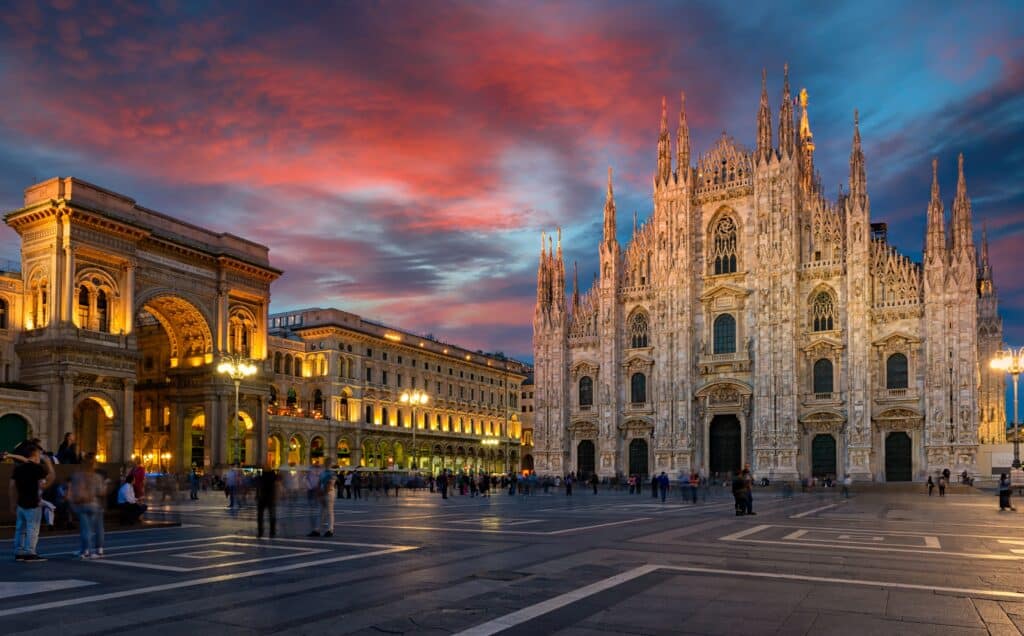 The iconic Duomo might have taken six centuries to complete, but every year was worth it. If we listen to history, the cathedral involved the work of several architects, sculptors, and craftsmen, resulting in a unique blend of architectural styles like Gothic, Renaissance, and Neoclassical.
At night, the Instagrammable structure is bathed in a soft glow, setting the 'it' background for a photo spree.
Embrace la dolce vita with classic aperitivo at Bar Magenta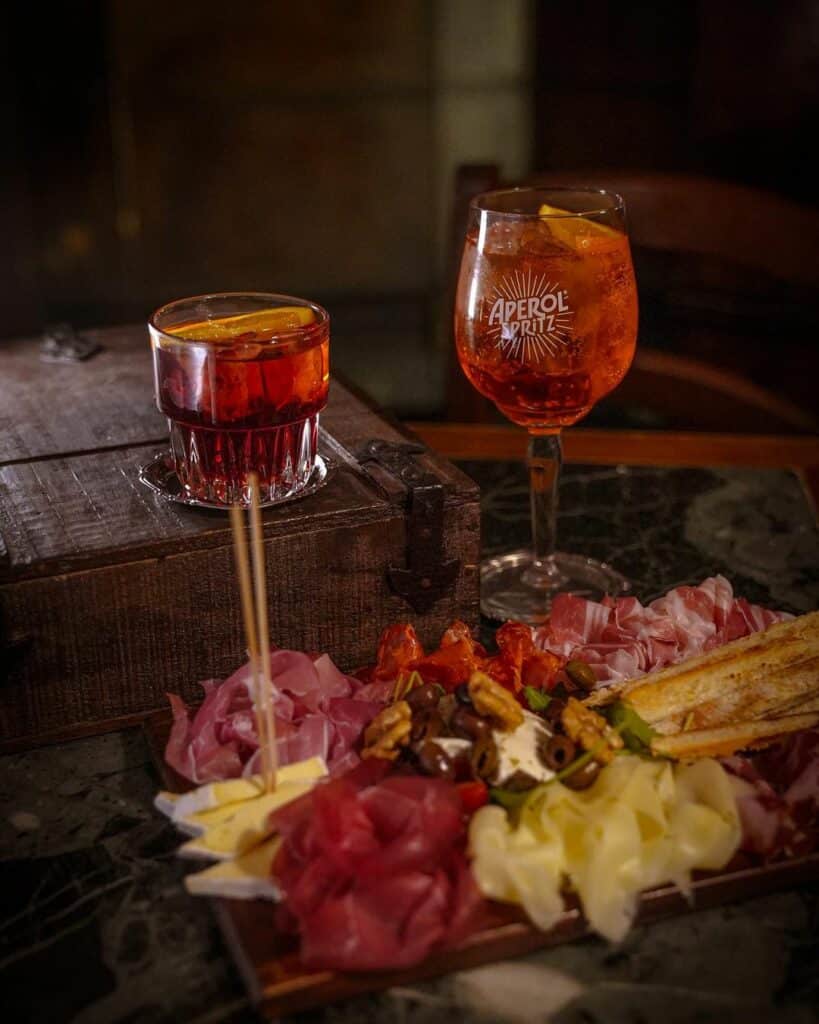 Originally invented as a pre-dinner cocktail but now a golden thread running through Milan's social fabric, the mighty aperitivo isn't just any happy hour.
Far from being a hush-hush potion or a boozy 5 o'clock, the drinking concept transforms drinkers into sociable hedonists and appetizers into feasts. Call it the alluring intermezzo that punctuates the space between the day's labor and the evening's repose.
Be it through a bitter-sweet Aperol, a classic Negroni, or sparkling prosecco – all accompanied by olives, nuts, cheese slices, and prosciutto – Bar Magenta is a pro at making patrons say "just one more glass."
A hundred years old and still going strong, the rustic bar-bistro has a mi casa es su casa appeal. If your casa served fantastic drinks and a spread of complimentary Italian food, that is.
One thing is for sure. In a city where spotting the perfect aperitivo feels like trying to find a needle in a haystack, Bar Magenta has a trick or two up its sleeves to get your evening started.
Venture into Navigli's canal-ridden streets
Venice might have its gondolas, but Milan has Navigli, the city's own canal-ridden district. Filled with more charm than a Fellini film, the cobblestoned area celebrates two things – history and water.
For those who aren't into sailing, Navigli feels like the secret ingredient in grandma's ragu. Lesser known but irresistibly flavourful, the splashy district has the vibe of an outdoor gallery, as quirky shops, bohemian art studios, and vintage markets scatter the side streets.
When the cool breeze stirs the air, bars and cafes lay out sumptuous spreads to make space for the aperitivo.
You can sit down, sip on a spritz, nibble on some finger food, and soak in the view of the sun setting over the Ripa di Porta Ticinese.
If dancing is your scene, Carlo e Camilla in Segheria, a dramatic, chandelier-lit restaurant-turned-nightclub should be on your list.
For those more inclined towards beers, Bere Buona Birra is your sanctuary. With an array of craft beers that would have a monk swooning, this cozy pub offers a refreshing alternative to the traditional aperitivo.
Give the Better Call Sour cocktail a try at The Spirit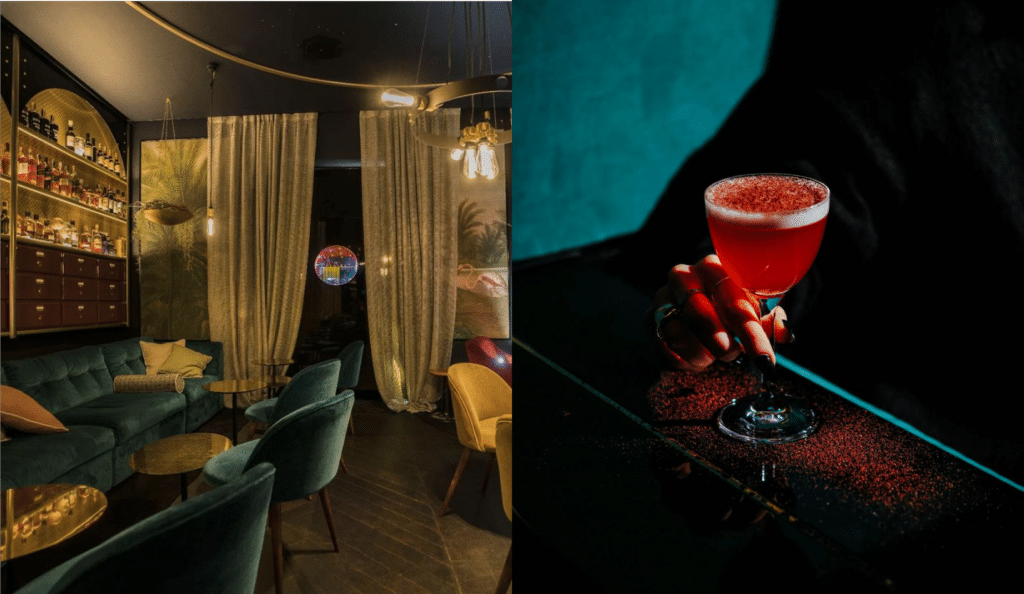 As the cocktail that makes you fall in love at the first sip, Better Call Sour is not just another boozy potion – it is a testament to expert mixology.
By blending citrusy gin, rum, nutty Sherry Fino and a bitter note of Grenadine, it elevates the cocktail game.
Stepping into The Spirit feels like walking into a secret speakeasy from the roaring 20s, one where time gracefully sashayed into the 21st century. Somewhere between vintage and modern, the watering hole features velvet seating, exposed brick walls, and extravagant mirrors.
If you ever wondered where Milan's chic crowd, discerning tourists, and cocktail devotees meet, it's here. Surrounded by rare bottles, patrons can pick anything from aged spirits to exotic alcohol, such as Japanese gin.
Party the night away inside a church at Gattopardo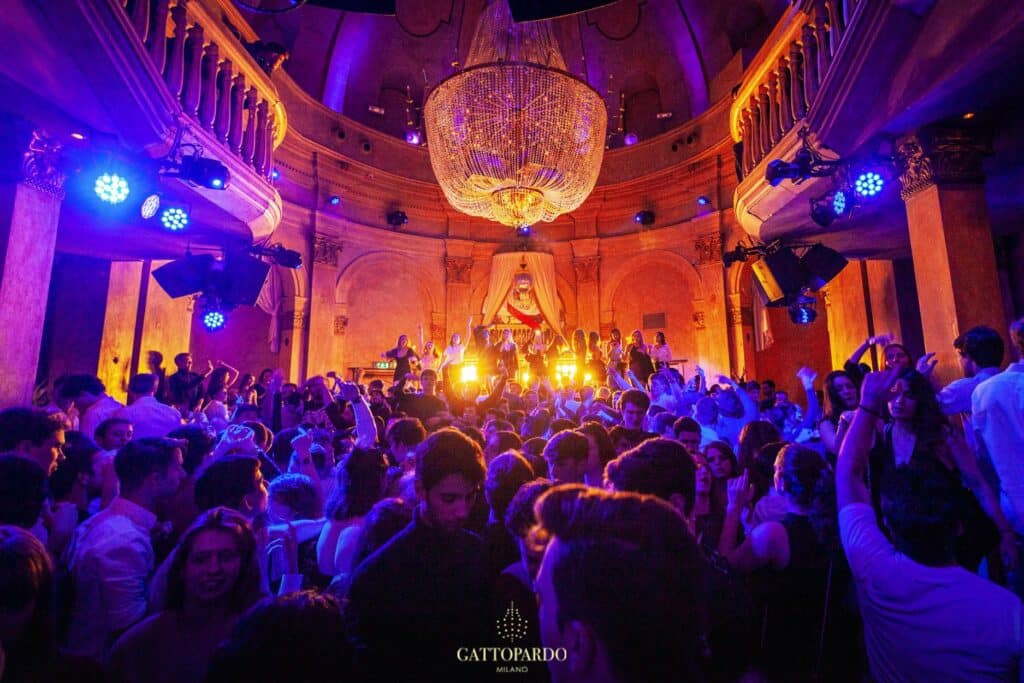 Gattopardo is the go-to nightlife destination for Milan's affluent revelers, top-charting hits, and live performances.
From exclusive soirees to glamorous galas, the former church transforms into a haven of revelry, where guests immerse themselves in a world of sophistication and indulgence.
Finish off your night with linguine all'astice at Le Capanelle

Linguine all'astice isn't just a late-night craving. Deeply rooted in Italy's coastal culinary tradition, the pasta dish encapsulates the essence of Italian dining – the celebration of high-quality, fresh ingredients.
Featuring a seemingly opulent yet unapologetically humble ingredients list, lingerie all'astice is proof that less is more. Lobster and linguine harmonize each other, while a medley of ripe tomatoes and aromatic herbs plays in the background.
With decor that harmoniously blends Italian country houses with contemporary elements, Le Capanelle masterfully creates a chic and inviting space.
Vintage-inspired furniture is artfully paired with modern accents, painting a tableau that's as much about comfort as style. The twinkling lights invite you to slow down, sit back, and indulge in a meal that's been crafted with love.