Montevideo's nightlife is an unmissable blend of alternative music clubscapes, late-night dinners, and wine bars.
Starting with Esplendor Cervantes Rooftop's Insta-worthy views and ending with a juicy Chivito at Rodo No.3, this is how you can experience an amazing night out.
Here's your essential guide to Montevideo nightlife.
Catch the sunset at Esplendor Cervantes Rooftop
A haven for highbrow bon vivants and street-savvy jetsetters, Esplendor Cervantes offers awe-inspiring views encapsulating Montevideo's dynamic dichotomy.
To one side, the art deco Palacio Salvo presides over the urban bustle. A sweep of your gaze to the other revealed the endless blue stretch of the Rio de la Plata.
A setting this picturesque calls for décor to match, and the sky-high sanctuary doesn't disappoint. Understated yet unapologetically urbane, the rooftop bar has a flair for the dramatic, a love story of design penned in the language of luxe. Here, exposed steel and brickwork dance with warm wooden accents and vintage motifs.
The menu at Esplendor Cervantes Rooftop is a carefully curated epic of Uruguayan gastronomy, peppered with cosmopolitan influences. Picture plates of succulent asado, reinvented with a dusting of bold local spices and paired with the velvety tannins of Tannat, Uruguay's iconic red wine.
At this rooftop bar, nightfall sees Montevideo's glitterati mingle with discerning tourists, while foodies rub shoulders with culture aficionados.
Ready, steady, pose next to the Palacio Salvo
Initially built as a hotel, the Palacio Salvo is an exotic fusion of art deco and Neo-Renaissance styles. At its 1928 completion, it held the title of the tallest structure in South America, reaching a dizzying height of 95 meters.
The structure's right-in-your-face marriage of intricate designs and dramatic lighting is an Instagrammer's dream and enough of a reason to double-tap away.
Experience an urban coastal sunset in the Rambla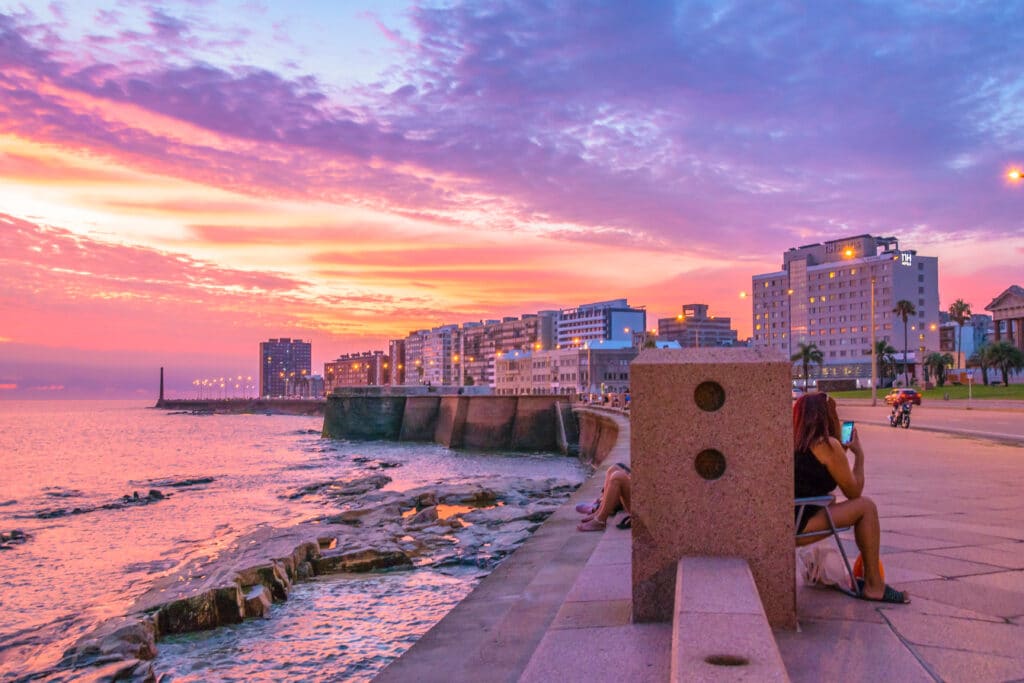 When the Spanish conquistadors arrived in South America, they were searching for El Dorado, a mythical city rumored to be full of gold.
Five centuries later, a similar spot – albeit less golden and more crimson – gives Montevideo's nightlife adventures a taste of the mythological holy grail.
A 22-kilometer-long promenade turned mystical soiree, the Rambla offers the rare experience of a pulsating nightlife blended with a heavenly interlude of a radiant sunset.
As the sun dips into the horizon, this esplanade morphs into an arena of enchantment. Golden hour paints a striking tableau on the sky's canvas, and the Rambla is the front-row seat to this spectacle.
Beyond the arresting beauty of the Rambla, Montevideo reveals its true cosmopolitan nature in its eclectic establishments. Savour the vibrant Tango culture at the iconic Bar Fun Fun, or tickle your palate with the bold and robust Uruguayan Tannat wine at local bodegas.
Explore Pocitos' nooks and crannies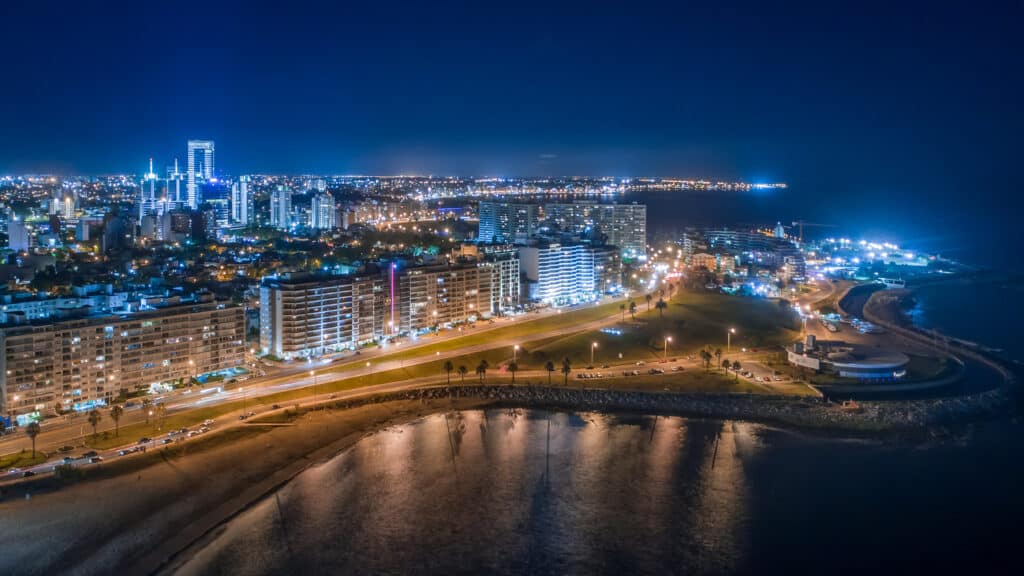 Sultry tango rhythms, golden sunsets glinting off towering art-deco edifices, and a nightlife that sizzles till the sun pops over the horizon – that's how a local would describe the buzzing Pocitos barrio.
The neighborhood's name, meaning 'little wells,' harks back to its history as a favorite spot for potter clay extraction.
Today, Pocitos' clay-rich past is echoed only by the earthy taste of Tannat in the area's myriad of wine bars and not by the district's vibrant tapestry of life, which makes it Monteovideo's nightlife gem.
Start your nightlife journey at El Comedy, where laughter and libations flow in equal measure. This isn't just a bar; it's a stage where comedians, both seasoned and aspiring, entertain patrons. With a drink in hand, expect to laugh until your ribs ache in this den of humor and high spirits.
Up next on our nightlife excursion is El Bacilon Pub. Known for its high-octane parties and a drink menu as extensive as the night itself, El Bacilon Pub has earned its reputation as a playground for the young and the young-at-heart.
Sip on the Shower cocktail at Te Acordas Bar
Diving headfirst into your bathtub after a long day is good, but diving into a Shower cocktail is undeniably better.
Packed with raspberry liqueur and rum, this cocktail sparkles with tartness, the sweetness of rose cordial weaving a floral backdrop. A splash of tangerine juice lends an exotic twist, while the foamy cap of egg white and lemon adds a tangy frothiness that's reminiscent of a bubble bath gone wild.
Te Acordas Bar in Montevideo is where this boozy libation makes a splash. As one of Montevideo's most coveted nightlife destinations, the establishment exudes an intoxicating blend of quirk and sophistication.
The decor plays with the romance of the vintage era, while modern accents keep it anchored in the now. Naturally, the bar's offerings stretch far and beyond, with an inventive menu that infuses local flavors and international flair.
A pre-drinking session at Te Acordas Bar is one you'll want to 'remember,' just as its name says. Here, the drinks do more than quench your thirst- they create memories worth sipping on.
Dance until your feet get sore at Lotus Club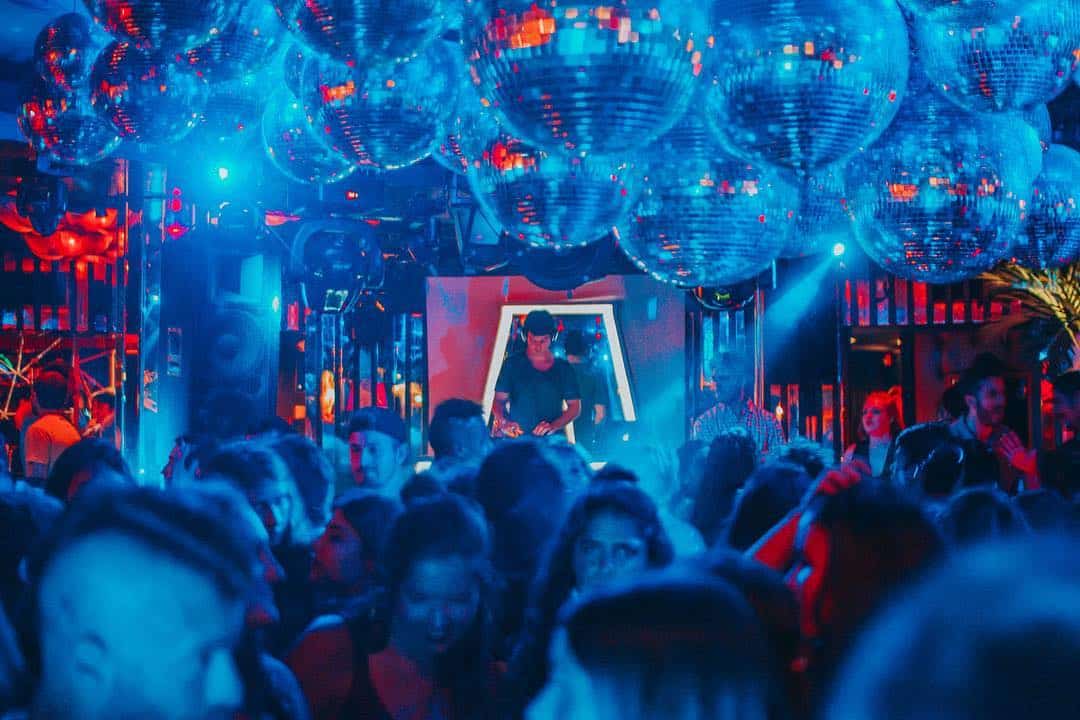 Serving elegance and class along with the VIP treatment, Lotus Club is the go-to spot for upscale clubbing sessions. Beyond its ritzy decor – best characterized by a slew of dangling disco balls and opulent elements – the Montevideo nightlife spot does more than just look cool.
With a foot-tapping rotation of electronic hits and Latin favorites, Lotus ensures that no reveler will spend the night sitting.
Munch on Chivito at Bar Rodo No.3
Calling the Chivito a sandwich is like calling the Sistine Chapel a drawing room. Its name, derived from the Spanish word for 'little goat', is a humorous misnomer. There's nothing little about this monumental stack of decadence.
This tipsy treat begins with a soft, slightly sweet bread roll. A slice of tender steak is followed by melted cheese, bacon, and a fried egg as the pièce de résistance. Fresh iceberg lettuce, sliced tomatoes, and tangy mayonnaise bring a welcome crunch and zing, and let's not forget the ham, olives, and red peppers.
Now, let's stagger down the rabbit hole to the creator of this night owl nourishment, Bar Rodo No.3.
As you cross the threshold, the vintage chic décor hits you harder than the last Negroni you downed. The leather-clad bar stools, the worn wooden tables, and the retro-style lights offer a warmly inviting atmosphere.
In this time-warp bar, the menu isn't a simple list of dishes. From the signature Chivito to seafood platters and dulce de leche crepes, it's a sensory whirlwind that's impossible to resist, whether you're three drinks in or nursing a bottle.