New Delhi's nightlife bursts with eclectic energy, serving up infectious beats, decadent dining, and vibrant bazaars under starlit skies.
Starting with a cocktail at Raise The Bar and ending with butter chicken at Railway Yard The Midnight Cafe, this is how you can experience an amazing night out.
Here's your essential guide to New Delhi nightlife.
Enjoy a bird's-eye perspective from Raise The Bar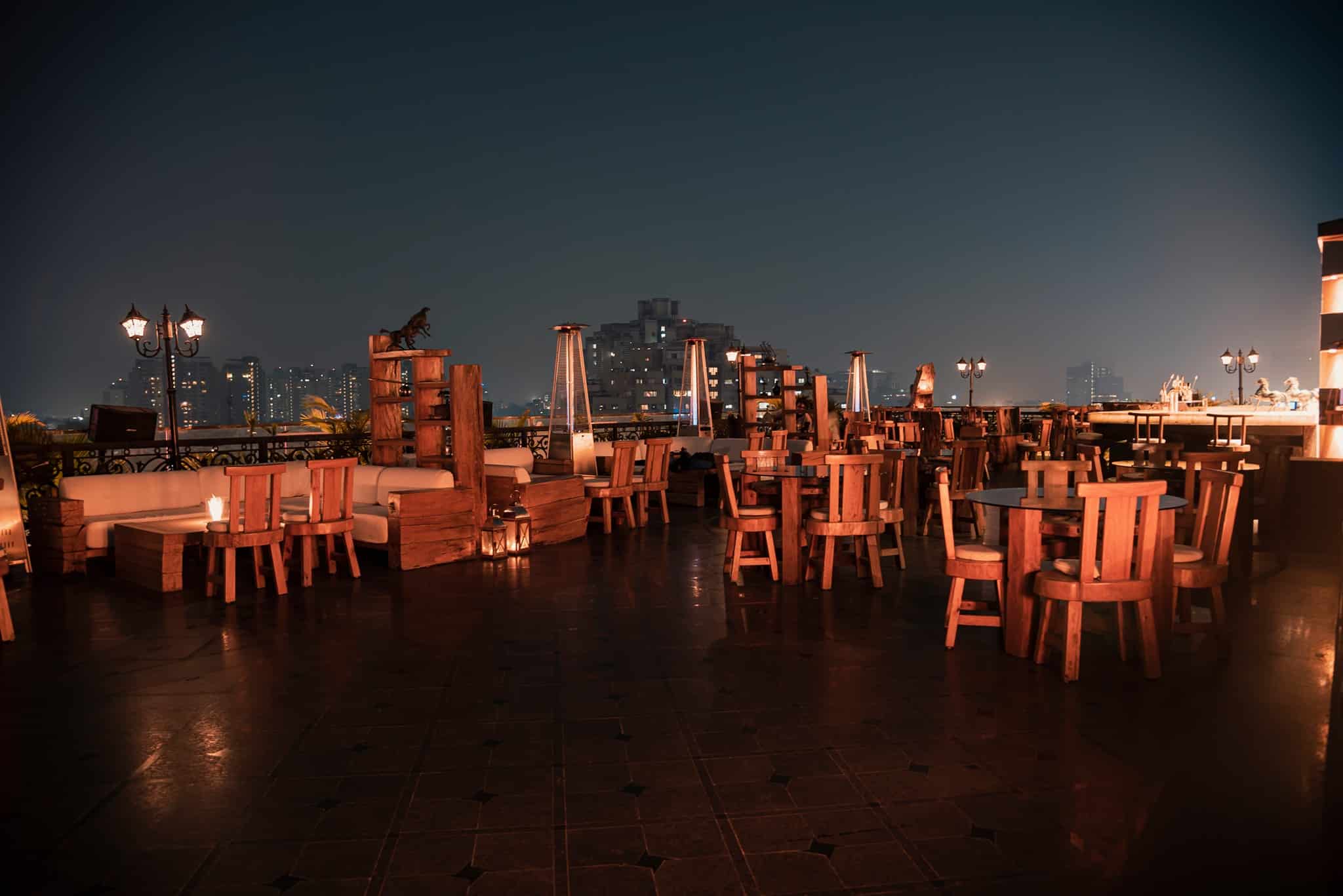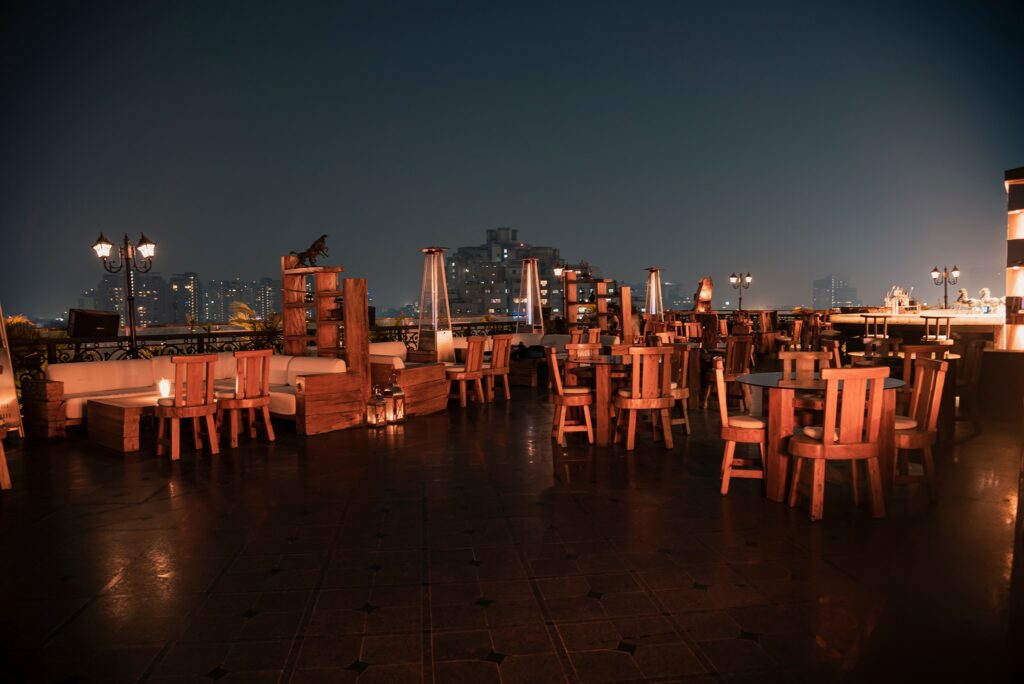 It's easy to see Delhi as a giant concrete jungle – but Raise The Bar can change your perspective with its sweeping views. Located on Clarens Hotel's 7th floor, the high-kicking watering hole is one of the few rooftops with 360° city views.
Striking a balance between the flamboyant and the understated, Raise The Bar stitches together Indian heritage elements with sleek modernism. The open-air terrace displays a detail-oriented design, as light fixtures play a game of tag on the polished surfaces and wooden furniture.
Whether you are into sipping crafted cocktails or munching on quick bites, the New Delhi nightlife venue has you covered. A quick menu scan would reveal a generous selection of European-inspired snacks, along with beverages that evoke the spirit of the 1920s.
A potpourri of locals – either wearing savvy suits or cocktail dresses – fills Raise The Bar's alfresco terrace every week. At the end of the day, it's a place where the city's pulse can be sipped, tasted, and savored.
Use Akshardham Temple as an Instagrammable background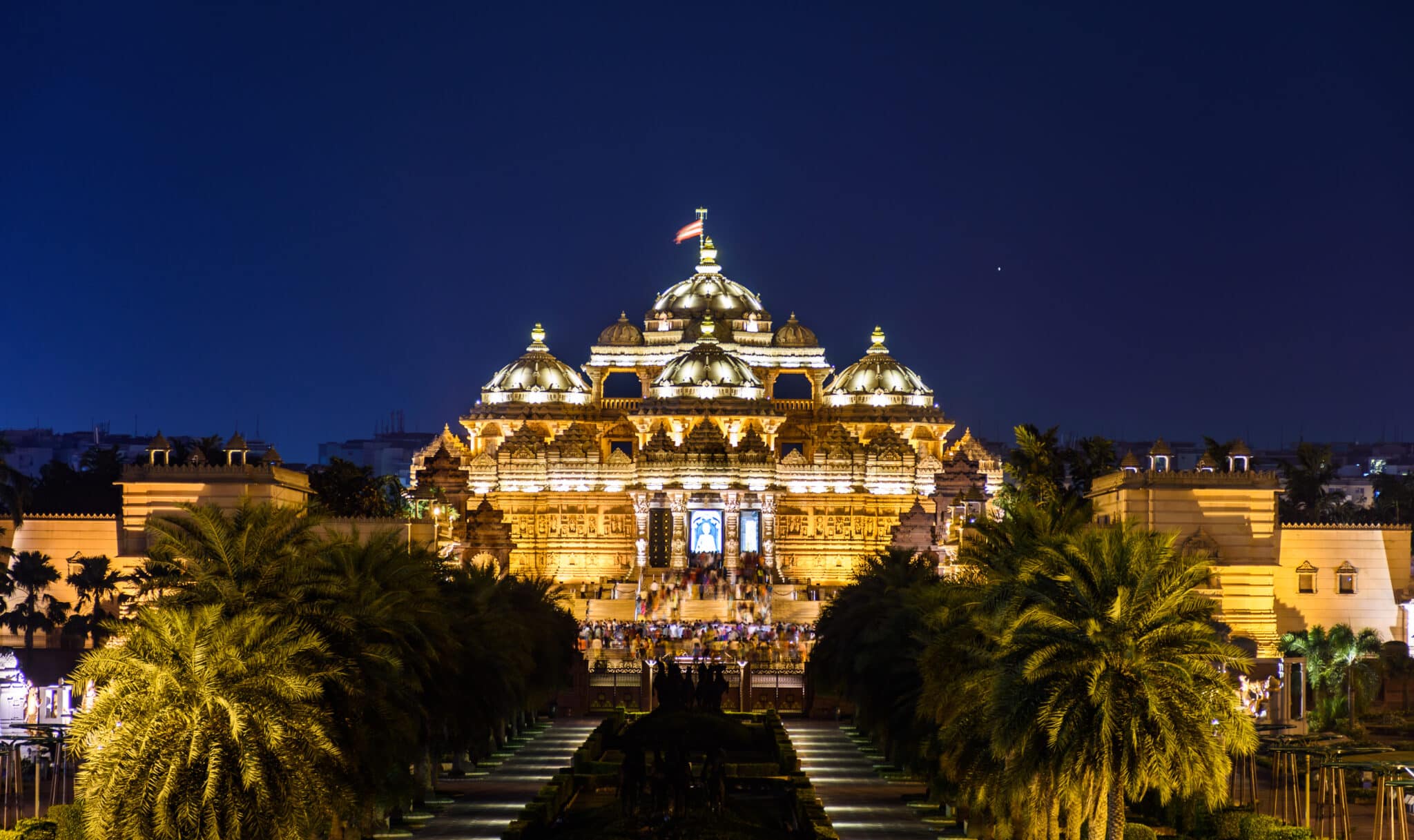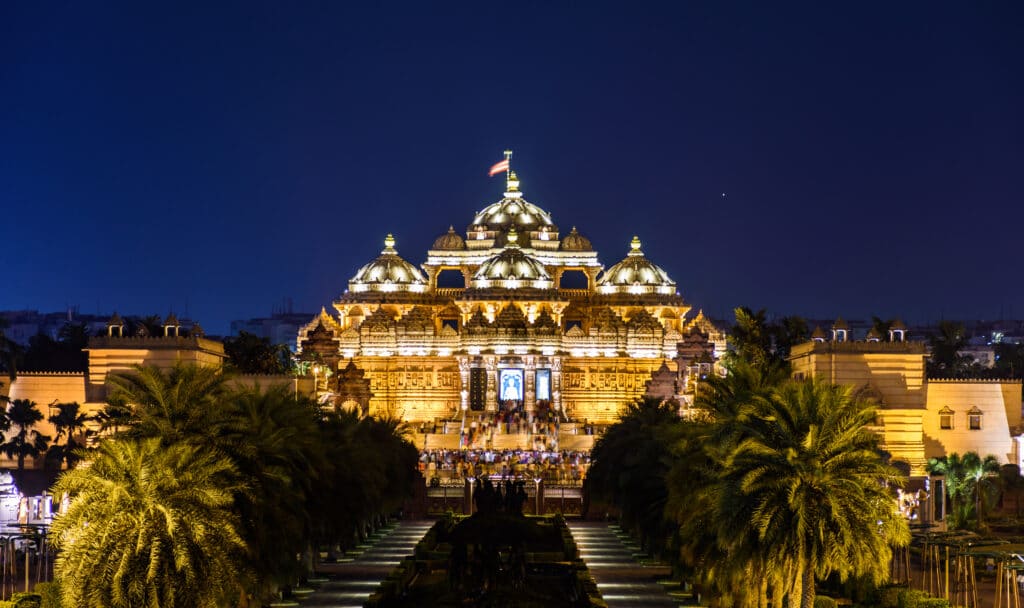 Often dubbed a spiritual-cultural campus, the Hindu temple of Akshardham is an enlightening journey through India's art and values. It is constructed entirely of pink sandstone and Italian marble, with intricate carvings serving as a visual library of cultural tapestry.
As one of the world's largest Hindu temples, Akshardham appears like an immortal love letter penny by yesteryear's architects.
Explore the bustling Chandni Chowk market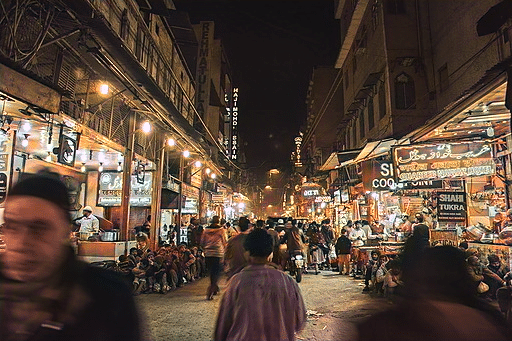 One of Asia's oldest and most iconic markets, Chandni Chowk can entice the most jaded traveler. Though gritty and always packed, the commercial hub is an intriguing anachronism – even in an era of burgeoning modernity.
A chronicle etched in the annals of Delhi's tapestry, Chandni Chowk is not just a marketplace. It's an enchanting symphony of culture, commerce, and cosmopolitan charisma that has remained true to its roots, echoing the city's ethos through the centuries.
When you first step into this old and new labyrinth, dozens of sounds and sights will overwhelm you. The mind-boggling 2,500 shops, stalls, and street vendors might be at fault. It's either that or antique jewelry, Indian textiles, aromatic spices, or intricate silverware.
Every corner tells a story. Khari Baoli, Asia's largest wholesale spice market delivers a sensory journey through the spice-laden routes of India's past.
Elsewhere, the cloth bazaar of Katra Neel is a fabric lover's paradise with sumptuous silks and soft pashminas.
Uncover Connaught Place's hidden gems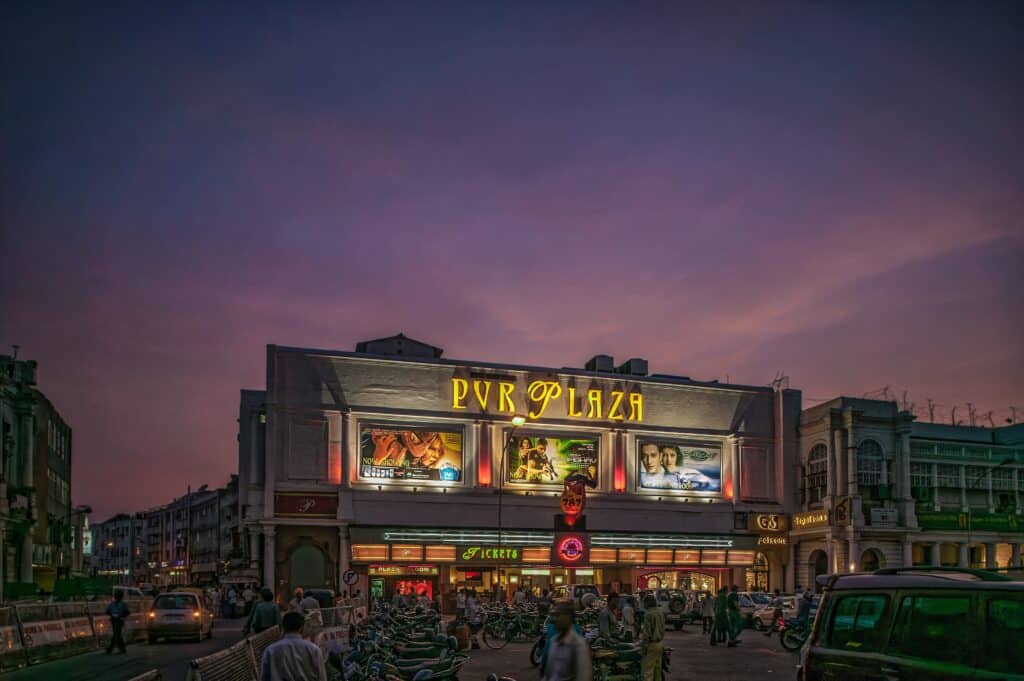 Ask any New Delhi local about Connaught Place and they will tell you one thing – the nightlife hotspot feels like a city of its own. Built in the 1930s, the area serves as an architectural time machine, with ivory arches and colonnades whispering tales from the British rule era.
But don't let its vintage demeanor fool you. At night, Connaught Place swaps its afternoon tea for a shot of adrenaline. A heady mix of the gourmet, the glamorous, and the pleasantly unconventional, its nocturnal carousel showcases more venues than your feet can keep up with.
For those who like their nights filled with more leather jackets than little black dresses, Route 04 is your destination. A biker bar that hits the right notes of rock'n'roll, it thrums with an unfiltered energy that could put bands to shame.
Since the hotspot is a financial business district, most clubbing spots are upscale or VIP. While RSVP and Privee have different music playlists, both clubs share the same commitment to looking, feeling, and acting flashy.
And yet, to focus only on clubs and bars would be akin to watching a Bollywood film and only remembering the dance sequences. Connaught Place's charm lies in the unexpected – like the underground Palika Bazaar, which proves retail therapy is a 24-hour service.
Sip on the Ke-Sour at DANDY – The Fio Bar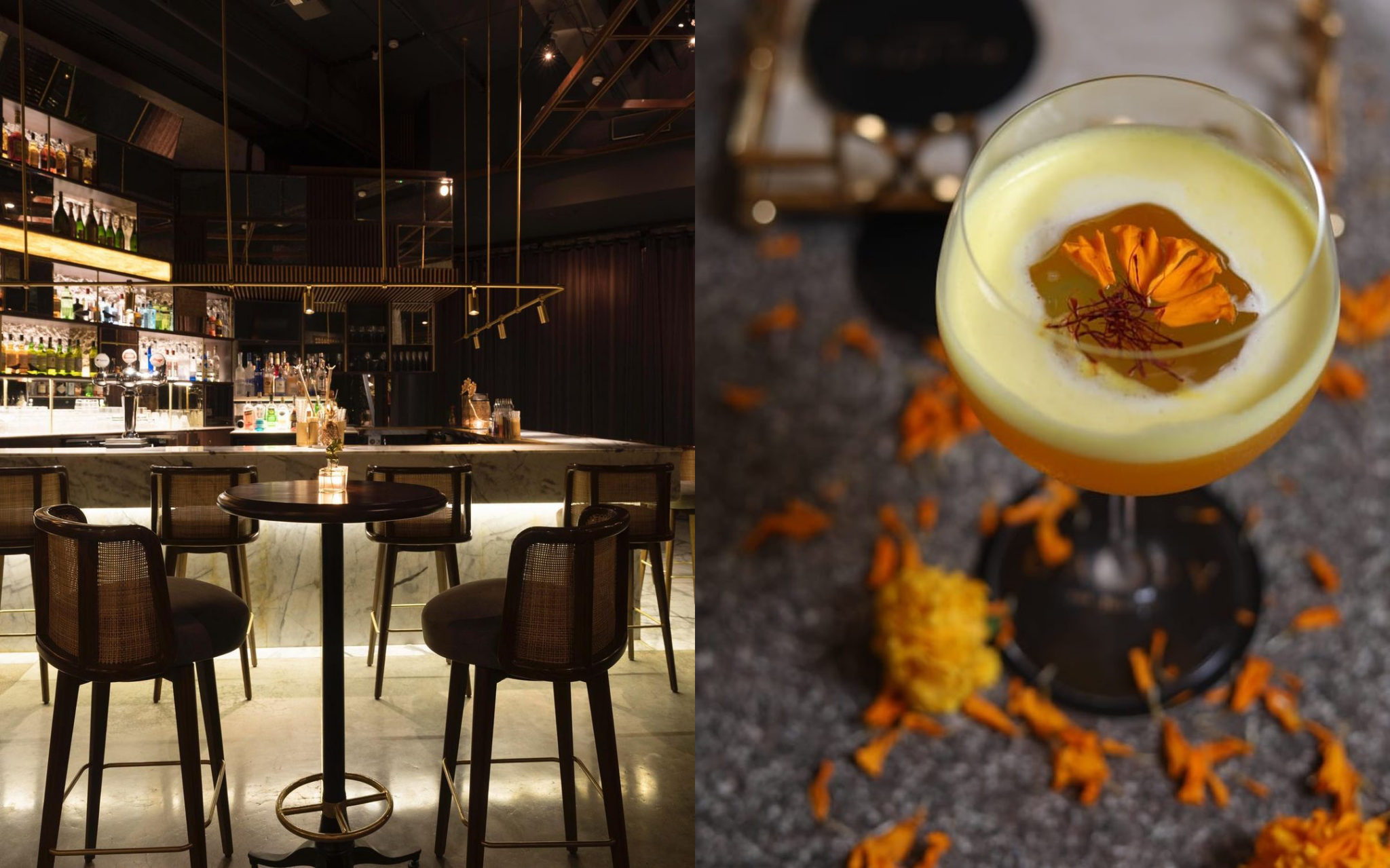 Roll out the red carpet for the Ke-Sour, the cocktail proving that wit and elegance aren't just human traits. Using a saffron-infused gin base and adding tangy Cointreau, zesty lime, and vanilla cordial, Ke-Sour is a sonnet to your senses, punctuated by a bold egg white foam.
If you shift your gaze from the boozy libation to its maker, a background of avant-garde decor will unfold before your eyes. Neither cramped nor colossal, Dandy lures patrons in with eye-popping aesthetics, but makes them stay with infused gins.
Sure, Dandy's signature cocktails are scene-stealers, but the real fun begins with their DIY drink station. Patrons can meet their new favorite cocktail by choosing from a tantalizing array of homemade cordials, kombucha, and infused gins.
A rendezvous at Dandy, often frequented by New Delhi's glitterati, is a tango with class and taste.
From sharp-suited businessmen hashing out their next deal to boho artists lost in passionate debate, Dandy casts a wide net, proving that pursuing a sublime cocktail is a universal affair.
Party like there's no tomorrow at White Delhi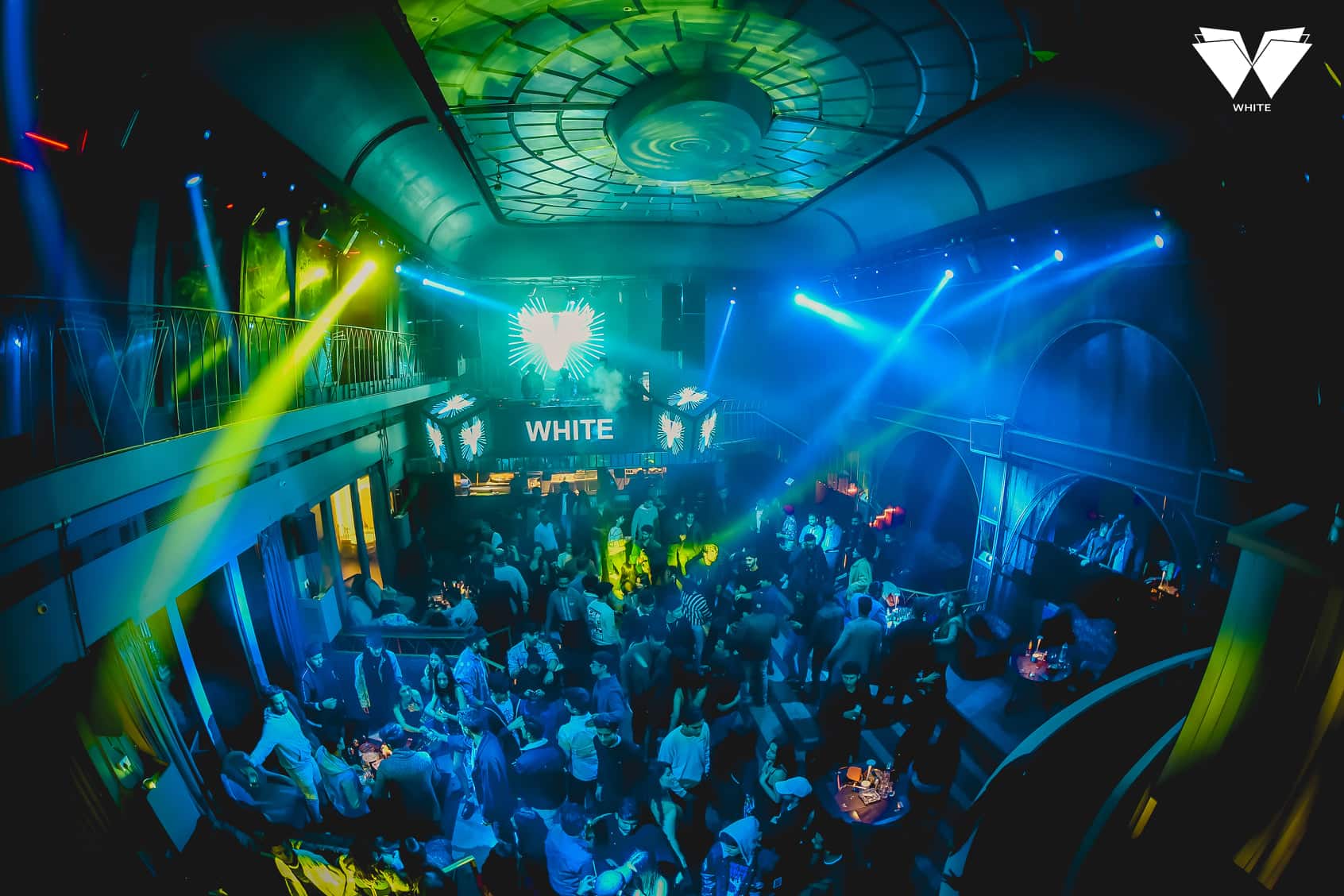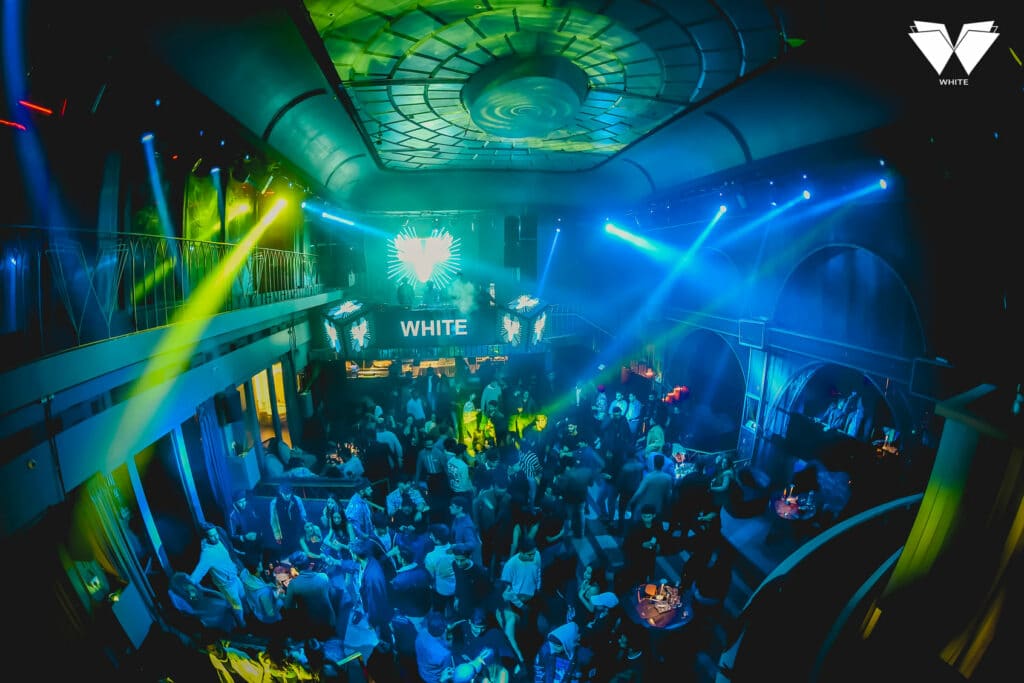 Somewhere between upscale and laid-back, White is where champagne bottles sit harmoniously next to casually-dressed clubbers. Every weekend, the New Delhi nightlife venue vibrates with Bollywood and international pop hits, keeping night owls on their feet.
If White's essence could be bottled, it would uncork high-energy beats and the sheer joy of being in the 'now.'
Nourish your inner foodie with butter chicken at Railway Yard The Midnight Cafe
Born from the ingenious alchemy of Punjabi cuisine, butter chicken has been the velvety nightcap for nocturnal adventurers and the comfort food for culinary enthusiasts.
The tender chicken marinated in a blend of aromatic spices and yogurt, then graciously slathered in a decadent tomato-based gravy, is enough to transform even the bleakest night into a golden dawn.
Since butter chicken is part of New Delhi's DNA, there's no late-night eatery that doesn't cook it. But The Midnight Cafe is one of the restaurants that does it best.
Framed by the storied arches of a repurposed railway yard, the hidden game is where tradition and innovation converge. The cafe features a menu both steeped in India's culinary heritage and daring enough to give it a whimsical twist.
Every dish is a journey through India's culinary map, from the fiery Railway Mutton Curry to the soothing Dal Bukhara.