Bask in New Orleans' nightlife, where every corner unfurls a symphony of jazz, jest, and jubilant joie de vivre.
Starting with Hot Tin Bar's sweeping vistas and ending with fried seafood at Willie's Chicken Shack, this is how you can experience an amazing night out.
Here's your essential guide to New Orleans nightlife.
See New Orleans from above at Hot Tin Bar
On a balmy New Orleans evening, when the Mississippi lullaby has started to hum its charm, there's a fiery twinkle that seduces the cityscape from the 11th floor of the Pontchartrain Hotel. It's the luminous gleam from the Hot Tin rooftop bar, a champagne-soaked sanctuary of high spirits and haute views.
Situated in the lush, winding paths of the Garden District, this aerial oasis serves up a tantalizing view of the cityscape and Mississippi, making any hour truly golden. This rooftop lounge may not sprawl across acres, but what it lacks in size, it compensates with an irresistible charm.
Picture a 1940s artist's loft, emboldened with a dash of contemporary chic, and you'll be close to imagining the aesthetic alchemy of Hot Tin. Once the penthouse of the classic hotel, it's now an ode to yesteryear sophistication and today's vivacious vibe.
But the New Orleans nightlife venue serves more than Instagrammable aesthetics. From the rum-filled Skyliner to the gin-infused Seersucker, the drinks menu features most timeless classics but adds a healthy dose of signature cocktails.
Hot Tin easily translates into a backdrop for jetsetters and laid-back locals seeking a birds-eye view with their bourbon.
Make a social media feed addition at Hotel Monteleone's Carousel Bar & Lounge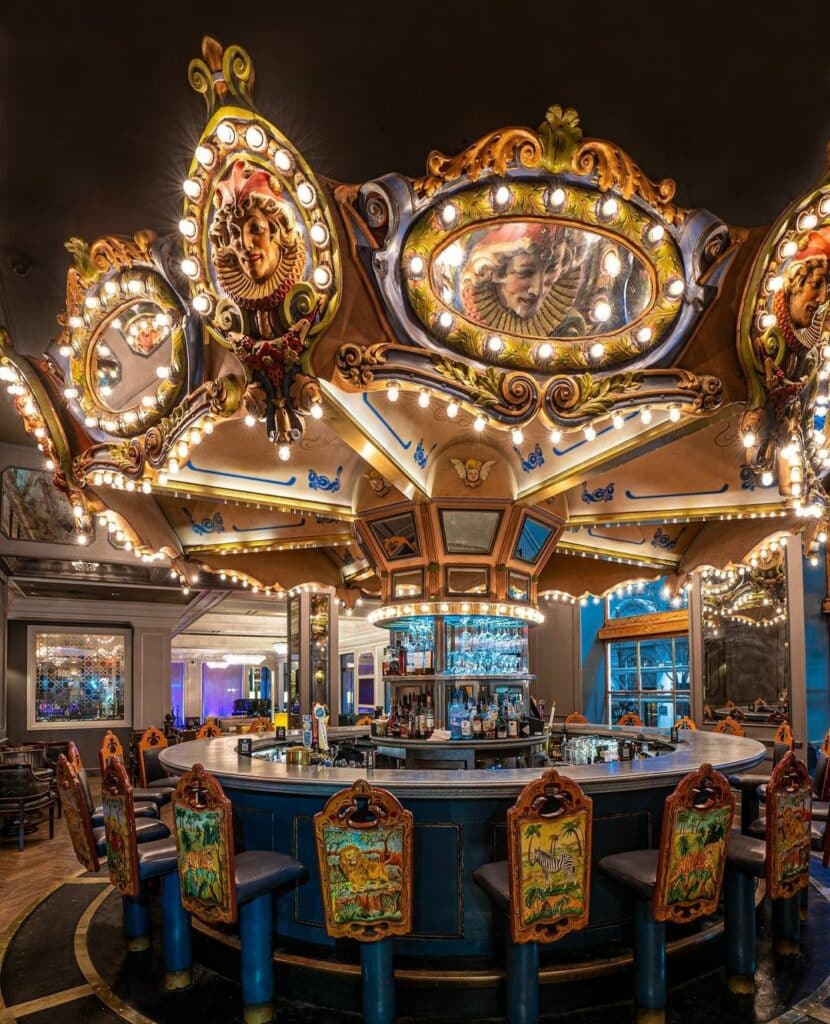 Let me paint you a picture: A vintage carousel, a holdover from an era of flapper dresses and dapper gents, playing host to an ever-changing crowd. As a patron, you are not stationary, but slowly rotating in a 25-seat bar.
To the avid Instagrammer, this space offers an ambiance that sings in every snap. Every detail, from the worn patina of the brass to the bar's richness, offers depth and character to your photographs.
Check out Marie Laveau's House Of Voodoo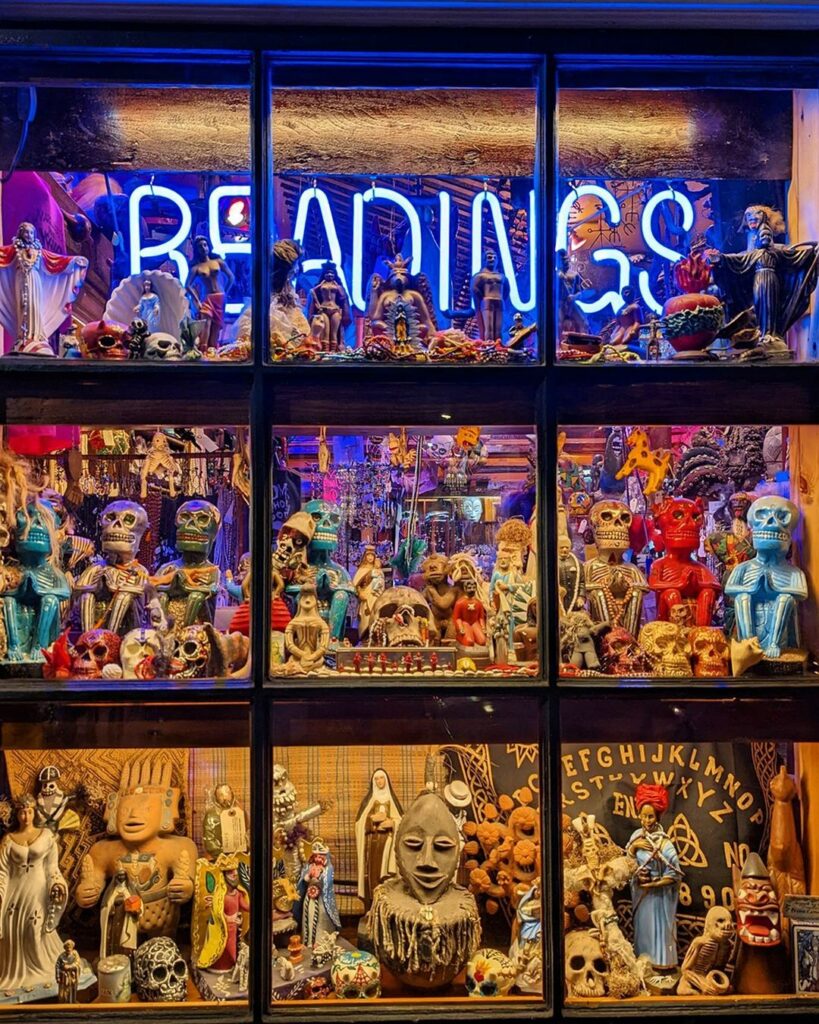 When the moon casts long shadows over Bourbon Street and the sultry saxophone notes start to curl into the night, one place beckons the curious and the brave – Marie Laveau's House Of Voodoo.
This is not just a novelty store. It's an after-dark experience that melds New Orleans' vibrant nightlife with its historical fascination with the occult.
In a city known for its idiosyncrasies, Marie Laveau stood apart. By day, she wielded a comb as a hairdresser.
At night, she held sway as the legendary Voodoo Queen, a spiritual fulcrum of 19th-century Creole society. Today, her namesake store serves as a tribute, offering visitors a peek into the enigmatic world of voodoo culture.
Step inside Marie Laveau's House Of Voodoo and you'll find it's less a shop and more a curiosity-filled trove. From carefully crafted voodoo dolls to powerful amulets, the store is replete with items steeped in mystique. For the lucky (or brave), an in-house psychic might offer a glimpse into what the future holds.
The store's lore is as captivating as its wares. Local legends insist that Marie's own handprint is etched onto a wall – a spectral signature from the past. The shop also stands on hallowed grounds, having once served as a tavern where Marie reportedly conducted her rituals.
Stroll French Quarter's streets
A jigsaw puzzle of history, hedonism, and harmonious discord, the French Quarter is always ready to dive into the night's frenzied waltz.
In this radiant refuge of revelers, the French Quarter, cultural heritage and pleasure-seeking happenings mix like a perfect cocktail – strong, intoxicating, with an aftertaste of nostalgia.
The French and Spanish colonial architecture, replete with colorful Creole townhouses and cast-iron balconies, form an arresting backdrop for the city's nighttime narratives
The New Orleans nightlife hotspot dances to the rhythm of jazz, its unofficial heartbeat. It's omnipresent, whether seeping from a grand club or an intimate hole-in-the-wall.
Saunter into Voodoo Lounge, an establishment where the spirits are poured liberally, and if rumors are believed, often pour themselves. This haunt offers a tantalizing tour of the supernatural – think less cheap jump scares, more intriguing local lore – punctuated by pit stops for classic NOLA libations.
Tiptoeing to the edge of macabre fun, you'll find yourself at The Dungeon. Dark, mysterious, and unequivocally unique, this is a place where the night stretches into the wee hours. You'll discover rooms that play different music, adding variety to the already spicy jambalaya of New Orleans' nightlife.
Lastly, Prohibition keeps the history of the roaring twenties alive, combining a high-energy atmosphere with handcrafted cocktails that taste like they're straight from the secret recipe book of a Jazz Age bootlegger.
The bar's decadent interiors and a live music events will inspire you to channel your inner flapper or dapper gent.
Sip on the Unreliable Narrator cocktail at Bar Marilou
In the world of spirits and cocktails, where whisky meets water and gin flirts with tonic, there lies a realm of audacious fusion that transcends the traditional. Among these brave concoctions, one libation has been charmingly stirring the narrative – The Unreliable Narrator.
A blend of Spanish vermouth, amontillado sherry, and pomegranate, the cocktail defies convention and playfully tweaks the nose of tradition.
This mix has its roots in a place that embraces eccentricity, revels in charm, and toasts to audacity – Bar Marilou. The watering hole, part of the stylish Maison de la Luz hotel, is an emblem of French sophistication with a generous dash of American boldness.
One could say Bar Marilou is a story in its own right. The visual narrative is compelling – a symphony of scarlet bookshelves, tiger-striped carpets, and tantalizing orange ceilings.
Its cocktail menu pays homage to European classics like St-Germain, Dubonnet Campari, and Calvados, elegantly mingling them with a selection of mainly French wines and an intriguingly curated assortment of American craft beers.
Dance the night away at Republic
It's no secret that Republic is one of the city's most coveted clubbing spots – and for right reasons only. A quick look at its two-floored fun, state-of-the-art audio system, and genre-blending playlists would make any night owl understand why.
But the nightlife venue does more than schedule themed events and book DJs – it raises the bar for clubbing experiences.
Nourish your inner foodie with a fried seafood platter at Willie's Chicken Shack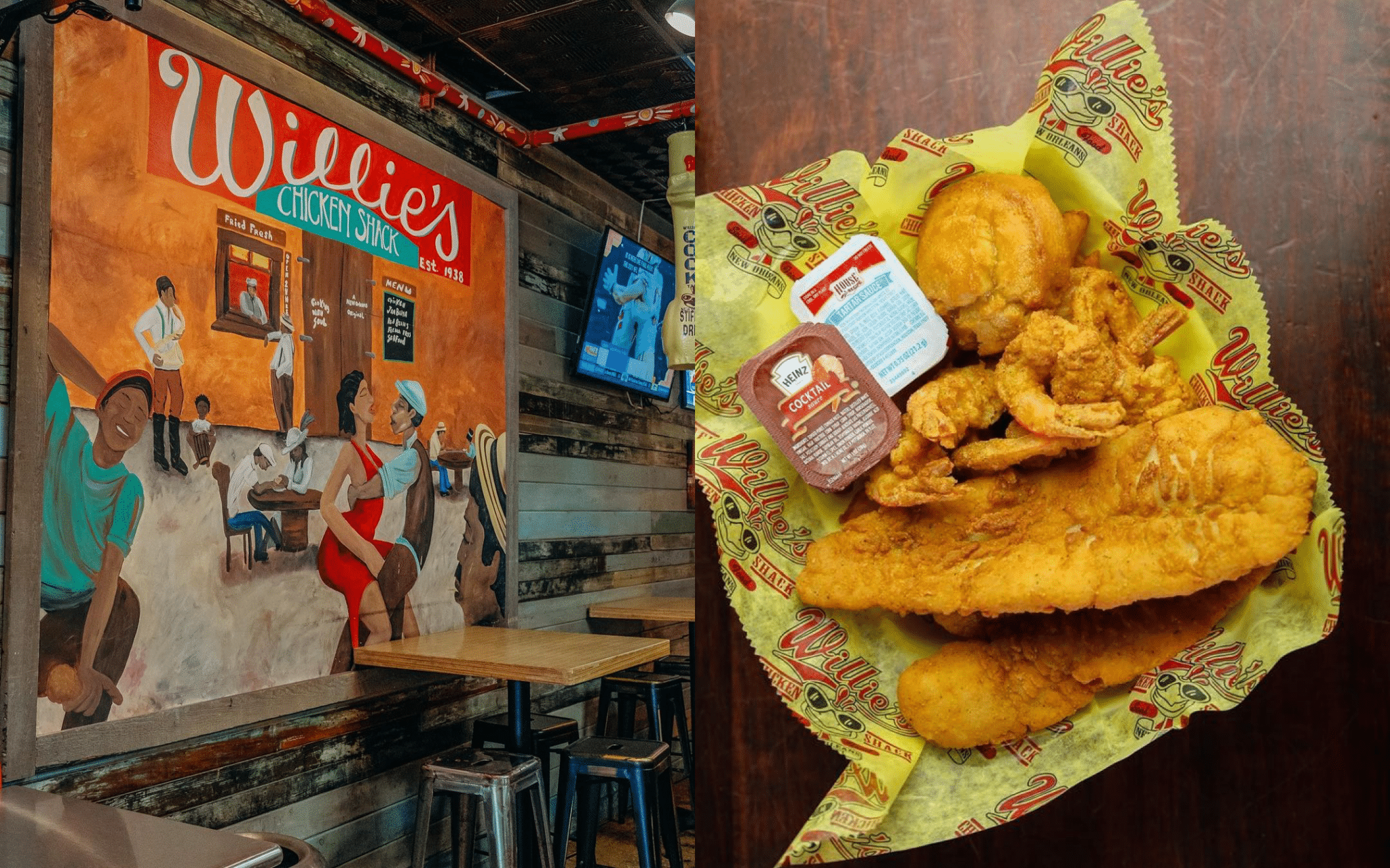 The batter-encased jumbo shrimp and fish, are crispy lifeboats floating on a sea of cocktail and tartar sauces. Each bite is a crunch heard around the room, releasing a flood of tender, juicy sweetness that could make even the most sea-weary pirate swoon.
Next stop on our midnight escapade, the lair of this legendary platter: Willie's Chicken Shack. With Mardi Gras beads masquerading as chandeliers, neon signs that flirt with every passerby, and bar stools that have seen more plot twists than a daytime soap opera, Willie's is a love letter to the city's untamed spirit.
But don't let its name fool you – Willie's menu reads like a veritable roll call of southern comfort food.