Oslo's nightlife is home to a long list of after-dark fun options, from forward-thinking cocktail bars to hipster music venues.
Starting with Summit Bar's stunning panoramas and ending with suckling pig at Crowbar & Bryggeri, this is how you can experience an amazing night out.
Here's your essential guide to Oslo nightlife.
Enjoy a cocktail-and-view session at Summit Bar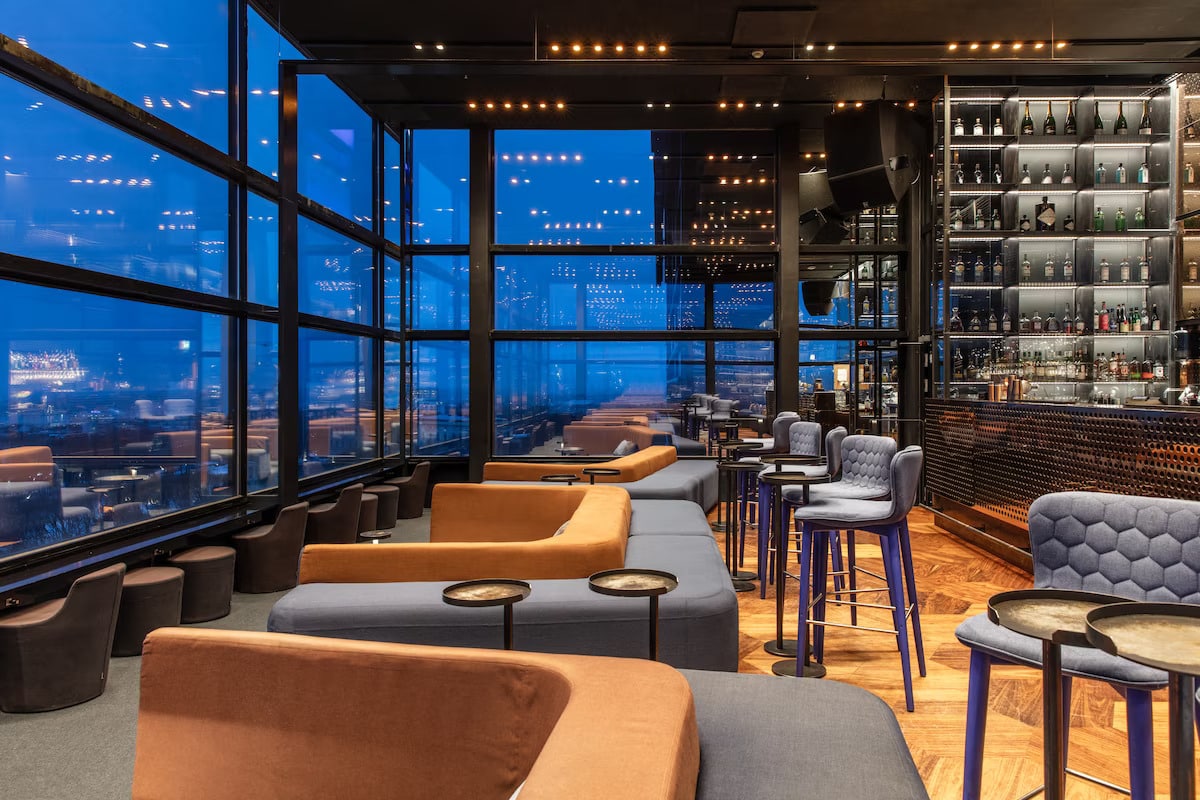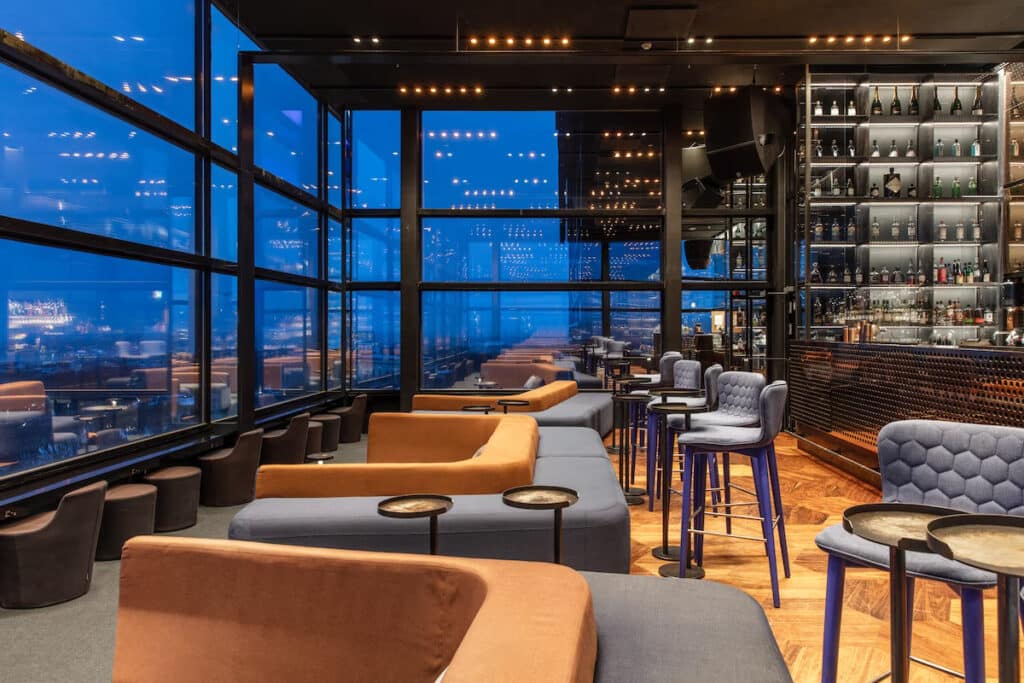 Unapologetically chic and designed to create the top-of-the-mountain feeling, Summit Bar is perched on Radisson Blu's 21st floor. With floor-to-ceiling windows, the sky-high venue delivers an unobstructed panorama that stretches from the snaking fjord to the Royal Palace.
The decor at the Summit Bar would make even the most hard-to-please design enthusiasts do a double-take. It's a blend of Norway's trademark minimalistic aesthetic sprinkled with urban sophistication.
Accents of polished timber, brushed metal, and subtle lighting create a warm atmosphere without compromising the design.
With cocktails that stay loyal to timeless classics while adding a dash of new, the Summit Bar dances to the beat of its own drum. Their selection of locally-sourced light bites complements the beverage menu, ensuring each plate is a gastronomic delight.
Amid the soft clinking of glasses, you'll find a diverse crowd of international globetrotters, sleek-suited diplomats, and cultured locals.
Snap a pic at Oslo Opera House
Far from the conventional, the avant-garde, or even the outright bizarre, there lies a category of architectural marvels that defy stereotypes, transcending traditional understanding. One such diamond in the rough – or rather, a diamond on the fjord – is the Oslo Opera House.
Within this visually enthralling edifice, a medley of metal, wood, and stone showcases a blend of traditional and modern aesthetics, creating an impressive backdrop.
Revitalize your senses at Salt
Oslo's nightlife has a secret. She's got rhythm, she's got music, and she's even got a steaming sauna. Perched on the city's harbor, Salt is an artistic homage to Norway's ancient coastal traditions.
Its industrial-chic structures, built with Arctic driftwood and recycled materials, hint at its sustainability commitment. But as captivating as these pyramid-shaped wooden huts are, what's inside them truly steals the show.
Salt's saunas, each accommodating different capacities, cater to a range of preferences.
Whether you want an intimate wellness journey in the cozy Barrel Sauna or prefer the buzzing atmosphere of the Amfi Sauna, the largest of its kind in the world, Salt has you covered. You can also retreat to The Pyramid, a peaceful haven perfect for yoga, meditation, or just some quiet introspection.
Beyond the heat rooms, Salt doesn't miss a beat when it comes to live music performances. The Sauna Sessions, as they're fondly known, are an inspired blend of live music performances and traditional sauna indulgence, creating an immersive wellness journey.
Stroll Frogner's streets
Sprawling with wide boulevards dotted by magnificent century-old buildings and resonating with a distinct cultural history, Frogner is an off-the-beaten-path neighborhood that has seamlessly transformed itself into a dynamic nightlife hotspot.
Frogner's claim to fame has always been its historic neighborhood. Its architectural prowess, a spectacular blend of Art Nouveau elegance and modern Nordic minimalism, encapsulates a story extending over a century.
If your tastebuds are yearning for high-end clubbing, head to the futuristic Dorsia. As one of the most exclusive partying spots in Oslo's nightlife, the club is a raw mix of excessive flamboyance and Scandinavian debauchery.
Nox on the other hand is an ideal choice for those seeking a blend of comfort, charm, and quality music.
Journey into indulgence with F6's Cazuelita cocktail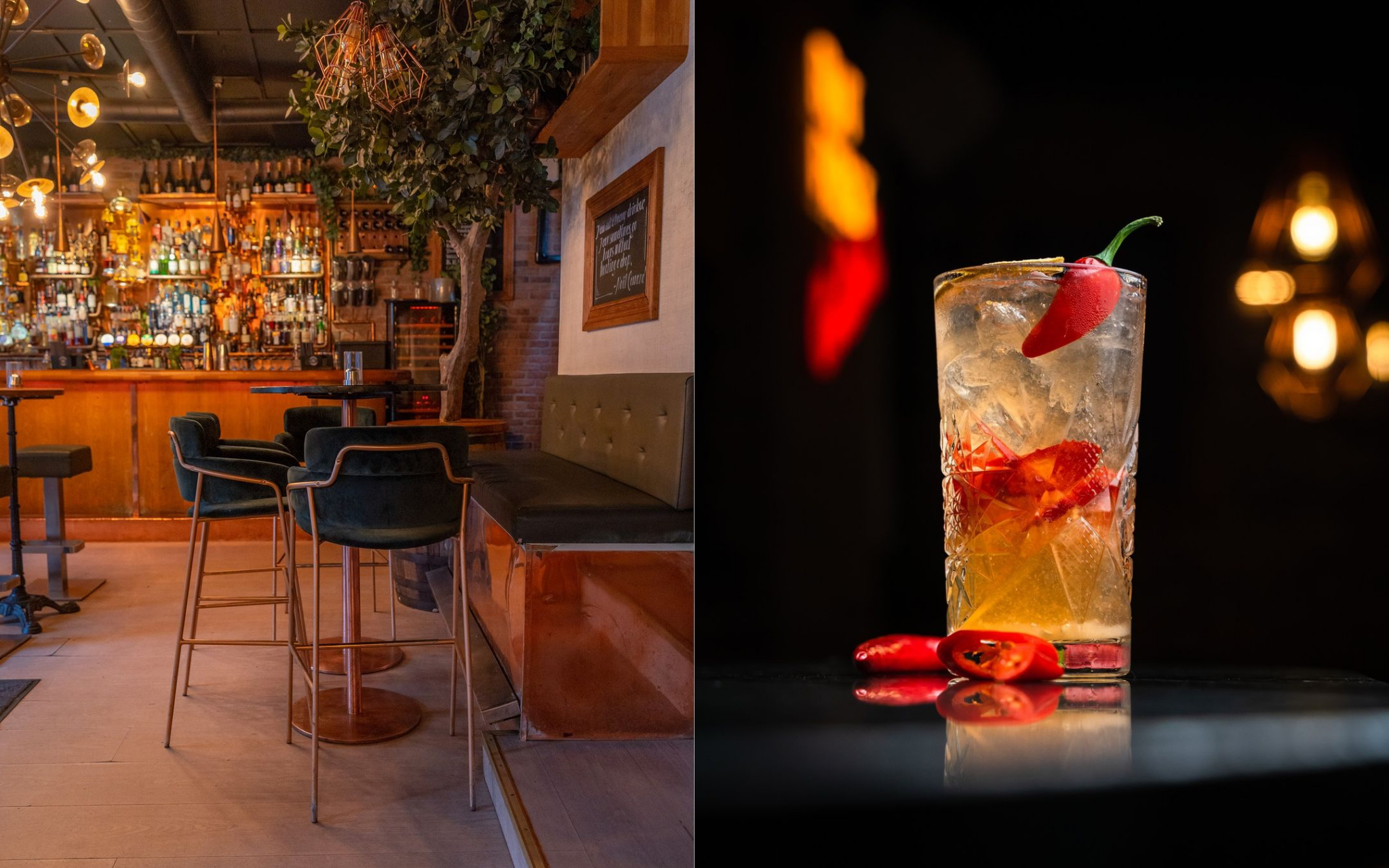 Far from being your sweet-meets-boozy libation, the Cazuelita feels like fire on the rocks. As the first sip dances on your tongue, the smoky Mezcal rears its head while tomato, lemons, pineapple, and a testing touch of chili follow.
The birthplace of this elixir is equally quirky, adventurous, and bold. Two parts chic and one part sophisticated, F6 mixes warm wooden interiors with edgy decor elements.
Always committed to pushing the boundaries of mixology, the Oslo nightlife venue boasts a cocktail menu that caters to both after-work drinkers and late-night revelers.
Some of F6's signature libations feature unique twists on classics, such as Japanese Old Fashioned, Nordic Mule, and Nordic Spritzer.
Ready, steady, groove at Jaeger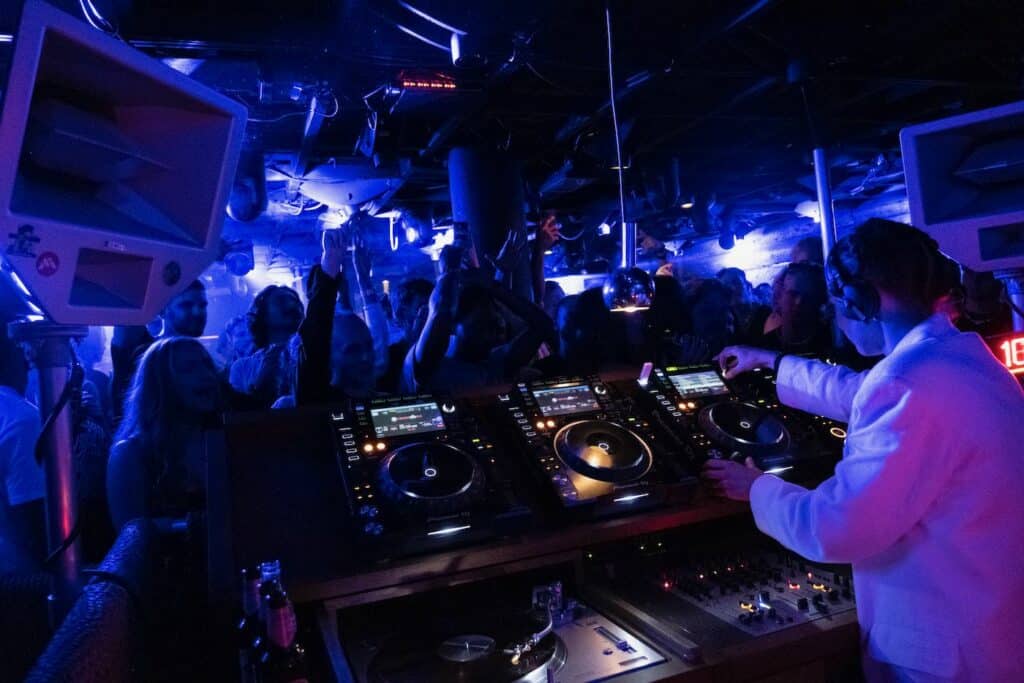 Heavily inspired by New York Garage and Detroit techno, Jaeger is where electronic music feels at home. Featuring low ceilings and a gritty atmosphere, the Oslo nightlife hub focuses on delivering freedom of expression through heart-thumping beats.
With a charisma that's impossible to ignore, Jaeger skyrocketed to the top of Boiler Room's venue list.
Munch on suckling pig at Crowbar & Bryggeri
Before you scuttle off to a predictable pizza or slice or kebab wrap, give yourself a moment to discover Oslo's porky delight.
A city known for its fierce love for tradition but also an insatiable hunger for innovation, Oslo has taken the suckling pig – a staple in many world cuisines – and made it its own.
Stepping into Crowbar & Bryggeri is like diving headfirst into a delightful paradox – it's gritty yet sophisticated, contemporary yet oozing with rustic charm. Exposed bricks, industrial accents, and gleaming beer vats immediately command your attention.
While the ambiance screams modern brewpub, the menu is a beguiling blend of the conventional and the daringly creative.
If you need further proof of Crowbar & Bryggeri's place at the forefront of Oslo's vibrant food scene, their extensive craft beer selection is worth noting. From robust stouts and rich porters to light, zesty ales, the variety mirrors Oslo's eclectic and evolving palate.