Paris is known for its culturally-rich nightlife.
Starting with Terrass" Rooftop Bar view and ending with a cheesy patty melt at Blend, this is how you can experience an amazing night out.
Here's your essential guide to Paris nightlife.
Enjoy the view from Terrass" Rooftop Bar
Situated on the seventh floor of Montmartre's Terrass Hotel, the rooftop bar offers tourists a perfect blend of ambiance and breathtaking views. In an elegant atmosphere, visitors can marvel at the City of Love's skyline, including an awe-inspiring view of Paris' iconic Tour Eiffel.
With its breathtaking vistas and hidden garden atmosphere, Terrass Rooftop Bar is a haven of sophistication and luxury. Its inviting patio exudes coziness and serenity, making it no surprise why so many flock to this famous watering hole.
Not only does this stylish Paris rooftop bar feature a charming and cozy atmosphere, but it also boasts an array of top-notch alcoholic beverages. Its masterfully crafted cocktails range from tasty bitters to classic boozy drinks with a twist.
Take a snap at The Louvre Pyramid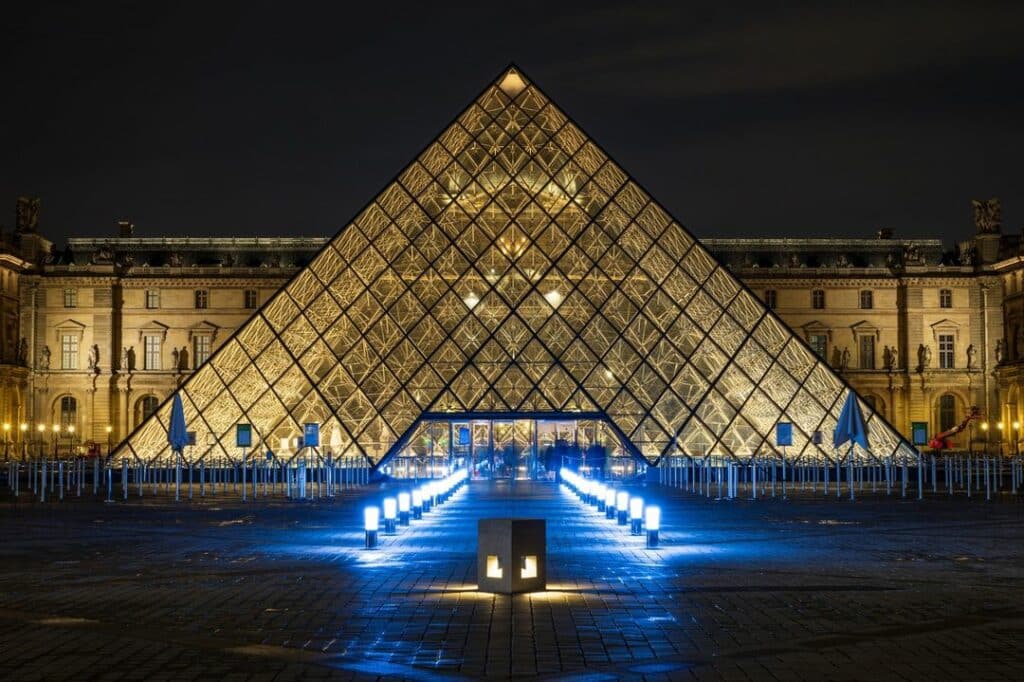 The Louvre is widely respected for its cultural influence and eye-catching architecture, but the world-renowned museum's highlight must be its exquisite glass pyramid. When illuminated at night, the landmark becomes a must for any social media feed.
Catch a cabaret show at the famous Moulin Rouge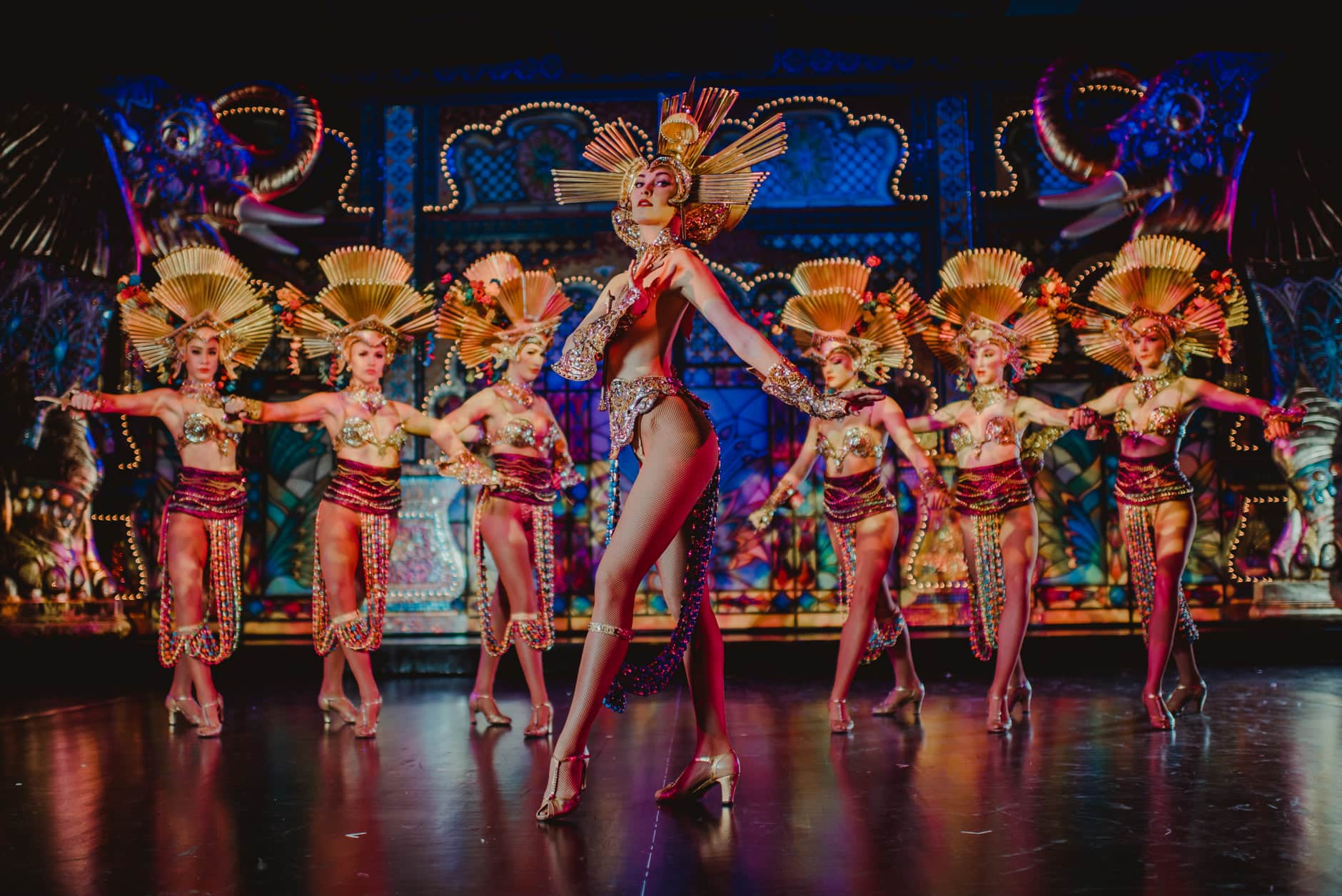 The iconic Moulin Rouge cabaret show epitomizes French elegance, glamor, and alluring, Parisian chic.
Nestled in the heart of Paris's cobblestoned Montmartre district, the renowned red mill of Moulin Rouge conceals an atmospheric theater with its splendid Belle Epoque decor. A vibrant display awaits you – fusing dance, drama, and music to create a captivating spectacle like no other.
When you experience the glittering costumes and high-energy can-can choreographies of Moulin Rouge, you'll understand why it personifies joie de vivre. Since it is one of Paris' most coveted nightlife attractions, pre-planning is essential to secure your tickets.
Explore Pigalle
Pigalle reigns supreme as the premier destination for adult entertainment. Not only does it bear a striking resemblance to Berlin's unapologetic hedonism, but it also features its own unique French flair.
This alluring Parisian destination, abounding with bars, clubs and sex shops, has become a tourist mecca for the daringly curious. When strolling on Pigalle's neon-lit streets, check out Le Carmen and Dirty Dick – yes, you read that right.
If you consider yourself a hipster, bohemian, or someone who enjoys the alternative vibes of Paris' nightlife culture, Pigalle is an absolute must-visit hotspot when darkness settles in.
Sip on Carmencita at Lulu White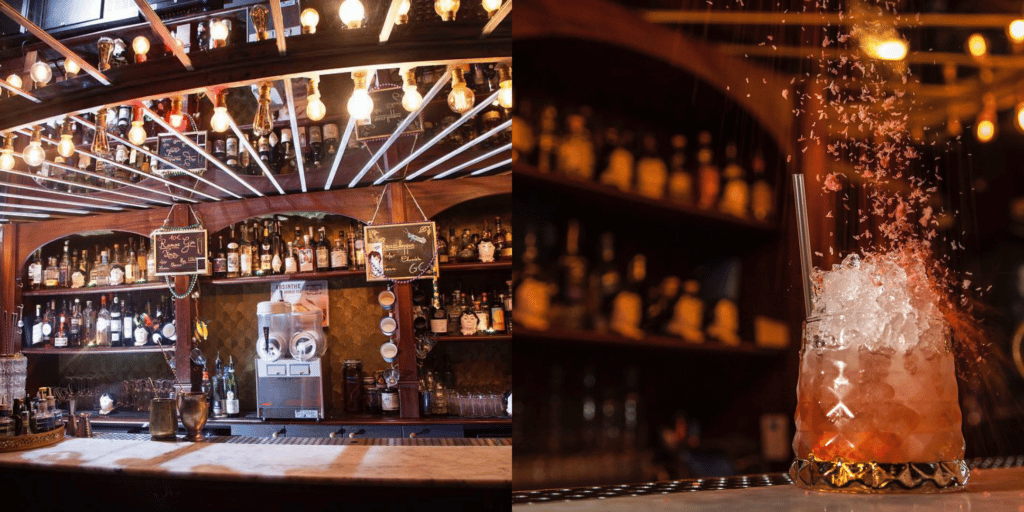 Crafting a delectable and light-flavored drink is demanding, but the Carmencita cocktail has it mastered. This delightful alcoholic concoction features saffron absinthe, corn husk, coconut Campari, Vale Verde Cachaça, and goji cordial.
Step into the 1920s at Little Red Door's sister bar, Lulu White. Here you'll find a stylishly-lit multi-bulb bar with an ingenious array of absinthe-based cocktails – this isn't your go-to spot for wine and beer. Locals and tourists alike are always welcome here, seeking a more intimate cocktail experience.
Party like there's no tomorrow at L'Aquarium
Offering a stylish and sophisticated atmosphere, L'Aquarium also adds a dash of innovation with its remarkable fish tank, where you can spot mermaids partying – clearly demonstrating that the club's energy is contagious.
Taste a cheesy patty melt at Blend
Since its inception in 2011, Blend has been a renowned burger joint based in Paris. However, their burgers aren't typical fast-food fare – they feature carefully sourced beef and specialty sauces – all topped off with rich 18-month cheddar cheese.
The patty melt at Blend is a true culinary work of art. Its unique shape elicits a reaction of bewilderment from first-time customers, but the flavor is heavenly. Each bite combines savory meat, melted cheese, and a secret sauce that tantalizes your taste buds.