Rome is known for its culturally-rich nightlife.
Starting with Cielo Terrace's Insta-worthy views and ending with a much-needed pizza at La Base Ristorante, this is how you can experience an amazing night out.
Here's your essential guide to Rome nightlife.
Explore Rome's stunning panoramas at Cielo Terrace
Let's be clear: Cielo Terrace is not your average vantage point. Set seven floors above Rome's bustling streets, the rooftop oasis is where you panoramic views of the Eternal City.
In true Italian fashion, Cielo Terrace effortlessly blends Mediterranean elegance with a laid-back flair. Despite its minimalist decor, the tasteful aesthetics with striped couches, lounge furniture, and lush olive trees.
Cielo, which means 'sky' or in Italian, lives up to its name by offering a slice of heaven with its signature cocktails. This rooftop comes with a hefty price tag, but the drinking experience takes mixology to the next level.
Cocktail enthusiasts are spoilt for choice, as Cielo Terrace's menu pays homage to the Roman gods. Naturally, the rooftop terrace is the go-to drinking spot for socialites, tourists, professionals, and celebration seekers.
Toss a coin and strike a pose at Fontana di Trevi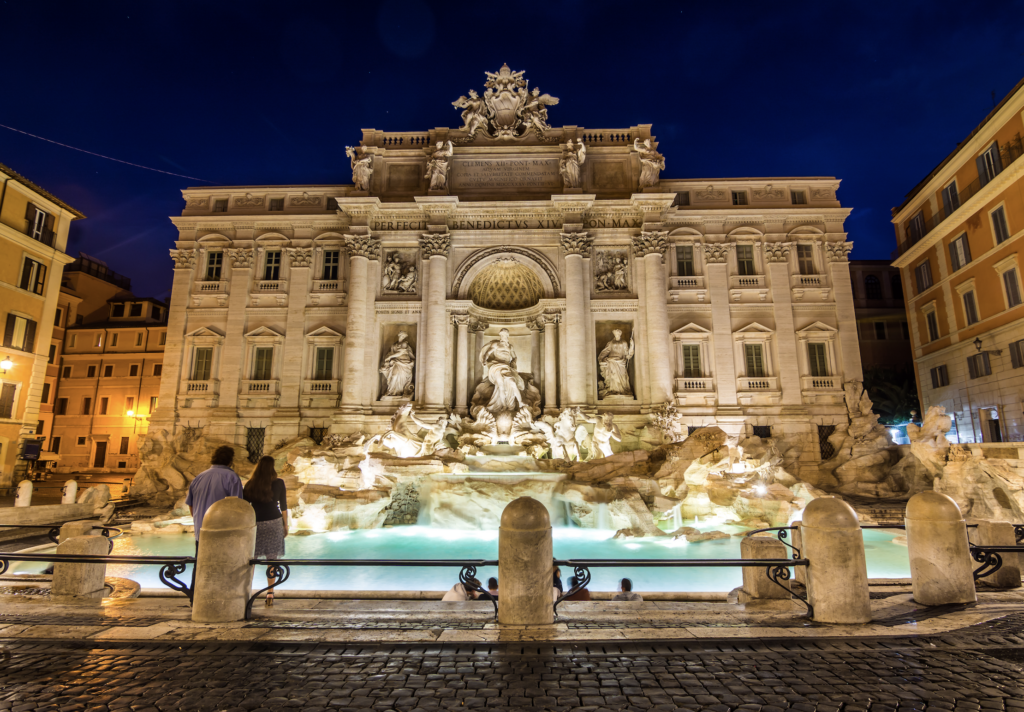 Picture-perfect and postcard-ready, Fontana di Trevi is an Instagrammable treasure. If you peek closer, you'll see the marble gods and mythical sea creatures that create a Baroque backdrop.
Legend says that if you toss a coin over your shoulder into the fountain, you will return to Rome someday.
Do some offbeat sightseeing with a Scooteroma Tours
You might have seen it roaming Rome's streets. You might have hopped on it. Either way, the classic Vespa scooter – a modern iteration of the Roman chariot – is a common sight on Italy's streets.
A timeless symbol of Italian urbanity and a thread woven into Rome's cultural fabric, the cozy scooters are more than a tho-wheeled transportation mode.
When you embark on a Scooteroma Tour, the Vespa scooter becomes your guide through Rome's cobblestone streets and expansive plazas.
The beauty of these nightlife tours is the blend of autonomy and guidance they provide. You have the freedom to explore at your own pace, basking in the city's energy, while also having an expert guide to highlight the must-see sights and share fascinating anecdotes.
Your ride, accompanied by the soft hum of the Vespa engine, will take you on a path of discovery opportunities. Marvel at the imposing Pantheon, capture the ethereal beauty of the Trevi Fountain under the moonlight or simply soak in the vibrant buzz around Piazza Navona.
Explore Trastevere's cobblestoned streets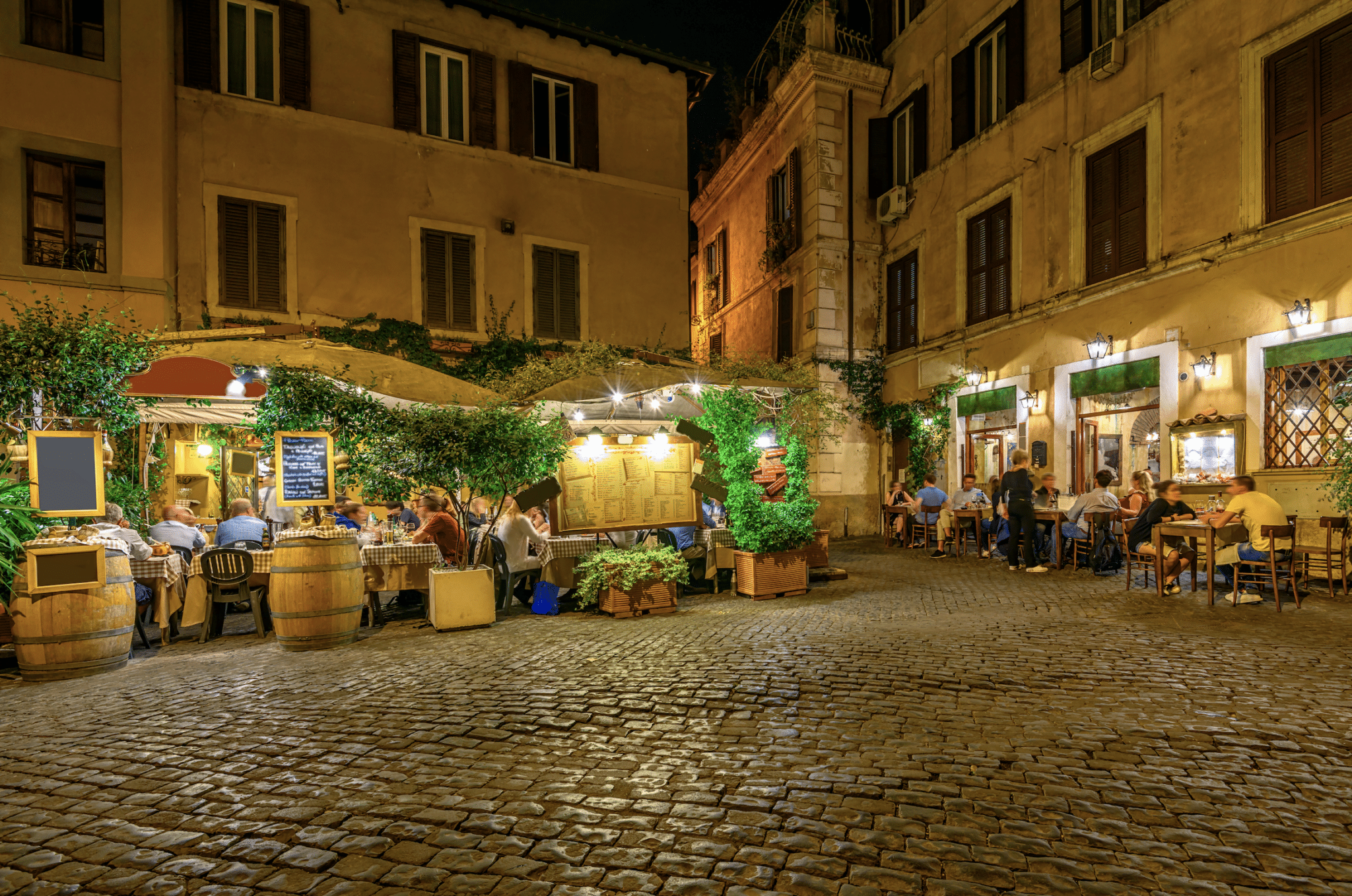 Translated to 'across the Tiber,' Trastevere makes you forget everything you knew about Rome's nightlife. A different breed altogether, the bohemian jewel shakes off its daytime tranquility when the sun goes down, transforming into a nocturnal haven.
Since much of the hotspot is car-free, Trastevere is home to everything from bar hopping and pre-dinner passeggiatas to cozy wine bars and innovative trattorias.
Still clinging to its working-class roots, the ever-trendy area is a labyrinth of backstreet lanes and ivy-clad facades, all speaking of a bygone era.
There's no shortage of cocktail bars, as spots like Freni e Frizioni traded former workshops for the artistry of mixology. Most of Trastevere's watering holes are chic aperitivo spots, so expect nothing but a hip-meets-industrial vibe.
For those who want to burn up the dance floor, clubbing spots like the LGBT+ Alibi Club and the casual Vanity Club are there to catch you.
Trastevere's beauty shines no matter the time or season, but its late-night partying scene makes it a bucket list must.
Explore Italian mixology with the Albertone cocktail at The Court Rome
Crafted for the adventurous and the urbane, the Albertone cocktail is as intriguing as its name suggests. With a base note of Santa Teresa Rum, the boozy elixir throws lime juice, celery juice, celery bitters, and tonic water into the mix.
Once a judicatory chamber, The Court has transformed into a place where cocktail verdicts are passed – and unanimously, they are acclaimed masterpieces. High-end from A to Z, the venue is dominated by plush seating, tasteful lighting, and vintage flooring.
The Court's clientele is as eclectic as the cocktails they sip. Savvy locals rub shoulders with jet-setters, while culture vultures and nightlife enthusiasts find common ground over shared tales and libations.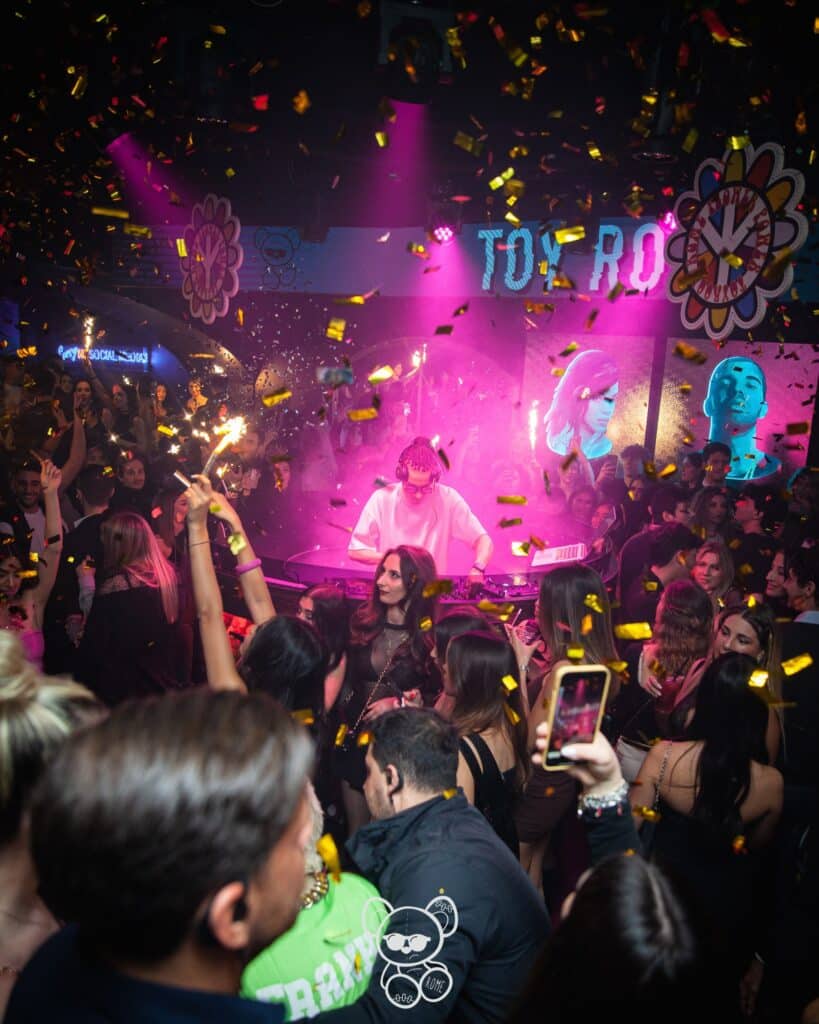 Any nightlife rookie knows Toy Room Rome has become a beacon for foolproof clubbing sessions. By combining themed nights with colorful props and a foot-tapping playlist where hip-hop reigns supreme, the music temple blurs the lines between fantasy and reality.
Call it a night with a slice of pizza at La Base Ristorante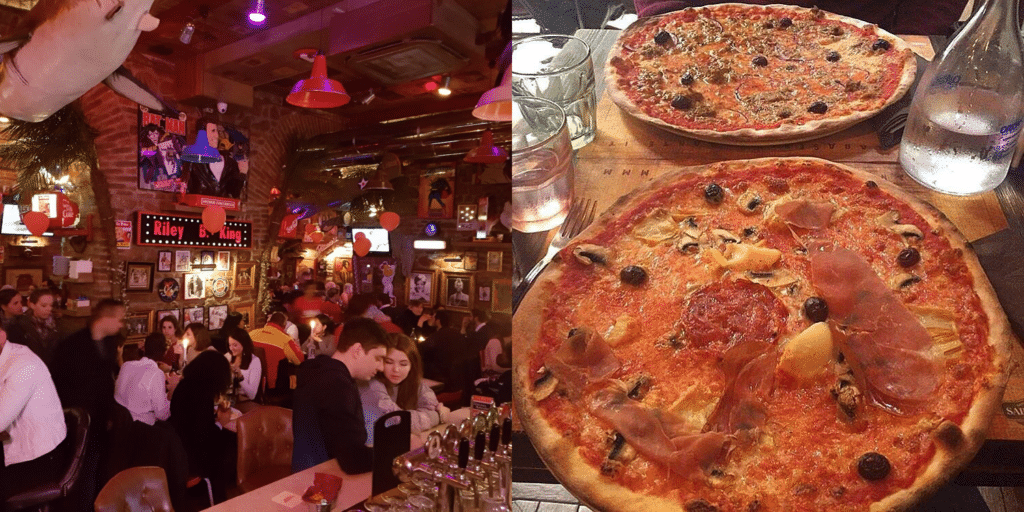 In all its doughy, cheesy, saucy glory, pizza is Rome's undisputed drunk food champion.
As the ancient saying goes, "In vino veritas, in pizza… a bestie after a boozy night?" Perhaps it's not an age-old adage, but anyone who's wandered through Rome's nocturnal landscape can attest to this truth.
At its core, the mighty pizza is a canvas. You can transform the soft, chewy base into everything from a spicy Diavola to a finger-licking Capricciosa. You got the idea – the topping combinations are virtually endless.
More than a late-night eatery, La Base Ristorante is a temple dedicated to the art of pizza-making. A stone's throw away from the bustling Piazza Navona, La Base is the kind of restaurant that mixes a fuss-free atmosphere with authentic Roman charm.