Singapore nightlife can be best described by boundless revelry and a lively blend of cultures.
Starting with CÉ LA VI Rooftop's towering heights and ending with savory satay skewers at Lau Pa Sat, this is how you can experience an amazing night out.
Here's your essential guide to Singapore nightlife.
Embark on a boozy and scenic experience at CÉ LA VI Rooftop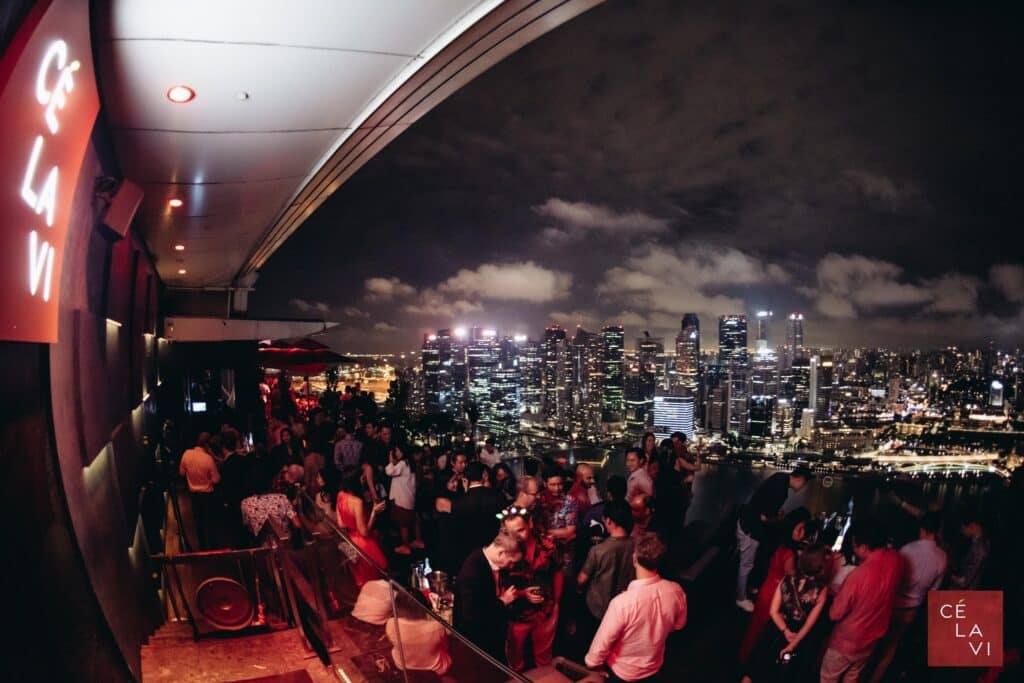 Jack of all trades and master of all, the multifaceted CÉ LA VI houses a rooftop lounge, a restaurant, and a sky bar. It is perched on the 57th floor of Marina Bay Sands Hotel, one the world's most expensive buildings.
Thanks to its towering vantage point, the Singapore nightlife spot offers views of the city's skyline and the endless ocean.
Every corner at CÉ LA VI is visually pleasing, showcasing lush greenery and colorful design elements. As you wander through its deck, you'll discover a world of luxurious fabrics draping gracefully, beckoning you to sink into the plush seating.
A fan of modern Asian cuisine and loyal to Western influences, the Singapore rooftop takes pride in delectable dishes like miso-glazed cod, wagyu beef skewers, and matcha tiramisu.
CÉ LA VI attracts a trendy and cosmopolitan crowd looking for a place that balances fine dining and high-quality cocktails.
For a jaw-dropping Instagram backdrop, head to Gardens by the Bay
Spanning a vast area of over one square kilometer, the vibrant Gardens by the Bay is home to vertical gardens ranging from 25 to 50 meters tall.
While this mist-filled wonderland provides ecological functions such as rainwater collection and solar energy generation, the Gardens by the Bay truly comes alive during light shows, when art, technology, and nature mesh seamlessly.
Spice up your nightlife journey with a river cruise
An old saying goes like this: you only dive deep into Singapore's cultural heritage if you embark on a bumboat. Initially used in the early 19th century for commercial trade, those wooden and colorful boats reflect the city-state's early days as a bustling trading hub.
Since then, modern transportation has taken over, but bumboats remain a cherished part of Singapore's cultural fabric. Today, bumboats maintain the nostalgic design while undergoing modernization to enhance passenger comfort and safety.
A ubiquitous structure on the Singapore River, the boats take curious tourists and culture enthusiasts on a 40-minute journey through the city's iconic landmarks. Tours might vary, but Marina Bay, Clarke Quay, and Boat Quay are staples.
Take a stroll down the bustling Orchard Road
Futuristic-looking and a paradise for shopaholics, Orchard Road was home to Singapore's first market.
The Singapore nightlife hotspot has come a long way since its humble beginnings, as the area now brims with outlets, upscale department stores, high-end fashion boutiques and ritzy hotels.
You got the idea. Orchard Road for Singapore is what Oxford Street is for London. The strip doesn't stop at shopping centers and creates a beautifully-lit clubland where stunning rooftop oases and cozy speakeasies rule.
As you venture deeper into the night, you'll encounter Orchard Road's hidden gems, such as the quirky Drip.
But Orchard Road's nightlife is not just about high-energy clubs and glamorous bars. It's a vibrant tapestry of venues catering to every taste and mood.
From boozy sanctuaries like The Other Room, where mixology prowess meets retro charm, to vibrant live music venues like Timbre, where talented bands take the stage, Orchard Road has witnessed a little bit of everything.
Say 'yes' to the Bitter Lover cocktail at Stay Gold Flamingo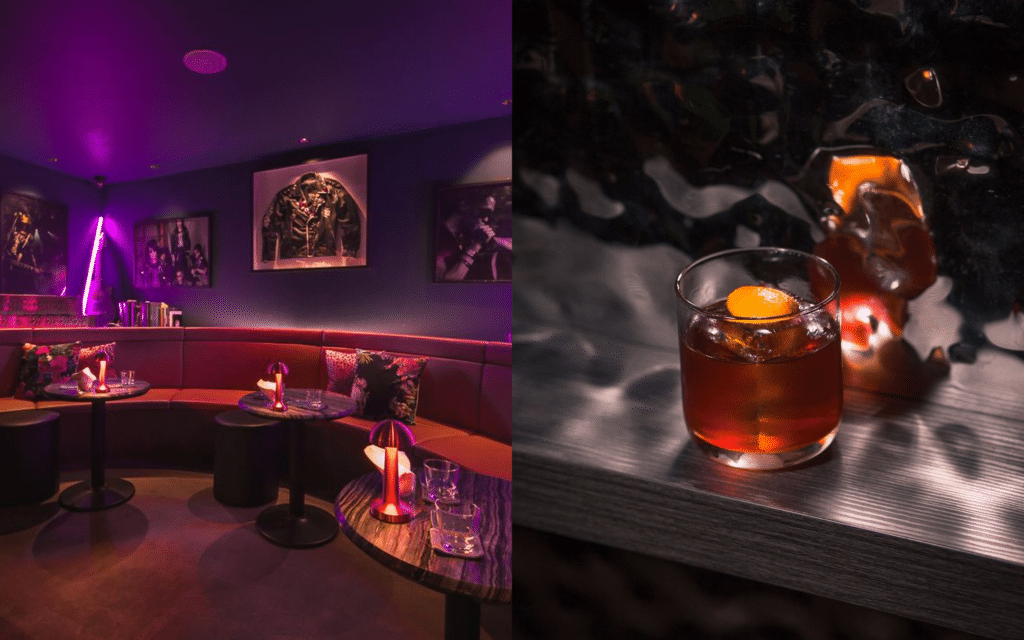 The Bitter Lover cocktail has more than just a bold list of ingredients – it also has a story. Crafted for a patron who wanted a bitter, strong, yet aromatic concoction, the boozy elixir combines Prickly Pear Rum, amaretto, chocolate, and Fernet Branca.
Stay Gold Flamingo is the mastermind behind this balanced cocktail. It is one of the few bars that successfully bridges the gap between American bartending and Asian mixology.
Founded by the next generation of local bartenders, the watering hole oozes an unapologetic rock'n'roll vibe with neon-tinged decor elements and a stainless steel ceiling that ripples across the space.
This eclectic sanctuary beckons the curious and adventurous, attracting a tribe of individuals who seek more than cocktails.
With a whooping capacity of over 2,500 people, ZOUK blurs the lines between a festival-like atmosphere and a clubbing session.
Since its inception, the Singapore party hub has been awarded multiple times as one of the best nightlife experiences. Its roster of world-renowned DJs or permanently buzzing vibes might be responsible for that.
End your night out with juicy satay skewers at Lau Pa Sat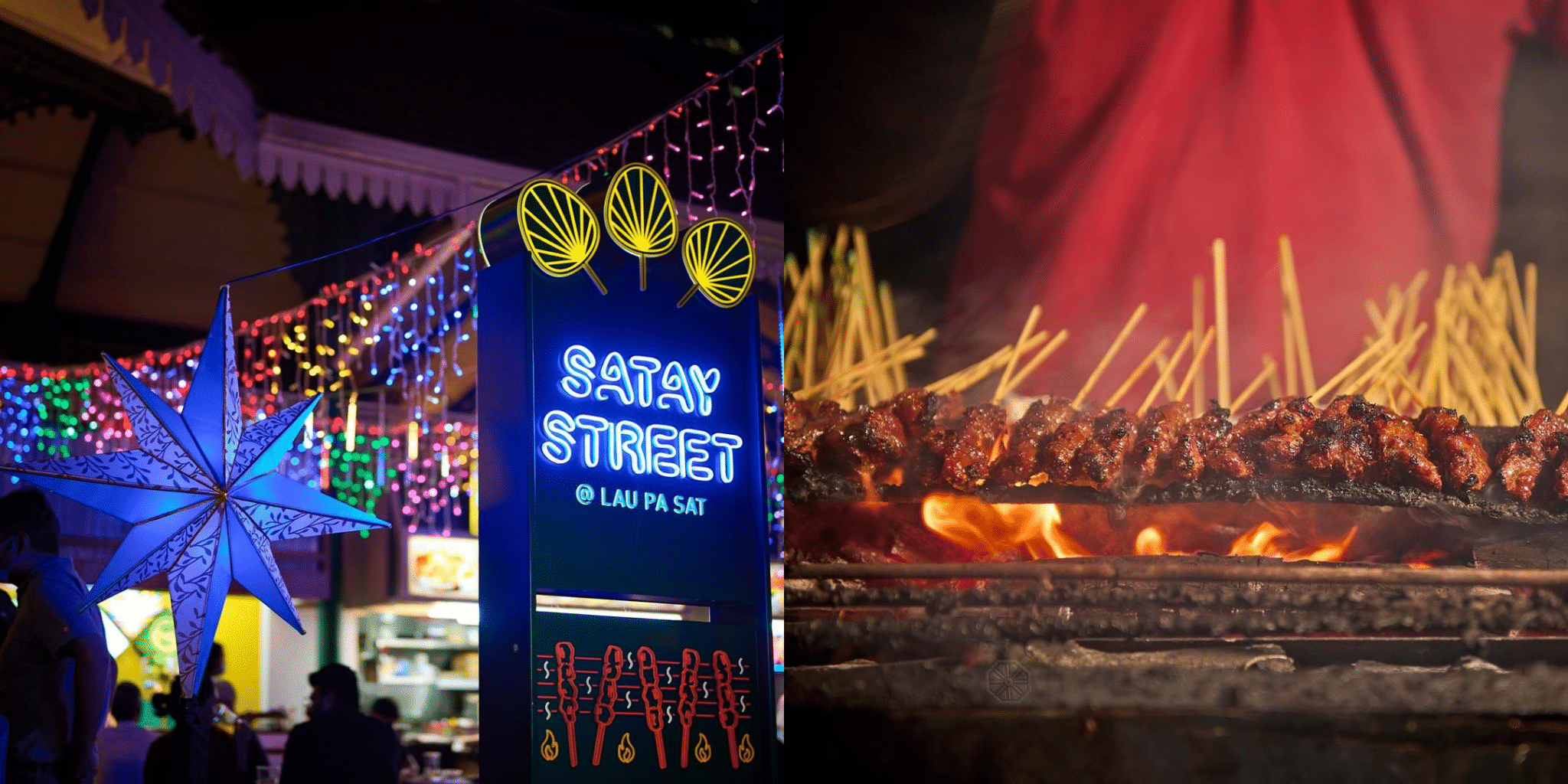 Satay is a popular Singapore dish, but if you add skewers, the drunk food becomes a go-to alcohol cure. Since Singaporeans are masters in the art of satay, you can expect an aromatic blend of spices that brings ginger, garlic, turmeric, and lemongrass together.
Each meat piece is then caramelized with satay, a creamy Asian sauce made of ground-roasted or fried peanuts.
One of the late-night eateries that bring the art of satay to a level of adulation is Lau Pa Sat, a historic food market that marries traditional dishes with modern twists. The spot features Satay Street where rows of satay stalls line the street.
You can sample the tantalizing diversity of local fare, from fragrant chicken rice to succulent char kway teow.