Sofia's nightlife brims with cozy bars, pulsating clubs, serene lounges, and striking landmarks.
Starting with Ozone Skybar & Lounge's sweeping views and ending with a well-deserved Streetwitch at Vitamin B, this is how you can experience an amazing night out.
Here's your essential guide to Sofia nightlife.
Enjoy the views at Ozone Skybar & Lounge
High above Sofia, Ozone Skybar & Lounge oozes the atmosphere that most rooftop bars lack – a cozy-yet-lavish living room vibe. Perched atop the Grand Hotel Millennium, the watering hole boasts the peculiar ability to exist in a cloud-kissed sphere, untouched by the city's hustle and bustle that thrives 29 floors below.
Ozone Skybar & Lounge is a masterclass in architectural chic, where sleek lines dance with minimalistic elements. But don't let the 'minimalistic' tag mislead you – there's nothing scanty about Ozone's aura.
It is an exquisitely detailed and thought-out symphony of contemporary design and vibrant ambiance. From the 'cushioned arena' that invites patrons to sink in and let the world go by to the retractable roof that knows when to let the sun flirt with the indoor setting – every nook and cranny tells a story of exceptional taste.
Speaking of taste, the culinary adventure at Ozone is no less enticing than its environs. The menu features an impressive array of signature cocktails, finger-licking sushi and savory shareables.
While one might think the rooftop bar welcomes only socialities, that couldn't be far from the truth. In fact, Ozone opens its arms to everyone, from the seasoned globetrotter with a penchant for the high life to cocktail-loving locals.
Snap your next Instagram addition at Alexander Nevsky Cathedral
Cultural grandeur and Instagram clout dovetail majestically at the Alexander Nevsky Cathedral. Crowned by its gold-plated dome, this Neo-Byzantine testament is a visual symphony in stone. Sun-kissed exteriors and murals play hide-and-seek with shadows, offering a #NoFilterNeeded glow.
Yet, it's more than picture-perfect aesthetics; it's a cultural story. Hosting over 300 works in its crypt, the cathedral unfolds the tale of Orthodox Christianity, enriching your feed with a profound narrative that resonates beyond mere likes.
Puff on the hookah at Largo
Sofia's romance with the hookah is no casual fling. Rooted in the Ottoman era, sisha has blossomed into a key component of the nation's social and leisure activities. It's a cultural emblem, a social adhesive that unifies diverse gatherings under billowing clouds of flavored smoke.
And when it comes to creating the quintessential shisha experience in Sofia's nightlife, few establishments rival the Largo Bar & Diner.
Situated in the pulsating heart of Sofia, Largo's prime location gives visitors a grand stage of the city's heritage, all observable from the bar's charming open-air terrace. Look yonder, and the stately Alexander Nevsky Cathedral graces your view.
A little shift, and the Parliament building takes center stage. Sofia's historical prowess makes for a stunning backdrop as you draw in a lungful of fragrant shisha smoke.
The true star of the show is the array of shisha flavors available. Largo offers a compelling spectrum that dances between the traditional and the avant-garde, from succulent apple and soothing mint to the enticingly unexpected cappuccino and spicy cinnamon gum.
Stroll Vitosha Boulevard
Also dubbed as Sofia's most important boulevard, Vitosha – or Vitoshka, as locals affectionately call it – is the definition of a nightlife hotspot. A commercial hub by day, Vitosha morphs into a neon-lit cosmos at night, making it a magnet for thrill-seeking revelers.
Named after the nearby Vitosha Mountain, the boulevard is lined with a string of architectural treasures, such as the awe-inspiring Sofia Court of Justice and the venerated Sveta Nedelya Orthodox Church.
Partially pedestrianized, it's a street for strolling, laughing, and living, favoring human connection over vehicular thoroughfare. Besides its side streets, you'll unearth a treasure trove of hidden gems – quaint bars, lively music venues, and hole-in-the-wall eateries that offer an authentic taste of Sofia's nightlife.
Culture Beat Club is one of these beats, serenading patrons with an electrifying mix of tunes from diverse genres. Styled with a contemporary, edgy aesthetic, this club is a must-visit for those who want to groove all night.
For the seekers of the arcane and the charmingly odd, the Green Witch Bar is a spellbinding sanctuary. Its mystical ambiance and intriguing menu of potent concoctions make it a perfect locale for bewitching encounters.
Club 3 Ears, with a name that piques interest, turns the volume up on Sofia's vibrant nightlife. Its stellar sound system, combined with the thrilling dynamics of a spirited crowd, makes it a favored haunt for music aficionados.
Sip on the lip-smacking Kuma Lisa at Bar Sputnik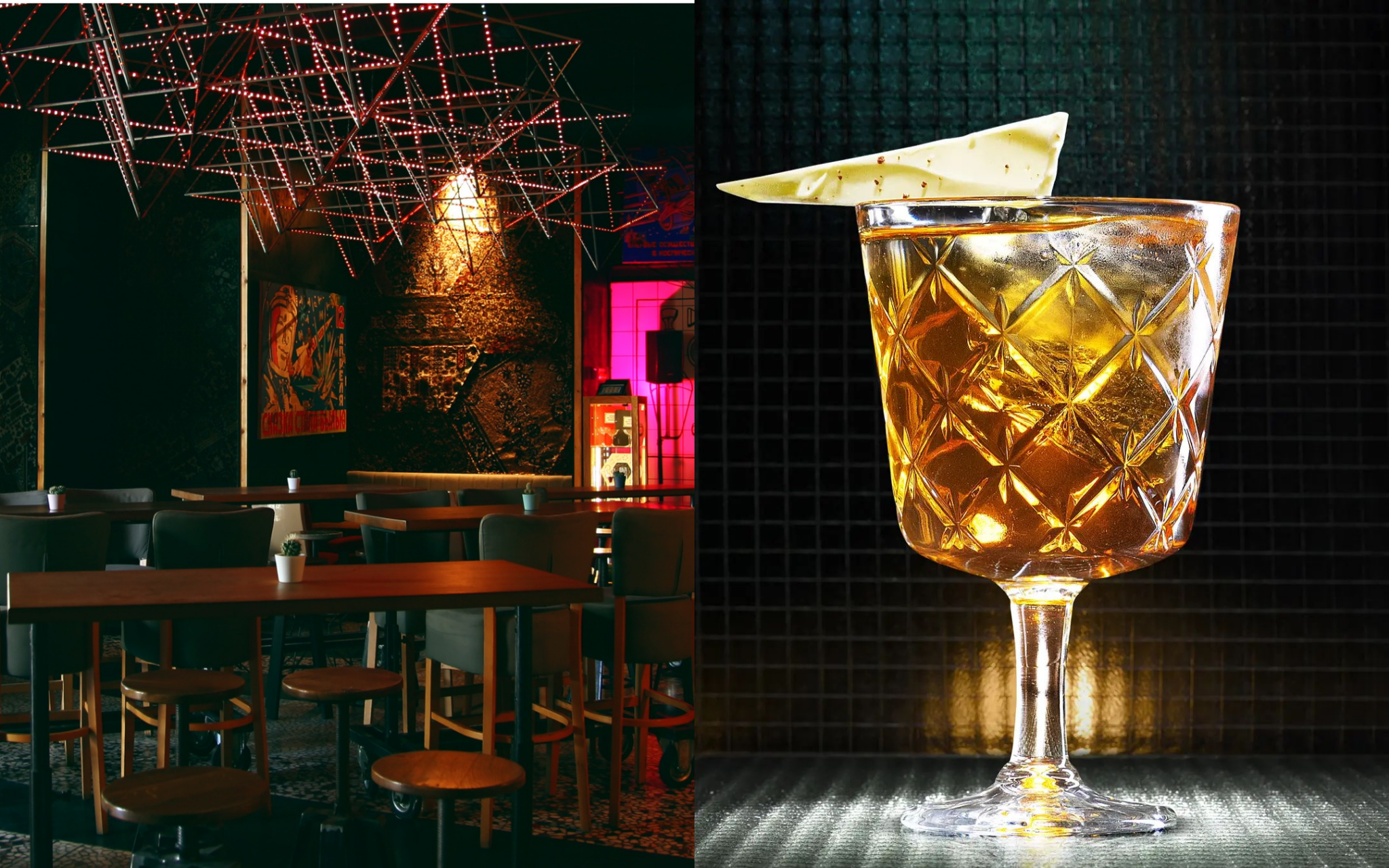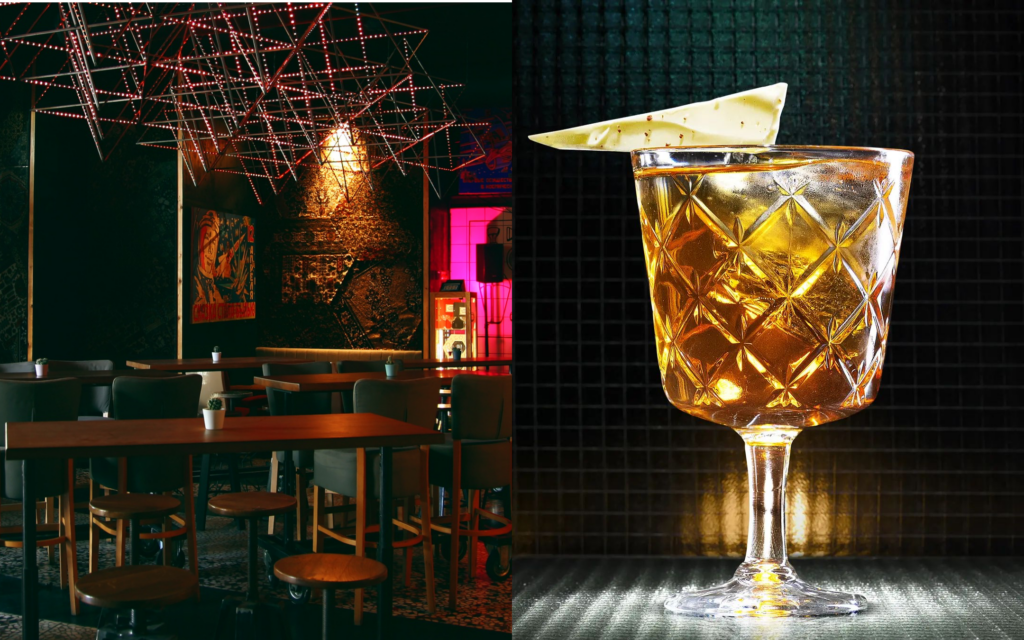 Imagining a cocktail inspired by the Mona Lisa may seem as puzzling as the lady's mysterious smile. Yet, the Kuma Lisa cocktail proves this to be an enticing reality.
At the helm of this boozy concoction is the nutty, rich hues of hazelnut liquor. Melding effortlessly with the liqueur is a sophisticated swirl of sherry, homemade caramel, and a daring dash of chipotle-infused chocolate.
For those who've long yearned to break free from Earth's gravity, yet wish to keep their feet firmly on terra firma, head to Kuma Lisa's maker – Sputnik Bar Sofia.
Named after Russia's famed satellite, Sputnik cleverly blurs the line between industrial chic and interstellar fantasy. Under the pulsating glow of Merkaba-inspired lights, the décor boldly ventures into uncharted territories, radiating an otherworldly charm that mirrors the spirit of its celestial namesake.
Bold and brave libations like the 'Plamena', featuring grape rakia, mezcal, and a citrusy cordial, embody the bar's astral energy.
While the drinks are cosmically creative, the patrons themselves are a delightful constellation of characters. From weekend stargazers grooving to the beats of visiting DJs, to cocktail aficionados marveling at the out-of-this-world concoctions, the crowd at Sputnik is as diverse and eclectic as a meteor shower on a clear night.
Ready, steady, groove at Yalta Club
Few know that Yalta was Sofia's first-ever club – which speaks volumes about the party hub's party-planning experience. Spanning a generous space, the Sofia nightlife venue feels like a seedy warehouse with a splash of hi-tech.
But it's not the brutalist-like architecture that made Yalta a coveted dancing space. After all, some of the most in-demand electronic artists – including Paul Oakenfold – took over the club's audio decks.
Nourish your inner foodie with Streetwitch at Vitamin B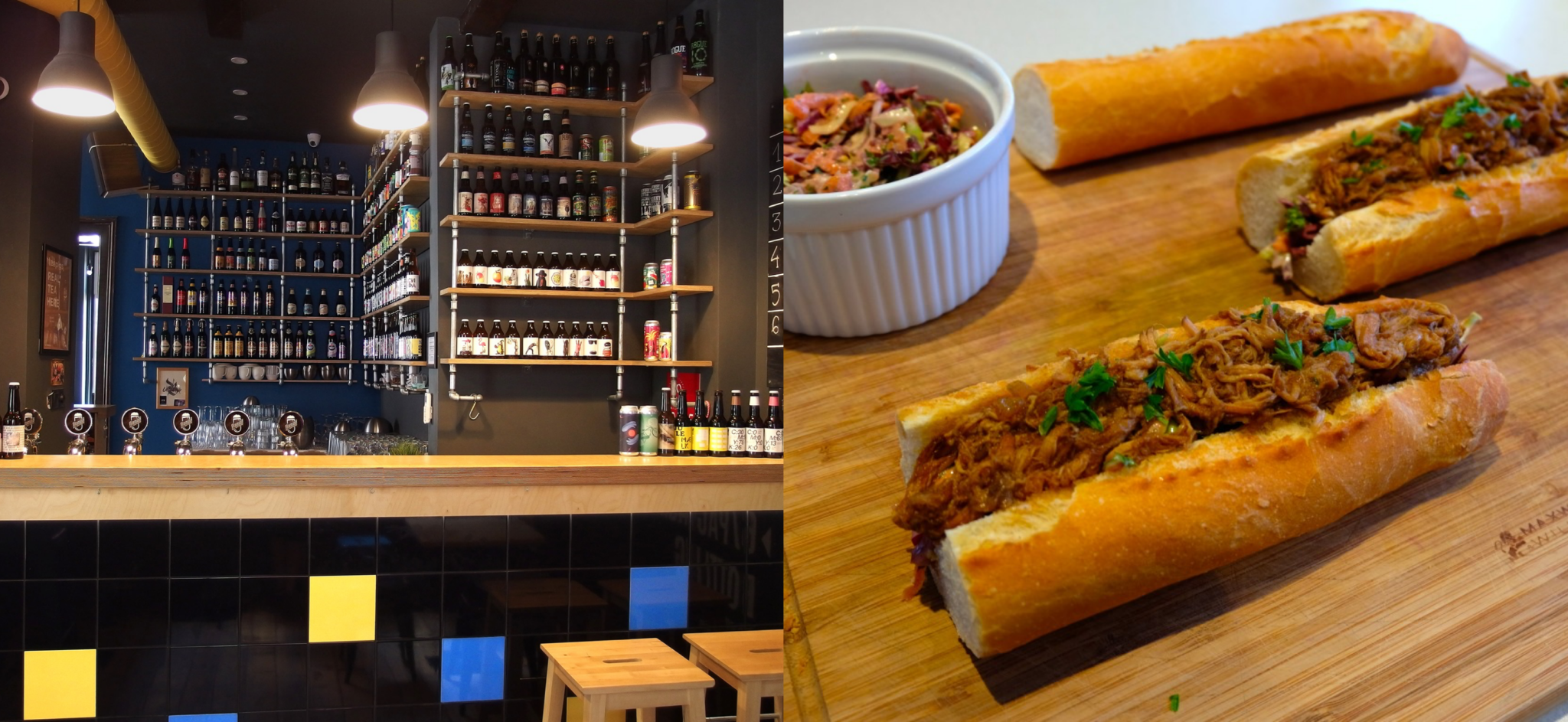 The Streetwitch is a daring spin on the beloved cheesesteak, notably absent the cheese, and yet it manages to capture the hearts and taste buds of those who venture into Sofia's vibrant after-dark scene.
Instead of focusing on gooeyness, the crunchy bread loaf features a grilled meat, skillfully seasoned to enhance its umami flavor.
There's one destination and one destination alone for the authentic Streetwitch experience in Sofia – a local gem known as Vitamin B. This establishment is not merely a restaurant, but a cultural epicenter, channeling Sofia's ethos and energy through its eclectic culinary offerings and décor.