Stockholm's nightlife is a vibrant mix of cozy lounges, multi-genre clubbing destinations, and quirky experiences.
Starting with TAK's Insta-worthy views and ending with Swedish meatballs at Olstugan, this is how you can experience an amazing night out.
Here's your essential guide to Stockholm nightlife.
Take in the stunning panoramas from TAK Stockholm
True to its namesake – 'TAK' means 'roof' in Swedish – this vertiginous venue stakes its claim in the stratosphere, reigning supreme on the 13th and 14th levels.
Often referred to as Stockholm's largest rooftop venue, the all-inclusive spot features an open-air terrace, an indoor lounge, an upscale restaurant and a community-dining area called Izakaya.
Yet, size isn't the only ace up TAK's sleeve. If you shift your gaze from the cocktail to the view, you'll be greeted by a breathtaking panorama that perfectly illustrates Stockholm's status as the Northern counterpart of Venice.
Sashaying into TAK, you'll find a decor that takes its cue from the Scandinavian playbook but isn't afraid to ad-lib. Clean lines play with light in a cozy atmosphere, giving TAK an urban treehouse vibe.
As a weekend must for the chic and creative, the Stockholm venue welcomes artists and a healthy dose of hipsters.
Let Stockholm's subway art serve as an Instagrammable spot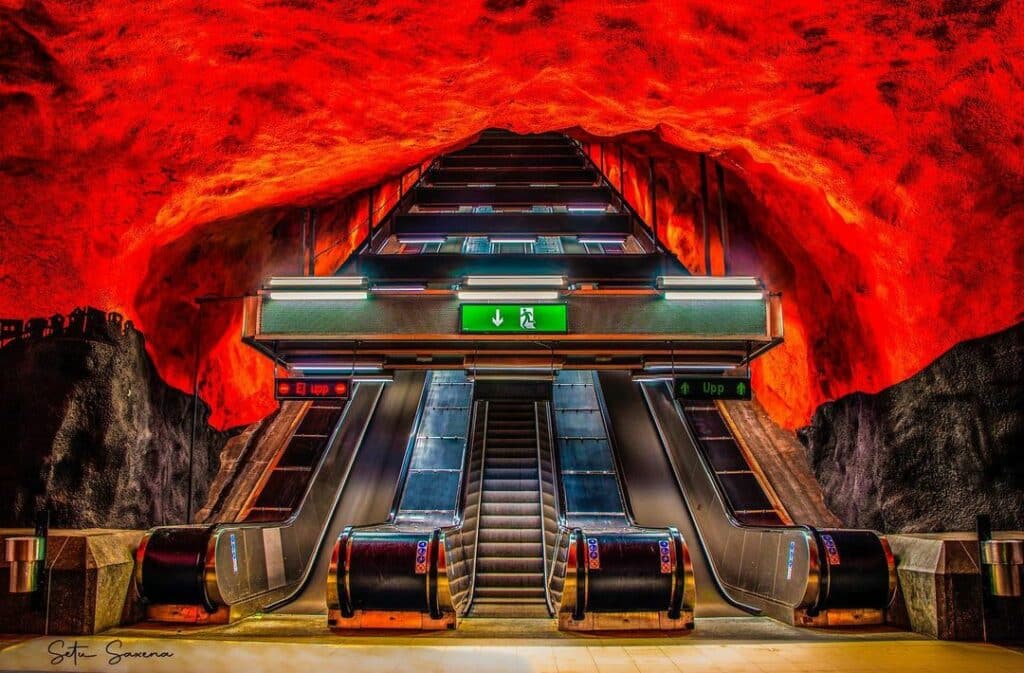 When planning your next hashtag-chasing expedition, forget about tourist-y itineraries and dive into the underground.
More than just a daily commute, Stockholm's subway is home to a blend of natural bedrock, mosaics, installations, and reliefs from the 1950 to present day. And we're not talking beige-and-gray mundanity here.
The subway features every hue on the Pantone spectrum, creating what is said to be the world's longest art exhibit.
Wander into the freezy oasis of the iconic ICEBAR
Since lukewarm libations are so yesterday, Stockholm's ICEBAR freezes your notions of traditional nightlife. Envisioned by ICEHOTEL's creators, the quirky watering hole has been chilling since 2002, making it the world's first permanent frozen bar.
Visiting the ICEBAR is less of a bar crawl and more of an Arctic expedition. Before you enter, you're swaddled in a warm poncho and gloves, kitted out to face the -5° chill.
The frosty palace swaps leather bar stools for icy thrones and marble countertops for ice-carved bars. Boozy concoctions are part of the picture, but instead of 'on the rocks,' they are served in ice glasses.
Whether you sip on the vodka-based Northern Lights or pick the Wolf Paw cocktail, ICEBAR is one of the world's most authentic drinking experiences.
Roam Östermalm's streets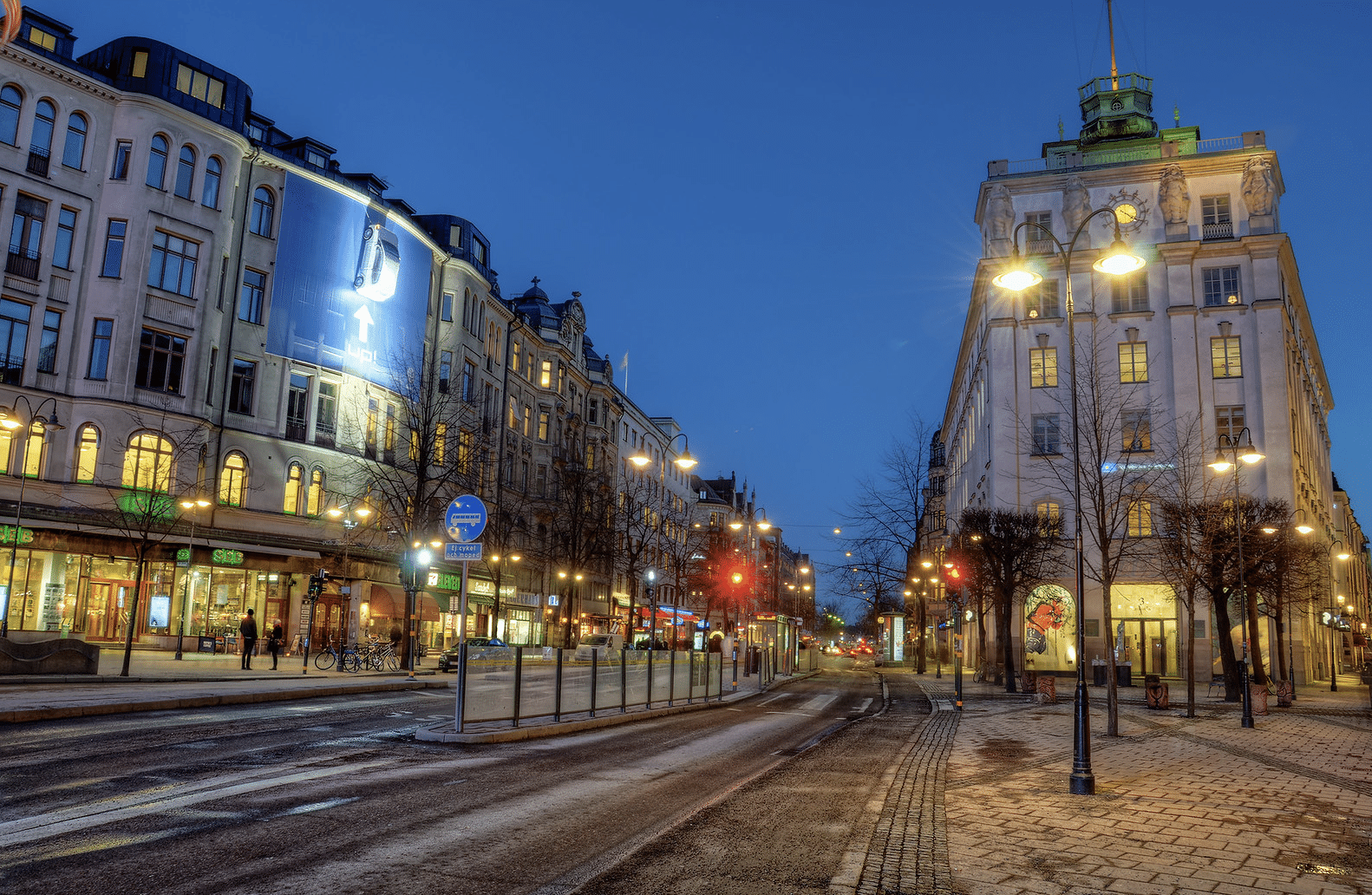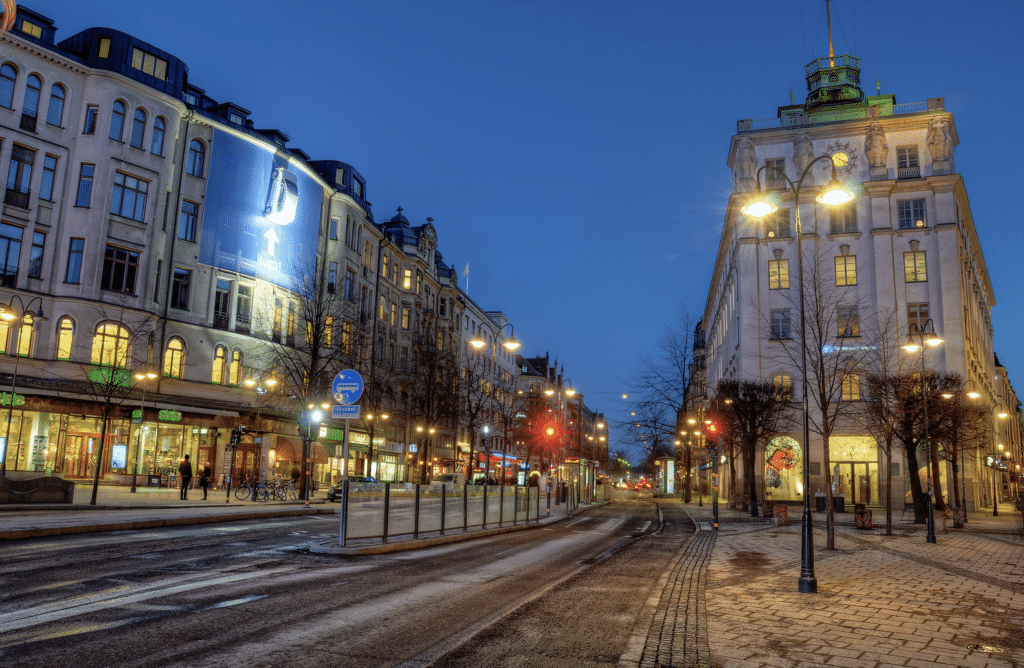 As Stockholm's own answer to Beverly Hills, Östermalm is a veritable playground for the night owls and the glitterati.
With its roots planted in the 17th century, the Stockholm nightlife hotspot is one of the city's most affluent neighborhoods. It's a place where a glorious past intertwines with a vibrant present, creating a thrilling milieu that seems tailor-made for late-night revelry.
Those drawn to the clubbing side of things can find their groove in renowned party hubs, each donning a unique vibe. Some of Stockholm's most popular clubs – including Sturecompagniet – found shelter on Östermalm's cobblestone streets.
For the revelers pursuing something mellow, cocktail bars serving Swedish cuisine, such as Brasserie Godo, dive into local cuisine and mixology.
Yet, Östermalm's charm doesn't end with its lively watering holes. The district moonlights as a hub of culture, where after-dark tours, concerts, and exhibitions give a new meaning to nightlife.
Savor the lip-smacking Good on Paper cocktail at Tjoget
Far from looking good just on paper, the cocktail is living proof that less is more. Blending a velvety mix of Irish whiskey, butternut squash, lime, sage, and Appleton Estate rum, Good on Paper is part refreshing, part bold, and all enchanting.
Tjoget, a Stockholm nightlife venue that brings together a bar, restaurant, beer cafe and wine bodega, has been infusing the city's cocktail scene since 2011. Its decor pays homage to the Mediterranean and the Middle East but infuses it with a Scandinavian twist.
While the unassuming exterior might fool you, inside you'll find a mishmash of old-world taverna and a swanky lounge. Aged wooden furniture, vintage mirrors, and burnished brass accents create an ambiance as eclectic as its cocktail menu.
Tjoget attracts a diverse clientele, from discerning hipsters savouring craft beer to spirited flâneurs embracing unconventional cocktails.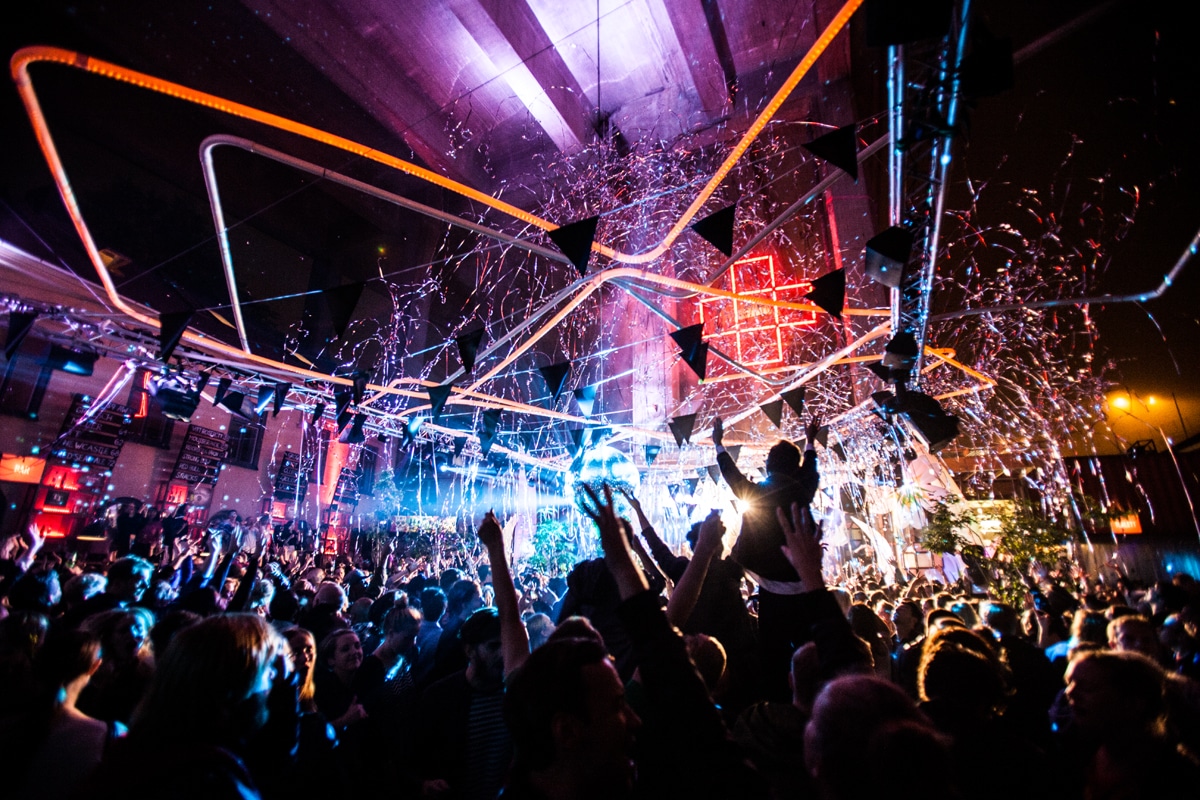 Whenever you want to ditch the 'been-there-done-that' Stockholm nightlife scene, head to the multi-genre Huset Under Bron Stockholm.
Amidst the whirl of beats, immersive visuals and impromptu dance-offs, the multi-layered clubbing experience becomes a music carnival worth visiting every weekend.
Experience Stockholm's traditional cuisine with Swedish Meatballs at Olstugan
When it comes to late-night feasting in Stockholm, nothing satisfies quite like the nation's beloved Swedish meatballs.
These petite powerhouses of flavor have served as Sweden's secret weapons against the notorious belly rumbles for centuries. In this meaty dish, the meatball manifesto – a heroic blend of beef, pork, bread, onion, and spices – is infused with rich gravy, lingonberry jam, and creamy mashed potatoes.
Naturally, there is a wide array of late-night eateries mastering the art of Swedish meatballs. But Olstugan, a laid-back restaurant where time takes a backseat, brings the drunk food to a level of adulation.
If the rustic-meets-modern atmosphere doesn't scratch your itch, the parade of Swedish cheeses, herring plates, and craft beers deffo will.