Tokyo nightlife is a dreamscape of neon-lit karaoke bars, hi-tech clubs, and izakaya-fueled memories.
Starting with The Jade Room + Garden Terrace's sweeping vistas and ending with a hearty Tonkotsu Ramen at Ichiran Ramen, this is how you can experience an amazing night out.
Here's your essential guide to Tokyo nightlife.
Enjoy a tête-à-tête drinking session with the Tokyo Tower at The Jade Room + Garden Terrace
Nestled on The Tokyo Edition Hotel's cloud-brushing 31st floor and envisioned by an award-winning chef, The Jade Room + Garden Terrace has a bit of an identity crisis – in the good sense of it.
Away from its panoramic views and Tokyo Tower close-up, the sky-high venue balances upscale dining room aesthetics with a laid-back garden terrace. With a Feng Shui allure, the Tokyo nightlife spot is where words like custard sit comfortably alongside miso and yuzu.
Those able to divert their gaze from the urban cityscape are rewarded with a menu that marries Japanese and Western flavors, featuring dishes like pork belly with pickled pineapple.
Not one for penny pinchers, The Jade Room + Garden Terrace is an elevated oasis for the eclectic and the elite.
Unleash your inner Instagram influencer at Tokyu Plaza Omotesando Harajuku
Famous for its wall-of-mirrors entrance and known as an Instagrammer's nirvana, Tokyu Plaza transcends the mere shopping mall status. Beyond high-street brands and first-rate eateries, the commercial center houses a mirror-lined escalator tunnel that feels like a psychedelic trip.
Sing, laugh, repeat at Karaoke Kan Shibuya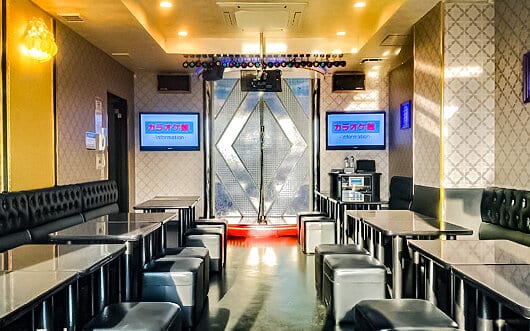 A weapon in Tokyo's nightlife arsenal, karaoke is not merely about singing but about the unfiltered camaraderie feeling it evokes. Arguably the most famous karaoke bar in the city, Karaoke Kan boasts a staggering array of private and themed boots.
Whether you want to channel your inner Beyonce or rock out like Mick Jagger in a space that screams rock 'n' roll, the karaoke joint has you covered. Naturally, each room is equipped with a state-of-the-art sound system and more songs than your voice cords can handle.
Though it's part of a chain, the Shibuya outpost comes with celebrity credentials. The karaoke bar experienced its 15 minutes of fame in 2003 when it appeared in the Lost in Translation movie.
Conquer Shibuya's neon-lit wonderland
Tokyo's Shibuya district has become synonymous with two things: its bustling crosswalk and a nightlife scene that would make New York City reconsider its title as The City That Never Sleeps.
Once a humble castle town during the Edo period, Shibuya has transformed into a coveted nocturnal playground. From the neon lights that flicker like constellations to the izakaya lanterns lining the narrow alleys, the district dons its night suit with an irresistible panache.
For the refined night owls, Shibuya's Nonbei Yokocho – a cluster of nostalgic bars speaking of Tokyo's post-war era – offer quiet and soulful soirees. When seeking a dose of global beats, a pilgrimage to the district's iconic clubbing spots is what the doctor prescribed.
Whether it's multi-story shrines of electronic music like Womb or international hubs like Harlem, Shibuya invites you to loosen that tie and swap heels for dancing shoes – but only after the clock strikes midnight.
Sip on Sakura Martini at Ginza 300 Bar
Masterfully blending the West's clean crispness with Japan's most revered flower, Sakura Martini is Kyoto's springtime in a glass.
Somewhere between a taste-bud tickler and an Instagrammable sight, the boozy potion features a hint of sweet vermouth, gin's botanical nuances, a dash of lemon juice, and sakura liqueur.
A nod to the 'mono no aware' concept, Ginza 300 Bar is where your wallet can breathe easy. Loyal to its name, the budget-friendly watering hole serves dozens of crafted cocktails, all under ¥300.
You might expect some catch, like tacky decor or watered-down drinks, but everything here is the real deal.
Laid out in a relaxed yet lively ambiance, Ginza 300 Bar features recycled timber from dismantled houses, creating an eco-friendly elegance. It's like stepping into Hemingway's liquor cabinet if he had a soft spot for Japanese craftsmanship.
Despite its locale, the Tokyo nightlife spot invites the cocktail-loving community to forget the snobbery that often accompanies crafted drinks.
Party like there's no tomorrow at Raise Tokyo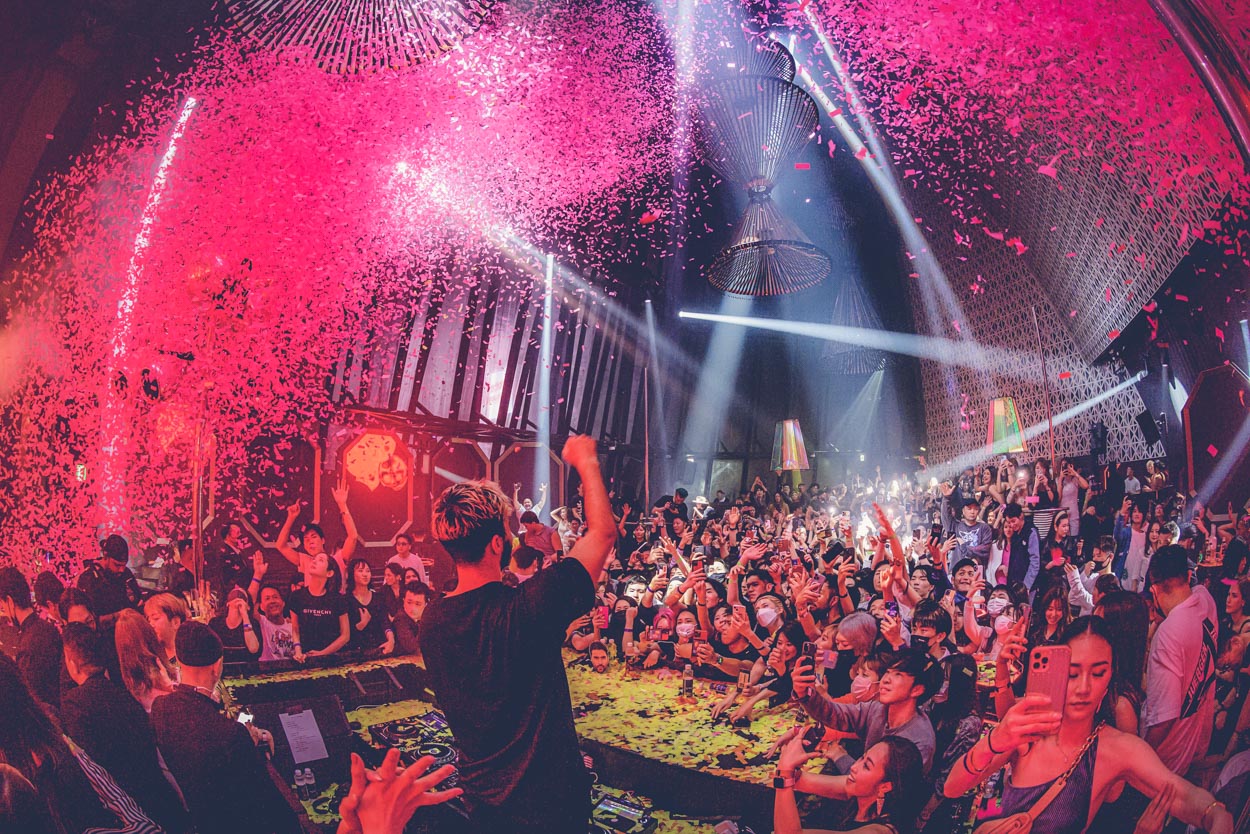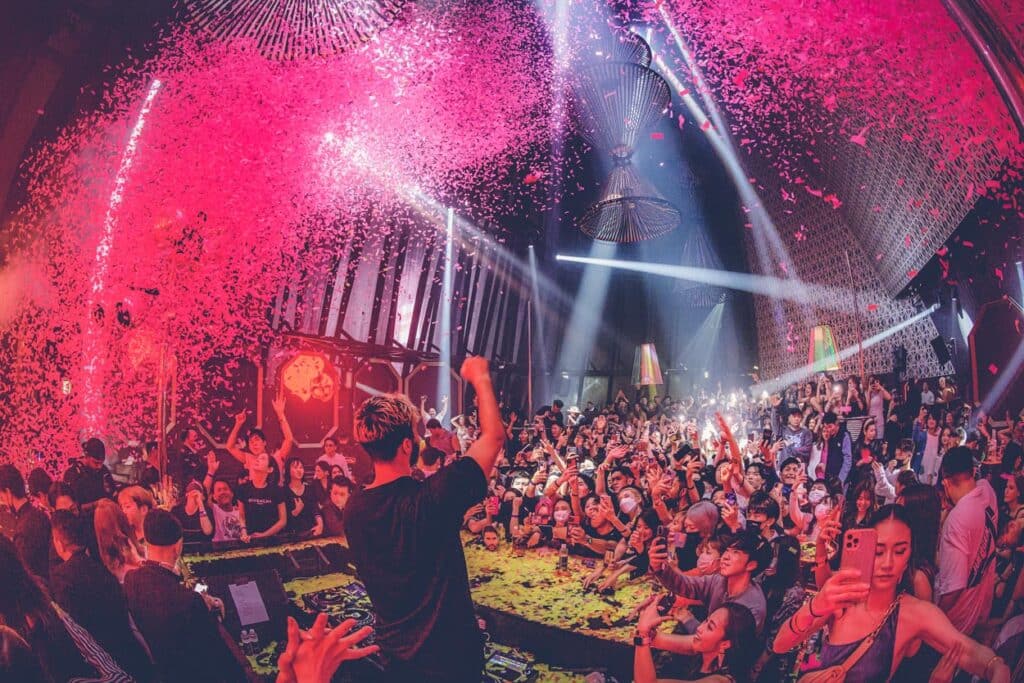 Raise Tokyo doesn't just throw parties – it orchestrates foolproof clubbing sessions. Whether through A-list electronic maestros or the VIP treatment, the party destination never disappoints, but exceeds your expectations.
As the place where interactive installations and avant-garde decor reign supreme, Raise knows how to keep patrons on their feet all night long.
Nourish your inner foodie with Tonkotsu Ramen at Ichiran Ramen
Often dubbed the Ramen Trinity's angel, Tonkotsu is why people believe in the 'love at first bite' concept. Dating back to the 19th century, Tonkotsu – which translates to pork bone – began its life as a hearty meal for fishermen.
Fast forward to today, the noodle soup is the life of the afterparty. At its heart is a pork bone broth filled with slices of chashu pork, spring onions, and thin noodles.
While many late-night eateries are battling for the best ramen place in Tokyo nightlife, Ichiran Ramen takes the crown. Its dining concept embraces the 'ichigenkin' system, which means a meal served for one person. The unique layout allows for an intimate eating experience in a minimalist-meets-tasteful environment.
At Ichiran, there are no starters and no desserts, just ramen. Customers are given an order sheet to customize their dish from toppings, noodle texture, and broth richness.