Warsaw's nightlife is a vibrant blend of historic charm and modern vitality, where pulsing techno clubs coexist with quaint pubs.
Starting with The Roof's Insta-worthy views and ending with Regeneranka at Zapiexy Luxusowe, this is how you can experience an amazing night out.
Here's your essential guide to Warsaw nightlife.
Take in the stunning panoramas from The Roof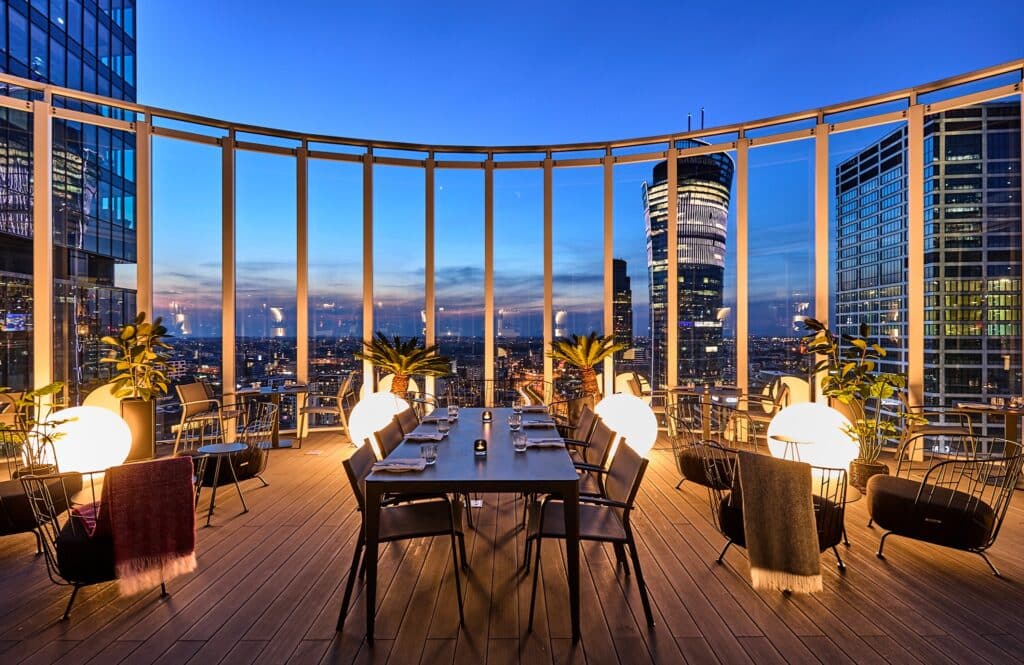 Squint at your Google Maps if you like, but you won't come any closer to finding something as gravity-defying as The Roof. Unfurling a new page in Warsaw's nightlife, the sky bar delivers panoramic views with its 21st-floor home.
Upon arriving at The Roof, you're met with a spatial masterpiece showcasing the best contemporary design. The clean lines, open spaces, floor-to-ceiling windows, and minimalistic – yet tasteful – elements craft a setting where the cityscape becomes an intrinsic part of the decor.
If you shift your gaze from the view to the menu, prepare for top-notch mixology. Cocktails celebrating Warsaw districts harmoniously coexist with craft beers, premium wines, and international food offerings.
The Roof's drinking-and-sunset experiences come with a hefty price tag, so expect to rub shoulders with chic locals and high-rolling tourists.
Capture a gram-worthy shot at the Palace of Culture and Science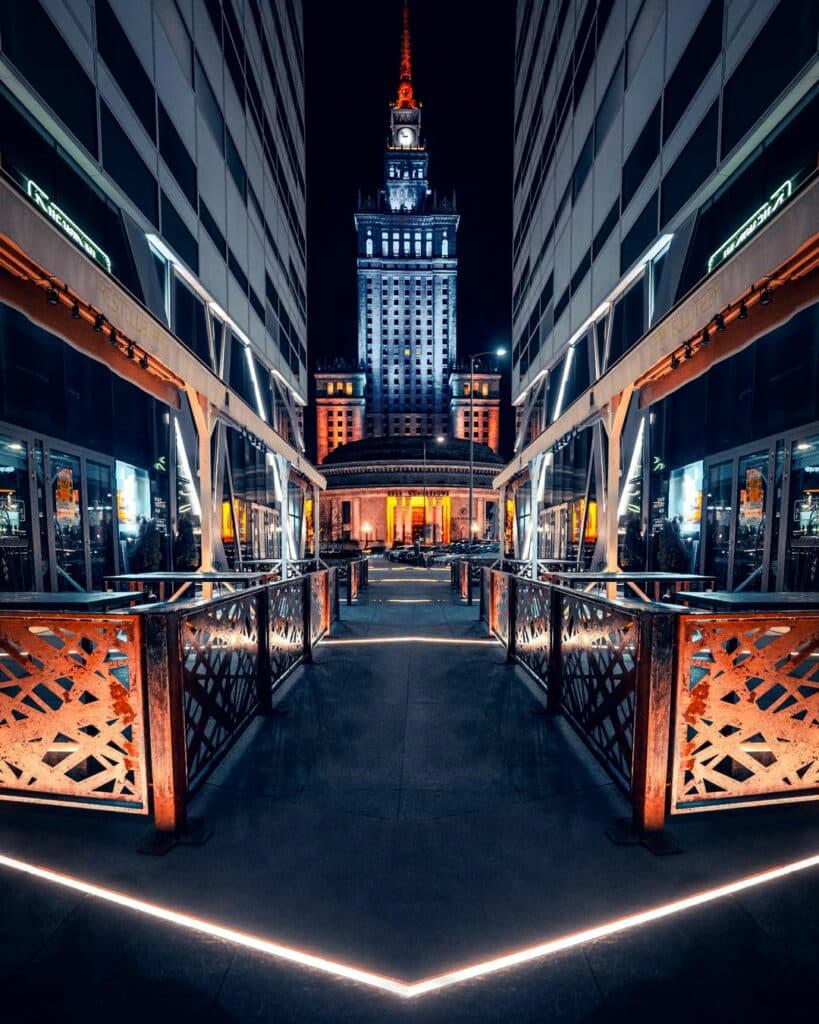 Built in the 1950s as a Soviet 'gift,' the Palace of Culture and Science can be seen from almost every part of the capital. Despite its bumpy beginnings, the high-rise structure has stayed loyal to its blend of social realism and Polish historicism.
The institution transcends its architectural gem status during night when it lights up like a Christmas tree. With over 3,000 rooms lighting up, this beacon of beauty is the perfect accomplice for the urban explorer with a smartphone.
Discover Warsaw's glowing treasure at Neon Museum
Where does history go when the lights go out? In Warsaw's bustling Praga-Południe district, it doesn't go to sleep; instead, it powers up, casting a multi-colored glow on faces curious to encounter the past in an unconventional light.
Founded by London-based duo photographer Ilona Karwińska and graphic designer David S. Hill, the Neon Museum serves as a vivid beacon of Polish and Eastern Bloc history.
Housing over 200 salvaged neon signs and around 500 letterforms, this unique repository shines a spotlight on the cultural significance of neon signage in post-WWII Poland.
The legacy of these neon signs, however, goes beyond mere urban decoration. They played a crucial role during the post-Stalin 'neonization' era, standing as vibrant symbols of cultural and economic aspiration.
Once adorning cinemas, dance halls, and cocktail bars, neon signs were not mere signposts but luminous declarations of an emerging society on the cusp of change.
Explore Powiśle's streets
It would be disrespectful to visit Warsaw without paying homage to the city's most vibrant nightlife spot – the mighty Powiśle.
Once a quiet, riverside neighborhood, the up-and-coming area shapeshifted into the go-to place for summer bars, indie galleries, and food halls. Lovingly referred to as Warsaw's urban living bedroom, Powiśle is a smorgasbord of post-industrial grunge and chic modernity.
Its winding streets, dotted with pre-war architecture, new-age edifices, and bursts of art nouveau, carry an irresistible charm.
Step into the infamous Plan B social club for a hipster-chic vibe – courtesy of the wooden furniture and intentionally unfinished decor.
Further down there's PKP, a bar fashioned out of a disused railway station. Old train tracks have been swapped here for retro sofas and pulsating beats, creating a casual pre-drinking venue.
But the party in Powiśle isn't confined to clubs and bars. With an unapologetic alfresco swagger, the district's riverfront transforms into a buzzing promenade where late-night grub and bars like Cud Nad Wisłą offer all-inclusive entertainment.
Indulge in the Cha-Cha cocktail at Aura Bar
Sip it or swish it – it doesn't really matter, the Cha-Cha cocktail will make you order another round. Infused with local herbs, the boozy libation paves its own alcohol path with a mix of dry vermouth and bitter citron for a balanced and lip-smacking taste.
Though not bigger than a bedroom, Aura Bar gives you the feeling of tumbling into a Moroccan souk. Nestled in a pre-war building, the watering hole oozes attention to detail through every terracotta-tiled wall and brass accent.
At this Warsaw nightlife spot, every order starts with a bottle of bourbon – we are talking about the bar which serves 11 reiterations of the classic Old Fashioned, after all.
Although Aura Bar seems like the proud possessor of an unapproachable allure, the boozy sanctuary welcomes everyone from bourbon connoisseurs to cocktail rookies.
Burn up the dance floor at Enklawa
Nightclubs come and go, but Enklawa is here to stay. With a decade-long dancing history, the party hub quickly climbed the ladder to Warsaw's most booked clubs.
Music playlists feature the diversity that keeps everybody on their feet, while the ultra-modern design makes patrons return every weekend.
Nourish your stomach with Regeneranka at Zapiexy Luxusowe
Every epicurean adventure begins somewhere. Yours should start with Regeneranka, a bold and offbeat drunk food that could be mistaken for gourmet pizza.
Using a crisp baguette as a base, the dish is topped with Polish ham, chopped onions, and pickled cucumbers – all tied together by a velvety tomato sauce.
Specializing in open-face sandwiches, Zapiexy doesn't place its bets on decor. Humble and seemingly shy, the late-night eatery became one of Warsaw's must-eat-at spots for its unique take on street food.
But that's not to say the eatery doesn't serve traditional food – on the contrary. A quick menu scan will immediately reveal Pączki – deep-fried pastries – and cabbage rolls, also known as Gołąbki.