Avoid the fear of missing out and find the festival you really vibe with
Mmm, the smell of the festival season – the poignant combination of sweat, dopamine, and Jägerbombs. After two years of on-and-off global lockdowns, we are ready to venture back into the escapism of mosh pits, beat drops, and outfits with enough glitter to knock Tinkerbell out. This calls for a festival finder.
Between the mad frenzy of festivals making their last tickets call and the fear of missing out on the best bang for your buck, finding the next life-transforming music experience that will tick all of your boxes is no easy feat.
Maybe you just jumped on the festival bandwagon and have no clue which one to attend. Maybe you'd rather walk in a minefield than research every festival that piques your interest. Or maybe you have a bucket list of 40 festivals worth attending, but that's not feasible if you aren't crazy rich or own a teleporting machine – or both.
This is why finding a festival that really matches your vibe is paramount. When you feel drowned in the sea of festival options, unlocking powerful data through discovery tools is exactly what the doctor prescribed.
1. Keyword search
1.1 Google
Oh, the good, old Google search. This one is pretty self-explanatory – if you have an artist you wish to see performing in his rawest form this summer, you can type his name and add the word festival to your search for a bit of spice and precision. You can follow the same formula for music genres and locations.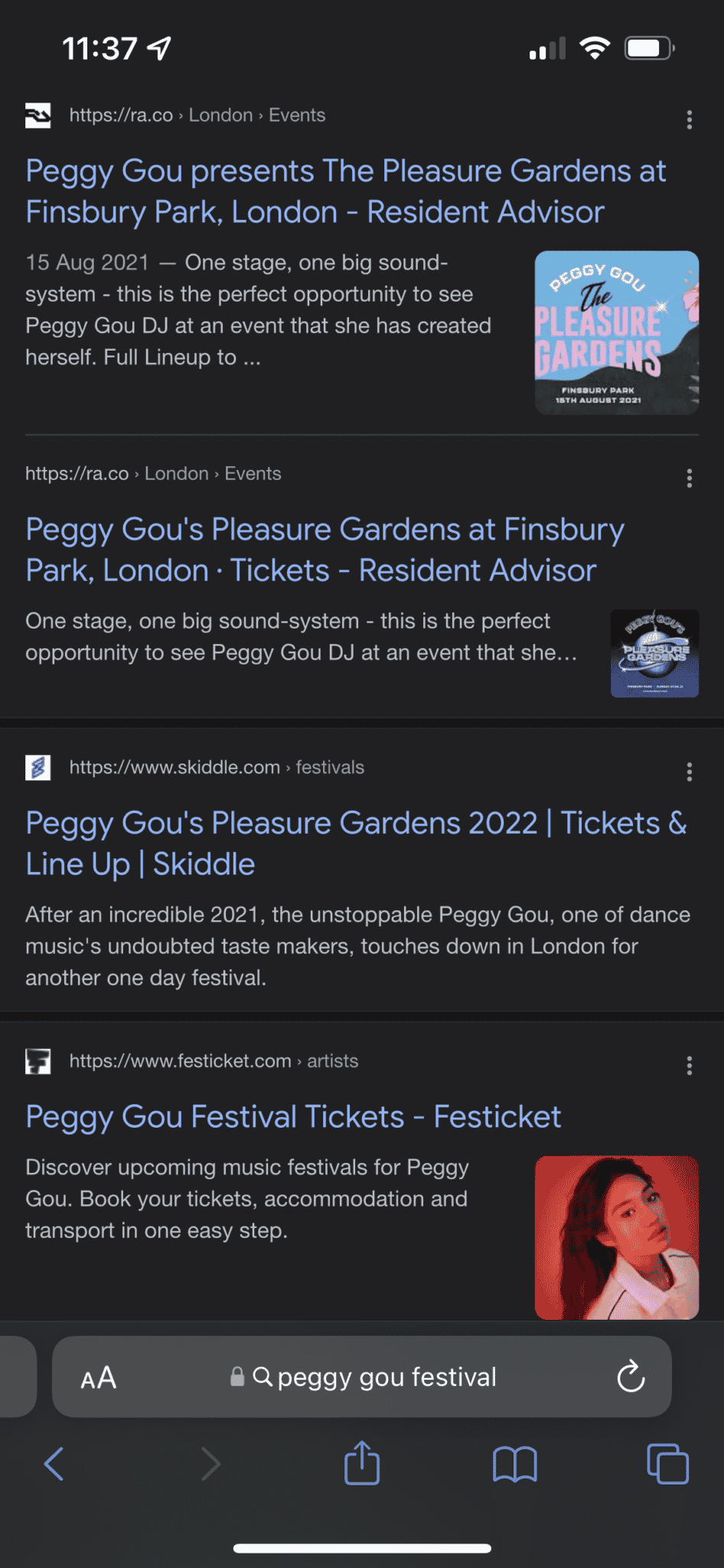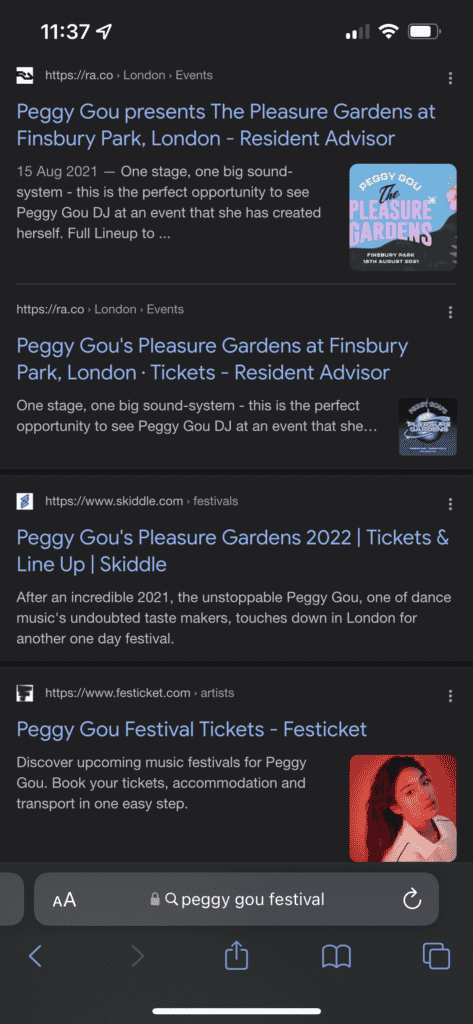 But you might not have pinpointed any of those elements with your festival gang group chat yet. In that case, Google won't do you much favor.
We're pretty much sure you don't want to land on the 15th search page without acquiring any fruitful information because, frankly, nobody ever goes beyond the third one.
Your Google festival hunt begins only after skimming through the irrelevant paid ads popping at the top of your search.
We say irrelevant because, amongst the paid ads, there will always be intruders with no link to whatever you searched. Or maybe it matches with one out of the four words you googled – which is far from enough.
The world's go-to search engine is nowhere near being a comprehensive guide when it comes to festivals.
It might give you a plethora of choices, but at the end of the day, it doesn't feature any essential tools like filtering.
Sadly, you are the one who's in charge of spending hours to an end sorting and curating the scatter-brained mass of information it gives you.
1.2 Social media
Almost half of hardcore festies find out about festivals thanks to that cute search bar all social media platforms feature. Since we live and breathe those online channels, we expect them to know a thing or two about our personal preferences when we type "festival" into the search box.
If you are a Facebook fan, the first thing you will land on is a list of events in your local proximity. Scroll down a little bit, and you will get a filtering option – you are in charge of picking the location, event category, and date. It might not be much, but it's honest work.
But Zuckerberg's platform makes it up when it comes to information.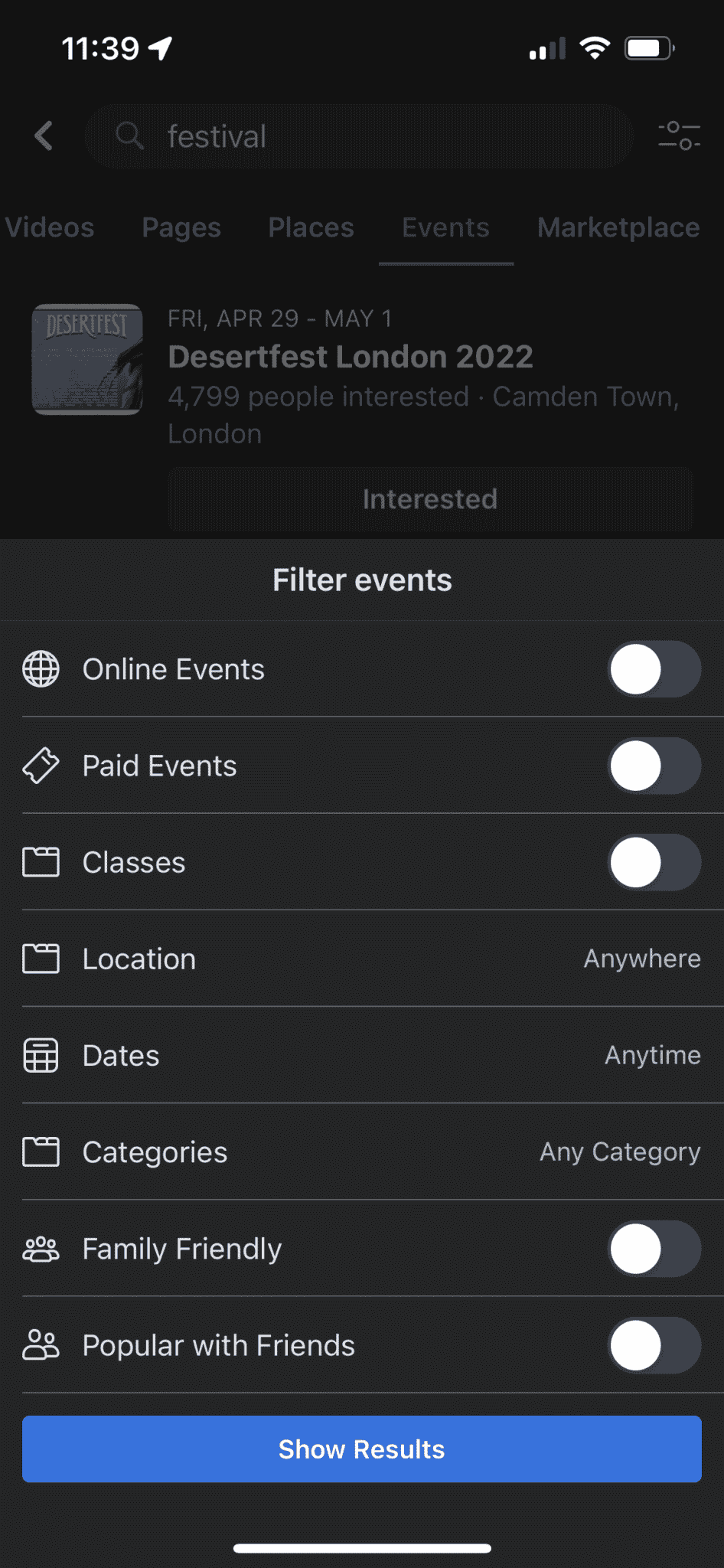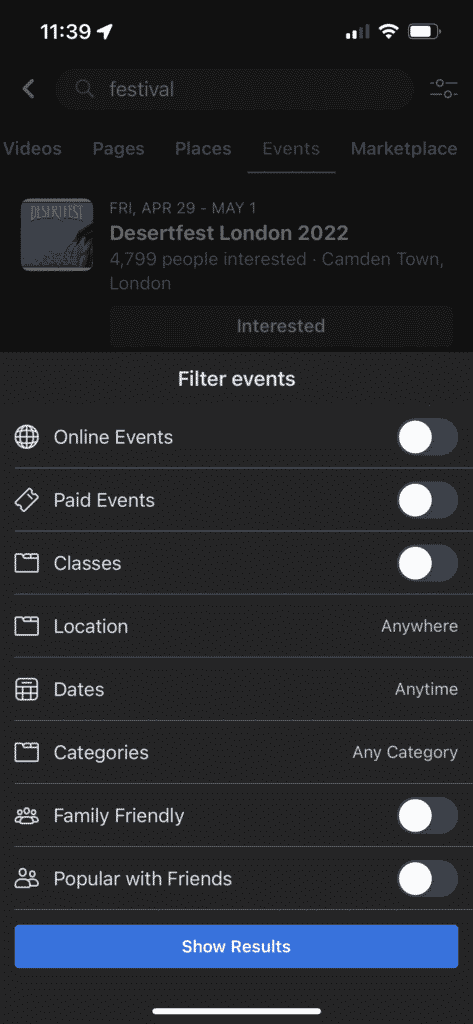 Not only that you are provided with essential information such as ticket sellers, Google Map and an about section, but you also get suggested festivals that are similar to the one you clicked on. Should we also mention that you get to see which of your Facebook friends are interested or going to the event?
For Instagram aficionados, typing the holy word "festival" in the search will give them more of a curated list of events. The first ones that will pop up are Instagram accounts that your friends follow or have a massive following, which sounds like a win-win situation.
Once you choose your desired festival and tap on it, you will land on a collection of snapshots from the event. Pictures from previous editions, reels, ads – everything is included in the package.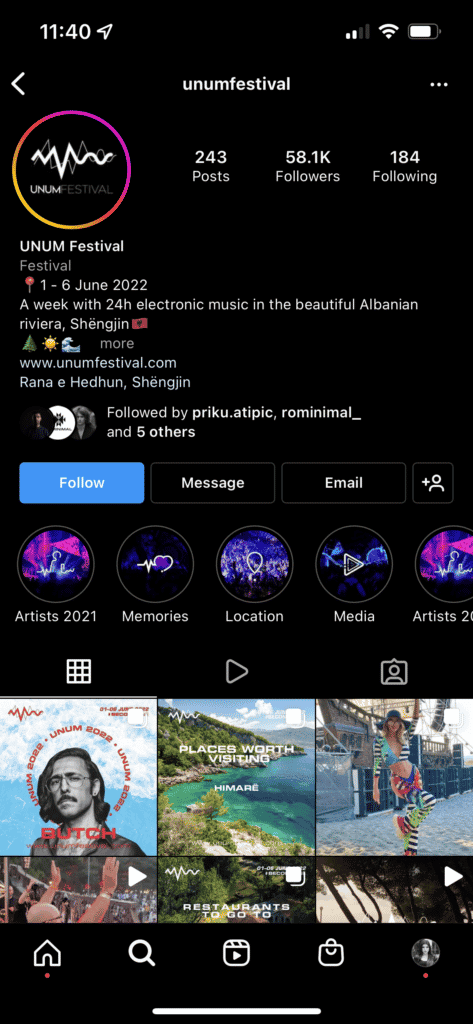 While some festival accounts feature a comprehensive about section, most keep it short and sweet. Most of the time, dates, location, and their official website are the best that you can get. But hey, you can endlessly scroll through their feed and pretend it is a digital festival walkthrough.
Same goes for Twitter – but since the platform is much more text-based, you won't get as much visuals as you get from Instagram. The good part about it is that once you tap on a festival account, you will get recent updates about the event such as ticket batch releases and lineup changes. We know, your hardcore festie heart is aching for some filtering options.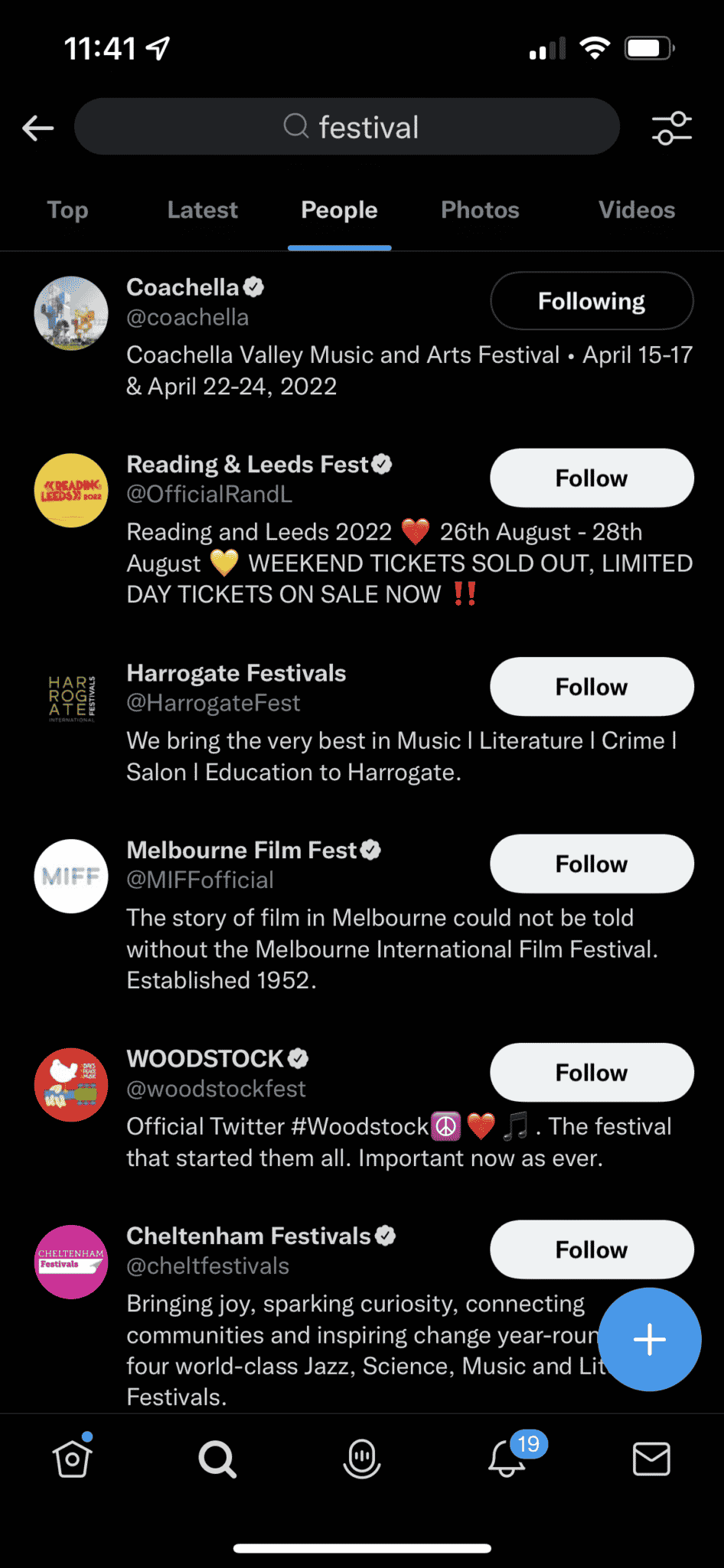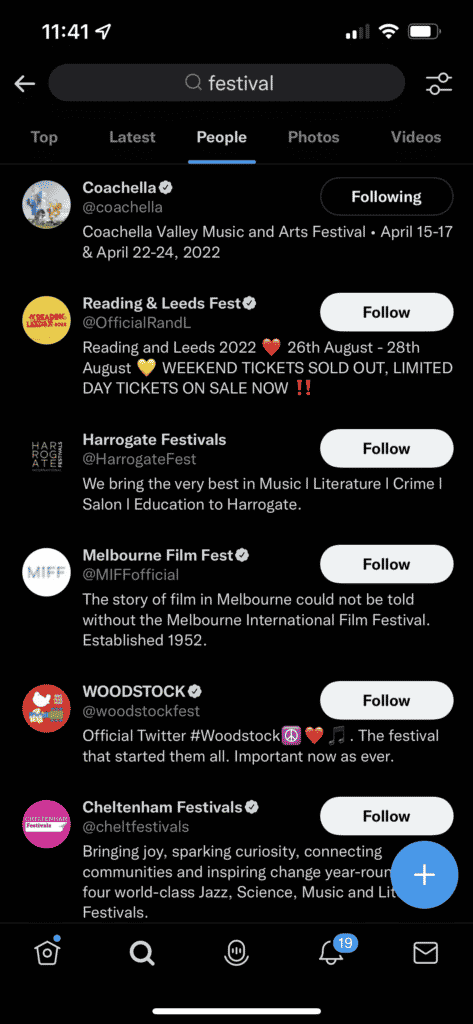 2. Ticket sellers
Who would have thought that the place where you got your Taylor Swift concert ticket would be a good starting point if you've embarked on a journey to find the festival that has it all? We bring some good tidings – unlike Google, ticket marketplaces allow its users to filter their options by prices, time frame, location, and music genre.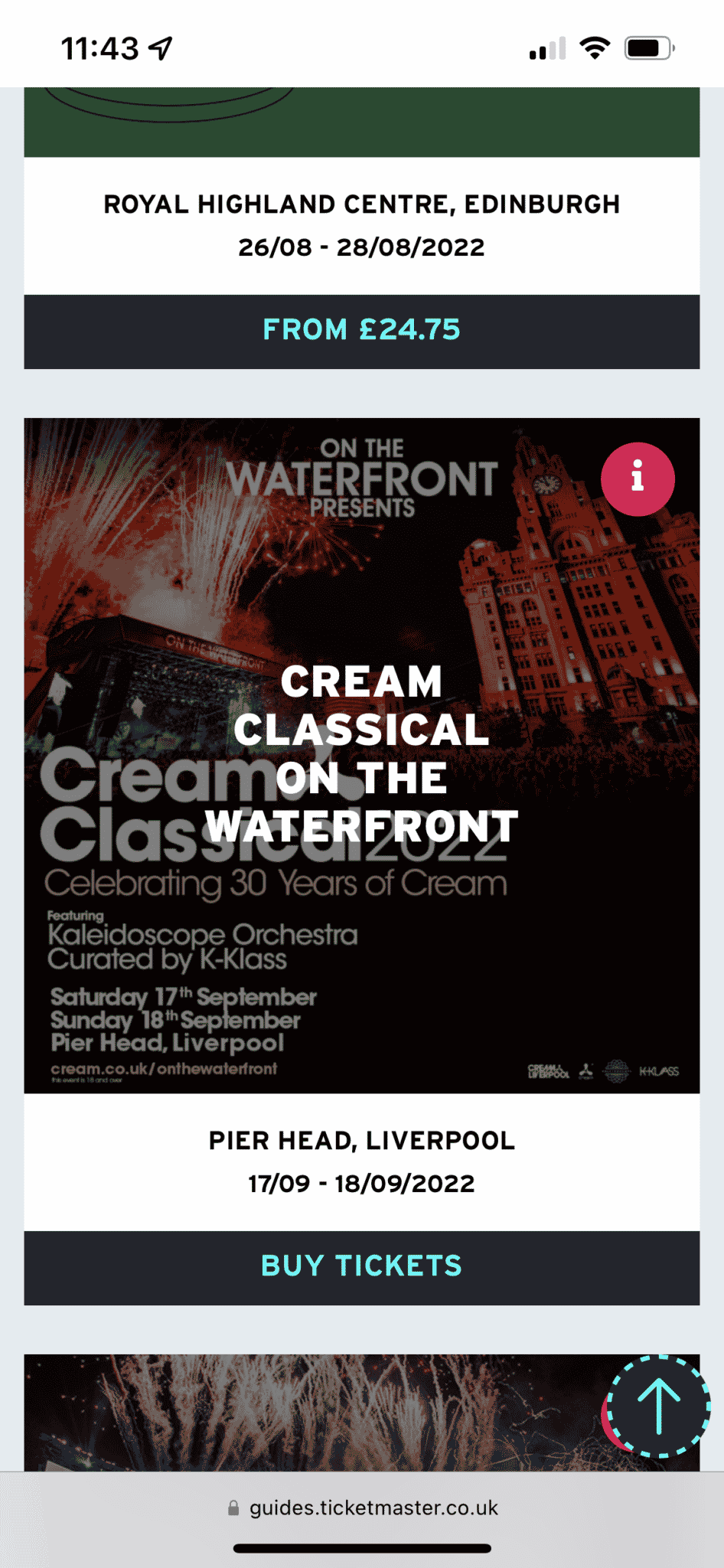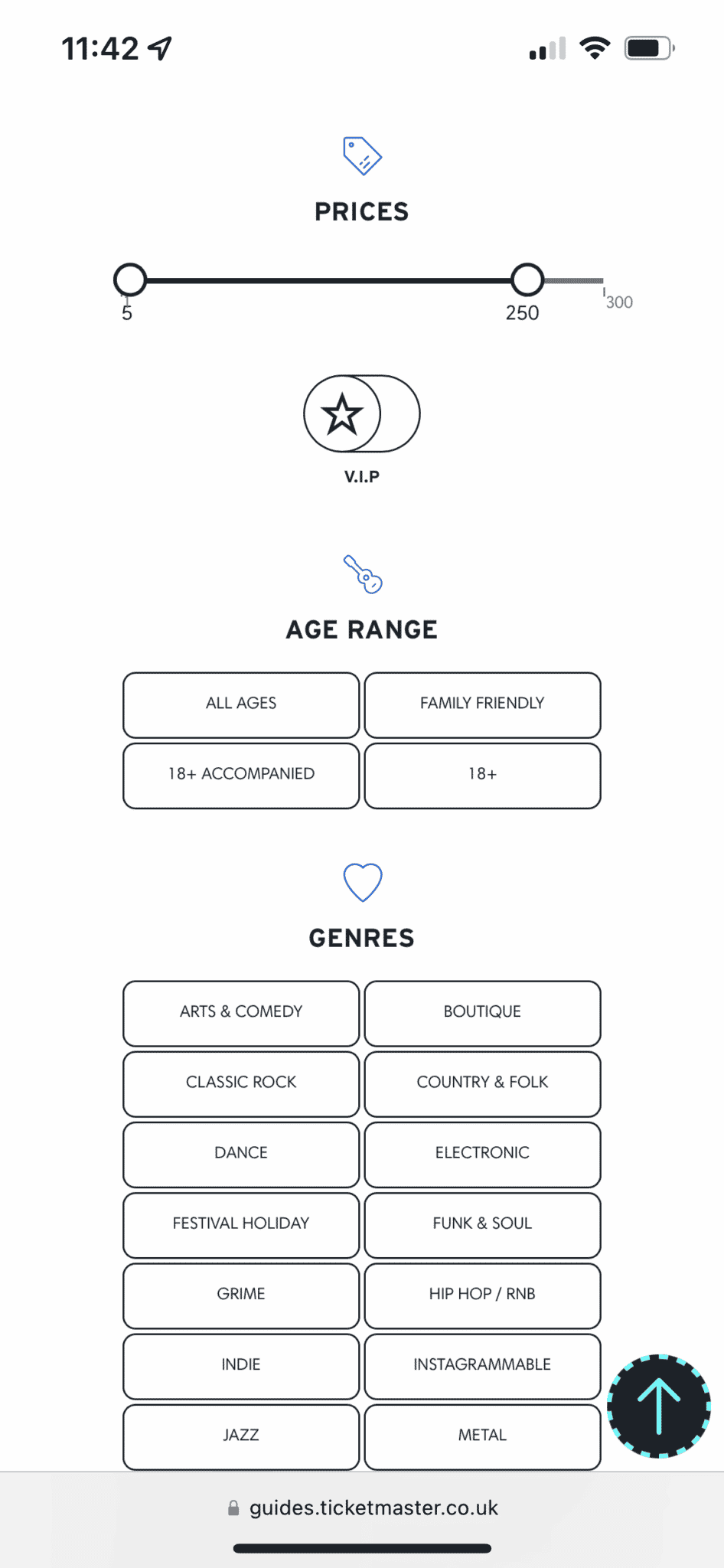 Thank God we don't have to spend endless hours scrolling the glassy screen of our smartphones while groaning, "not this one" and "damn, if this festival would have had camping spots it would have been perfect".
Ticket seller monolith Festicket believes there is a festival for everyone. This is why the booking platform packages together travel and accommodation add-ons, as well as filtering options covering general aspects, such as the music genre and venue.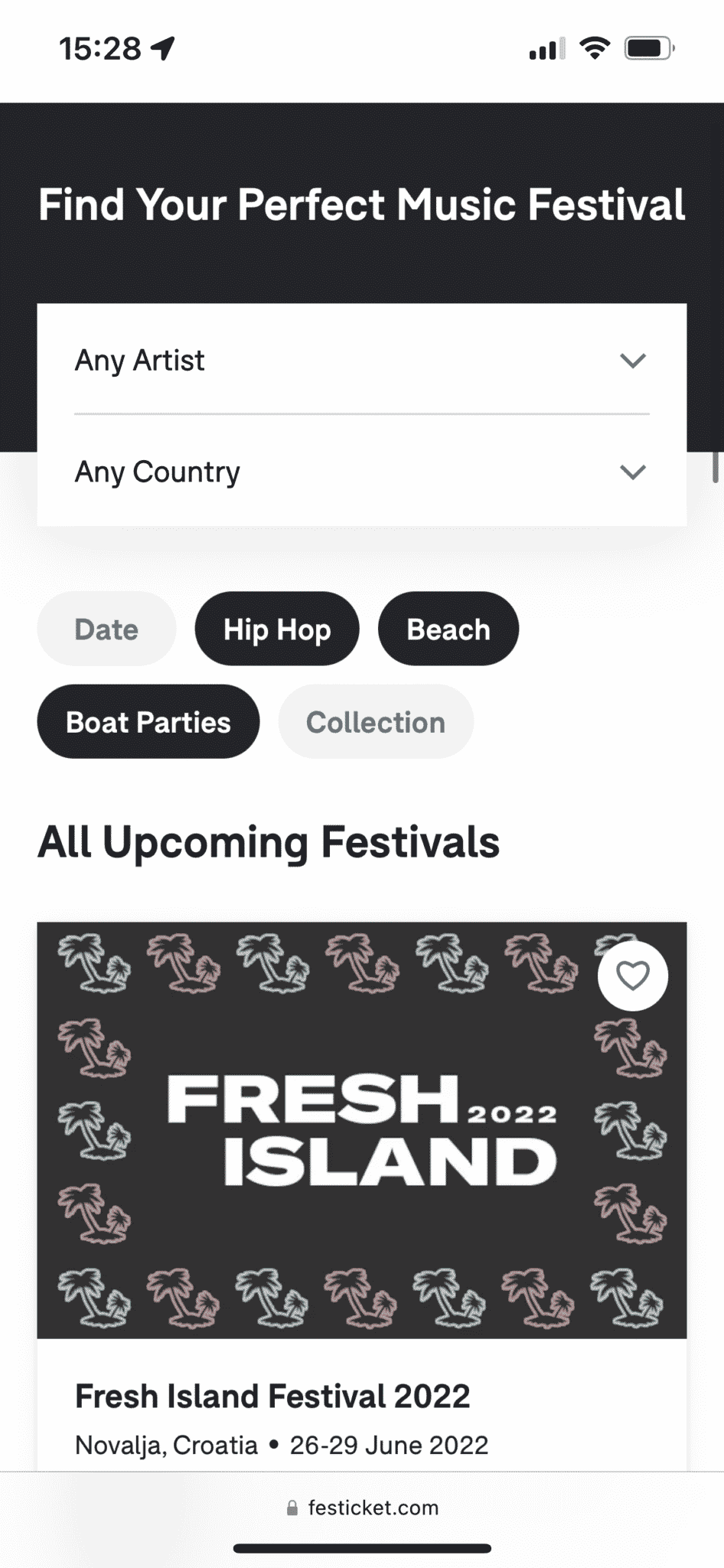 And while some ticket selling platforms are your bestie when it comes to crucial festival information such as the quintessential lineup and the much-needed about section, not all of them give prominence to it.
The concept that most ticket seller websites revolve around is presenting a list of festivals as bland and plain as possible – no media, no lineup, no enlightening insights. Just a lonely "buy ticket" button that will land you on another page lacking as much information as the first one. It's either that or navigating through a wall of uncategorized information that will leave you ten times more confused.
If you decide to put the fate of your next festival into the hands of ticket selling platforms, here is a list of the leading players that are the closest to bringing you the whole information package:
3. Artist
3.1 Official website
Artist official websites might not have the prettiest and most user-friendly interfaces, but they are a decent festival finder since they provide essential information like festival location and dates.
If you are not satisfied with that handful of informational ammo (we totally get you if you aren't), opt for the event info button that will redirect you to another website. Of course, you also got the omnipresent "buy ticket" button that will transfer you to a ticket supplier website.
Yep, you got it – almost nothing related to the event itself is created in-house. At least the sound of the artist's latest hit will wipe the tears of disappointment away.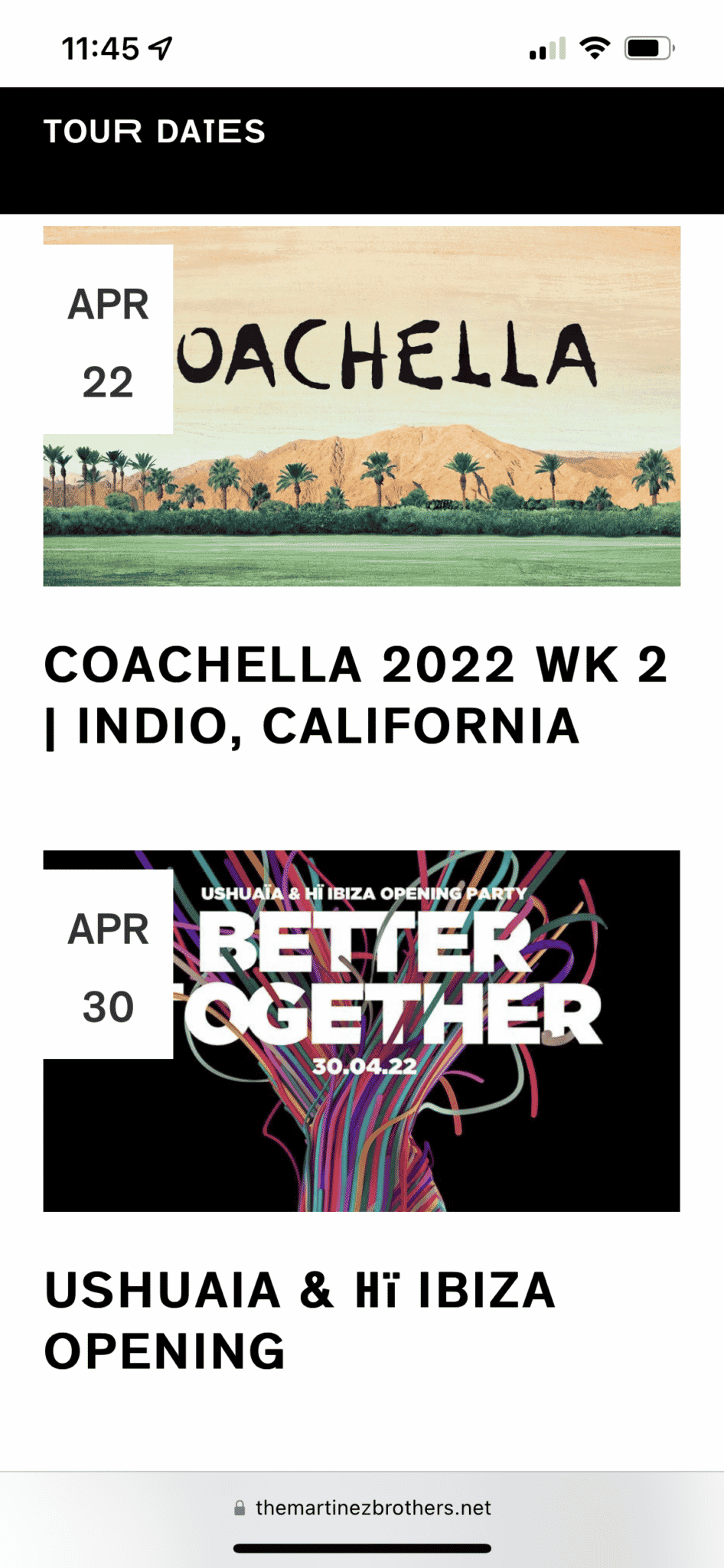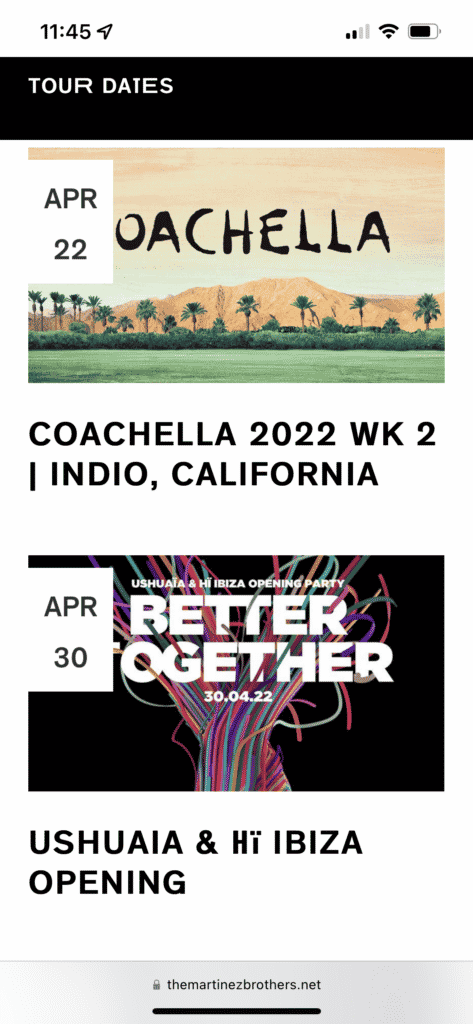 3.2 Spotify profile
Similar to domain websites, streaming platform Spotify puts festivals into the spotlight through artist profiles. The good thing is that Spotify knows as much about you as your mom does. Thanks to its stored data about what you're listening to, the platform is a pro at delivering content tailored to the user's personal preferences.
Whenever Spotify displays your top artists or suggests new artist names based on what's been blasting through your headphones, you can tap on their profiles and check their upcoming events. While the streaming platform is tapping into your personal taste, don't expect too much information. You only get the date, location, lineup, and a find tickets button.
One thing worth mentioning is that you can explore the lineup by tapping on the artists' profiles – you will have a whole discography at your fingertips.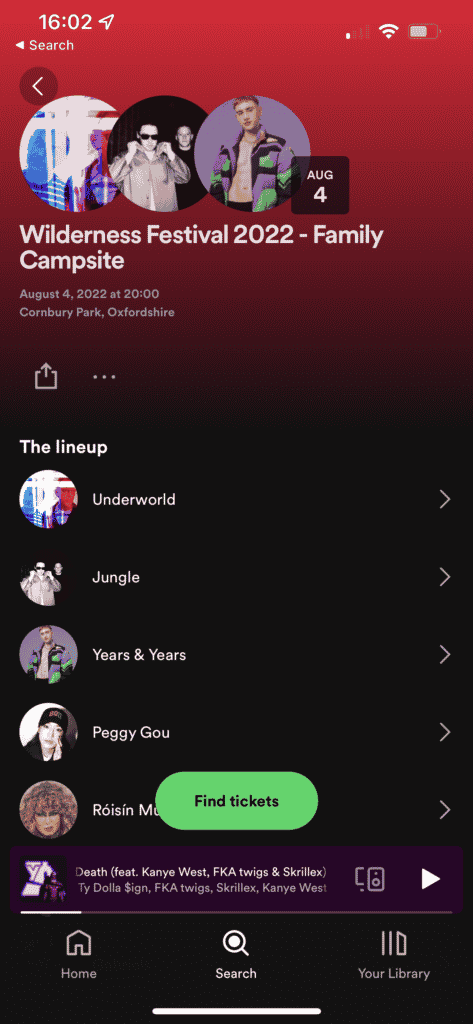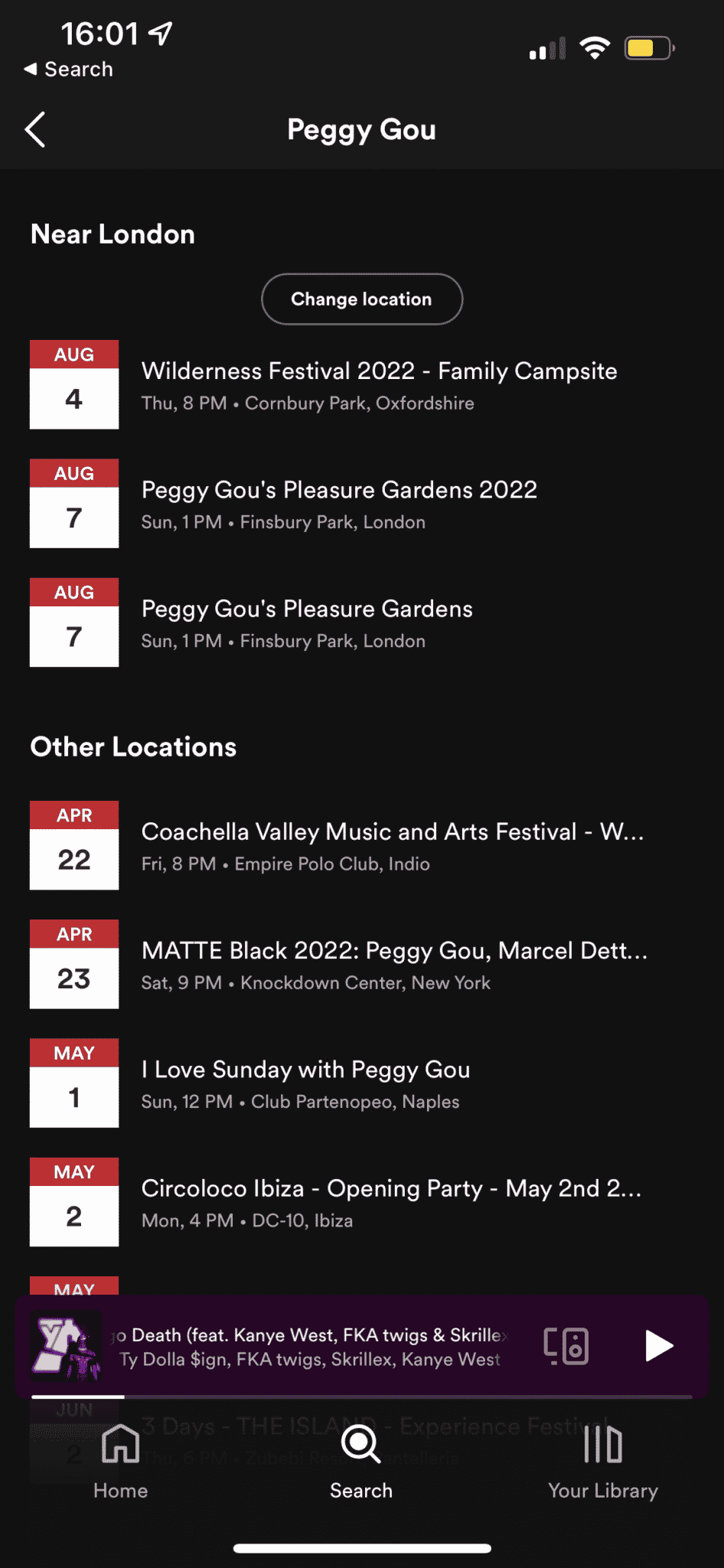 4. Advertising
4.1 Online and offline marketing
You can't shun them – they are monopolizing public transport and popping non-stop on your social media feeds. While the basic info such as the date and lineup are conveyed in visually pleasing posters and pop ads, 96% of the consumers are skeptical about out-of-touch publicity – and for a good reason.
A whole team of marketers and PR professionals are paid to put the festival in the best light possible – which is far from being genuine. Every event has its highs and lows, so the bare minimum a festival goer can ask for is transparency and authenticity – and promotional content just doesn't hit the spot for that.
4.2 Hearing from a friend
We all have that friend who came back completely trashed from a festival but with a giddy smile painted on his face. That's a two-legged festival finder. For weeks following his return from festival grounds, he will still chatter about how the event ticket was the best money he ever invested.
This offline marketing will instantly spike your appetite for booking a festival ticket – but hold your horses before doing so.
While the information you get is as genuine as a Yelp angry review, the festival itself might not pass the vibe check. Just because the event was a life-changing experience for one of your friends, it doesn't mean that it will be the same for you.
Maybe your friend is into Dua Lipa, while you've been worshiping The Weeknd's music since his first album drop.
Maybe the festival that your friend is bragging about is in the Alps and you don't hate anything more than freezing temperatures. What we're trying to say is that everyone's vibe is different.
You can't follow someone's footsteps and expect the same outcome – it might happen, but that doesn't guarantee a 100% success rate.
c) The power of social media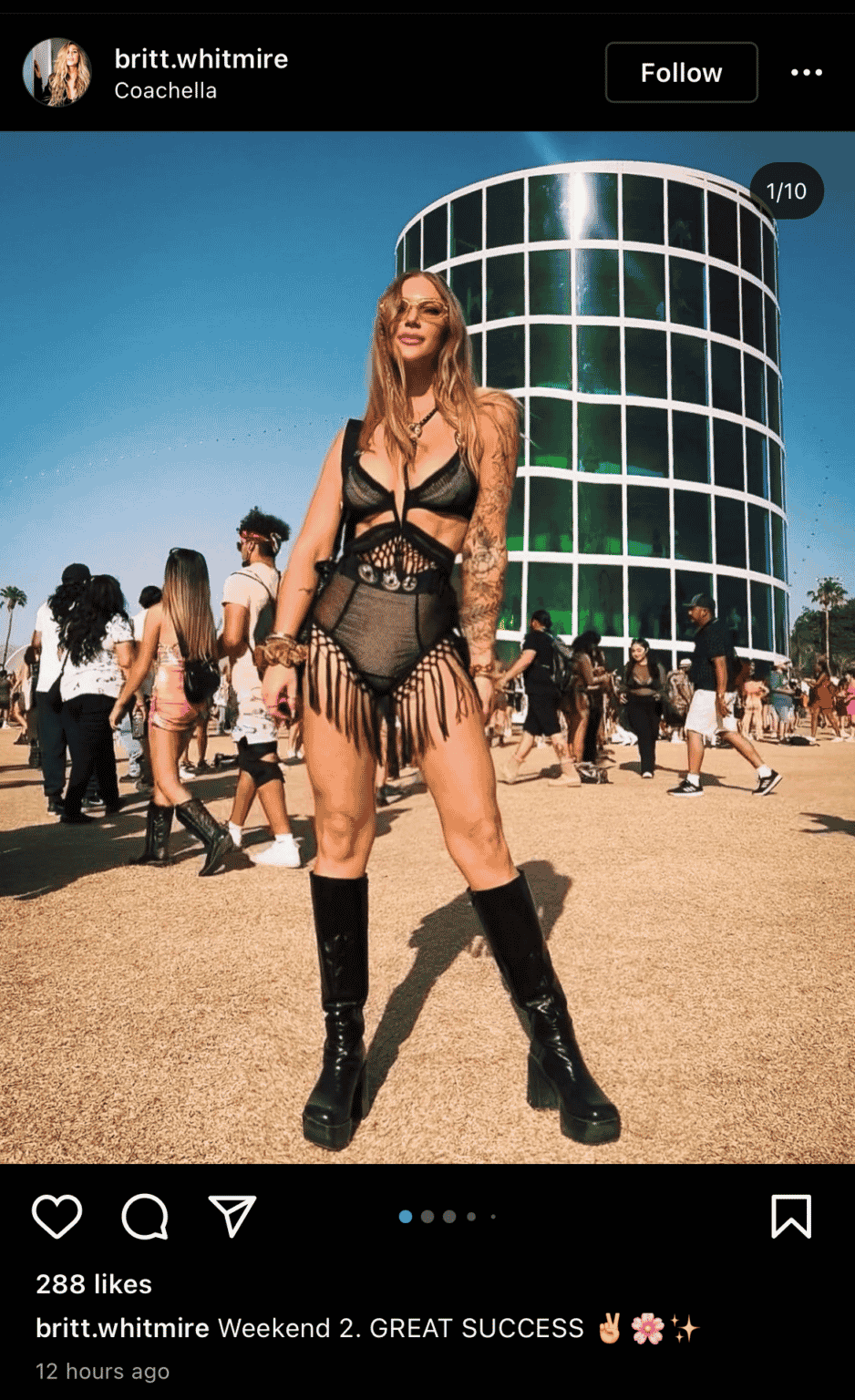 With so much of the world plugged into social media platforms, it is almost impossible not to stumble upon a festival at some point. Artsy food pictures, your favorite Instagram influencer #CoachellaDay1 post, live DJ sets – you name it.
A glitzy social media post will immediately cast a spell on you – but it doesn't go beyond a visually pleasing snapshot of the festival.
Okay, you got the dress code concept and have a vague idea about which food truck is worth a shot, but where is the lineup? Where is the buy tickets button?
If you are thirsty for some real information, you have to spend some alone time with Google.
5. Festival discovery apps
Time is precious – and festival discovery apps know that too well. By embodying a comprehensive digital preview of music events, festival discovery apps are the pioneers when it comes to helping party-goers find the 'it' festival. From images and aftermovies to lineups and ticket sellers, those online discovery tools are a cumulative festival encyclopedia.
But those apps don't stop at the information chapter. It seems like they value the preferences of each reveler looking for the next festival ground to camp his tent on.
Whenever you sign up for those apps, you have to complete your profile with your preferred music genres and artists. The algorithm will afterward suggest upcoming festivals that match your party animal persona. With this type of digital tool, you are a few taps away from finding the festival that suits your taste from A to Z.
Besides making those suggestions as tailored to your personal liking as possible, you can also scroll through the plethora of choices that you have at your fingertips.
The good news is that you don't have to spend too much time scanning hundreds of festivals – the filter tool is always there to make your search (and life) easier. Size, location, music genre and price are just a few of the elements that are subject to your choice.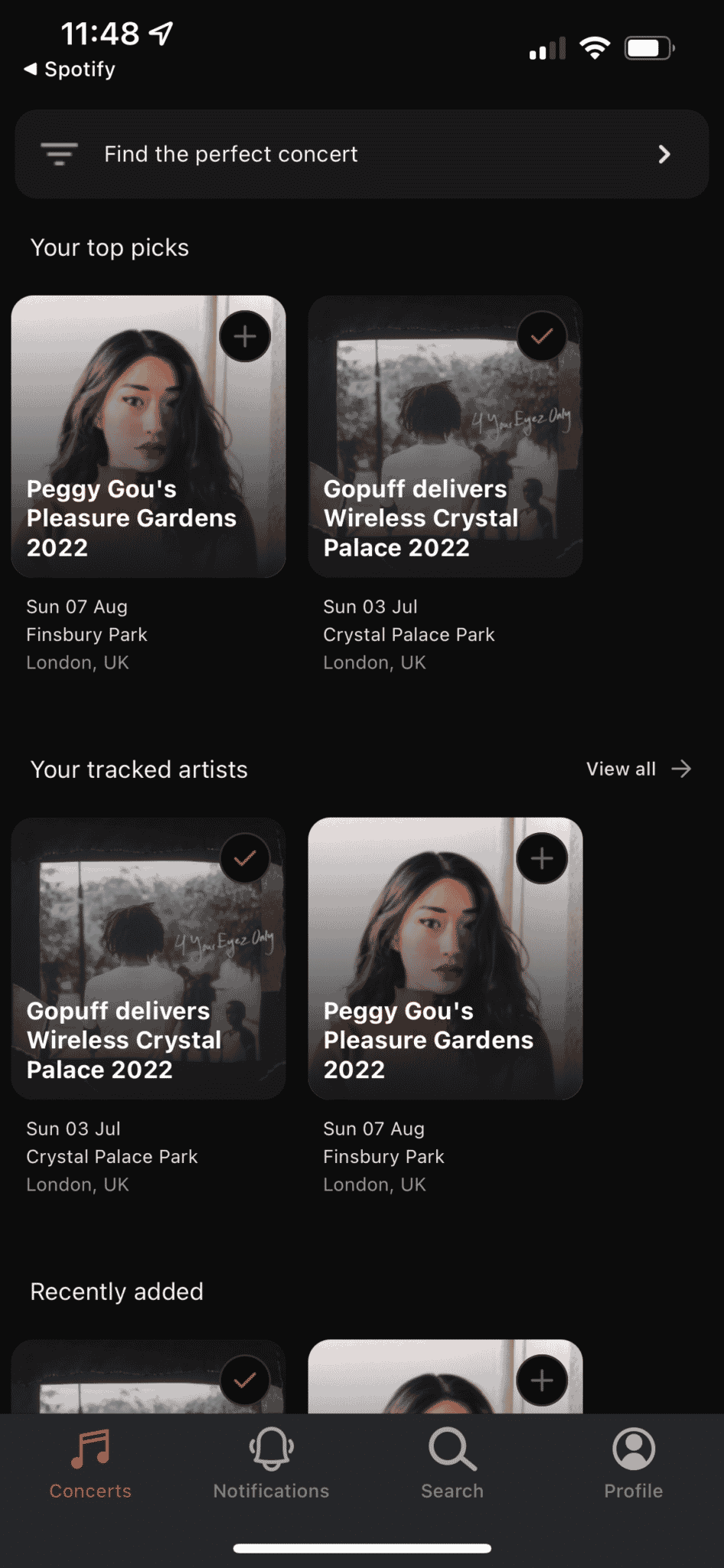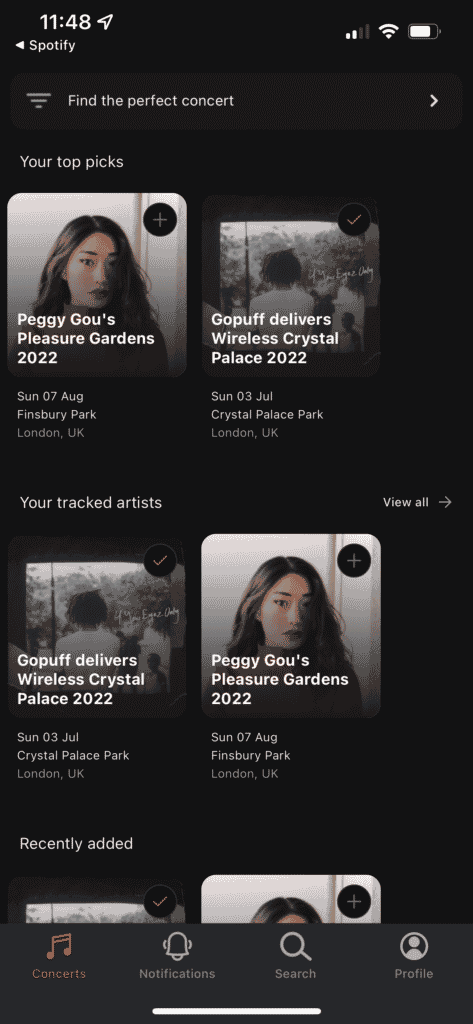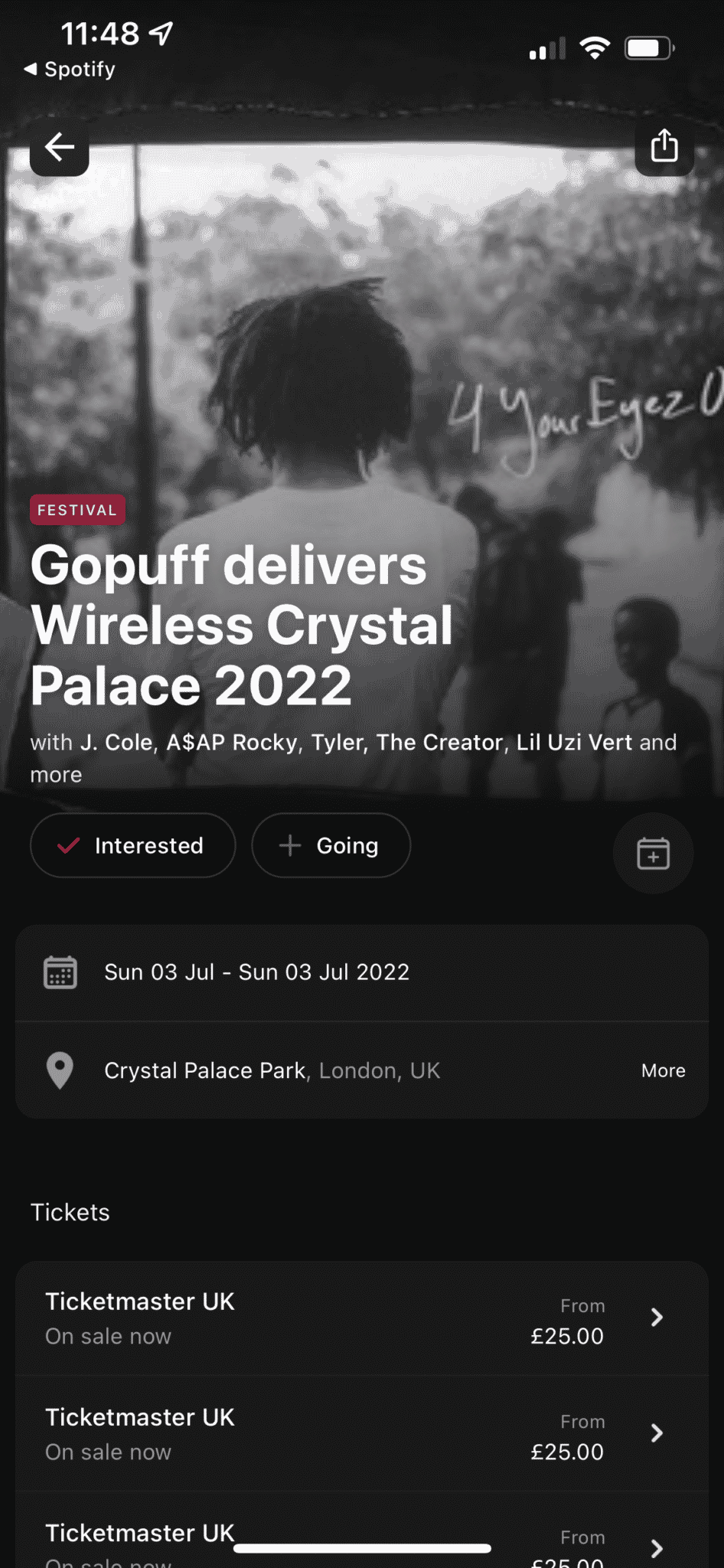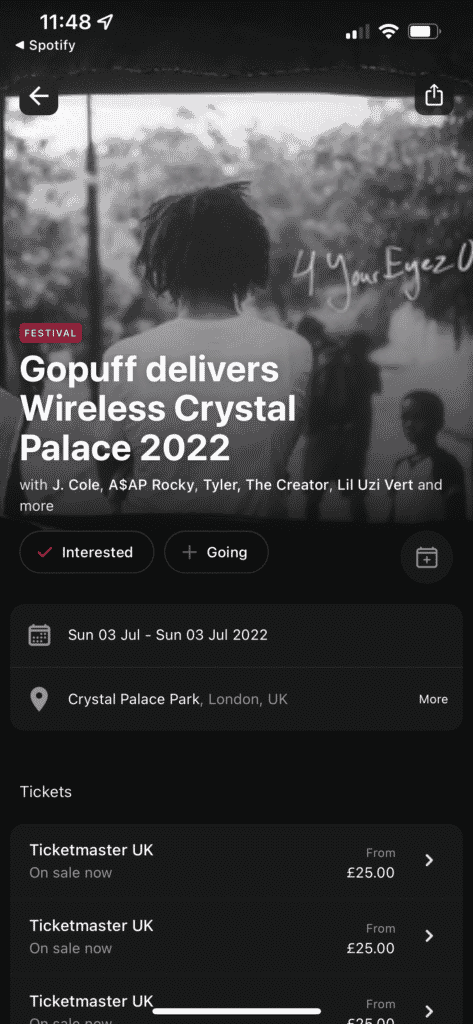 While Songkick revolves around a home menu that's ranking festivals on a "what's hot" concept, Soundclub is all about filtering your choice in the smallest details. Should we also add that the latter features an uber generous inventory of over 2000 festivals?
Music Festival Wizard also has an extensive information inventory for each festival, making sure that its users won't leave their website without any questions unanswered. We go more in depth about those festival finder tools in this article.
Here is a list of the champs when it comes to festival discovery apps: