Everything you need to know about the tropical cocktail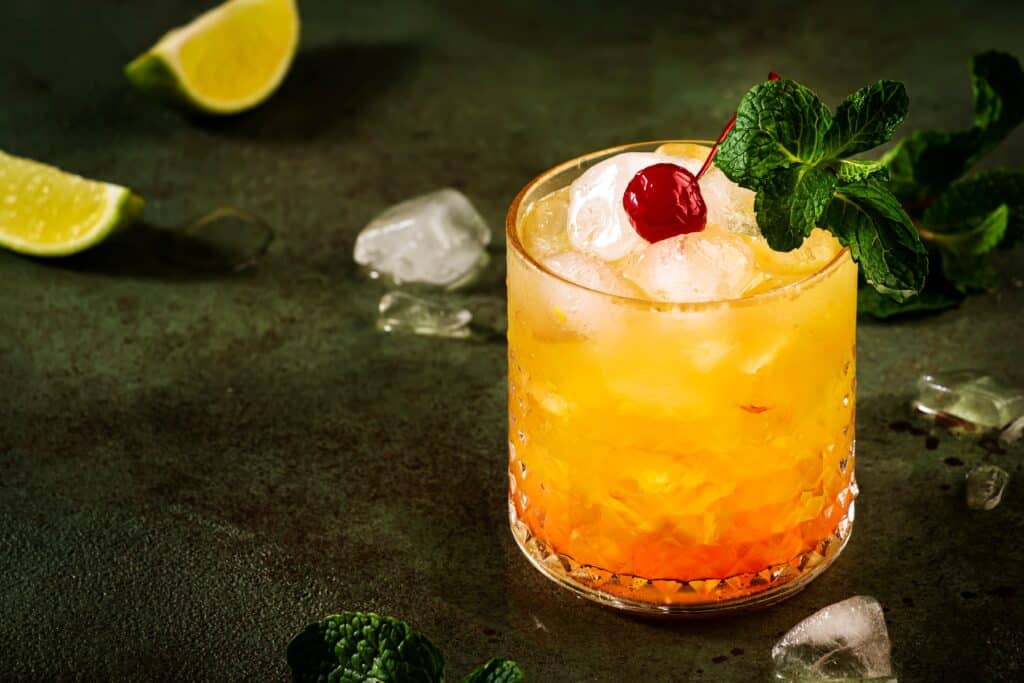 As an emblematic symbol of Tiki culture where it has its origins, Mai Tai is one of the best-liked cocktails around the world.
The cocktail brings out the real essence of rum – its chief alcoholic ingredient – and it is one of the most enjoyable ways to relish alcohol. Mai Tai is the quintessential torch-carrier of how rum combines with fruity ingredients to produce a savory cocktail.
Here's everything you need to know about the exquisite cocktail arising from Oceania's tropical regions.
History
Victor Bergeron, the founder of Trader Vic's bar is credited with the invention of the Mai Tai cocktail in 1944. A seasoned creator of original cocktails, Bergeron was thirsty for a new cocktail where rum plays the main role.
He took a 17-year old bottle of J Wray & Nephew from Jamaica and infused it with the citrus taste of lime juice and orange curaçao. He offered the drink to a couple of friends, one of whom responded, "Mai tai roa ae", which in Tahitian means "the best". And that is how Bergeron decided to christen the concoction as well.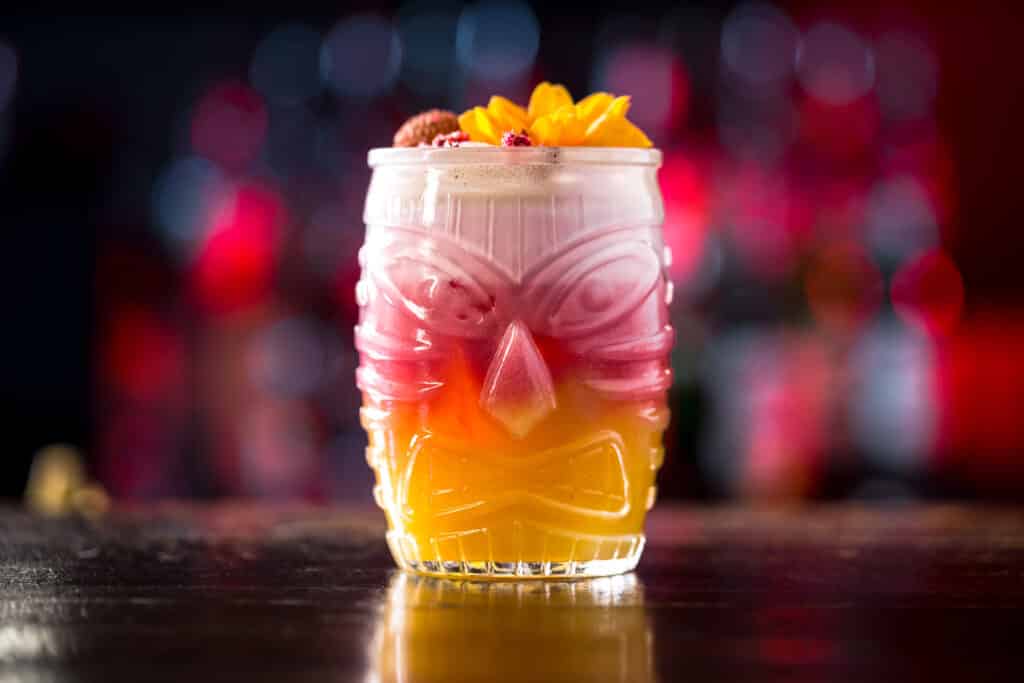 However, connoisseurs argue that the brainchild behind the drink is Donn Beach, who may have created Mai Tai at his bar in the 1930s. But the cocktail as we know it today is attributed to Bergeron.
Hall of Fame
While Victor Bergeron was busy spreading the word about his signature cocktail, Mai Tai's recognition skyrocketed after its profuse appearance on Elvis Presley's iconic film, Blue Hawaii.
Mai Tai's fame has been so phenomenal that its catchy name has been a source of major inspiration worldwide.
The all-women Dutch band 'Mai Tai', who were popular in the 1980s, chose to name themselves after the prominent cocktail. And so did the French orchestra band Mai Tai Orchestra.
The name also features in the Garfield comics, where it is the name of a female cat that Garfield befriends in Garfield in Paradise, a television special aired on CBS in 1986.
What's in it
The Mai Tai cocktail is a rum-forward drink, complemented by the pleasant flavors of luscious fruits, syrups, and mint.
Here's what goes into the drink:
How it's served
Mai Tai is mostly served in a highball or Collins glass of 300-410ml. The drink is shaken and poured over crushed ice – ice is non-negotiable. While the Maraschino cherry and pineapple wedge are the renowned and common choices of garnish, a lime wheel and mint leaf give it a classic look.
Variants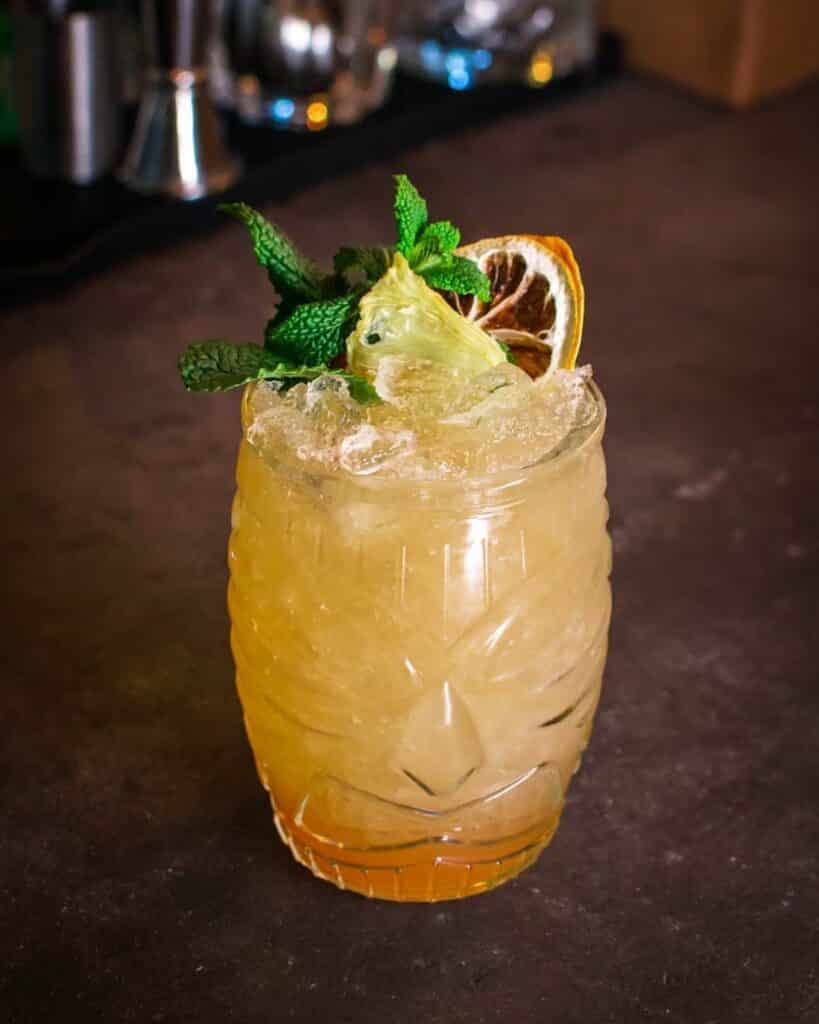 The best things in this life are custom-made to your flavor and taste – this is why many people add their unique touch to Mai Tai. Whether it is experimenting with an array of fresh fruits or substituting syrups, there are numerous ways of recreating this cocktail.
Mango Mai Tai – mango lovers, this one's for you. For those who like the classic Mai Tai sweeter, just add a juicy and ripe mango.
Murderous Mai Tai is not for the faint-hearted! Made with Sailor Jerry's Rum and grenadine that gives it a gory appearance, this adaptation is your perfect go-to Halloween cocktail.
Sunset Mai Tai is, as the name suggests, a visual beauty with the glorious gradation of the dusk colors. Grenadine and Triple Sec come together for the aesthetically pleasing treat, while Angostura Bitters add a tangy punch.
Do it yourself
Want to make Mai Tai at home? Being a complex cocktail, you may not always have the ingredients of the classic Mai Tai at your fingertips. But if you'd describe yourself as an explorer, you may be rebellious enough to try out different flavors.
Make sure to include the basic ingredients: white rum, orange juice, lime juice, and Orgeat. Add your own preferred flavors like pineapple or mango juice. Combine all the ingredients in a cocktail shaker or mason jar. Shake vigorously and pour over a glass brimming with ice.
Drizzle a shot of dark rum on top for added oomph. Make it pretty with a lime wedge.
Mai Tai is one of the all-time popular cocktails across the world, thanks to its status as a go-to refreshing summer drink. It is an essential item in Tiki-themed bars and restaurants – just a hint for those who don't know where to go for a savory boozy drink.
The cocktail that was claimed to be responsible for diminishing rum supplies in the 1940s and 1950s, Mai Tai has come a long way in its evolution. It is such an iconic drink that it has a place on the list of official cocktails, under the International Bartenders Association.
What would you expect more from the cocktail that embodies a tropical revolution?