London, UK
Club / Indoor / S – 500-2k
City
Electronic
$$
Casual
Casual
Fabric is an iconic staple in London's electronic dance culture.
With its inception in 1999 by Keith Riley and Cameron Leslie, the Farringdon-based nightclub has forged a legacy as one of the most renowned nightspots in London.
Fabric London is a club like no other, with three distinct rooms that form an intricate layout. As soon as you step into the dimly-lit spaces and bask in the underground soundscape, you'll be taken to another world of awe and wonder.
Step back in time as you make your way to the London nightclub while visiting Farringdon, a historic neighborhood tucked away in central London. The bustling market has been there since Medieval days and is certainly worth checking out before dancing the night away.
Fabric has an undeniable impact on the underground music scene of the city by primarily playing electronic sets. Get ready to be enthralled all weekend long as the underground nightclub hosts both local and international DJs.
Break out of the box and let yourself go at Fabric London, where clubbers are young electronic aficionados looking for the 'it' clubbing experience.
Discover the quintessential Berlin nightlife experience in metropolitan London inside Fabric nightclub.
Here is everything you need to know about Fabric London.
The club first opened its doors in 1999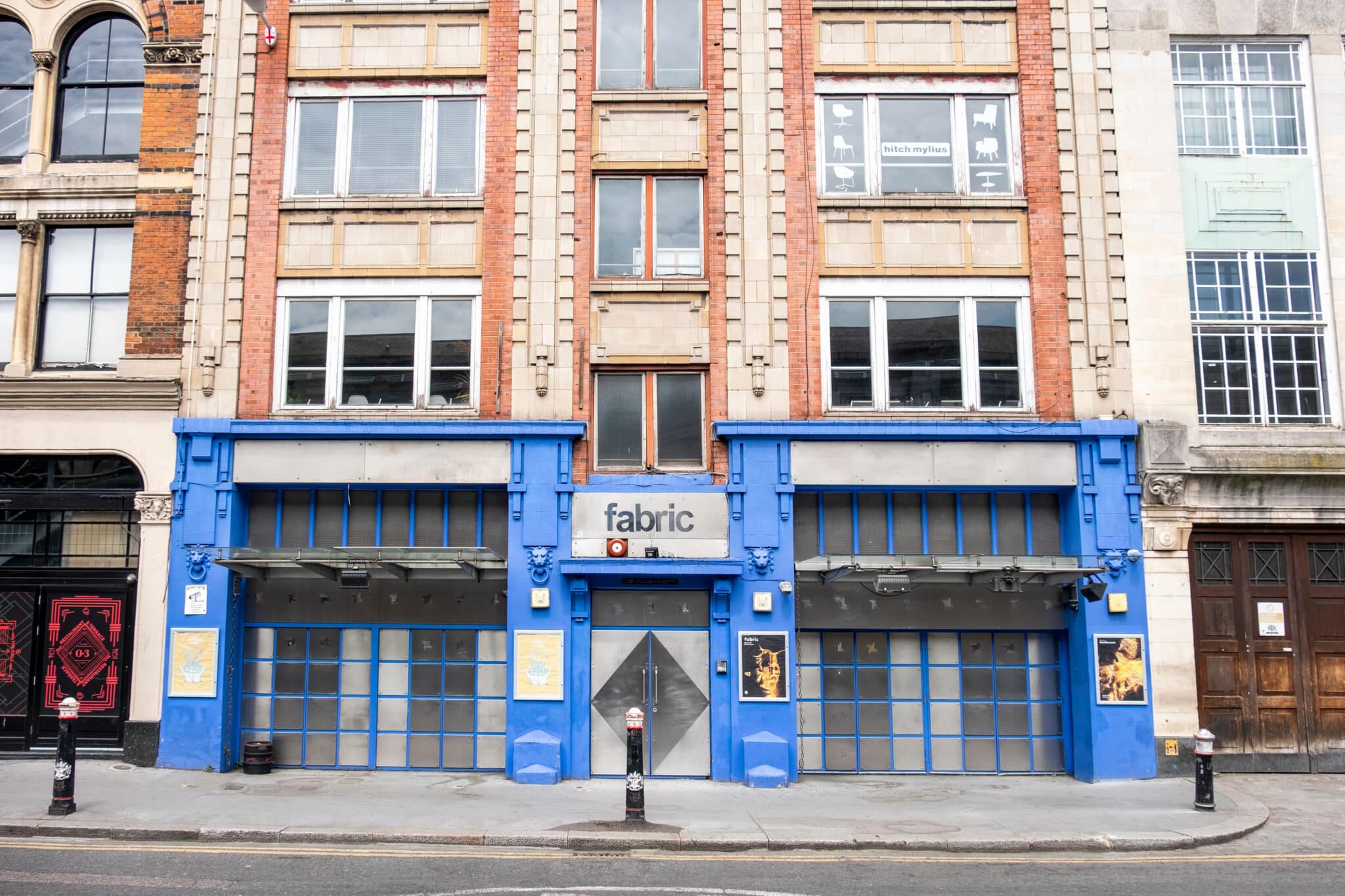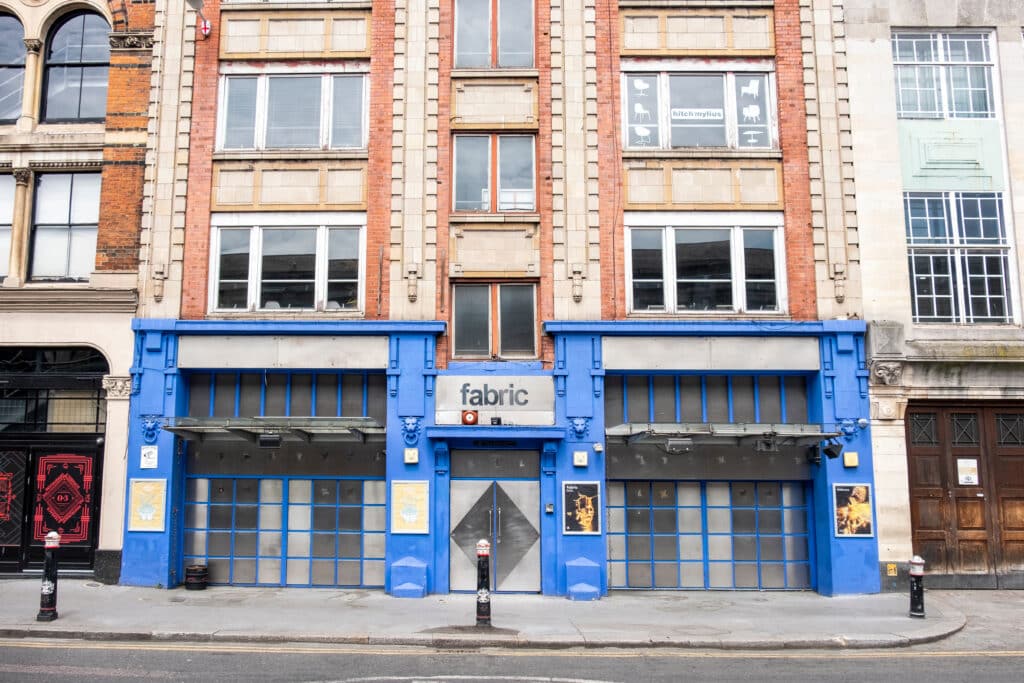 Picturing the British clubland without its EDM-soaked gem is easier said than done.
But before 1999, electronic aficionados had to party without Fabric's bullet-hard techno beats and maze-like interiors.
During the roaring 90s, tacky house music was the capital's anthem.
In a bid to bring unsung DJs, raw techno aficionados and pure ravists on the same dancefloor, Keith Riley and Cameron Leslie opened their own club as an underground, alternative project going against the mainstream wave.
Fabric paved the way for the underground clubbing scene in London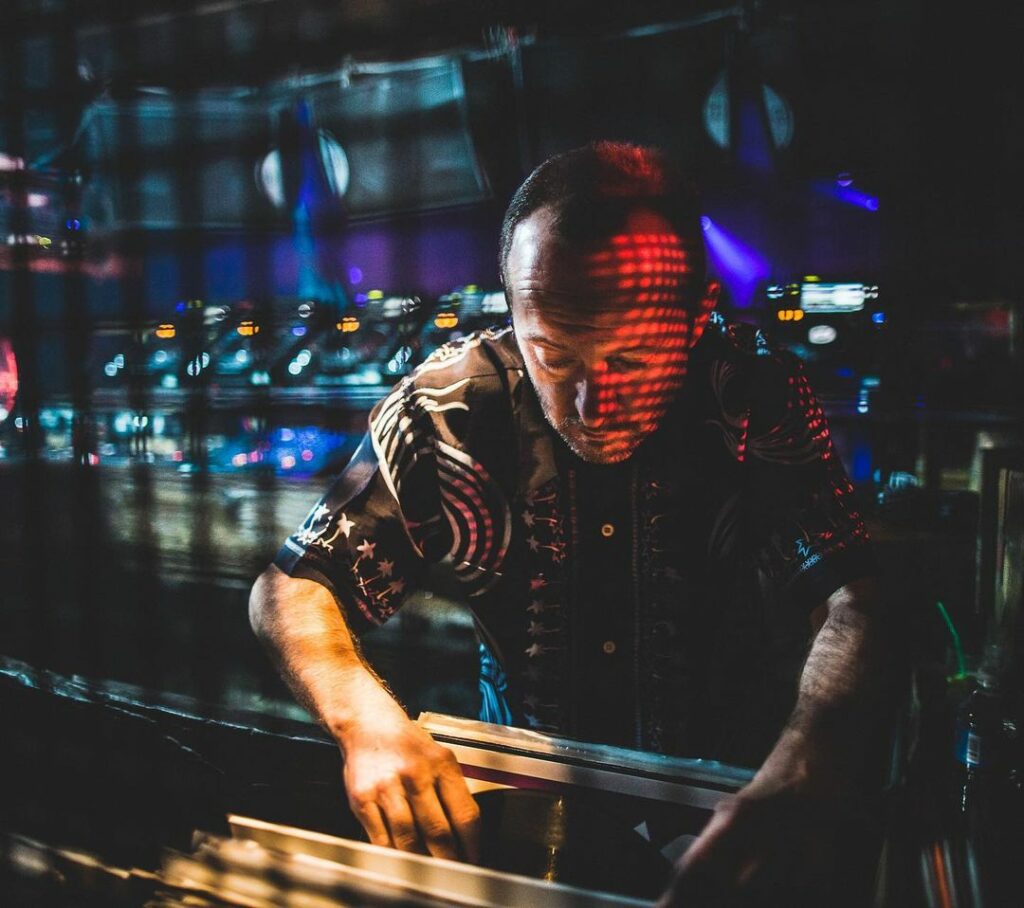 Music director and resident Fabric DJ Craig Richards said in an interview that Fabric was a trailblazer of London's underground sound.
Back when it first opened its doors, there was no other nightlife institution that shared Fabric's hedonistic zeitgeist and eternal love for raw techno.
Following the sheep doesn't always translate into fierce success – and Fabric's story is living proof. Instead of opting for A-list DJ names (just like most clubs did), this music temple paved the way for under-appreciated sounds.
Fabric has been voted the number one club in the world multiple times
Fabric London made its way to the number one place in Top Clubs Poll back in 2006 and reclaimed the crown in 2008.
But this bad boy didn't stop there – it made a comeback for the second place on the list in 2009, 2010, and 2017.
Glorious grand slams are a common recurrence thanks to the management's constant determination to steer clear of cash-grabbing strategies.
Instead, Fabric puts clubbers on a pedestal and treats them accordingly – it's more about the experience than the big bucks.
The clubbing mecca has three rooms – and one of them features a bodysonic floor
There's a reason clubbers never get bored of Fabric's sound. The nightclub has three separate rooms, each with its own independent sounds.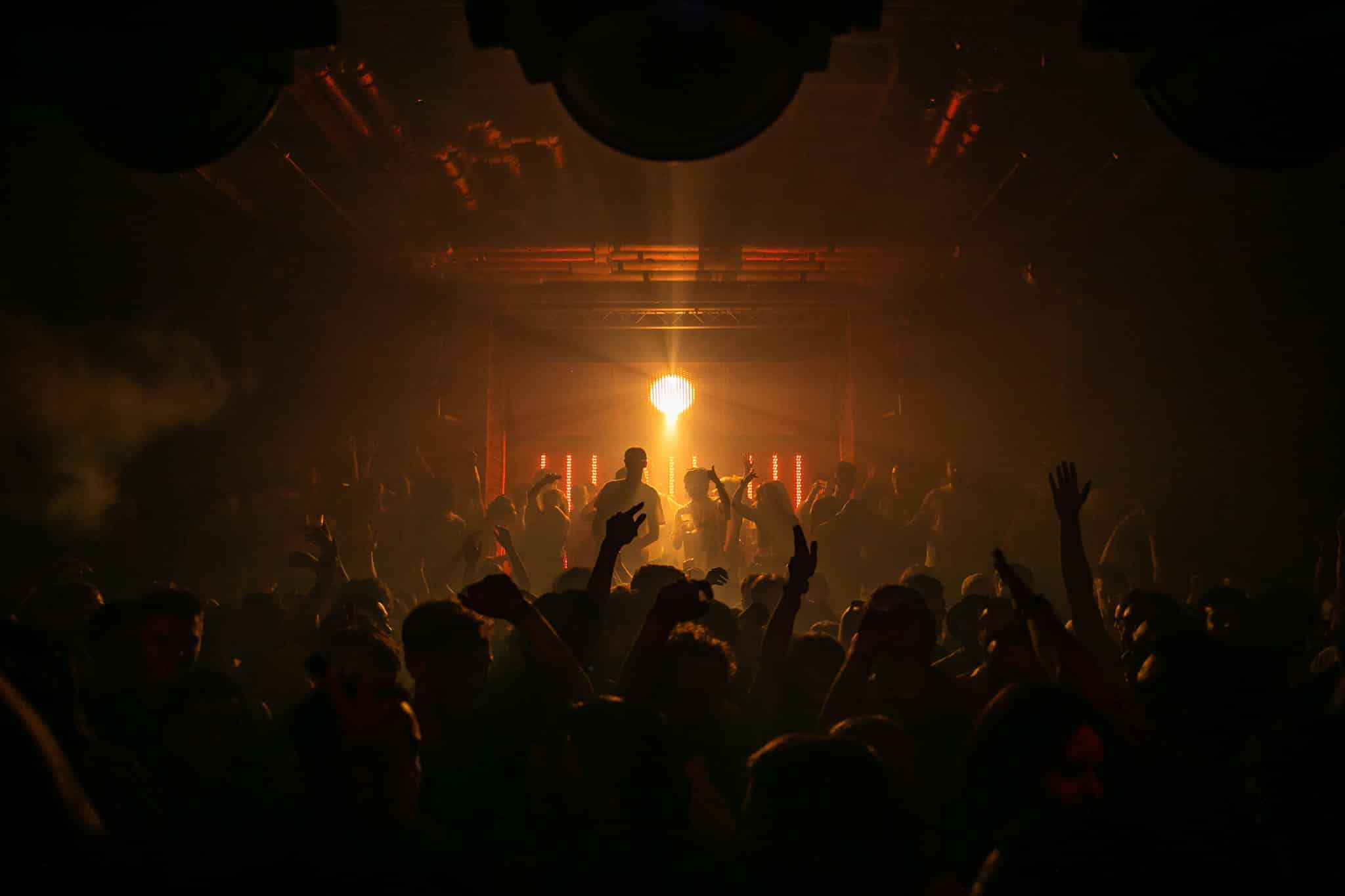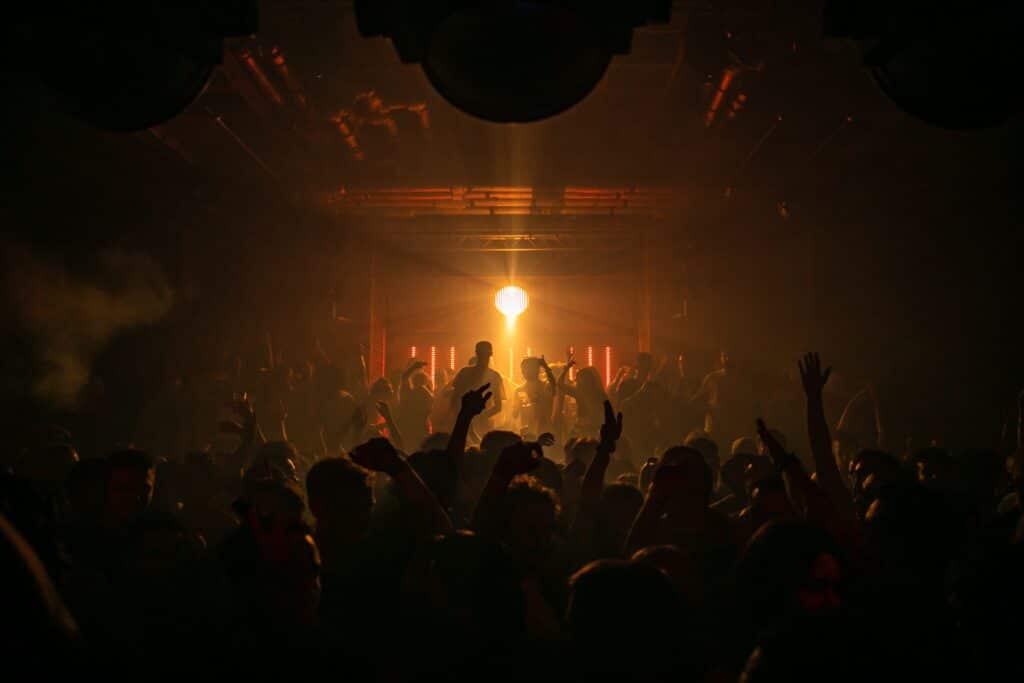 Two rooms feature stages for live performances, while the main room showcases a spacious dancefloor and a cavernous DJ booth.
But it gets deeper than that – the main room is known for its 'bodysonic' dancefloor. In other words, the floor features a bass-loaded system with over 450 speakers.
Yes, you got that right. The floor will vibrate like crazy and the bass frequencies will electrify everything – the back of your spine is first on the list.
Fabric London doesn't reflect tomorrow's DJing realm – it shapes it
Trends, micro-genres and major league DJs come and go – but Fabric is forever.
Chasing big-name artists has always been a no-go for this clubbing mecca. Over the years, Fabric's management focused on creating talent rather than hunting it.
Fabric always focused on the dark, minimal and scratchy side of electronic music by showing magnetic confidence in what they considered to be good music.
Naturally, the club became a pro at curating the best in sounds, talents and mixing skills.
After being shut down for five months, Fabric finally made its comeback
Back in 2016, Fabric's ascension line curled up in a question mark. In the aftermath of two drug-related deaths on the club's dancefloor, Islington Council revoked its license.
Fabric's closure coincided with a long chain of relentless attacks on London's club culture. Clubbers, music devotees and noteworthy faces from the nightlife industry couldn't keep their mouths shut anymore.
In no time, campaigns launched across the UK to rescue the beloved techno institution.
A change.org petition to halt the closure reached almost 160,000 signatures, while influential figures such as Night Time Industries Association's chairman Alan Miller vowed his support to help Fabric with a grassroots fund.
The #savefabric was a public cry out in London's electronic community. Shared and created by the clubbing mecca itself, this crusade convinced Fabric's devotees their voices matter.
And they did. Five months after announcing its heart-wrenching closure, the club was back in full swing, with a new set of rules, including an over-19s policy, ID scanners, and permanent bans for those caught with drugs.
Fabric London had its mix-CD series
For 17 years, Fabric was also a record label that published some progressive mixes of modern electronic beats.
Their two imprints, fabric and FABRICLIVE, were dedicated to the music played at each of the events. Fabric might not have been the first to launch a mix-CD series. But there isn't any other franchise that left a greater footprint on London's underground culture.
The discography immortalizes the culture of dance music for almost two decades and features names like Carl Craig, Nina Kravitz and Four Tet.
Fabric recently introduced a no-photo policy
In true Berghain nature, Fabric London banned photos and videos from its dancefloor.
The relatively new policy seemed like a bold move for the British capital's see-and-be-seen vibe – but it was Fabric's way to make clubbing sessions more carpe diem and less social media.
The nightclub opts for a casual dress code
Although Fabric London is a big-league institution in the capital's underground scene, the club stays loyal to its unfussy roots – and the dress code policy is no exception to that rule.
Instead of enforcing a strict door policy regarding fashion sense – just like the vast majority of London clubs – Fabric goes against the norm.
The clubbing mecca holds an oddly strict policy for outfits – we mean it.
While Fabric has a soft spot for anything and everything that screams casual attire (yes, shorts are included in the list), you will immediately get barred from entry if you're a fan of glow wear, fancy dresses and business attire.
A new series of 24+ hour parties are about to take the stage at Fabric
In the aftermath of multiple national lockdowns and countless months of self-isolation, Fabric knew its crowds would be thirsty for a solid clubbing session.
Mimicking Berlin's non-stop weekend partying, Fabric launched a series of events called Continuum.
These parties would run for more than 24 hours, with doors opening at 11 PM on a Saturday and running until midnight on Monday.
But this isn't the first time Fabric has introduced prolonged partying to its venue.
When the club first opened its doors, this type of event was anything but uncommon. Fabric's creative director Jorge Neito explained how this structure allows more midweight acts to be placed in between the lusted-after headliner.
A timeless piece of deep electro music, London's Fabric is a trailblazer for the city's underground scene. Its pulsating bass throbs and intimately hedonistic aura are your one-way ticket to a transformative clubbing experience.