Everything you need to know about Budapest's multi-genre iconic club
Budapest, Hungary
Club / Indoor & Outdoor / S – 500-2K
City
Hip-Hop, Latin, Rock
$$
Live Music, International
Smart
Instant-Fogas Complex Budapest guarantees you a ruin-bar party experience like no other.
In 2017, Instant and Fogaskert, two well-known ruin bars in Budapest, merged to form a main destination for those looking to make the most out of their night in District VII with a unique party experience.
The cool club, which is distinguished by multipurpose spaces such as restaurants, terraces, and party halls, often attracts a throng of young and old people with diverse musical interests who are ready to indulge in Budapest nightlife.
The club caters to a wide spectrum of preferences by presenting a combination of techno, hip-hop, Latin, and rock music, making Instant-Fogas Complex Budapest a popular party destination for many party lovers.
Aside from the lively multi-genre music that Instant-Fogas Complex is known for, it is also one of the few clubs where the party never ends until the sun rises. Instant-Fogas Complex, which spans 1,200 square meters, is open every day from 6 p.m. to 6 a.m., inviting all nightlife enthusiasts to a sleepless night of dancing till they see the sun.s nightlife.
"I love this place. There are many rooms with different types of music. I chose the biggest stage to dance with friends."

Huynhxuan Linh / Google Reviews
Here is everything you need to know about Instant-Fogas Complex Budapest.
1. When Instant's contract ended, something grand was about to happen
When Instant's lease expired and the landlord decided to open a new hotel instead, Instant and Fogas, two legendary clubs, merged to form one of Budapest's largest and most popular clubs. As each of Instant and Fogas had been an iconic nightlife destination on its own for years, the greatest party complex was introduced to the city after their merger in a huge legendary ruin pub.
2. Instant-Fogas Complex is part of a historic building
Instant-Fogas Complex is based in a ruinous building that dates back to the 1861, which seems to be a plain abandoned property during the day, but transforms into a vibrant space after the sun goes down and the party starts.
3. Instant-Fogas Complex Budapest has something for everyone
It is true that many clubs have several rooms each with a different environment, identity, and music style. But Instant-Fogas Complex has raised the bar featuring seven different dance floors with different music genres and ambiances, ensuring that guests from various backgrounds and interests are brought together under one roof.
Whether you're a fan of electronic music, rock music, latin, or hip-hop,Instant-Fogas Complex guarantees you an enjoyable time.
4. With 18 bars, Instant-Fogas Complex never falls short of boozy options
To make sure the party keeps going until the sun comes up, Instant-Fogas Complex provides you with 18 bars and an extensive beverage menu, making your clubbing experience more enjoyable and unique.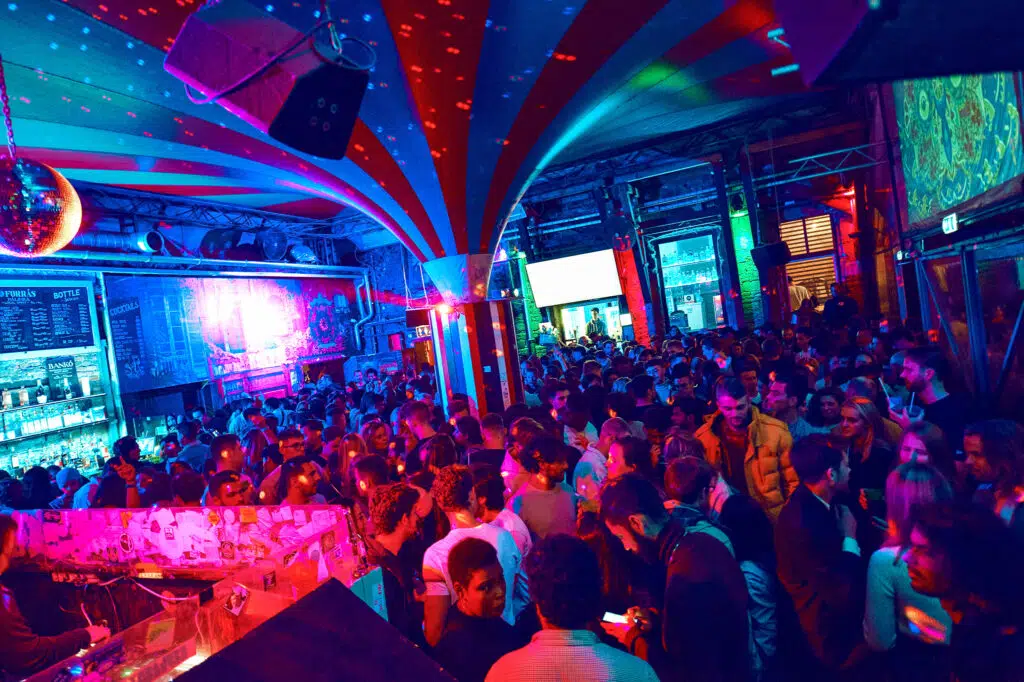 5. The spacious club can accommodate more than 2,000 people at once
Being one of the largest party hubs in Budapest that features seven different music styles to attract people of all interests and tastes, Instant-FogasComplex's capacity exceeds 2000 people partying every night.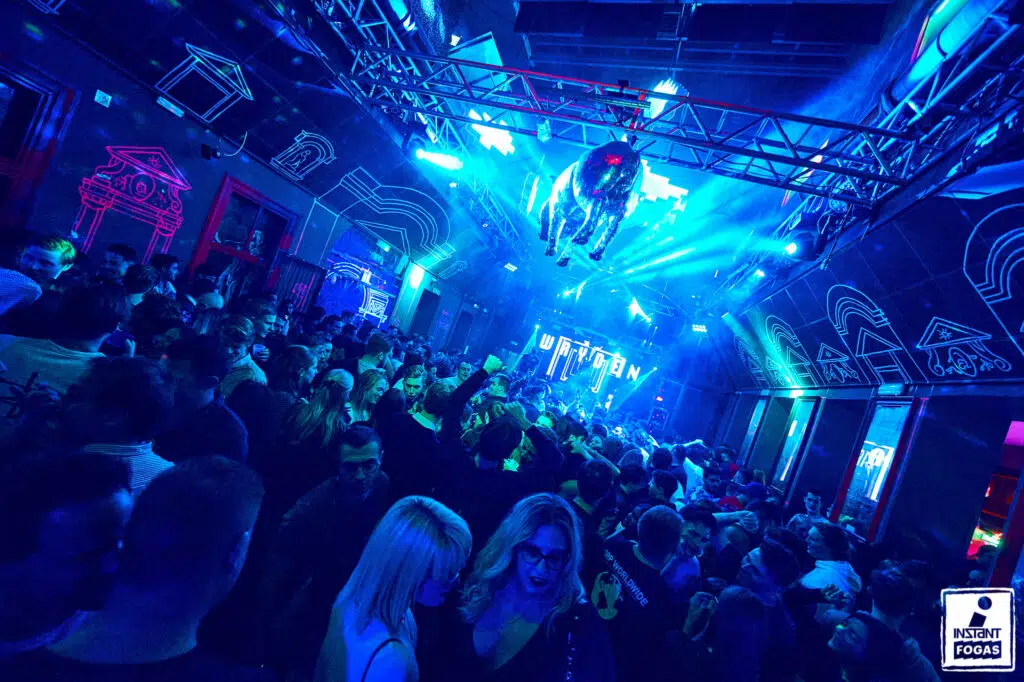 6. Besides partying and dancing, the club is also known for the great food they serve
Hungry guests are always welcome to visit this legendary Budapest club. Making sure their nightclub experience is second to none, Liebling, one of the club's multiple rooms, invites guests to indulge in a selection of delicious snacks and dishes.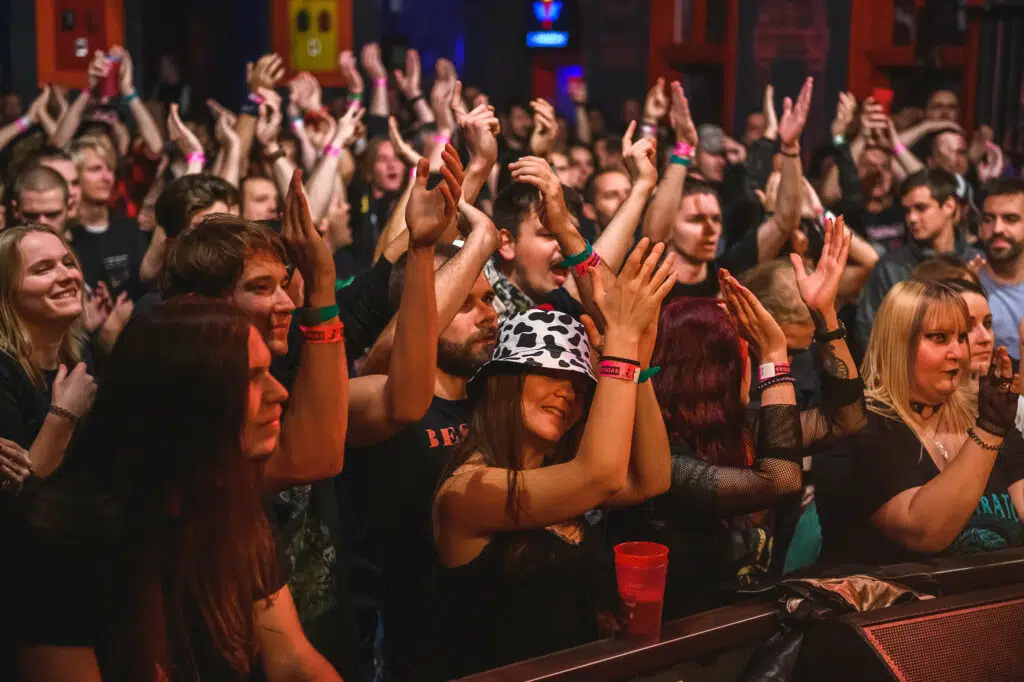 7. Instant-Fogas Complex features private VIP rooms
If you are looking for the ideal place to throw your bachelor party or birthday celebration, look no further!Upstairs, the club has four VIP rooms with exclusive interiors and private bathrooms.
8. Instant-Fogas Complex's interior is nothing short of a masterpiece
At Instant-Fogas Complex, uniqueness lies in the smallest details. Every room has its own unique design as if it is a club on its own. Instant, one of the club's rooms, is well-known for its unique, surrealistic style. Its design was mainly inspired by a cyber like aesthetic which is reflected in thehanging pixel clouds, as well as the floating pigs.
9. A magical garden is the perfect addition to the legendary club
From the moment they step into the club, guests will be amazed by the large homelike garden and terrace where they can get the dose of fresh air they need before partying till dawn.
Instant Fogas is a must-visit Budapest venue that takes partying to the next level. From its surreal decorations to cyberesque aesthetic, the spacious club has definitely made a name for itself.