Everything you need to know about the Budapest's famous multi-genre club
Budapest, Hungary
Club / Indoor & Outdoor / N/A
City
Electronic, Hip-Hop, R&B
$$
Students, VIP
Smart
Morrison's 2 Budapest is the ideal nightlife spot for anyone looking for a great mood, lively music, and above all, an unforgettable experience.
Ever since it was established between the Margareth bridge and Nyugati railway station, Morrison's 2 has become a main go-to destination for party lovers in general, and university students wanting to have the time of their life in particular.
Morrison's 2 features a wide range of musical styles. The cool venue, which has something for everyone, mainly attracts young clubbers yearning to party like never before.
The club differentiates itself as a one-of-a-kind ruin pub offering five dance floors, as well as designated areas for chatting, socializing, and playing games, guaranteeing guests an exceptional time.
"Very friendly staff, comfy atmosphere, perfect for an evening out with friends. It quickly became one of my most regular places in Budapest, highly recommended."

Jonathan Verstraten / Google Reviews
Here is everything you need to know about Morrison's 2 Budapest.
1. Morrison's 2 is the second branch of the famous Morrison's bars
Being a sister club to the famous Morrison's bar franchise, Morrison's 2 guarantees guests an equally exclusive clubbing experience. Those who are looking for a cutting-edge party night will enjoy amazing prices, the best tunes to dance the night away, as well as a pool, and a game room for an outstanding nightlife experience.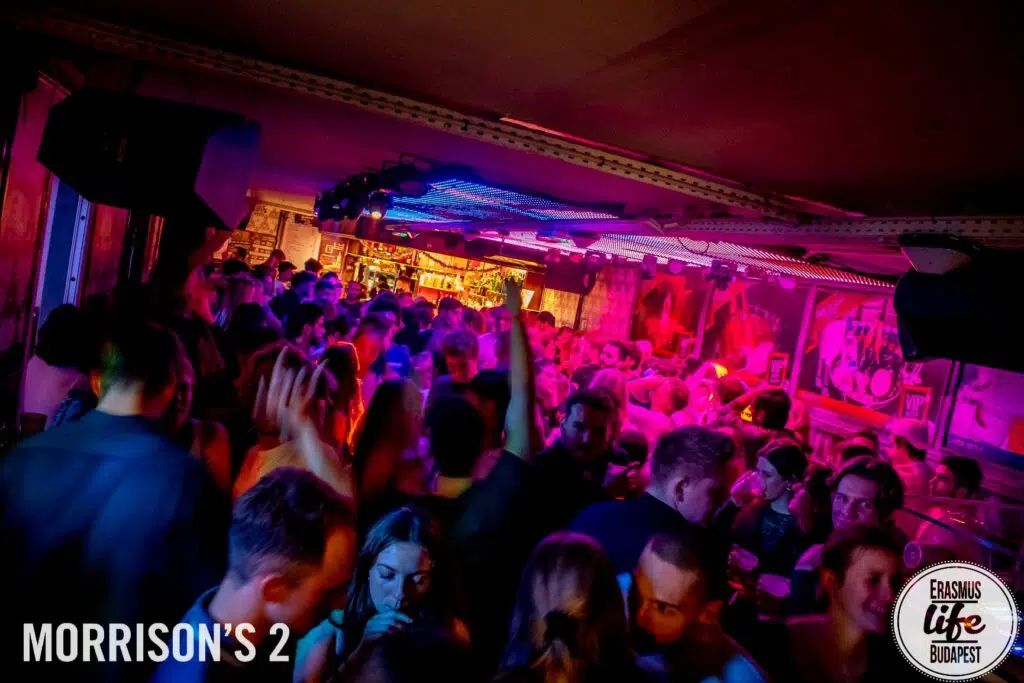 2. The heated garden room is one of Morrison's 2 most unique features
Whether it's a warm summer night, or the wind is howling heavily outside, the indoor heated garden at Morrison's 2 ensures their guests an enjoyable party at any time of the year regardless of the weather outside.
3. Morrison's 2 welcomes guests with no entrance fee
If you arrive before midnight, then you are in luck. Morrison's 2 invites you to enjoy the best party without any charge upon entrance (except on Mondays).
Additionally, the club pampers their guests with daily promotions on beverages, as well as unlimited drinks starting from 2999 HUF (which equals $9.52) to guarantee them a wonderful night of continuous drinking.
4. Table games are available to make the night more exciting and thrilling
Not only does Morrison's 2 host the best bustling parties, but also features a gaming area calling foosball table fans to have their best time with friends and a cocktail in hand.
5. Morrison's 2 is the ideal spot for your private events
If your birthday party is around the corner, Morrison's 2 can be the ultimate venue to host a party that you and your invitees will enjoy and remember. The club provides special venues for all kinds of private and corporate gatherings featuring multi-genre music and several dance floors to to suit everyone's interests.
6. Morrison's 2's happy hour is the best time of the day
At Morrison's 2, a fun night doesn't have to cost you a lot. During the happy hour, the club allows their guests to enjoy the best cocktails and parties for less, which makes it a perfect place for an affordable night out in the city.
7. Karaoke lovers are promised an exceptionally enjoyable time
Between Morrison's 2's multiple rooms, the club also has a room dedicated to Karaoke evenings every day from Monday to Saturday organized by NoPara Karaoke. The karaoke sessions cater to all tastes with both national and international songs being played.
8. Indulge in a fancy clubbing experience in a premium VIP room
Upgrade your exceptional party night with a VIP package to feel like you're on top of the world for a night. This special bundle offers guests free access to the club without waiting in the queue, along with free use of the cloakroom, a VIP table in your preferred area, VIP special services, one bottle of any VIP drink, and one free refreshing drink all in one package.
9. Morrison's 2 sets some strict dress code policies
Morrison's 2, like most other party spots, has a strict dress code policy for individuals who want to immerse themselves in this mind-blowing experience. Anyone wearing sportswear, dirty clothes, or any other outfit that is considered offensive to others is not allowed to join the party. Guests will need to read the entrance guidelines to prevent any issues at the door.
Ultimately, a night out at Morrison's 2 is definitely not second-best. In fact, the nightclub and bar is a beloved venue where all kinds of parties are hosted, and guests get to indulge in the music, karaoke and happy hours to their hearts' content.