Taipei's nightlife marries neon-lit charm with an unending feast of eclectic libations and late-night culinary adventures.
Starting with Drunk Play's Insta-worthy panoramas and ending with Red Roast Beef Belly Noodles at Taipei Midnight Beef Noodles, this is how you can experience an amazing night out.
Here's your essential guide to Taipei nightlife.
Enjoy a sky-high drinking session at Drunk Play
More than just a watering hole, Drunk Play is a love letter to the city, an architectural wonder, and a gastronomic adventure.
With an all-inclusive approach to nightlife experiences, the boozy sanctuary took over a shopping mall's 11th floor. Not quite lost among the city's soaring skyscrapers, the rooftop bar gives cocktail-loving crowds a grand view of the iconic Taipei 101 building and the permanently buzzing Xinyi District.
Drunk Play doesn't just play with the skyline. It plays with space too. Its two-tiered architecture provides both an indoor retreat and an outdoor haven.
The seating arrangements are as eclectic as the place itself – comfy lounge booths for those seeking a cozy corner, sleek bar tables for those who like to keep it classy, and quirky staircase seats for those looking for an unusual vantage point.
Gastronomes can delight in the array of bistro-style dishes that blend traditional Taiwanese ingredients with international flair.
Open from the afternoon until late at night, Drunk Play fits your schedule, whether you're in for a laid-back sunset session or a vibrant, energy-filled evening.
Ready, steady, pose at the iconic Taipei 101 Building
Once the tallest skyscraper in the world (until dethroned by Burj Khalifa), Taipei 101 continues to swagger in the sky with a design that not only basks in modern aesthetics but also pays tribute to traditional Asian art.
Its cyan-blue tint glass curtain walls paint a modern facade that contrasts brilliantly with the antique-ness of its form. This play of past and future adds edginess to your social media feed, conveying both cultured connoisseurship and stylish urbanity.
Jam and jive at Holiday KTV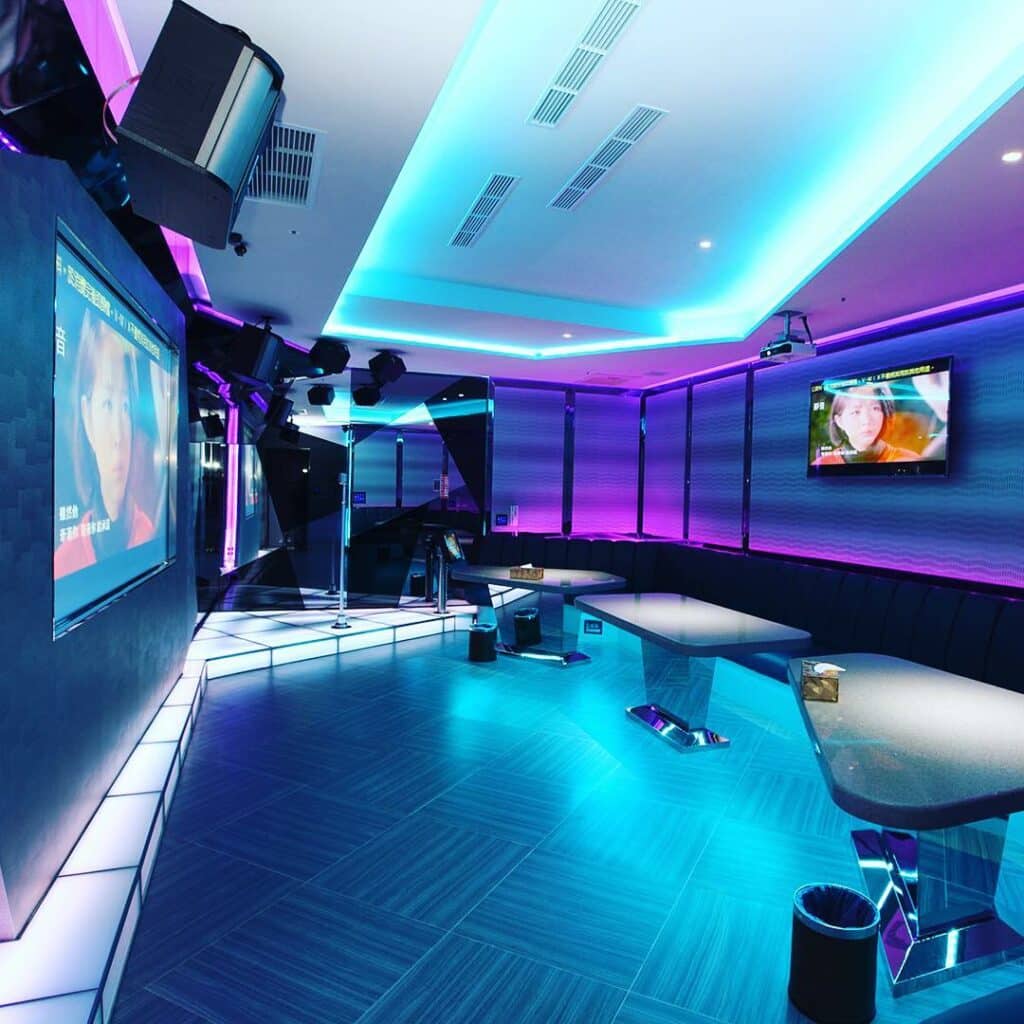 For the uninitiated, karaoke is to Taipei what the pub is to London – an integral, indispensable, and unmissable nightlife player.
A casual observer might mistake KTV for a place where off-pitch renditions of classic pop songs echo off mirrored walls.
Often referred to as Taipei's most successful karaoke franchise, KTV is the ultimate social mixing pot – it's about connection, camaraderie, and the joy of performing with your nearest and dearest.
Featuring dozens of rooms – from intimate spaces for bashful groups to cavernous halls for your entire office team – the Taipei nightlife experience doesn't kid around when it comes to music.
With a staggering 250,000 songs spanning multiple languages and genres, your biggest challenge is picking the new track.
Discover Ximending's hidden gems
Reminiscent of Japan's Shinjuku, the neon-lit Ximending is a mecca for youth. By day, Ximending is an urban canvas for Taiwan's youth, a stage for the trendy and avant-garde. As night falls, this cultural chameleon changes its hues, lighting up the Wanhua District with an irresistible charm.
Here's a neighborhood with a story to tell. Its roots can be traced to the era of Japanese rule when it was anointed as a recreation district. Today, Ximending keeps its history alive while dynamically evolving.
In the mix of architectural styles, from Japanese-era structures to modern high-rises, we see a district that cherishes its past even as it playfully engages with the present.
Take a jaunt down Tatton Street, where each boutique is a capsule of fashion's bleeding edge. Swing by Wannian Plaza and you'll need help to tell where reality ends and cosplay begins.
First up on our itinerary is Studio 9. As the club that creates a fuss-free atmosphere away from Taipei's upscale clubbing, the party hub serves minimal techno for breakfast, lunch, and dinner.
Then it's time to take the edge off at Wishy Lounge Bar, where cocktails are the starring act. Each creation is a piece of liquid art, a sensory experience that sparks joy in your soul.
Sip on the Jun Xiong at Hanko 60
A cocktail with more character and punch than a B-list horror movie, Jun Xiong is a drink that's been turning heads – and not just because it's named after a cinematic persona that has you checking under your bed at night.
The Jun Xiong cocktail might not have fangs, but it does bite with an exquisite blend of vodka and bittern – the Campari steps in like an eccentric uncle with citrusy banter.
Then, the orange peel wine sashays in, adding a fruity zing with a brass band's subtlety. And just when you think the show is over, the gentian herbal wine saunters in, wrapping the whole affair in a warm, earthy hug.
Tucked away behind a retro-cinema facade, Hanko 60 isn't your typical watering hole. The speakeasy feels like a Taiwanese cinema from a bygone era, sprinkled with a dash of playful minimalism.
Hanko 60 is not just about theatrics – it's about pushing boundaries, blurring lines, and rewriting the rules of mixology. With a menu inspired by movies, the cocktail bar serves libations like the vodka-based True Blood.
Blow off some steam at OMNI
At OMNI, parties aren't just weekend events – they're grand, pulsating, psychedelic sagas.
The minute you step inside one of Taipei's most coveted nightlife spots, you're thrust into an ecstasy of pulsating rhythms, bathed in LED lights rows. This is where EDM gods like Dash Berlin hold court, spinning infectious beats that could make a statue bust a move.
Finish off your night with Red Roast Beef Belly Noodles at Taipei Midnight Beef Noodles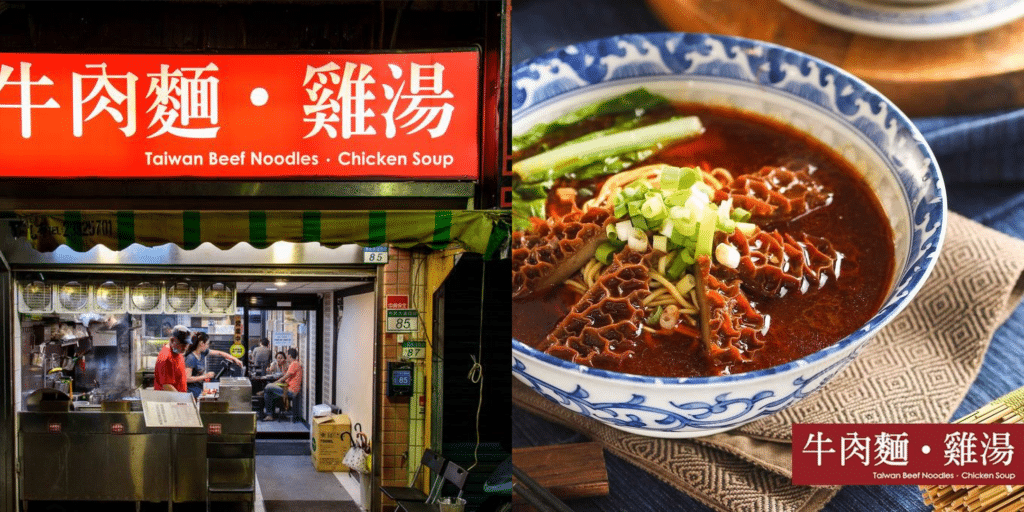 Don't mistake this dish for just a bowl of noodles – it's Taipei's tipsy secret weapon. It's a gastronomical three-pointer, scoring high on taste, satiety, and pure, unadulterated comfort.
The zesty broth works like a well-written plot twist, kicking your alcohol-buzzed metabolism into gear, while the noodles serve up a carb-induced euphoria. Meanwhile, the beef belly does a protein-packed pirouette on your palate.
Now, to the culinary maestro behind this mouthwatering masterpiece: Taipei Midnight Beef Noodles. This is where simplicity and flavor lock horns in an epic battle, and simplicity emerges victorious.