It's your average nightclub, minus the blaring noise
Ever felt frustrated at the club instead of enjoying it? The loudness (which sometimes is more noise than music), not being able to hear the hottie you just managed to draw over, pretending to revel in the track you really have no interest in.
Nodding? It's time to head over to a silent disco.
What is a silent disco?
A silent disco party embodies your typical nightclub scene. While dance moves and bumpy beats are part of the package, one would expect the music to blast through the clubbing mecca's speakers. But with silent discos, the club's music repertoire is broadcasted over radio frequencies and connected to wireless headphones.
Generally, three DJs belt out their tracks ranging from hip-hop and R&B to dance hits and classic throwbacks – but you are the one who is really spinning the decks.
The DJs are assigned different coloured lights according to their genres – hello technology, the headphones light up when you select their music. If you take your headphones off, your surroundings are so quiet you could hear a pin drop.
When did the silent disco parties craze kick-off?
Though the contemporary silent disco phenomenon has grown out of music festivals and club scenes, its earliest reference goes back to 1967. It occurred in the Japanese Manga series Astroboy's fiction story The Summer of 1993 when the main character attends a party where everyone is wearing headphones.
The concept was first put into practice in the 1990s when nature activists wore headphones while partying outdoors to reduce noise pollution.
It was in 1994 that it was adopted by a major league name in the music industry – Glastonbury Festival. A giant screen was set up next to the main stage where the World Cup was projected. Visitors were handed out headphone sets so they could listen to the on-site radio station.
BBC Live Music held a silent gig in 2000, where visitors listened to the band Rocketgolsdstar and other DJs through headphones.
Artist Meg Duguid hosted a silent dance party Dance With Me… at Chicago's Museum of Contemporary Art in 2002, where she recreated a club set-up with a DJ outdoors. The music was transmitted through the wireless headphones the crowd wore. It can be labeled as a crowd-pleaser since it was repeated the following two years.
The silent disco concept bled into the mainstream in 2005 when Bonnaroo Music Festival started getting advertised. Fast forward to today, those silent events were such a roaring success that Bonnaroo still organizes them yearly.
Your beat – the way you want, wherever you want
Seeing your headset light makes DJs step up their music. It also gives you an indication of the popular mood at the venue. Can one imagine a better icebreaker than this? A quick peek at your surroundings will give you a glimpse of who is in the same music genre as you.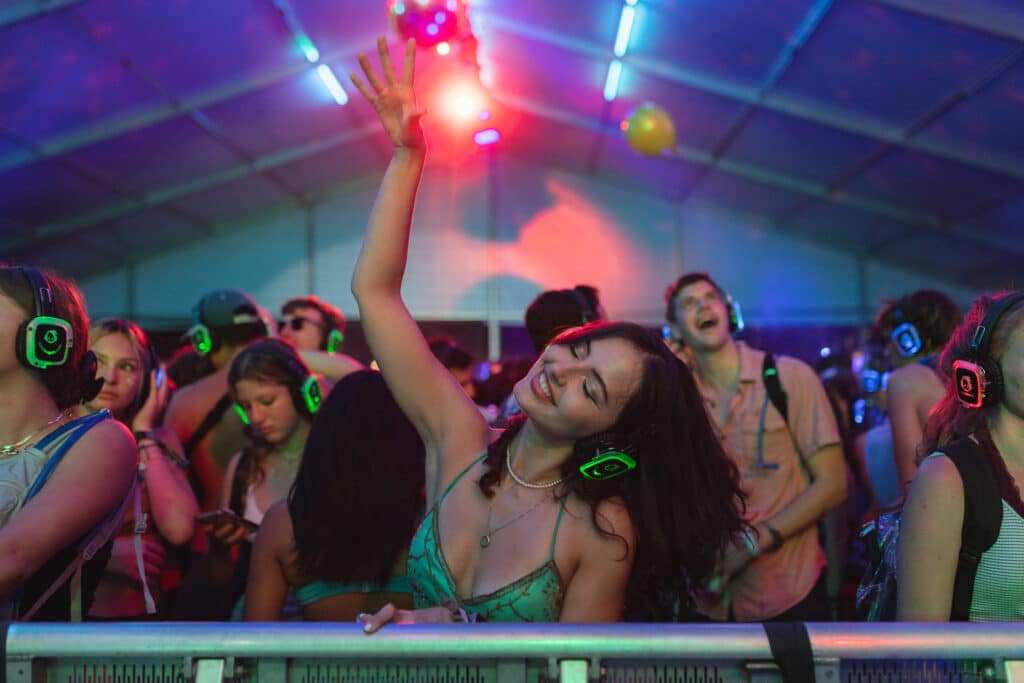 But silent discos are much more than social speed dating where the DJ in charge is the person in the mirror – you also get to control the decibel levels.
Not only does this feature protect you from the heart-wrenching effects that tag along with hearing damage, but you can have a conversation with someone without switching off the music.
The best part about silent discos is that due to their noise-free nature, they can be held in all sorts of venues, not just your average nightclub. Rooftops, parking lots, outdoors, metro train – you can create your own jam session without bothering others.
The demand has spurred the birth of companies that publicly and privately organize silent parties.
They hold headphone parties in commercial spaces, as well as walking dance parties where you can go on a guided tour of a section of a city, dancing your way through to the rhythms of your chosen tracks.
The focus is on having fun as a group while indulging in fun activities such as flash mobs.
Such businesses also rent out silent party home kits, which include LED wireless headphones, radio transmitters and audio cables.
A vibe of its own
For an outsider, what looks like a crazed bunch gyrating for no reason is a silent party that can get you hooked once you experience it. Without a doubt, it's the best bet for clubs and house parties to go on till late at night after the noise curfews come on.
These silent parties lend such immersive experiences that clubs report most party-goers are completely absorbed in their dancing and drink less.
You will also find these parties free of drugs as it is pure fun that fuels them.
City life can get to you with its raucous madness. From blaring horns in the traffic and clamour of public transport to the roar of construction sites.
Amidst those nerve-wracking sounds, having the opportunity to drown yourself in music that you like and listen to it in the personalized way you want may be just the relief you need.