10 of the greatest talents who fell victim to the infamous club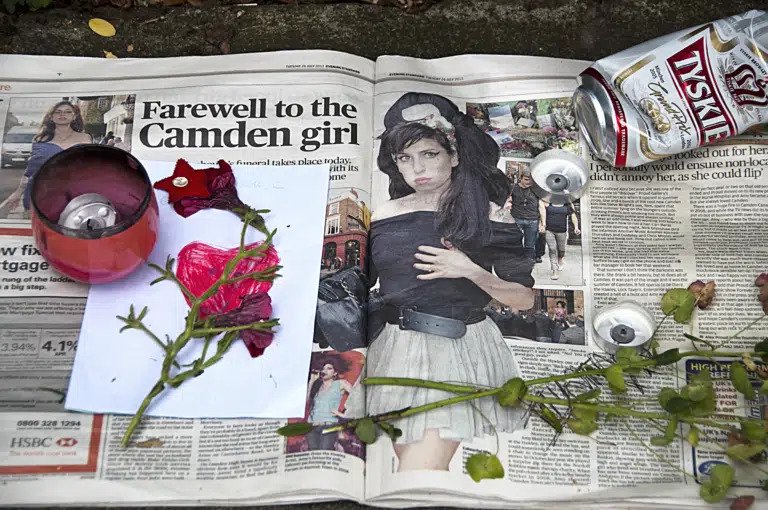 The '27 club' is a tragic testimony to the music industry's obsession with living fast and dying young.
A decade on from the shocking death of British jazz singer, Amy Winehouse, we remember ten of the greatest musical talents who were taken too soon.
The circumstances surrounding his death also garnered him attention post-mortem. The singer's death certificate doesn't list a cause, but oral storytelling sources say that a poisoned whisky bottle given to him by the husband of a woman he spoke to in a bar could have been the culprit.
A construction worker, Frank Thorogood, was rumoured to have killed him in a dispute over money. Even former band members – Mick Jagger in particular – have been burdened with the guilt of aiding Jones's deterioration.
In an interview in 1995, Jagger said that although he didn't feel guilty about Jones's death, he 'wasn't understanding enough about his drug addiction'.
In the wake of Brian Jones's death, Hendrix dedicated a song to him on US television as a tribute. Tragically, Hendrix himself died just months later in an incident that was also linked to drug abuse. The rocker died of asphyxiation after taking 18 times the recommended dose of sleeping tablets.
The singer's death was attributed to an accidental heroin overdose.
Reportedly, various other drug-users who had bought heroin from the same dealer died of an overdose during the weekend of her death, fuelling suspicions that the drugs Joplin bought were much stronger than usual.
All six of the albums the group released had huge sales and critical acclaim.
The singer was found dead in a bathtub at an apartment in Paris rented for him by his girlfriend. The cause of death listed was 'heart failure', though witnesses claim it was brought on by an accidental heroin overdose.
His songs also contained outspoken challenges to the homophobia, racism, sexism, and alienation of contemporary youth culture that he perceived in society.
Cobain's death by suicide attracted heaps of media attention and conspiracy theories linking his wife, Courtney Love, to the incident.
But the singer's cousin revealed that his struggles with depression and substance abuse were symptomatic of similar issues in his wider family, making his death by suicide tragically plausible.
The musician was officially pronounced dead 'in absentia' in 2008, though he went missing near a common suicide spot thirteen years prior, aged 27.
Since his body was never recovered, Edwards's sister has since suggested that the star might have faked his own death. But her story remains unconfirmed.
Their 'Gangsta Rap' brand of music reflected on the struggles of growing up in poor, disadvantaged areas where gang violence was often the only route out for young black Americans.
Like 2Pac – who Stretch famously had bad blood with – Walker himself was fatally shot in mysterious circumstances. Some speculate a dispute over stolen cocaine was the cause, though it remains unconfirmed.
Like Cobain, Winehouse had very public substance abuse problems. Her most-played song, Rehab, talks about her reluctance to seek help for them.
The cause of her death was officially listed as 'alcohol poisoning'. The singer's brother, Alex, attributed her demise more to her eating disorder – a condition that he said left her 'weaker and more susceptible' to dying from addiction.
Outside of drag performance, she released two records in 2010 and 2011 – 'Pump with me' and 'Go off', the latter of which peaked at 35 in the US charts.
On TV, the drag star talked openly about her issues with drug abuse, revealing how her Drag Mother had helped her out of addiction. The cause of her death was officially cited as 'heart failure', the circumstances unknown.
If you or someone you know is struggling with any of the issues mentioned in these articles, seek help. These organisations are a good place to start.