Because a party is wherever good vibes and a bass-thumping speaker are
Can we even call a party doozy if the music level didn't shake up the whole neighbourhood? While portable Bluetooth speakers are the ultimate saviour for intimate afterparties and small pre-drinking sessions, party speakers can get the whole room, house or block – depending on the scale of your party – jumping around. In this diversified – and rather tangled – market, it is only natural to ask yourself which are the best party speakers worth buying.
We already know the drill. It needs a top-notch bass, but the price shouldn't be equivalent to hiring a live band. It should feature some gimmicky extras, like vibrant lights that bop along the bumpy beats. Plus, you never know when your party speaker will be the collateral victim of a champagne shower, so it must be waterproof too.
Should we also mention that the party is always on the go, so a party speaker's portability is more of a must than a fickle fad? Anyway, you got the idea. No matter what you want to hear, where to hear, and how loud you want it, here's a rundown of the best Bluetooth party speakers on the market.
Widely considered the crème de la crème of party speakers, the JBL Partybox 710 lives up to its name. With its state-of-the-art sound pressure and jaw-dropping (or should we say ears-dropping?) bass, this JBL speaker is a fool proof party starter.
It features a hypnotic lights show that flicks in perfect sync with the thump low-basses. As if this wasn't enough of a deal, the JBL Partybox also comes with a convenient pair of wheels.
Remember what we said about the party being on the go? It seems like this JBL party speaker received the memo.
Both powerful and versatile, this ION portable speaker is a show stealer. Besides delivering a clear, fat, and bullet-hard sound, this Bluetooth party speaker is the ultimate destination for crisp beats and music complexity.
But its unique selling point doesn't stand in its portable size and visually colorful experience.
We are all way too familiar with the irksome moment when our song drops, we want to turn it up but have no motivation to run towards the speaker.
The ION Power Glow 300 has a mobile app that allows users to play with the sound parameters with a simple control knob.
3. SOUNDBOKS – Gen. 3 $999
This is not your average Bluetooth speaker – this is the mighty party speaker. Good sound quality comes with a price that's far from being on a budget – at least this is what SOUNDBOKS' ultimate party speaker demonstrates.
Tailor-mode for big events, this bad boy is loud enough to shake your neighbours' walls.
We are not exaggerating on that note – the SOUNDBOKS 3 speaker can get incredibly loud. Despite the rather basic trait, this party speaker is worth splurging on due to its distortion-free feature.
No matter how much you turn up the volume, a crisp and clear sound is the only thing that will blare through its grille.
Being the hero of the party is no easy feat – but when you have the Bose S1 Pro system up your sleeve, it's a piece of cake. If your perfect playlist idea translates into the shuffle button, you are in luck.
No matter what music genre you want to blast, this Bose party speaker is well-suited for anything and everything – from raging hip-hop tunes to bumpy electronic beats.
Even though it lacks some low bass, it embodies the definition of a party-friendly speaker. No matter how you position it (horizontally, vertically or tilted back), the Bose S1 Pro system optimizes its sound performance accordingly.
5. Sony – XP700 $499
Big sound for even bigger parties – this was Sony's mantra when they came up with their XP700 Bluetooth speaker.
Battery-powered and always ready to throw in the finest beats, this party speaker made a name for itself by delivering chest-thumping bass and multi-directional sound.
While it is advisable to keep it plugged in whenever you can, Sony's performance isn't toned down if it isn't. Besides its 25 hours of battery life, this party speaker delivers three hours of non-stop music after only 10 minutes of charging.
6. Ultimate Ears – Hyperboom $449
Bassy, bold and with a 360 approach when it comes to sound, this Hyperboom party speaker allows you to take the party anywhere with its compact design.
While this Bluetooth speaker is a pro at handling ear-shatteringly loud volumes and converting them to first-rate audio, it struggles to reproduce the low bass.
But the cherry on top is the graphic EQ and audio preset.
The Hyperboom knows that a party animal's music preferences are subject to change and taps into that. With this feature, you can customize its sounds to your liking.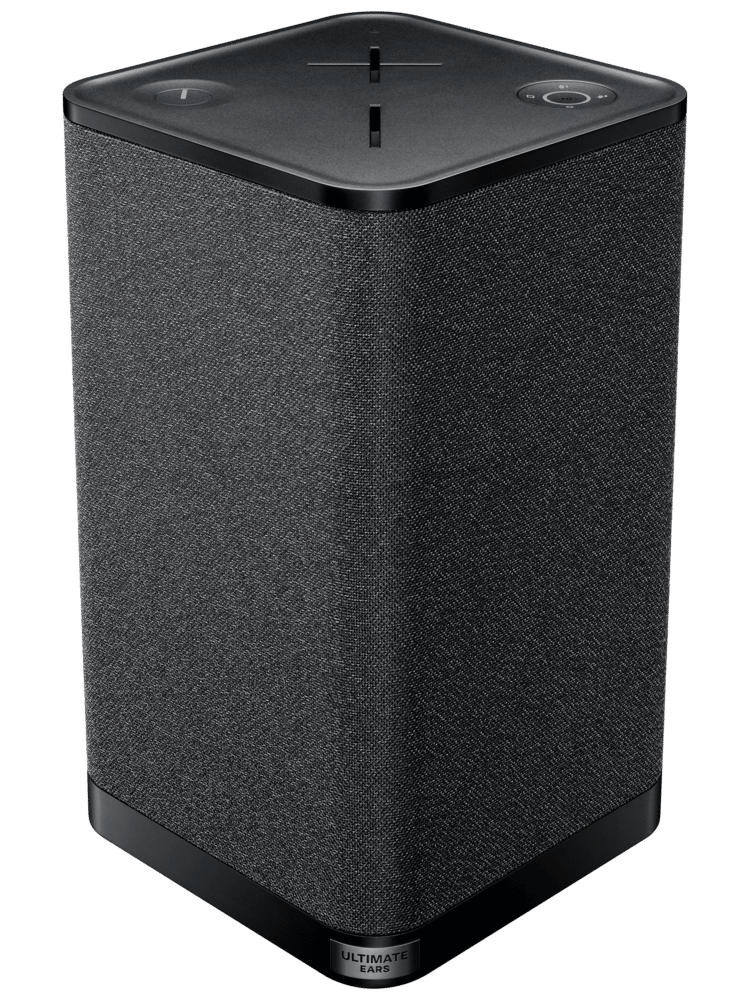 There is even a podcast preset if the party needs some TED talk motivation – you never know.
7. Marshall – Tufton $399
Displaying the iconic guitar amp aesthetic, this Marshall party speaker calls itself "the king of the road."
A quick peek at its 20 hours of portable playtime on a single charge will make anyone understand that it is a fair title.
But there is some bad in the good too. In a bid to maintain its classic – and rather emblematic – silhouette, the Marshall Tufton speaker lacks modern touches, such as buttons to control playback and handle phone calls.
At least this party speaker allows you to connect multiple devices simultaneously.
With its multi-host functionality, the awkward silence occurring whenever you change the bluetooth device will be sepia history.
8. Samsung – MX-T70 $799
1500W of power? Check. Splash-proof? Check. Bi-directional sound? Also check. It seems like this Samsung party speaker embodies the three wishes a music aficionado will ask the Genie for.
Even though the MX-T70 party speaker tries to fight on all fronts, we can't get over its volume limitations.
We all know nothing hurts more than wanting to turn up the volume and realizing it can't get louder than it already is.
Hey, at the end of the day, this Samsung Bluetooth speaker is still an outdoor party staple thanks to its waterproof trait.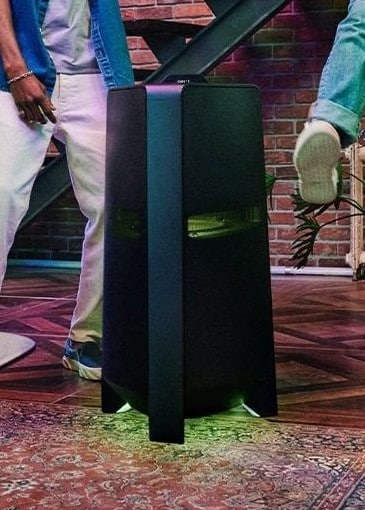 9. Pioneer – Club5 $349
Maybe you're too tired to club on a Friday night. Or maybe you are a seasoned veteran who knows that – if organized properly – the secret recipe for the 'it' clubbing experience is brewed at home.
BTW, at the top of the ingredient list you will find this Pioneer party speaker.
It might not be one of the best party speakers on the market, but it still does a good job sound-wise. But the one feature that will make you press the 'buy' button is the voice command. You can call your go-to playlists and beloved tunes whenever you make use of the 'voice' button.
10. Panasonic – SC-TMAX50 $499
If you are not ready to take your get-together to another level, this Panasonic party speaker surely is.
Adding a new dimension to your party's playlist, the SC-TMAX50 model features two dynamic woofers to keep the vibe going.
But it is the amplified bass that takes the cake. You already know that the bass is good when you can physically feel it – but this bad boy takes this unwritten truth to an adulation level.
It is all thanks to the – appropriately – named Airquake Bass.