Here are the hottest festival fashion trends this summer
It's been a long time coming, but live music is back with a bang. Despite the lingering Covid threat, music-lovers have been flocking to fields in their thousands to spend the weekend dancing to their favourite artists.
With festivals such as Boardmasters, Creamfields and Reading Festival going ahead in the UK, the sudden return to normality has seemed a bit strange for some. That didn't stop others from having the time of their life though, watching acts spanning the likes of Becky Hill, the Gorillaz, Stormzy and more. 
And this year, perhaps more than ever, the music has no longer been the sole focus of the season. The pandemic has shown us that every moment has to be cherished (and shown off on Instagram).
As a result, festival fashion came back with a vengeance, as many took advantage of the chance to make use of the year's worth of wasted outfits they had lying about in their closets.
Let's take a look at the (sometimes questionable) fashion choices that were flying off the rack this summer in celebration of the return of music festivals.
Bold colours
Gone are the days of people working from home in their drab leggings and oversized hoodies (well, at least for the weekend).
Naturally, bold colours have dominated the fashion trends this summer, cropping up in a variety of patterns ranging from marbled effects to tie dye and geometric patterns.
There has even been a notable resurgence in animal print, particularly in the context of matching co-ord sets. If this year's fashion had a mantra it would definitely be 'the bolder the better'.
Mesh (and more mesh)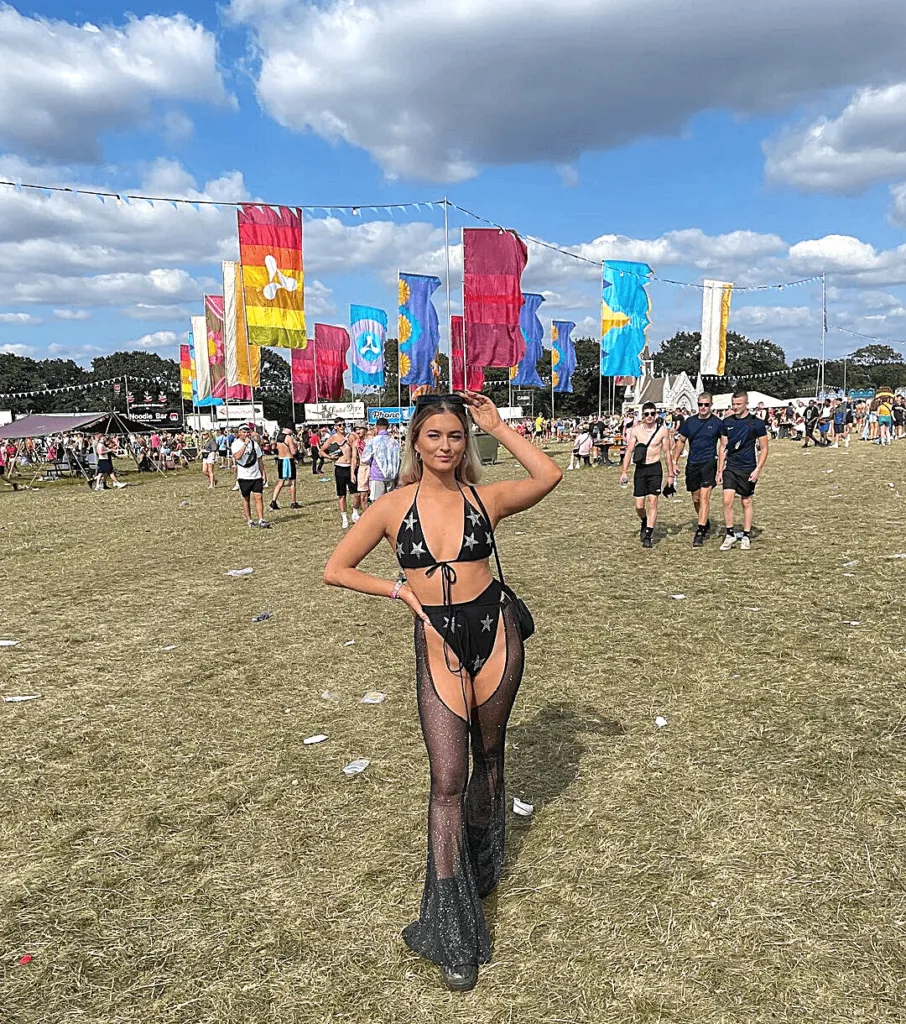 While mesh has been on and off for decades now, this year it quickly became one of the frontrunners for the hottest trends of 2021.
After lockdown where we were almost completely restricted in our outfit choices, mesh clothing embodies the complete opposite of your work-appropriate zoom pyjamas – you can expose as much as you want with it.
From mesh tops to transparent trousers and dresses over bikinis, the choices are pretty much endless with this style.
Y2K flares
Yes, it's been so long since the turn of the millennium that trends from then have come back into fashion.
And they're not just back, they're back with a vengeance.
Practically every single woman who went to a music festival this summer brought one pair of noughties flares at the very least.
Whether they were corduroy or standard flares, these were the must-have trousers this summer.
An added bonus? They're less exposed than the mesh alternative so they probably stopped thousands from freezing in a field at midnight. A true winner.
Co-ords
Co-ords are the perfect festival outfit to look put together without having to put the effort in.
As bold colours and patterns were in this year, co-ords allowed festival goers to double up on crazy prints and patterns, pretty much looking twice as stylish, essentially. 
Plus, a co-ord is far more versatile for the future – if you want to tone it down a bit, wear the two halves as standalone pieces.
Crazy shirts
While most of these festival trends lean towards the more feminine of the festival goers, men's fashion shouldn't be overlooked.
Crazy shirts have been a staple this summer (and every summer, if we're honest). They have a bit of versatility to them, with the option to wear open or buttoned up depending on how much you want on show (or how sweaty you are).
Oh, and let's not forget about football shirts while we're on the topic, because we can't seem to let go that football didn't quite end up "coming home" (unless you're Italian). At least we can call it fashion (apparently).
Chunky trainers
Not only do chunky trainers look great, they're also insanely practical.
A good quality pair will cushion your foot to protect from the blisters that are inevitable when trekking across a campsite for days on end. Plus, the extra height they give is useful to see over crowds so it's hardly a surprise they were the shoe of choice this summer.
Beauty does not need to equal pain.
Bucket hats
First becoming popular in 2019, the bucket hat may go down as one of the stand-out trends of the 2021 festival season.
Like the chunky shoes, they add a bit of an edge to an otherwise potentially basic outfit, especially thanks to the huge range of styles they come in.
From Rick & Morty characters to rainbow fur, bucket hats are a funky way to keep your greasy day 4 hair under wraps.
Whether you got back out there this summer or preferred to wait it out until next year, we can all agree that festival season 2021 was history in the making.
So, what was your favourite festival fashion trend this summer? (Hint: if you said football shirts, try again).