Be it Tomorrowland or Awakenings, ADE is no stranger to music mammoth promoters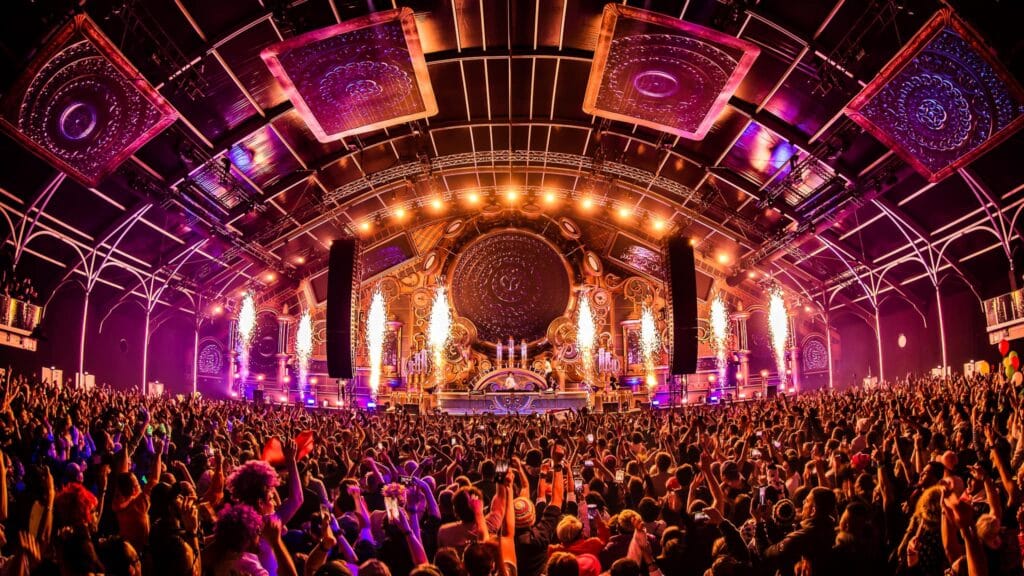 Amsterdam Dance Event is no stranger to teaming up with roaring names from the festival game and homegrown talent. By partnering with international brands, the ADE music festival gave birth to some of the most electrifying and unforgettable experiences.
And ADE's 2022 festival edition is no exception to that rule of thumb. From electronic titans like Tomorrowland to lusted-after Ibizan party brands such as Circoloco, here is a list of ADE festival 2022 promoters worth keeping a tab on.
Tomorrowland is an Amsterdam Dance Event 2022 promoter that needs no introduction, as the Belgian festival has been taking the festival world by storm since 2005.
GRAP, short for GroepenRaad Amsterdamse Popmuziek, is an Amsterdam-based art collective, shedding light on pop music since 1983. As you might already tell, the ADE 2022 promoter is an indispensable element in Amsterdam nightlife.
Awakenings is a colossal techno event fit for ADE shenanigans, as it will bring its unwavering dedication to premium raving for this 2022 festival edition. Awakenings has been part of the industry since 1997, redefining large-scale electronic partying in Amsterdam.
Amsterdam festival DGTL proves that two are better than one as it partners with ADE for this 2022 edition. DGTL has been a life force in the festival industry with its sustainable practices and impeccable attention to visuals and staging.
The simpler, the better – this seems to be Intercell's mission statement. This Amsterdam event planning company unites with ADE for its 2022 edition to deliver raw, authentic, and unequaled raves.
If there is one thing Americans know, it's how to party like there isn't an ongoing economic crisis.
The LA native festival will lend its larger-than-life concept to ADE this 2022 edition as it blends contemporary art installations with intense beat drops. Secret Project is a feast for the eyes and ears, so be on the lookout.
Girl power event Women of House has decided to take matters into its own hands – just like women always do – and fight for a more inclusive nightlife industry since 2015.
WOH has been shifting electronic music from a boys' only club to an all-inclusive space by presenting and empowering women identifying DJs. For the 8th year in a row, Women of House will be bestowing their magic on ADE festival-goers in 2022.
Legendary Spanish company is reuniting with the ADE festival in this 2022 edition. elrow is uber quirky, utterly iconic and unapologetically loud, with centuries of party-planning under its belt.
Amsterdam-based festival The Gardens of Babylon is blessing ADE partiers this year with its message of harmony. This party destination blurs the line between spirituality and music, offering mystical party experiences in a bohemian setting.
Beloved Ibizan event company stationed at DC10, Circoloco will return to the mighty ADE this 2022 edition. Circoloco is, as the name suggests, a crazy and unhinged beat-filled celebration of joy.
Starting in 1999 with no plans to slow down any time soon, Circoloco is a much-awaited guest at ADE.
Cocoon is the brainchild of celebrated German DJ, Sven Väth. The record label and event company will present transcendental music in a multi-sensory setting.
Above & Beyond's success didn't stop at their record label and extended to their entrepreneurial horizons by spotting budding talents. Anjunabeats is an event and namesake by the group's record label presenting their signed artists.
The music company has been nominated for four Grammy awards, so all eyes should be on Anjunabeats in this ADE 2022 edition.
Dutch record label Spinnin' Records is expanding its horizons in this Amsterdam Dance Event 2022 edition with Spinnin' Sessions, an event and radio show. Not showing off, but this ADE promoter has Tiësto, KSHMR, Afrojack, and Vintage Culture working side-by-side with them.
This Mexican record label is packing up and coming to the ADE festival in its 2022 edition. Latin house is the label's bread and butter, as it aims to transport festival-goers to Mexico's electronic music scene.
Colorize is an Amsterdam-based record label and event group under British recording company Enhanced Music. This year, Colorize presents some of the finest progressive house tunes with Colorscapes ADE.