Since its 1994 inception, the aquatic take on traditional nightlife has been constantly redefining what partying means. Nestled within the hallowed thermal bath complexes of Széchenyi, the splashy event series shakes up Budapest's northeast every Saturday night from February to December.
Despite its generous capacity of 2,000 night owls, Széchenyi still places its bets on regal decor.
When it turns into a music mecca, the ancient bathhouse becomes an unapologetically fearless venue of strobing lights, mesmerizing visuals, and pulsating rhythms.
But the visual appeal is not the only thing that sets Sparty Budapest apart from other party series. Renowned DJs unleash an electrifying fusion of genres, blending commercial techno with deep house and heart-pounding EDM.
Showcasing a mixture of trailblazing freshness and pure quirkiness, Sparty is not for the disciplined. It is for those who view nightlife as crazily impulsive and outrageously wild.
At Sparty Budapest, old-world charm meets the pulse of modern revelry, creating an experience that echoes through time, ignores the spirit, and leaves party-goers yearning for more.
From ancient baths to high-energy rave hubs
Imagine a scene of Greek Gods bathing in a Belle Epoque bathhouse adorned with imposing Roman architecture and intricate sculptures.
Now tarnish that image by adding throbbing lights, mind-bending visuals, and heart-racing basslines. And, of course, remove the image of the Greek Gods because there's nothing holy about Sparty.
Born in 1994, Sparty – short for Spa Party – is the brainchild of Laszlo Laki and a gang of like-minded friends. These creative rebels dared to blend two seemingly incompatible concepts: Budapest's ancient bath culture and modern electronic music.
Sparty is, in essence, a love letter to Budapest's bath culture. Also dubbed the City of Baths, the Hungarian capital has been revered for its year-round wellness waterscapes.
Deeply rooted in Roman culture and later shaped by Ottoman rulers, thermal bath complexes like Széchenyi long transcended the spa haven status and became social meccas guarding Budapest's cultural legacy.
As the place where party animals parade between the bars and pools in their best summer thongs, Sparty Budapest is no mere clubbing experience. Since its inception, the event series has transformed the city's largest public baths into high-energy rave hubs.
With a capacity of 2,000 people and a yearly attendance of over 50,000, the thermal bash ranks as Hungary's 5th largest event series.
Sparty Budapest is an architectural wonderland for aquatic revelry
From the outside, the Széchenyi Thermal Bath might look like the mansion from the Old Hollywood era.
But on the other side, Hungary's largest geothermal retreat houses a neo-Baroque architecture with grandiose arches, yellow facades, and stately columns echoing the sophistication of bygone eras.
Fed by natural hot springs, a trio of alfresco pools serves as aquatic dance floors. Dancing to the tune of temperature, the Széchenyi Bath offers everything from the tranquil allure of a cooler pool to the sizzling buzz of the warmer ones.
And yet, that is all set to change when the Sparty effect kicks in. The party series walks the tightrope between antiquity and modernity, as the bath's Romanesque sculptures, fountains, and carved railings lend an old-world charm, transporting clubbers to the time of Roman gods.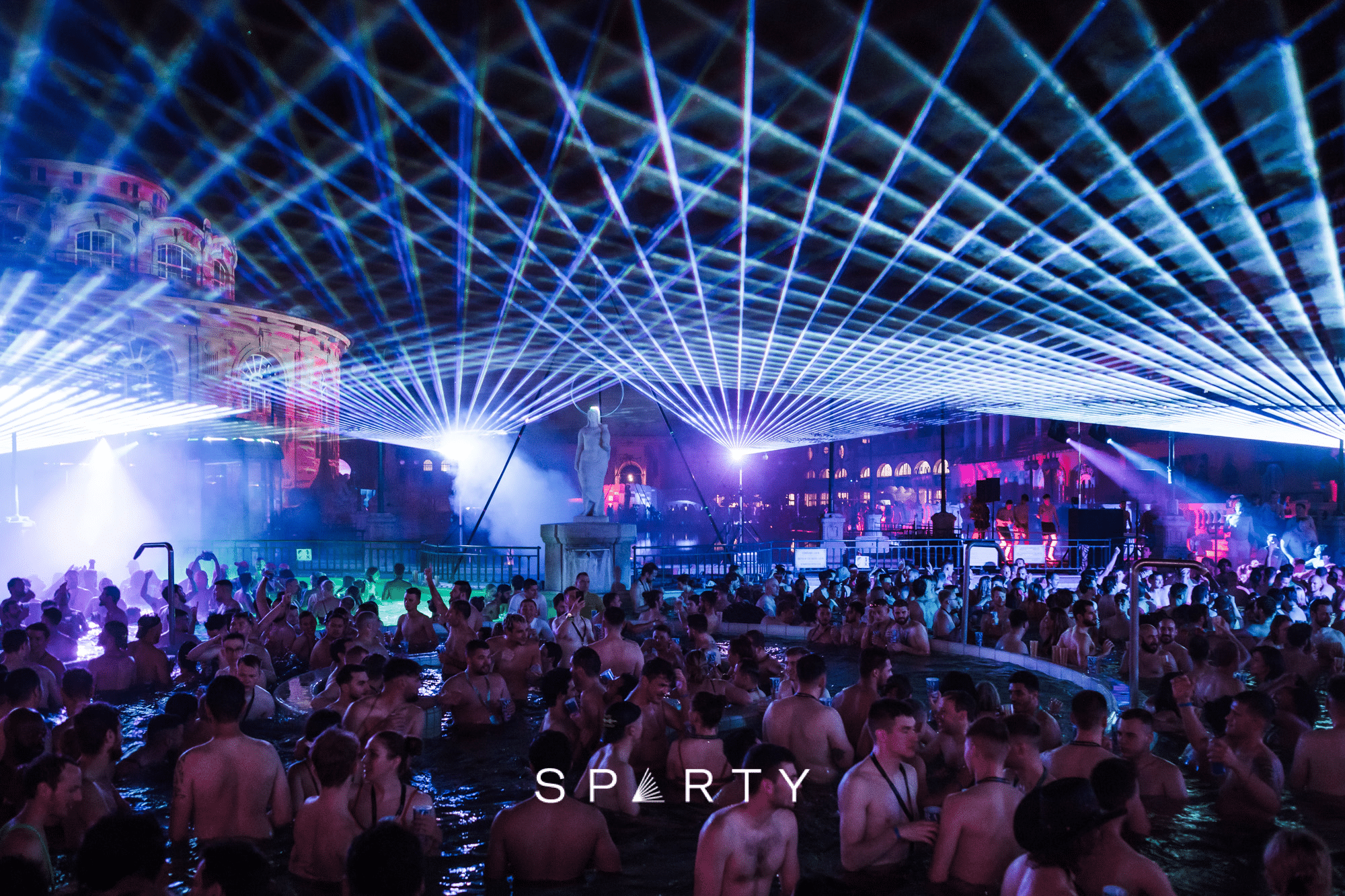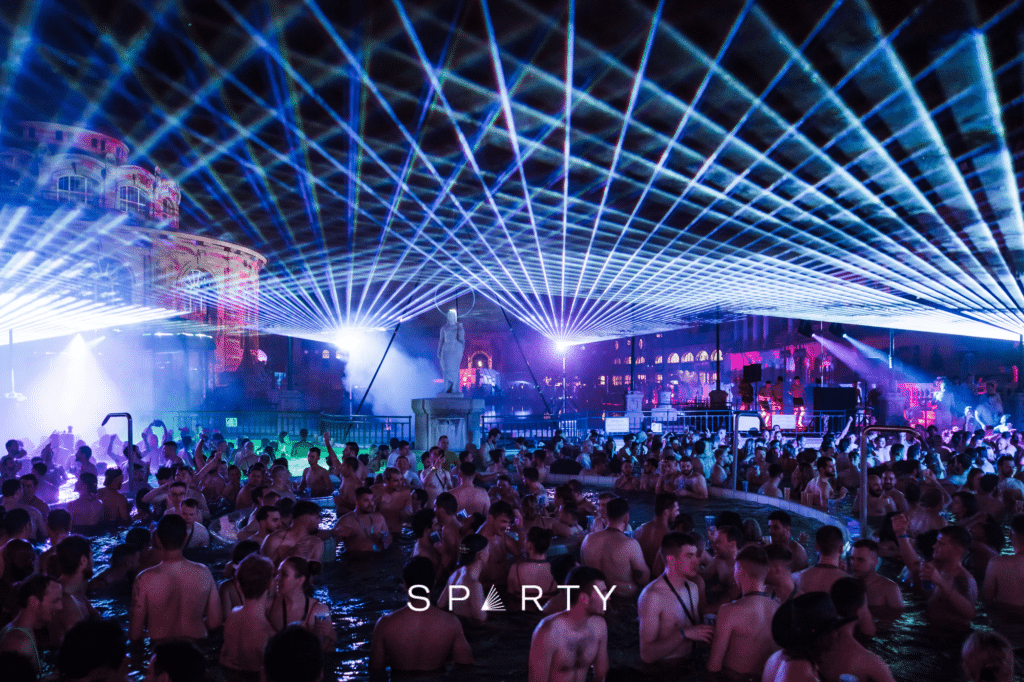 As the night skies descend upon Széchenyi Thermal Bath, a vibrant eruption of light and laser visuals take center stage, painting the historical backdrop in a vibrant technicolor dreamscape.
It's as if the neo-Baroque edifice trades its daytime solemnity for an evening dress stitched in the fabric of psychedelic visuals.
It's akin to an astronomical observatory being struck by a neon meteor shower or a static painting suddenly erupting into a living, breathing, rhythmic light show. Sparty Budapest transforms the landmark into a visual spectacle as radiant beams pirouette off ancient stones and dance across the shimmering thermal baths.
Sparty Budapest is an architectural wonderland for aquatic revelry
If the phrase 'European parties' gets your spine tingling, it's probably because of Sparty.
Budapest's nightlife might be loyal to no music genre, but that's not Sparty's case. Since thermal baths go hand in hand with EDM, the event invites electronic DJs to take over the audio decks.
While the DJ booth is where the beats are born, the bathhouse nurtures, shapes, and amplifies them. And as these electronic symphonies wash over the Sparty-goers, they create a high-energy and hypnotic ambiance.
A soundtrack to an unforgettable night where the music and venue perform an elaborate pas de deux, each step perfectly synchronized, each beat echoing the party's pulse.
It's not every day that you see a city's heritage repurposed so innovatively. Yet, that's what Sparty does. It's a tribute to Budapest's past and a toast to its present while tuning into the frequency of the future.