Out of party pregame ideas? These apps are the pregame-changers
No one likes a boring pregame.
The whole point of drinking before you go to the club, concert or house party is to hype yourself and your friends up for the rest of the night. Let's say the designated card-bringer left their deck at home so King's Cup is off the table and you don't have enough plastic cups or ping pong balls for Beer Pong. What now?
You're probably forgetting one really important thing you probably have on you. Your phone. There's a whole world of drinking game apps waiting to be discovered a few screen-taps away.
Players: At least 2
Subscription: Free general use, option to subscribe to unlock content.
Arguably one of the more popular drinking apps, this party game takes the reins and forces you and your friends to play by its rules! If you fail to follow through, or just get unlucky, you'll have to take some hefty penalties.
Only one person in the room needs to download the app. Simply type in everyone's name, and the app will start calling out specific players and giving out rules, questions, dares, and more.
The selling point is that this game keeps on getting more and more creative. No more "drink if you've ever gone skydiving" type of dares.
The app's commands range from making players admit to embarrassing or raunchy excursions, perform hilarious (and unique) dares, give out penalties to other players and vote against each other in an amusing way that gets everybody buzzed.
Picolo has multiple game modes to choose from, ranging from 'Getting Started' all the way to 'War'. Free users get access to the first category, but can subscribe for durations varying from a week to a month or even a year to unlock premium features and unlimited content for all your party game desires.
Players: At least 2
Subscription: One week free trial, followed by paid weekly or monthly subscription.
Whether you play this with a group of close friends or partial strangers you're still getting to know, everyone will feel a little more acquainted by the end of your pregame.
Drink and Tell offers players 6 main categories of questions to choose from. Main categories include Love, Sex, Ethics, Personality, Life and Death, and User Generated. New categories that can be purchased have also been added, including Embarrassing, Pop Culture, Would You Rather and Others!
The app only needs to be downloaded on one player's phone. Each time someone's turn comes around, they have to answer a taboo question by choosing one of the multiple choice answers.
The phone is then passed around and other players have to guess what they think the person picked. After, you swipe to reveal the answer. Anyone who guessed wrong has to drink.
You'll end up spilling some secrets and you'll find out what your friends really think of you. The best part? You'll all probably be drunk by the end of it, so no hard feelings!
While the game promotes itself as 'free' on the app store, that's not entirely true. It's free to download on your phone and to play for a week, but afterwards you'll have to get a monthly subscription of $5.99.
Players: 2-4
Subscription: Free with the option to pay for a 'video roulette' category and removal of ads.
The app isn't necessarily advertised as a drinking game, but we've found ways to add a cool boozy twist to it and spice things up.
Think you know what weird and wacky stuff lurks in your friends' photo libraries? Think again. Photo Roulette lets you and your friends compete to guess whose photo is shown on the screen.
Each player downloads the game on their phone and chooses a few random photos from their library. The photos could literally be about anything – you can make it extra mysterious by avoiding selfies and group pictures and choosing some random screenshots, scenic views from places you've visited and funny memes you have saved on your phone.
Once the round starts, pictures will be shown for a few seconds before everyone has to guess the player who shared it. Players will receive a score based on accuracy and how quickly they were able to guess (but only if they get it right).
Our version of it includes taking a sip every time you guess wrong!
Players: At least 2
Subscription: Free with the option to pay for extra packages
This all-in-one concoction of party games is perfect when you want to play some old-school favourites without having to think of all the questions yourself. Featuring 18 different party games that are question based, action based and card based, you'll never run out of things to do.
PartyPal includes all the classic party games, such as Never Have I Ever, Spin the Bottle, Would You Rather, Truth or Dare, as well as some cool new concepts like Player vs Player, Mime The Word and Song Drop, among others.
Simply download the game on someone's phone and put in every player's name. Then, choose your desired game and the package of choice, and get started.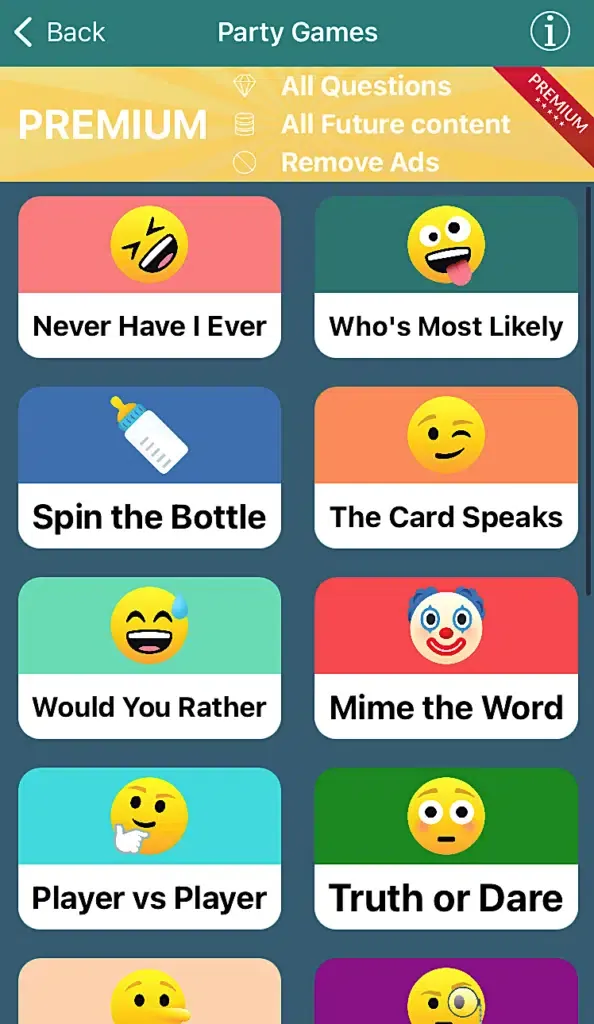 Each of the games includes a selection of 'packages' to choose from, which determine the mood and vibe of the round you're having. In order to get access to anything beyond the basic packages, you'll have to subscribe for $7.99 a month.
Players: At least 2
Subscription: Free with the option to pay for extra categories.
A twist on King's Cup when you have no physical cards to play with, The Barbu combines the general idea of the party game with the added bonus of a virtual deck of cards to draw from. This is the game that gets you drunk quickly.
After entering each player's name, the phone is passed around and each player 'pulls a card'. Each of the cards has a specific rule attached to it which the player must abide by. Instructions vary from giving the players sanctions (aka sips of their drinks) quite generously, to allowing them to create new rules and partake in small fun minigames.
Barbu's free option cares less about making players ask questions or perform dares and more about giving them as many excuses to drink as possible.
Further categories, such as 'Hot' which includes spicy questions, or the specifically catered 'Birthday Dares' one, can be accessed by purchasing a premium subscription of $4.99 a month.
So what are you waiting for? Download these pregame changers and never suffer through a boring party ever again.