Amsterdam, Netherlands
Club / Indoor only / S – 500-2k
City
Electronic, Hip-Hop
$$$
Live music, Upscale
Smart
AIR has earned a reputation as one of the city's most vibrant music temples, bringing energy and vitality to nightlife in Amsterdam.
Step inside the world-renowned AIR Amsterdam, a nightclub that has been thriving in Amsterdam Centrum since 2010. This top destination features three halls and five bars, giving partygoers plenty of space to dance the night away.
AIR club is proud to offer an eclectic selection of music, yet it primarily focuses on pumping out the hottest hip-hop, electronic and R&B tunes.
Located in the bustling center of Amsterdam, this music hub attracts a vibrant mix of locals and visitors with its lively music.
If you're seeking an exclusive nightlife experience, AIR Amsterdam is the ideal destination with its captivating multi-sensory clubbing sessions.
Here's everything you need to know about AIR Amsterdam.
A legacy is continued at AIR Amsterdam
AIR Amsterdam resides where another iconic nightclub formerly did. The much-beloved iT club, an LGBT+ electronic temple, took up AIR's location from 1989 to 2005.
During its operational years, iT closed in 2002 due to issues with noise disturbance and drug arrests, but it reopened in 2004 for a little while.
After iT's end, Niels de Geus, Sjoerd Wynia, and Sander Groet seized a then-vacant and demolished hub. The trio took over the historic building in 2010, turning it into the AIR Amsterdam we know today.
What sets AIR apart from its competitors is how it carries a music-fueled legacy, so you can guess it was a safe bet for the entrepreneurial team.
A legendary club in an equally enviable location
AIR nightclub is nestled in Amsterdam Centrum's Grachtengordel, which translates into the Canal District.
When you stroll through the neighborhood, you come across 17th-century Amstel canals, listed as UNESCO Heritage Sites.
Close to many landmarks and tourist attractions, such as The Amsterdam Museum and The Rembrandt House Museum, AIR club is in a spot with a lot of foot traffic.
AIR Amsterdam is a nightlife maze
AIR Amsterdam's impressive architecture and layout are the brainchild of the Dutch designer Marcel Wanders. As a leading product and interior designer, Wanders works with multiple high-end brands such as FENDI and Audi.
A highly futuristic yet ambient interior is what the club owners sought – and Wanders happily delivered. With three partitions and a multi-leveled dance floor, AIR Amsterdam offers endless possibilities for its clubbers.
The spacious and distinctive modular plan allows for two simultaneous parties with a capacity for 1,300 patrons.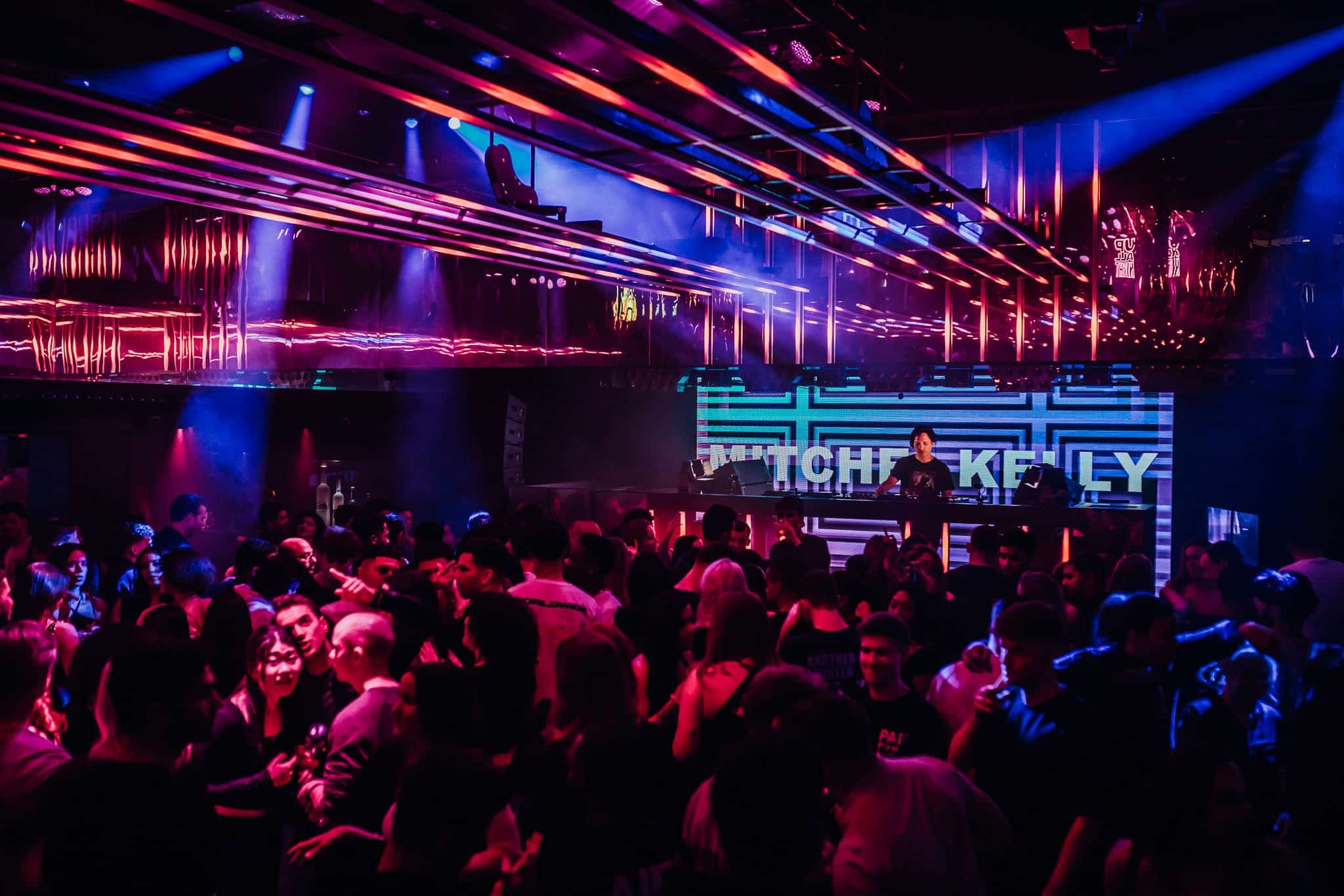 With a careful look into the club's aesthetic, you'll find that it combines luxury and playfulness. Intricately detailed ceiling panels, sleek leather couches, illuminated stairs, and unwavering attention to details make AIR's decor a visual journey.
AIR Amsterdam is no clubbing rookie. The club features soundproofed walls to successfully dodge noise disturbance complaints – those who don't learn history are doomed to repeat it – as well as a top-notch Void Acoustics sound system.
Alongside the crisp and thumping audio experience, the nightclub has hi-tech – and trippy – visual projections adorning its walls. Your senses will be rolling up their sleeves at AIR Amsterdam.
AIR is a jack of all trades and master of all
Europe is a breeding ground for electronic meccas and up-and-coming talents – just take a look at Berghain and Fabric. Though many would mindlessly jump on the bandwagon, AIR Amsterdam went against the current.
The nightclub's owners wanted to shape the music temple as an antithesis of what club-goers disliked the most about partying.
In an endless loop of nightlife venues focusing on the synth, AIR decided to offer a more dynamic lineup approach. The Amsterdam club's musical program ranges from house, hardstyle, and techno to R&B and hip-hop.
Donning its 'I'm not like other clubs' motto, AIR Amsterdam has gained international traction and recognition. As part of ADE's shenanigans since 2011, AIR's niche of covering a wide-range of genres is rightfully respected.
The African Giant AKA Burna Boy performed at AIR Amsterdam in 2019 after his show at concert hall AFAS Live. Since the club is big on urban beats, major league artists such as DJ duo Afro Bros and rapper Tory Lanez have graced its stage.
Say goodbye to awkwardly trying to get the bartender's attention
On a mission to toss clubbing norms, party-hoppers can avoid queuing and losing their cash and cards with AIR Card. Your money won't jiggle or fold at AIR Amsterdam since the card gives easy access to its bars and lockers.
You'll feel like royalty with their VIP packages offering accelerated entrance and bathrooms.
If you've had one too many drinks at their five bars and need some quick sweet release, the club's three bathrooms are happy to be of service. Like all nightlife venues in Europe, indoor smoking is prohibited, which is why AIR Amsterdam has two smoking areas.
Party, but make it cultural at AIR Amsterdam
Joining forces to keep its historical location's status preserved, AIR Amsterdam united with Our House Museum in 2021.
Our House is the world's first EDM-dedicated museum, offering a truly unique experience through installations, exhibitions, and hands-on learning.
Documenting the rise and ongoing success of the industry, Our House immerses visitors in an interactive journey where all roads lead to the electronic realm. At the museum, you can toy around with quintessential Roland instruments and show off your music-making skills.
Our House doesn't stop there – the museum has a clear aim of telling the story of the roaring industry and partners up with titans like Daft Punk, Carl Cox, and Armin van Buuren to be part of the educational process.