30 fashion destinations to knit up your fest wardrobe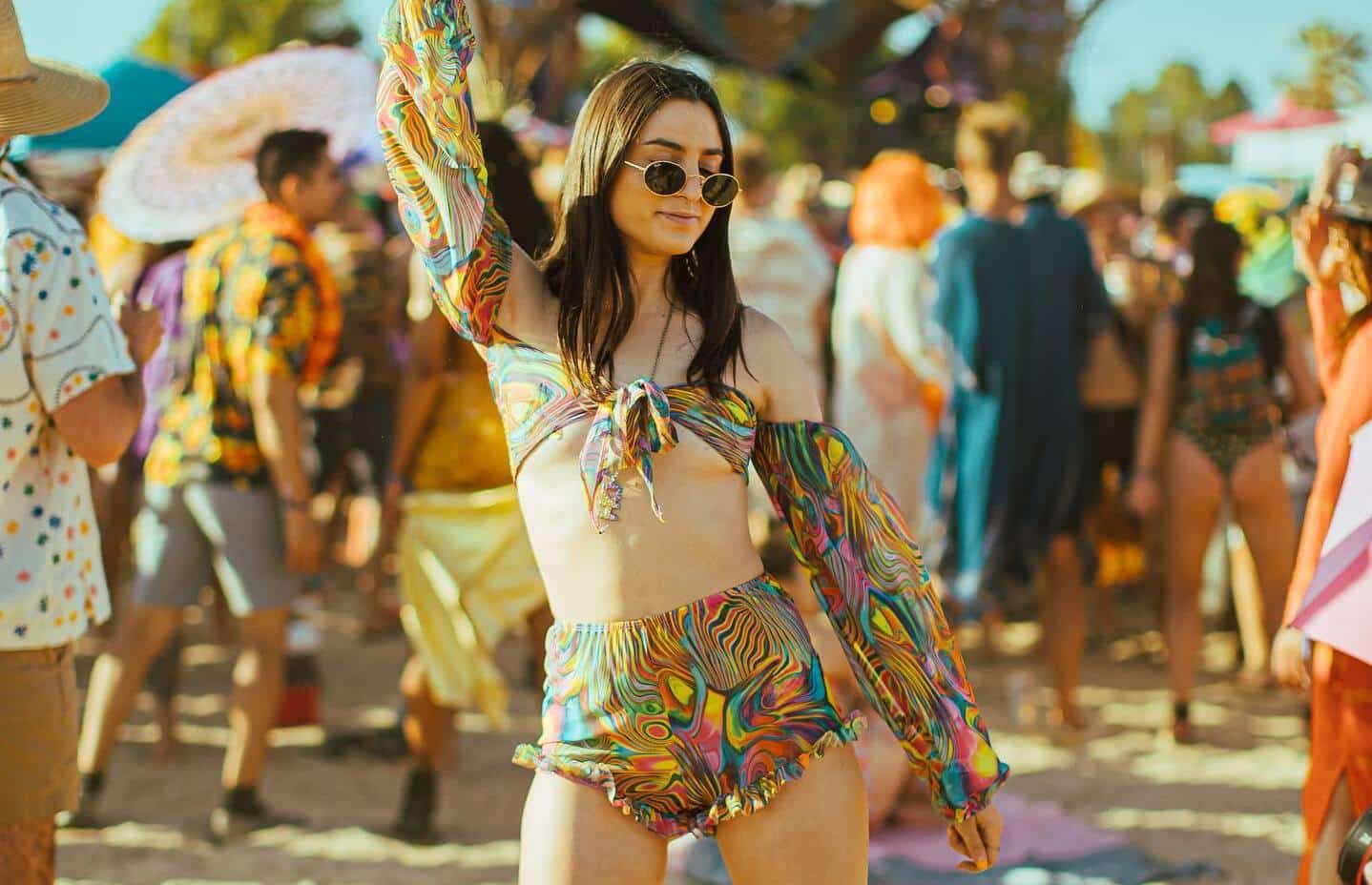 Since the fest season is in full swing and roaring more than it ever did before (cheers, COVID-19), our closets ache for 20-something neon-soaked and glittery outfits. While you can always trust high-street shops to solve your wardrobe dilemma, festival fashion brands do a top-notch job when it comes to trippy unitards and mesh dresses.
Whether you're hunting for the best face jewels on the market or you describe yourself as an uber picky festival character, here is a compilation of 30 fashion brands that will help you rock the fest catwalk.
In all honesty, the upcoming festival season is doomed to make a giant hole in your savings account. Festival wear shouldn't. That seems to be Rave Wonderland's motto. The female-operated festival fashion brand puts affordability on a pedestal by delivering low-priced vinyl bodysuits, sequin co-ords, and reflective boots.
Maybe you're a wild festival goer who translates the perfect fest outfit into a rose glitter bikini. Or maybe you're going to dance on Burning Man's dusty playa in the dry heat. Either way, Bubblegum's extensive selection of glittery monokini, risque bikini tops, and reflective chrome sets got you covered.
The festival fashion brand ticks off the ethically produced box, too. If you feel a bit overwhelmed by the plethora of choices, place the picking out responsibility on the brand's shoulders.
Bubblegum offers premium and basic subscription boxes that feature two complete outfits – if that doesn't sound like the perfect shopping assistant, we don't know what will.
This festival fashion brand is all about self-expression through apparel, while staying loyal to ethical manufacturing standards. By using organic fabrics and high-quality stitching, Easy Tiger produces the type of garments that will last you at least three Summer of Love seasons.
Every fashion item you could possibly think of found shelter on Easy Tiger's e-commerce platform – from cowgirl hats and denim shorts to mesh cardigans and scarf tops. Let us tell you one thing – their bold prints are not for the fainthearted.
Trippy stars, sequined cow, and 80s retro are here to ensure that our next festival outfit is vibrant, sparkly, and just how it should be.
It's not about being cheap – it's about making it sustainable. Think rave wear, sequins, and the trippiest bodysuits ethically produced and manufactured. That's what Freedom Rave Wear is all about.
Their website features everything a festival goer wants from his outfit – for women, men, and everybody in-between. But the brand's unique selling point does not necessarily stand in its gender-fluid spirit – the mystic mushrooms and bath bombs prints are uber-unique.
Striking the perfect balance between the eccentric festival vibe and wearability, GoGuy Clothing challenges hardcore festies to set their own Summer of Love trends. With six collections coming out every year, this clothing brand will be out-of-fashion when hell freezes over.
Bespoke designs and nostalgic 90s rave gear melt together to produce a seemingly endless flow of bold mesh dresses, trippy unitards, and cut-out hot pants.
The UK-based fashion festival brand gives a head-to-toe styling treatment to every hardcore festie seeking to translate his fierce attitude into detailed-orientated garments.
As the brainchild of a rave couple, the glitter-soaked iHeartRaves is a free-spirited and wildly unique festival fashion brand. Featuring a wide array of edgy looks – from vinyl skater skirts to holographic pants – this bad boy has creativity and self-expression at its core.
For iHeartRaves, nothing is basic and everything is covered in trippy patterns, ultra flamboyant colors, and liquid sparkle. With exclusive and trendy festival apparel debuting every now and then, this clothing store is never out of fashion.
As the world's leading festival fashion brand, iHeartRaves is the go-to place for reflective clothing, studded corsets, and mesh co-ords. Pretty much for anything that screams festival season.
Would you translate your festival animal persona into a confetti-fuelled rocket? Then Disco Lemonade deffo speaks your language. Following an off-the-wall beauty concept by producing garments that would make people stop and stare, this festival fashion brand is all about giving you the flashy pixie look.
For those who want to feel (and look) unstoppable while roaming around festival grounds, Disco Lemonade features iridescent disco dresses, forest fairy mini skirts, and reworked vintage bras. No matter what product you add to cart, the brand's disco fairy vibe will make you feel like a rare gem.
This festival fashion brand is home to all of the edgy influencer clothing items that bombarded your social media feeds during Coachella. Deeply rooted in the festival culture, Dolls Kill doesn't conform to one aesthetic, one hero product, or one unique selling point.
It showcases an unapologetically non-normal vibe – or at least this is what the overabundance of face jewels, cut-out mini dresses, and eye-catching prints display. The e-commerce clothing store is dedicated to the festival-goers who go against the grain with an IDGAF attitude.
For those who want to unleash their inner whatever, Dolls Kill's graphic tees and mesh flares are the way to go.
This one is for all of you festival unicorns, mermaids, and fairies out there. It turns out that there is a digital fashion playground where the sparkly fairy vibe and festival wear meet – Sparkl Fairy Couture.
Embodying a dreamy feel soaked in sparkles, pompoms, and glitter, this festival fashion brand gives prominence to iridescent kimonos, hologram sets, and rhinestone cage dresses. Excuse us, but do you really need anything else to unleash your inner fairy on festival grounds?
You need glitter to look fab at a festival. Plus, it is eye-catching enough to get some "where did you get that top from" while queuing for the port-a-potties – this is how you make friends in 2022, if anybody was wondering. Good thing Magical Wonderland's sparkly claw is there to catch both you and your outfit.
With its flabbergasting collection of fairy-tale-style carnival bras and bombshell cowboy hats, the festival fashion brand soaks everything in flashy rhinestones and peppy glitter. They may be a little risque, but they are all about being wearable, too – nothing screams freedom more than waving your hands in the air while wearing a stretchy sequin bra.
Fully committed to body positivity and self-love, this rebelliously saucy festival fashion brand makes fitting issues sepia history. Rolita Couture dedicates its mission statement to curvy queens by creating their much lusted-after flirty festival looks.
The brand takes staple fashion items – such as your average skater skirt – and transforms them into the ultimate fest look through bold colors and dynamic prints. By taking a peek at the spicy cut-outs and hot neck tie-closures, you'll realize that "no service, but serving looks" is Rolita's Couture mantra.
Merging the "dress to kill" and "dress to impress" concepts, Little Black Diamond is a quirky festival fashion brand with high-quality materials and ethically constructed garments at its heart. It has one mission – to empower festival goddesses by reviving self-expression through apparel.
The best part? All production runs are limited – so the chances of you wearing the same acid-printed crop top as the front row girl are close to zero.
While Little Black Diamond puts a lid on product availability, the brand should take a bow for the level of quirkiness that its products reach. From UFO nipple covers to laced-up leggings, the festival clothing store adds a dash of versatility to each product.
You can dance, trek the fields from the main stage to the toilet and be a #badbitch at the same time.
It's Friday afternoon at Ultra Festival. The sun is shining. You're heading to the Resistance stage while wearing a flattery Mi Gente bodysuit. Isn't life beautiful?
It is because Mi Gente made it this way. Although the shop's designs mostly feature mainstream festival pieces such as tube and bra tops, the trippy prints are doomed to make you stand out at all times – even when you're standing in the last row.
Forget about bucket hats – this Summer of Love season is about clip-on fuzzy ears. Don't worry if you are a bucket hat devotee because Kritter Klips produces the iconic staple piece, too – however, the quirky furry ears will be present there, too.
We're all ears (no pun intended) for this relatively fresh concept. Soft fur and silky designs come together to create this unique festival accessory. Making a statement with these clip-ons is as easy as stealing a toddler's candy.
This festival fashion brand gives you three reasons to stay and shop – it's empowering, affordable, and the products are meant for longer than one festival season. Should we mention all of the garments are hand-made? We think we're good.
Browsing through Suxceed Womens' feels like re-watching Euphoria. Everything is mini, tight, asymmetric, and features the mighty trippy pattern. It pretty much embodies everything you ever wanted from a festival wardrobe in one place.
It's like My Little Pony but acid-infused. Technically a rave gear brand, My Little Rave's statement-making pieces have a versatile appeal to them – they can easily be mixed and matched for the ultimate edgy look.
Vibrant, transformative and glittery, their co-ords loiter on the edge of classic femininity and a feisty tomboy. While you're there, peruse the accessories section for the LED glasses you didn't know you needed until you saw them.
Creating the ineffable festival outfit starts with rockstar belts, raunchy harnesses, and mesh tops – at least this is what Festigirl teaches us. The festival fashion brand offers a more toned town festival look by focusing on neutral color tones and classic cut-outs.
But that doesn't mean it is as dry as dust. Eye-catching combos such as the pink leopard co-ord and bright yellow crochet set feel like heaven on Earth when you're attending a beach festival – they keep you covered, but they also keep you fab.
Buckle up – there is a baddie dressed in CocoFields on the loose. She's feisty, edgy, ready to slay dragons and we can't look away – this is the type of feeling that CocoFields garments will give to anybody wearing them.
While the festival fashion brand might not have dozens of products to browse through, the iconic prints and techno-induced wearables are there to make you fall in love at first sight. From jungle invader bodysuits to kaleidoscope tops, CocoFields has it all covered.
This shop makes you imagine the following scenario: it's boiling outside, and your favorite mesh top feels disgustingly sticky. You have to shred a few layers of clothing – there is no better way to do it than embracing the Cali girl vibe with a swimsuit.
Their beach looks are something that a hardcore festie would easily get obsessed with. Is it because of the trendy silhouette, daring print, or eye-catching neon colors? Maybe it's a mix.
Whether you're heading to Ibiza's Amnesia, trekking Rolling Loud's grounds, or queueing up for the bar at Electric Picnic, you have to feel like the badass queen you are. Thanks to its versatile creative direction, this fashion festival brand is doomed to suit your needs, preferences, and likings.
Tailored for the bold and brave, Jade Clark features a wide array of festival staples such as bandeaus, cycling shorts, and bodysuits.
A legend says that if you stand in front of the mirror at 3AM and say "daring, exciting and edgy" three times, a The Lumi Shop tab will automatically open on your phone. Tailored for the party animals who want to celebrate every day like it's festival day, this brand mixes the fashion-forward fest culture with the roaring fashion trends.
Life is too short to wear boring clothes – maybe this is why The Lumi Shop focuses on hand-stitched carnival bras and fuzzy sequin kimonos. We are pretty much talking about the festival fashion items that are doomed to be a magical crowd-pleaser.
Should we also mention the vast accessories collection, where quirky items such as feather fans and rhinestone leg wraps reign supreme?
When you want to go for the full-on UFO look during the Summer of Love season, accessories are indispensable. While Lunatics is not necessarily an accessory-focused brand (they also feature a small run of mesh dresses and corset tops), their unique selling point is quirky add-ons.
Ombre clip-in hair? Check. Glow in the dark face jewels? Got it. Holographic temporary tattoos? In store. Lunatics puts an arsenal of festival-themed accessories at your fingertips – you can get creative and shine all day, errrday.
Festival wear is getting out of hand and we are all here for it. Rave Bae Couture is the reigning queen of feisty and raunchy fest wear combos. While the festival fashion brand edges towards a higher price range, at least you know that your outfit will successfully survive through all of the mosh pits sessions.
With sparkly (and uber risky) bodysuits and latex underboob crop tops, Rave Bae Couture is committed to making all of us feel edgy during the Summer of Love season. The brand also offers Burning Man-style lace-up gloves to top off your bad kitty look.
Let's forget about the sparkles' glitz and glam – let's think about raunchy and bold cut-outs for a second there. Bglitzz uses less print and more down-to-earth colors, but its silhouettes will make you look twice while murmuring, "Was that cut where I think it was?".
Perfect for festivals and indispensable during the hot season, Bglittz's strapless dresses showcase that intricacy and attention to detail were the main focus in the designing process. The festival fashion brand also features triangle swimwear tops, metallic mini skirts, and offbeat jewelry pieces, such as vintage earrings.
Both wild and exotic, Space Island is a pro at producing rave-infused wearable art. Think Studio 54's flashy vibe, but add a dash of gemstones, reflective detailing, and risque straps to create this festival fashion brand's ethos.
For the love of festivals, Space Island brings an array of rave pants, crazy feather tops, and synthetic leather harnesses eye-catching enough to let everyone know you're coming – even when you are miles away.
With its 360 approach to festival wear, Space Island is the shop to pop in when you have to build your fest wardrobe from scratch.
We completely despise when we spot someone else wearing the same sunglasses as we do. But we don't have to anymore. Spunglasses is an offbeat sunnies brand that prides itself on its hand-crafting techniques – which, by the way, won't allow two pairs to be the same.
The wearable art pieces take many forms and iterations: from cat-eye to aviator. But they are nothing like the mainstream Ray Bans one would expect – those sunnies are embellished with jaw-dropping details and quirky twists.
This bad boy never compromises and never follows what Fashion Week says – but it reigns supreme in the festival wear realm through its funky techno vibe.
The festival fashion brand's clothing lines feature a futuristic allure, with hooded mesh bodysuits and strappy sets shaping an uber-trendy silhouette. But Cyberdog doesn't fall short when it comes to accessories either. From monogram bucket hats to light-up bras, Cyberdog oozes the urban underground vibe from festival titans like Ultra.
Hard cuts, minimalistic designs, striking iron belts and all black everything – this is how Berlin-based brand NAKT was born. Embodying the German capital's absolute love for bullet-hard techno, this shop is all about the freedom of self-expression through clean, yet dynamic apparel.
For NAKT, everything is either black or white – and ultra-strappy. If combined, lightweight fabrics and clean cuts would have created a way-too-mainstream look for a fest. Good thing NAKT's is a pro at adding gorgeous detailing, such as metal chains and leg harnesses.
Deeply rooted in the EDM movement, R.A.G.E takes your average streetwear items and soaks them in ancient symbolism themes. With vibrant colors and off-the-wall prints, the brand's garments transcend the status of festival clothing and reach the status of wearable art.
But R.A.G.E's unique selling point stands in their beautifully-made shawls. Featuring flowy materials and jaw-dropping arts works, those festival scarfs scream versatility.
Striking the perfect balance between eye-catching and wearable, Rosa Bloom is a trailblazer for everything sequins-related. We mean that. Everything and anything this festival fashion brand produces, it has to be completely covered in the mighty sequins' glitz and glam.
Be it capes, jumpsuits, cocktail dresses, it has to feel uber-glittery (and non-itchy) to be Rosa Bloom approved. For this festival fashion brand, it's all in the details. Cuffs, zipper and minimalistic cuts arise from the sea of glitter to create a striking silhouette.