Belgrade's nightlife is an enchanting dance between the traditional and the trendy, where the cobblestones echo with music from bohemian kafanas and trendy clubs,
Starting with Heritage Rooftop's cocktails and ending with Skadarlijska Kobasica at Skadarlijske Kobasice, this is how you can experience an amazing night out.
Here's your essential guide to Belgrade nightlife.
Enjoy a cocktail-and-view experience at Heritage Rooftop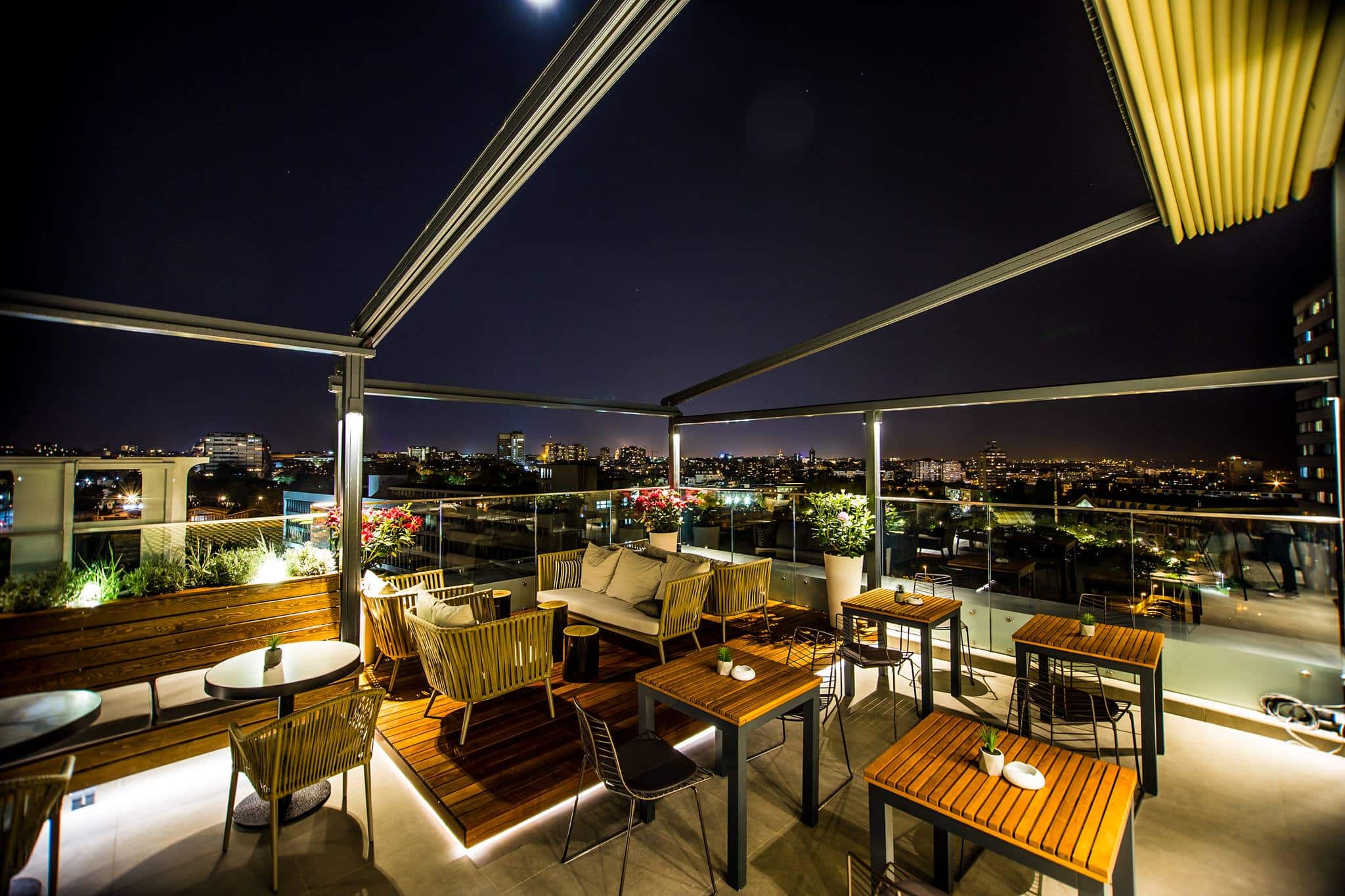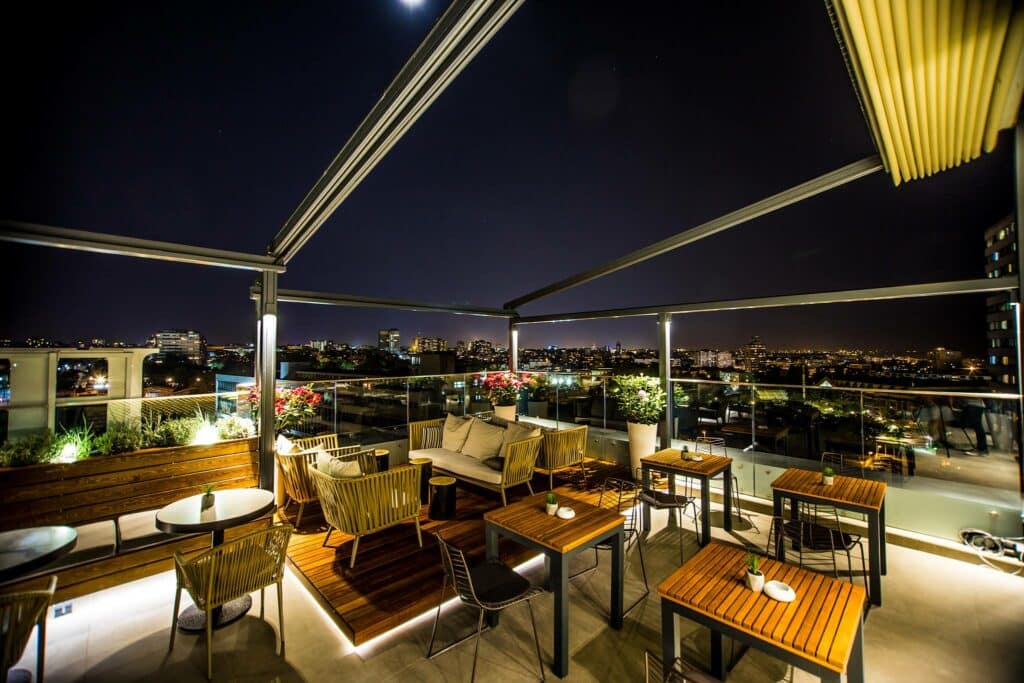 The 9th floor of Belgrade's Heritage Hotel has a secret – a sparkling gem known as the Heritage Rooftop. Twenty-seven meters above the pedestrian thrum, the cityscape of Belgrade unfurls beneath you like a grand tapestry. From this elevated perch, the sunsets become a captivating spectacle of colours that ripple over the horizon.
As compelling as the vista, Heritage Rooftop's decor is a testament to the perfect balance of comfort and chic. Modern yet infused with a hint of nostalgic charm, it's akin to a trendy, oversized living room in the sky.
A mix of plush lounge sofas and sleek dining tables are scattered artfully across the open-air space, creating intimate nooks that invite hushed conversation and hearty laughter.
But at this Belgrade nightlife venue, nobody should limit their exploration to the views and decor. A quick menu scan would reveal a smorgasbord of Mediterranean-inspired delights, tastefully combined with Serbian cuisine's flavors.
On any given day, the Heritage Rooftop teems with a vibrant mix of individuals. Tourists seeking the hidden gems of Belgrade rub shoulders with locals enjoying a night out, creating a dynamic mosaic of cultures and languages.
Use Ada Bridge's architecture as your Insta-worthy backdrop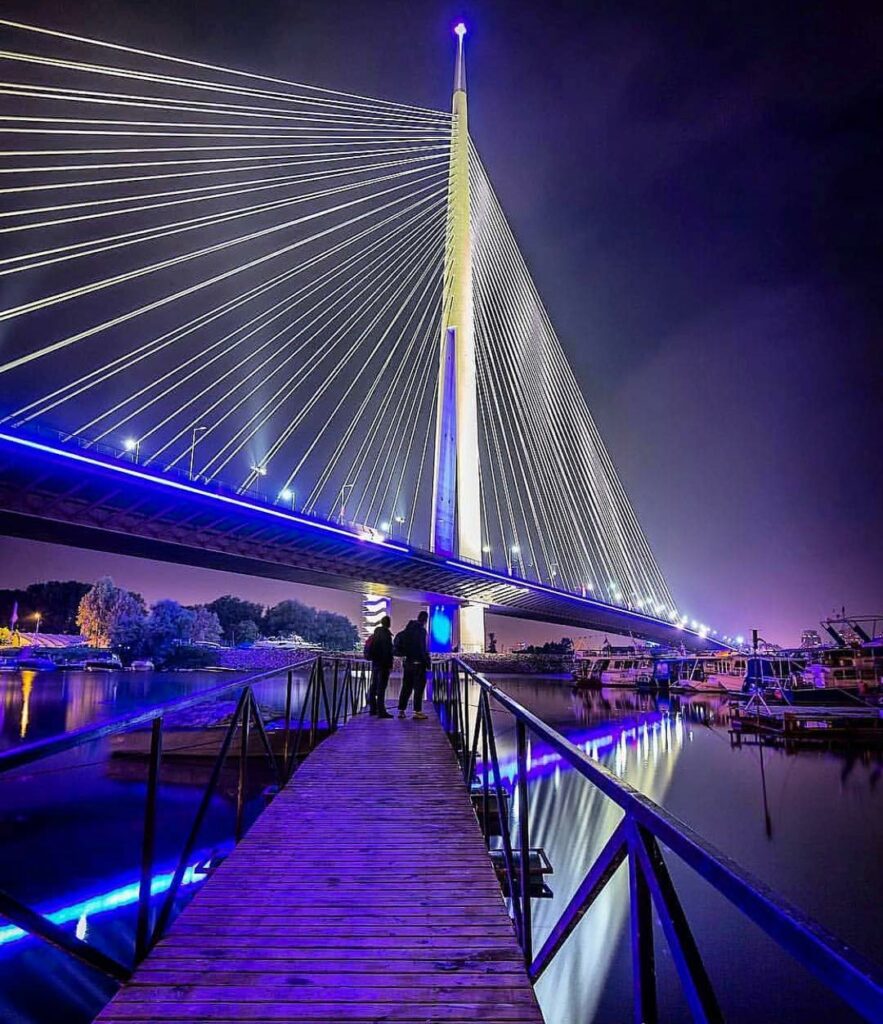 With an architectural grandeur that humbles even the keenest observer, the Ada Bridge is a canvas of steel and audacity. Its sky-kissing arch, a tribute to engineering prowess, cuts a striking figure against the star-studded Belgrade sky.
As a cultural icon, the structure is a marvel of Serbian storytelling. Each element forms chapters in a chronicle of resilience, evolution, and unyielding spirit, all frozen in an Instagram frame.
Experience Belgrade's floating river clubbing at Leto
Belgrade never shies away from a good party. You might say the nightlife here is fluid – and it literally is. Boat clubs, or 'splavovi' as the locals affectionately call them, are the pulsating heart of the city after sundown, each one floating like a sparkling gem on the city's two glittering arteries – the Danube and the Sava.
But if you've been following the ebb and flow of the city's nighttime festivities, you've likely heard whispers about a particular spot that sets itself apart from the sea of floating nightlife: Leto Floating Boat Club.
Birthed from the unbridled imagination of Belgrade's fun-loving architects, Leto possesses the size and grandeur akin to an aquatic colosseum. Every inch of the club screams of carefree indulgence as if the walls themselves whisper, "Leave your inhibitions at the dock."
When it comes to music, Leto is a delicious potpourri of beats, grooves, and melodies. Renowned DJs worldwide drop anchor here, spinning a melange of house, techno, and EDM.
Now, a word to the wise – or rather, the eager. The magic of Leto is as seasonal as the city's famed sour cherries.
When the Danubian breeze carries the first whispers of spring, Leto unfurls its sails to the party-thirsty public. And as autumn leaves start to pepper the city's cobblestone streets, Leto concludes its grand sea shanty, waiting patiently for spring's return.
Explore Skadarlija's nooks and crannies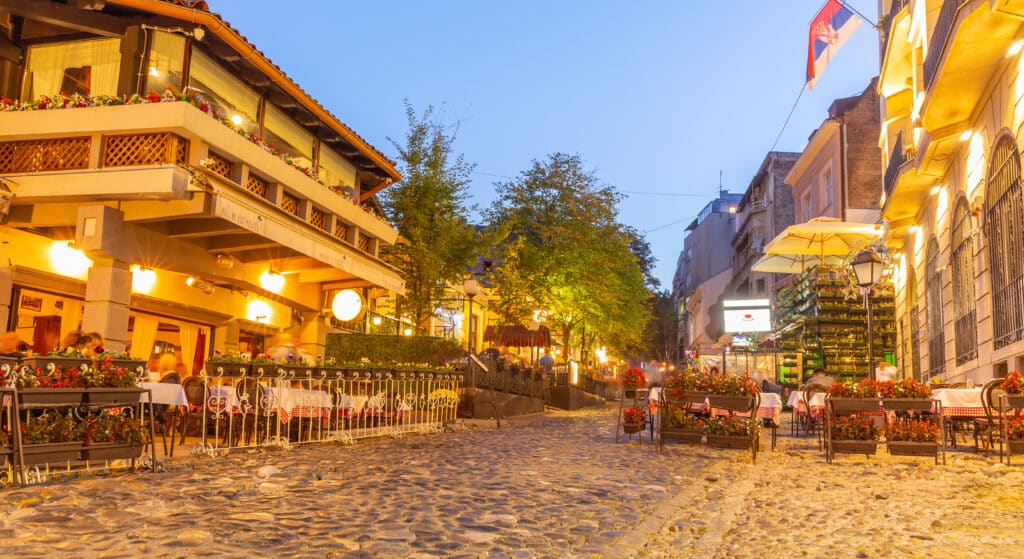 Skadarlija, the pulse-quickening, belly-rumbling, foot-tapping Bohemian quarter of Belgrade, is not just a street but a living, breathing entity that throws an unforgettable soiree every night.
A word to the wise, don't be fooled by its diminutive length. Clocking in at just 400m, Skadarlija packs a mighty punch that rivals any heavyweight champion.
Initially inhabited by gypsies in the 1830s, the "Gypsy Quarter" swiftly became Belgrade's Montmartre, as artists, caterers, and bohemian bon vivants made it their stomping ground.
Her streets are an intoxicating fusion of traditional kafanas, rollicking bars, stylish galleries and antique stores.
Uncover the charisma of Klub Mašina, where every night is a celebration. The pulsating music, the lively crowd, and the unwavering energy can make even the most jaded traveler tap their foot and sway to the beat. The décor mirrors Skadarlija's vintage soul, blending modern accents seamlessly.
Venture into the multi-level Sprat Bar, where every floor offers a unique theme and vibe. Feel the warmth of the rustic wooden interiors or enjoy the fresh air in the al fresco seating area.
It's a literal stairway to hedonistic heaven, and an escalator, just in case your legs give out after one too many 'Sprat Specials'.
Sip on the White Lady cocktail at The Monkey Bar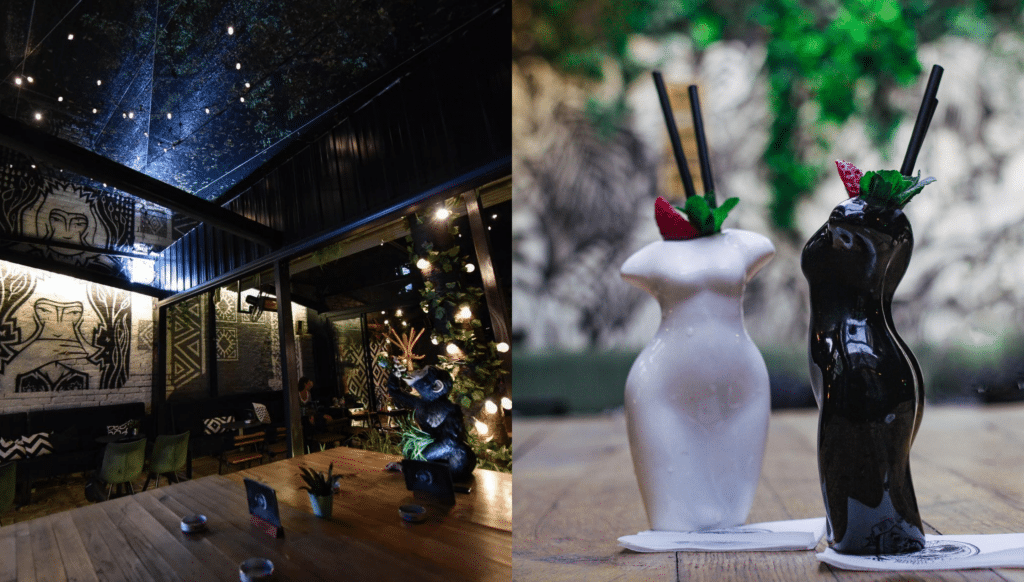 Behold, the White Lady! No, not a spectral apparition floating in the ether, but rather a captivating cocktail that combines simplicity, elegance, and a kick that'll sneak up on you quicker than a party-crashing poltergeist.
Conjured from a bewitching blend of Beefeater gin, triple sec, and lemon juice, the White Lady is the belle of the ball at Monkey Bar Belgrade. This hidden gem in the heart of Serbia's capital is more than just a watering hole; it's a cornucopia of fine drinks, atmospheric decor, and unforgettable experiences.
It embodies sophistication without snobbery, invoking the jazzy verve of a bygone era while also radiating a distinctly contemporary charm.
The bar is famous for its eclectic mix of offerings, from timeless classics to inventive, novel concoctions. It's the sort of place where every sip you take narrates a story and every gulp lets you live it.
Burn up the dance floor at Hype
A clubland saying goes like this: an upscale party hub with multi-genre playlists never fails to succeed. If we listen to this adage, Hype should throw Belgrade's best clubbing sessions – which isn't far from the truth.
With house and R&B beats at its core, the Belgrade nightlife venue ensures every reveler will experience his favorite soundtrack somewhere along the night.
Finish off your night with Skadarlijska Kobasica at Skadarlijske Kobasice
One hero emerges in Belgrade's woozy nightlife: the Skadarlijska Kobasica, turning late-night munchies into a culinary carnival.
It's not just a hot dog, folks. This is the James Bond of sausages – sophisticated, robust, always dressed to kill with pickles sharper than 007's wit, cutting through the meaty richness like a hot knife through butter. Drizzled in a cloak of sauces, this sausage sings a siren song to your booze-bathed belly.
The stage for this epicurean escapade is set at Skadarlijske Kobasice, a charming little nook in the bohemian Skadarlija. Renowned for its vibrant taverns and cafes, it's the perfect backdrop for this tasty spectacle.