Lagos' nightlife translates into an inviting mix of eateries serving local food, upscale cocktail lounges, and VIP clubs.
Starting with Mood's lip-smacking cocktails and ending with Firewood Party Jollof Rice at ASAP Chop, this is how you can experience an amazing night out.
Here's your essential guide to Lagos nightlife.
Enjoy a cocktail-and-view session at Mood
Forget about cloud nine – we're heading straight for cloud 'Mood Lagos'. Far from being your ordinary lounge, the rooftop bar is tucked up in the lap of luxury, offering an eccentric charm that refuses to stay confined within the bounds of gravity.
In a seemingly paradoxical twist, Mood Lagos feels like an edgy treehouse for the glamorous. Here, sleek modern architecture ties the knot with bohemian vibes, and the decor is so invitingly hip, even the most indifferent Instagrammers are bound to give their thumbs some exercise.
With a seamless blend of bamboo and glass, the lofty space speaks of a collision between eco-friendly traditionalism and unabashed modernity.
But looks aren't the only thing that Mood serves. Its drink and food offerings stretch from Nigerian Palm Wine to futuristic cocktails that would make a mixologist's heart sing.
The Lagos nightlife spot is an alluring trap for the city's most intriguing inhabitants – the cool cats, the high-flyers, the free-spirited wanderers, and those with an insatiable appetite for life's finest offerings.
Snap, filter, post at The Harvest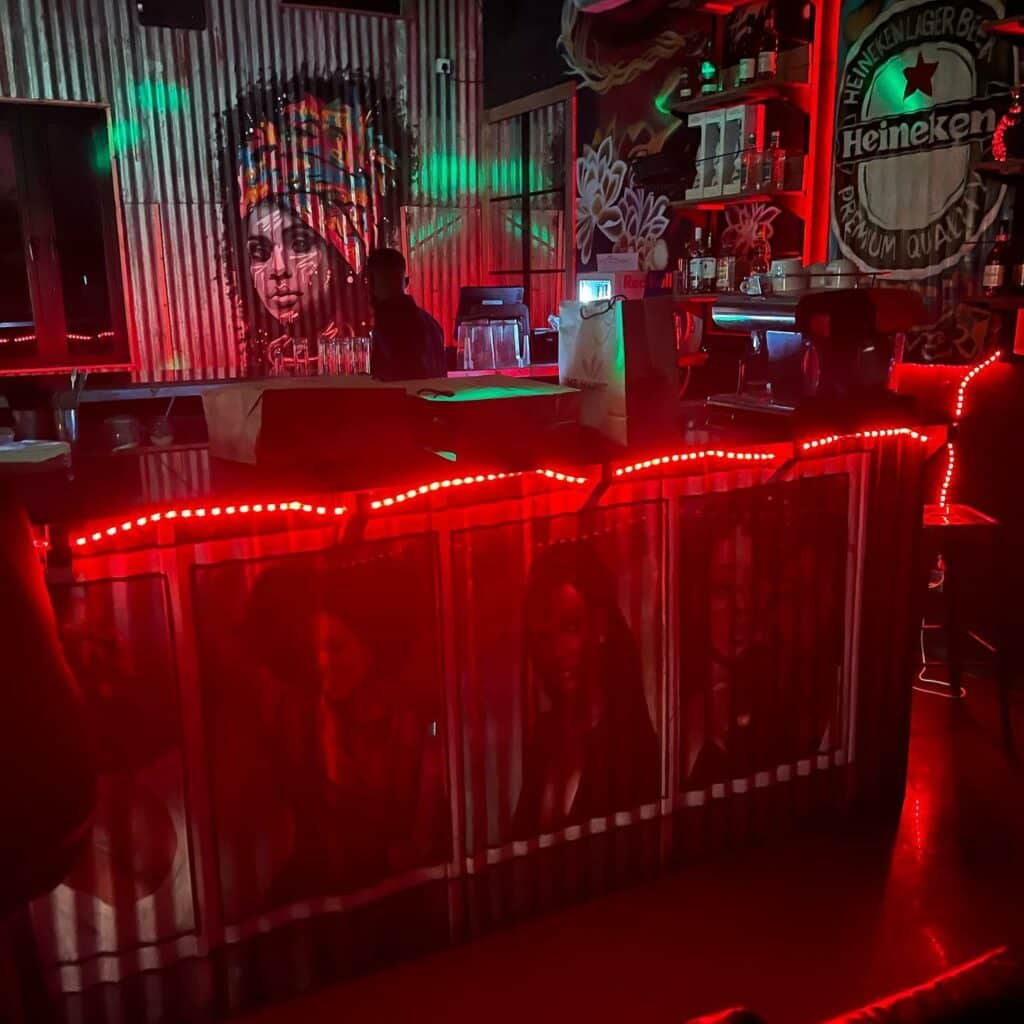 Although it looks like your mainstream gastropub from the outside, The Harvest is the definition of Instagrammable chic. Walking into the place feels like stepping into a Vogue editorial, if that editorial was designed by the love child of Picasso and a Boho-chic fashion influencer.
It's brimming with an artsy-fartsy mixture of earthy vibes and eye-catching murals, the kind of decor that makes your heart and camera click simultaneously.
Journey into Lagos' music heartbeat the New Afrika Shrine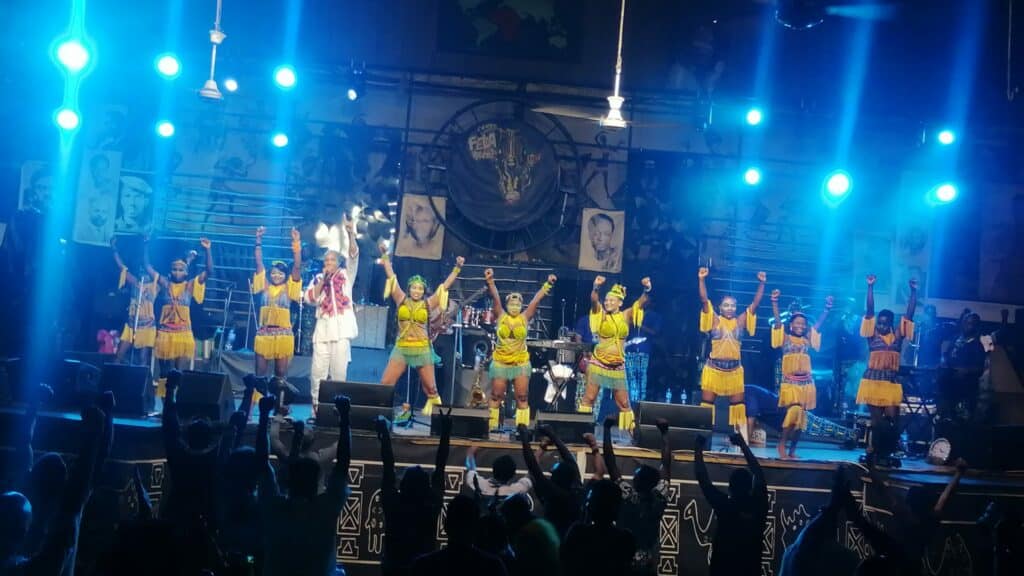 More than just an open-air entertainment theater, the Shrine proudly carries the heritage of Afrobeat pioneer Fela Kuti, radiating the rhythm of music, culture, and social discourse through the pulsating heart of Lagos.
As evening pulls its dark curtain over the city, the Shrine kindles its own starlight, a fusion of nostalgic echoes from the original Afrika Shrine and the invigorating cadence of contemporary tunes.
Under the baton of Femi Kuti, the Lagos nightlife hotspot swings to a symphony that transcends time, blending the past, present, and future into a harmonious overture.
Beyond being a tribute to the past, the Shrine is a cradle for the future. As an incubator for emerging talents, it encourages the growth of innovative genres like Afro-synth, which marries traditional Nigerian beats with futuristic synthetic rhythms.
No night at the Shrine is complete without savoring its culinary offerings. With a mix of local and continental dishes and the famed palm wine, the Shrine guarantees a gastronomical delight, ensuring the night is a feast for all senses.
Explore Victoria Island's nooks and crannies
Much like a theater production transitioning from act to act, Victoria Island's scenery morphs from business district to the stage of Lagos's nightlife.
With the hustle of the financial district on pause, the sound of clinking glasses and buzzing conversation rises as the curtain lifts on the grand spectacle of Victoria Island after dusk.
An affluent oasis during the day, it transforms into an alluring playground at night, akin to a Gatsby-esque extravaganza where the spirit of the 20s fuses with modern nightlife.
This is where the aroma of fine dining marries the street-side sizzle of Nigerian culinary staples. It's where your palate can embark on an international journey, delighting in European flair before returning home to the comforting taste of ofada rice in ritzy restaurants.
But Victoria Island isn't merely confined to gastronomic indulgence.
Club DNA is a rhythmic powerhouse that sends shockwaves through the night. It's an electrifying haven where the DJ's tracks become the heartbeat of the Island, reverberating through the walls into the vast Lagosian night.
On the other hand, Club Quilox is an enchanting ballad of nocturnal elegance. Its sumptuous atmosphere, pulsating music, and timeless spectacle of celebration create an ambience reminiscent of an unending dance, where every move is a moment of enchantment.
In contrast, Giulio The Lounge is a sophisticated sonnet. Its charm lies in the marriage of classic grandeur and contemporary chic.
Sip on the Purple Cloud cocktail at W Bar Lagos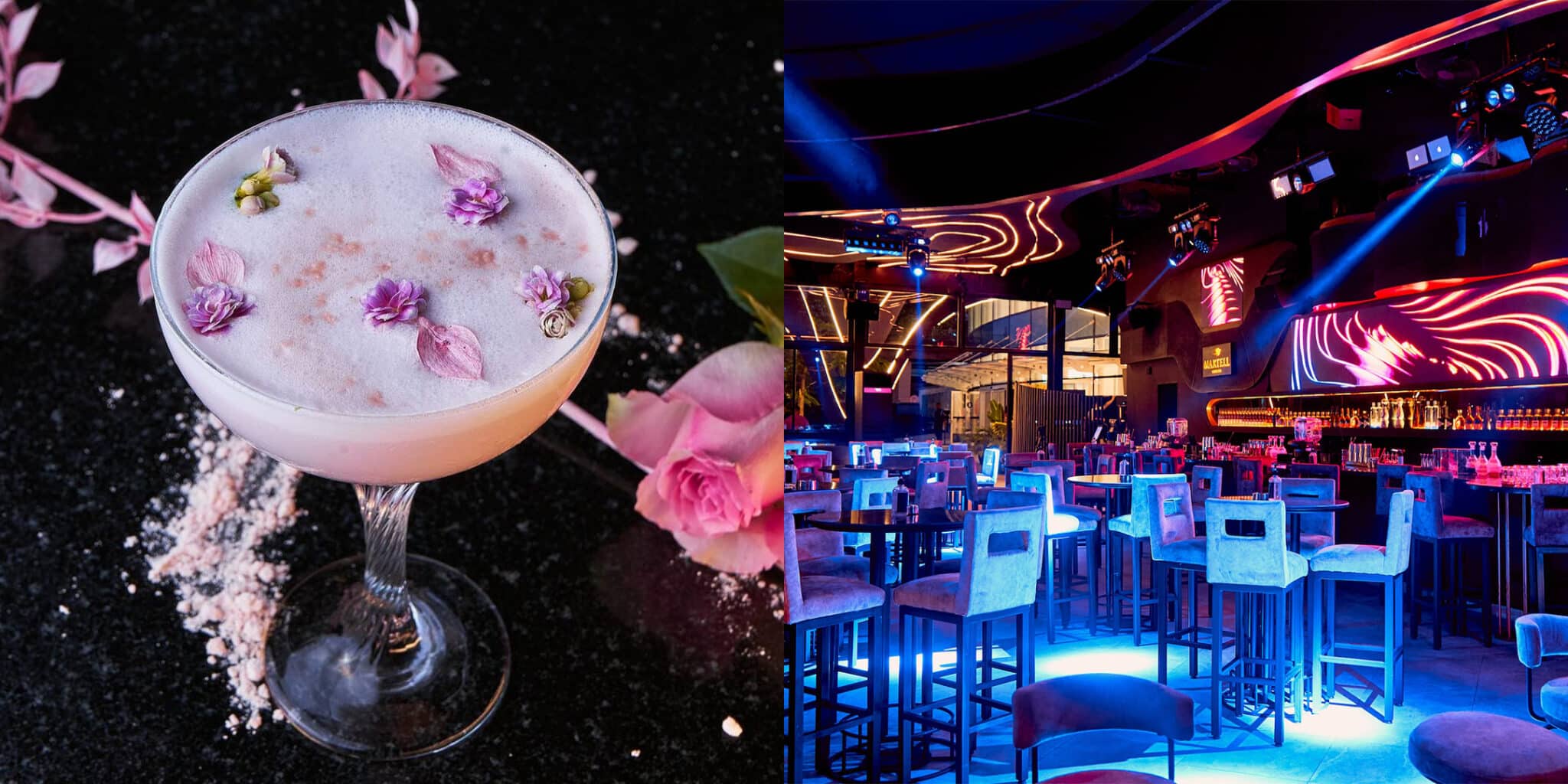 Bold and foamy, The Purple Cloud is the distilled essence of innovation and craft. It wields a vibrant ensemble of ingredients: wild berries, tequila, a touch of lime, and a judicious blend of secret spices.
Now, it would be a disservice to discuss the Purple Cloud without acknowledging the stage on which this intriguing cocktail is set – the W Bar Lagos. This establishment strikes a delicate balance between modern elegance and rustic charm, creating an atmosphere that feels both contemporary and timeless.
The industrial chic aesthetic, punctuated by warm, intimate lighting, provides a backdrop that is as memorable as the cocktails it serves.
While the Purple Cloud might steal the limelight, W Bar's drink menu offers an array of inventive cocktails that keep patrons coming back.
From bold gin infusions and rum cocktails that are a testament to local flavors, to timeless classics that please traditional palates, each drink is an embodiment of the bar's commitment to quality, creativity, and a taste experience that surpasses expectations.
Blow off some steam at Rumors
As the epitome of Lagos' upscale nightlife, Rumors is all about VIP treatment. Picture a place where champagne showers, sleek couches, and high-energy crowds co-exist and you won't be far from the club's vibe.
Naturally, the dancing spot pulsates with hypnotic afrobeats and the latest local hits, ensuring a culturally-rich clubbing experience.
Indulge in Re-invented Firewood Party Jollof Rice at ASAP Chop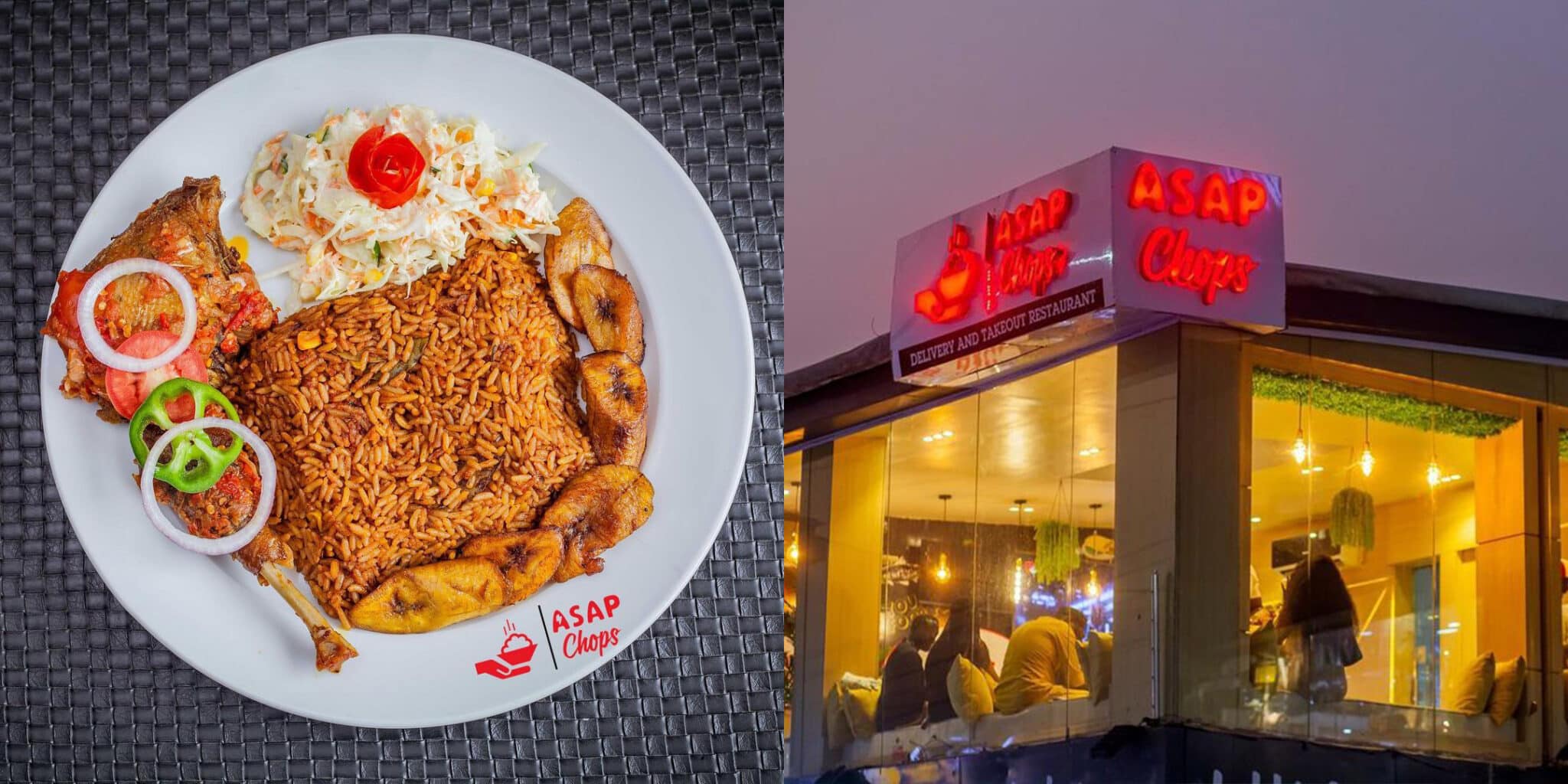 Imagine your classic firewood party jollof rice, a symphony of parboiled rice stirred into a rich, simmering blend of tomatoes, bell peppers, onions, and the heat of scotch bonnet.
Now, add a twist – a garnish of suya-spiced shredded chicken, that perfect blend of spicy, smoky, meaty satisfaction. This jollof doesn't just feed your tipsy belly, it romances it, making it forget its fermented frenzy.
ASAP Chop Lagos is the gastronomic haven where your midnight cravings find satiation. This is no average eatery, but the nightlife's Michelin-starred superhero. Decked out in a daring blend of tradition and trend, it's a haven for those seeking midnight salvation through culinary indulgence.