When one talks about Bueno Aires' nightlife, they usually refer to its high-energy clubs, late-night eateries, and permanently buzzing vibes.
Starting with Trade Skybar's lip-smacking cocktails and ending with Lady Burger at Carrito El Chapulin, this is how you can experience an amazing night out.
Here's your essential guide to Buenos Aires nightlife.
Indulge in a cocktail-and-view session at Trade Skybar
In the throbbing heart of Buenos Aires, there's a place where patrons can seemingly 'trade' their terrestrial confines for an ethereal perch above the urban sprawl.
Appropriately named Trade Sky Bar, this multi-tiered, art deco-inspired playground on the top floors of the Comega Building is drawing whispers in Buenos Aires' bustling nightlife and gastronomy scenes.
From the open-air terrace, the vistas are nothing short of spellbinding. The 360-degree view appears like a love letter to Buenos Aires, encompassing the towering Obelisk, Luna Park, the verdant swathes of the Puerto Madero Ecological Reserve, the stately Casa Rosada and the glistening Río de la Plata.
With a triad of experience across three levels, Trade Sky Bar stretches from the 19th to the 21st floor. The seating arrangement makes the most of these cinematic views.
Curved leather armchairs, reminiscent of a ritzy bygone era, offer patrons the chance to lounge luxuriously while drinking in both the breathtaking sights and their expertly crafted cocktails.
Trade's menu mirrors the lofty heights of its location with international and contemporary flavors reaching new culinary altitudes. The range spans from mouth-watering Argentine and Italian dishes to the elegant subtlety of Nikkei cuisine.
Capture your next Instagram addition at Casa Rosada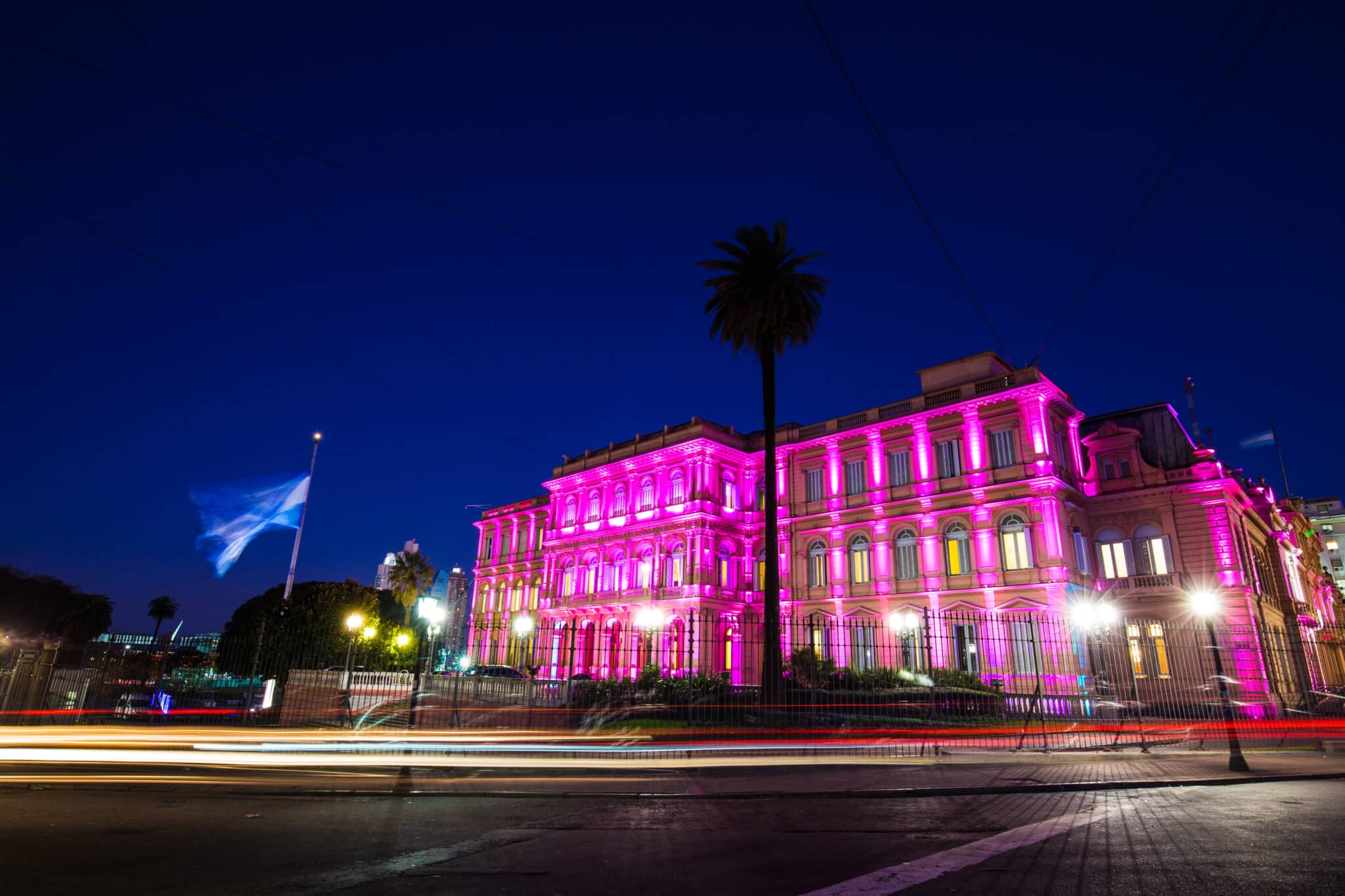 Isn't it about time your IG feed donned some Rosada-tinted glasses? Far from being a Barbie house fairytale, Casa Rosada is a real-world, pop-culture, political history dipped in a tickle-me-pink hue.
Its bold and blush-tinted facade stands as a tribute to Argentina's blend of old and new. The architecture is a sizzling tango of French and Italian styles, replete with palm-dotted patios, elegant arches, and grand balconies. Let's just say, if walls could talk, these would be reciting love sonnets.
Check out the street art in La Boca
Ever heard the saying, "The freaks come out at night"? Well, Buenos Aires' nightlife, it's not the freaks you should be worrying about. It's the captivating allure of spray cans, passion, and public property that emerges under the cover of darkness.
Before you recoil, murmuring something about safety or common sense, hear us out. No need to fret about the night owl riffraff. In fact, in La Boca, the night only amplifies the neighborhood's radiant character.
This is where Buenos Aires' tango-infused heartbeat echoes off cobblestone streets, and color-drunk buildings seem to sway rhythmically under the starlit sky. The whole district is a carnival of sights, where the day's reality gives way to the night's vibrant, artful fantasy.
La Boca's streets here are a gallery of open-air masterpieces and an asphalt-wrapped Louvre of sorts.
What makes its street art so compelling, besides its large-scale grandeur, is the narratives they weave. Buenos Aires is a city of stories – some heard, many whispered, and countless yet unsaid. These murals shout, whisper, and hint at tales of rebellion, politics, and football, all splashed onto walls in kaleidoscopic hues.
Put on your walking shoes and explore Palermo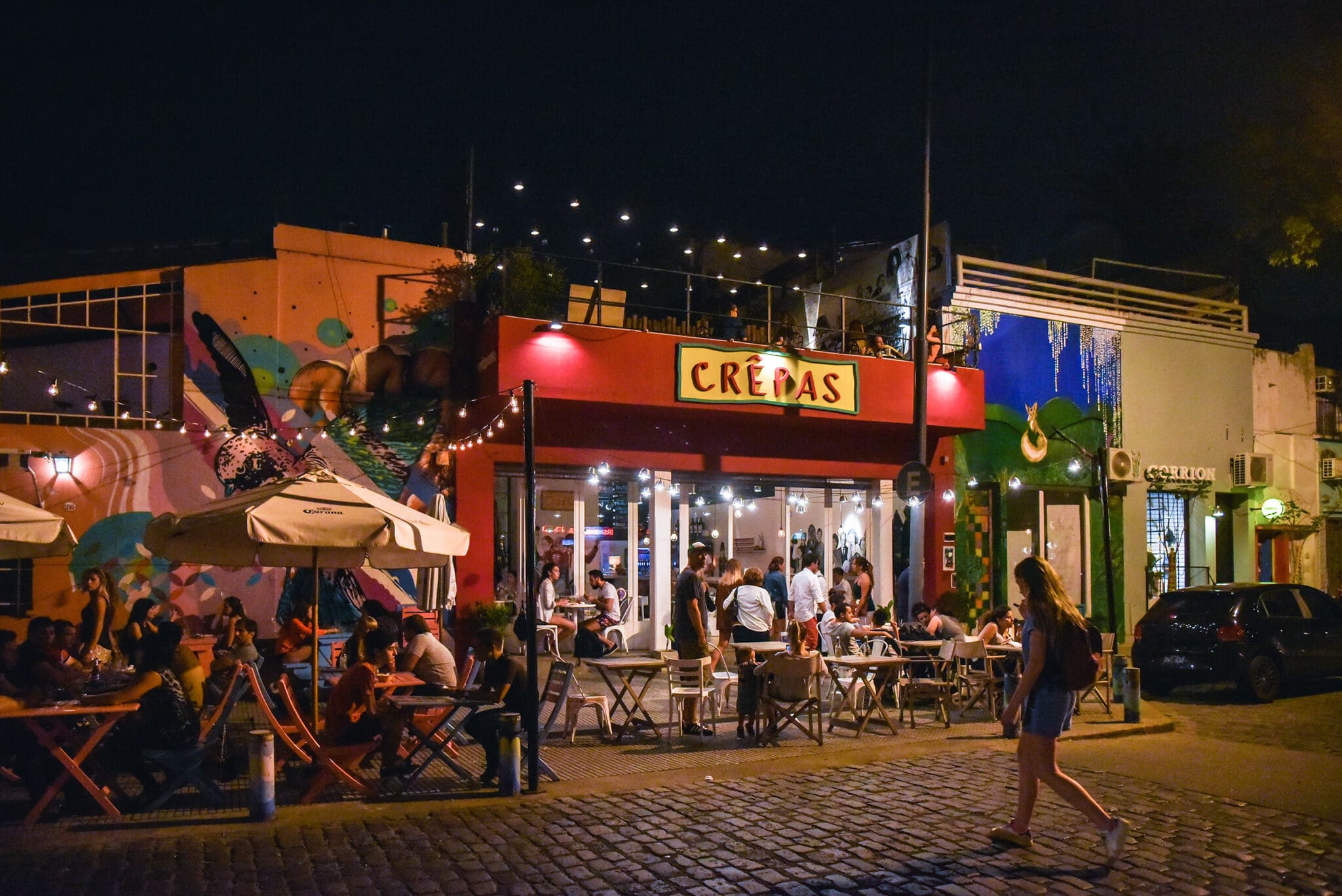 Palermo isn't just a barrio, it's a state of mind. The largest district in Buenos Aires, it morphs from a serene and historical wonder by day to a pulsating carnival of delights by night.
It's a cheeky matryoshka, home to trendy sub-districts like Palermo Soho and Palermo Hollywood, each offering its own brand of nocturnal enchantment.
Wandering through Palermo, you'll notice tree-lined streets adorned with casas chorizo – narrow single-story houses built in the 19th century. They stand like silent custodians of Palermo's history, now coveted for renovations that breathe a new life into them.
In the past, expats streamed into this corner of Buenos Aires and fell under its spell. Soon, locals caught on and now Palermo buzzes with a harmonious blend of both. Between the clink of cocktail glasses and the mesmerizing hum of conversations, Palermo weaves an enticing tapestry of shared experiences and collective joy.
Once the stars appear, Niceto Vega – Buenos Aires' main nightlife artery – beckons partygoers and music aficionados alike. Want to be in the thick of it all? Club 69 is where the city's heartbeat finds its rhythm.
For those seeking an auditory treat, Makena Cantina Club serves a feast of live music that'll make your soul tap its feet. Then, when the weekend rolls in, the bayside bar, Terazas del Este, shapeshifts into the Bayside Nightclub, ready to serve a cocktail of starlight, music, and exhilarating memories.
Stalker exudes an allure that enthralls the senses, and Kika, well, let's just say if its dance floor could talk, it'd be an endless fount of thrilling tales.
Give The Unusual Garden cocktail a try at Presidente Bar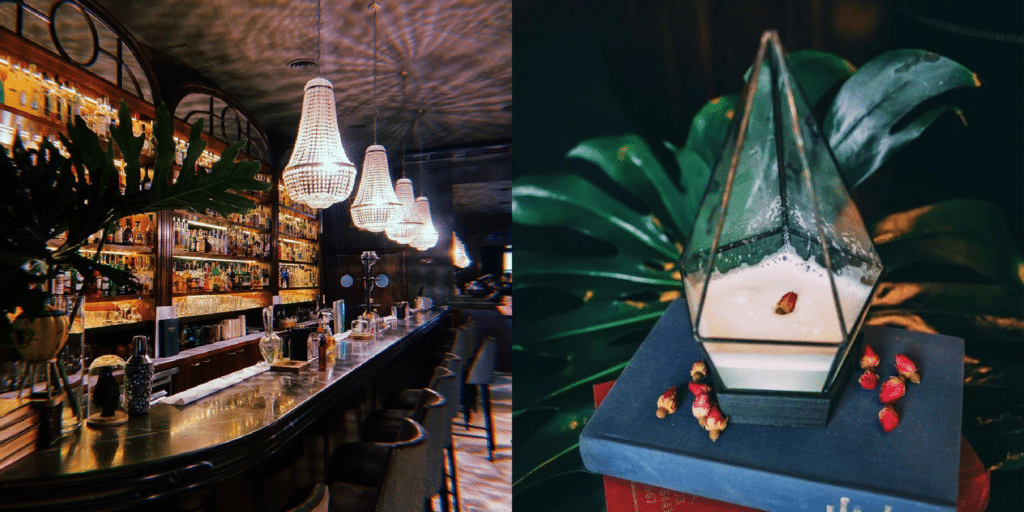 A playful potion of gin, infused with a twist of mischief in the form of a sharp citrus zing, a cucumber crunch, and a dash of rose perfume, the Unusual Garden is what Mother Nature would serve at a boozy soiree.
Swirling this garden-in-a-glass is the prestigious Presidente Bar, Buenos Aires' answer to the great Gatsby himself. Since 2017, this social sanctuary has been wooing the city's glitterati with its flamboyant flapper-era vibes.
Amid the soft glimmers of opulent chandeliers and the intellectual lure of a private library-style bar, Presidente does more than merely serve cocktails; it crafts experiences.
Innovation and tradition here walk hand-in-hand, like old lovers, and dishes served by Chef Martín Ávalos share the spotlight with drinks that deserve their own Instagram filters.
At Presidente, you can sip on classics like a Negroni or sip on singnature concotions like Entre las Nubes.
The Buenos Aires nightlife temple is the go-to haunt for the hip and happening, as well as the discerning, old-world sophisticates who appreciate the finer things in life.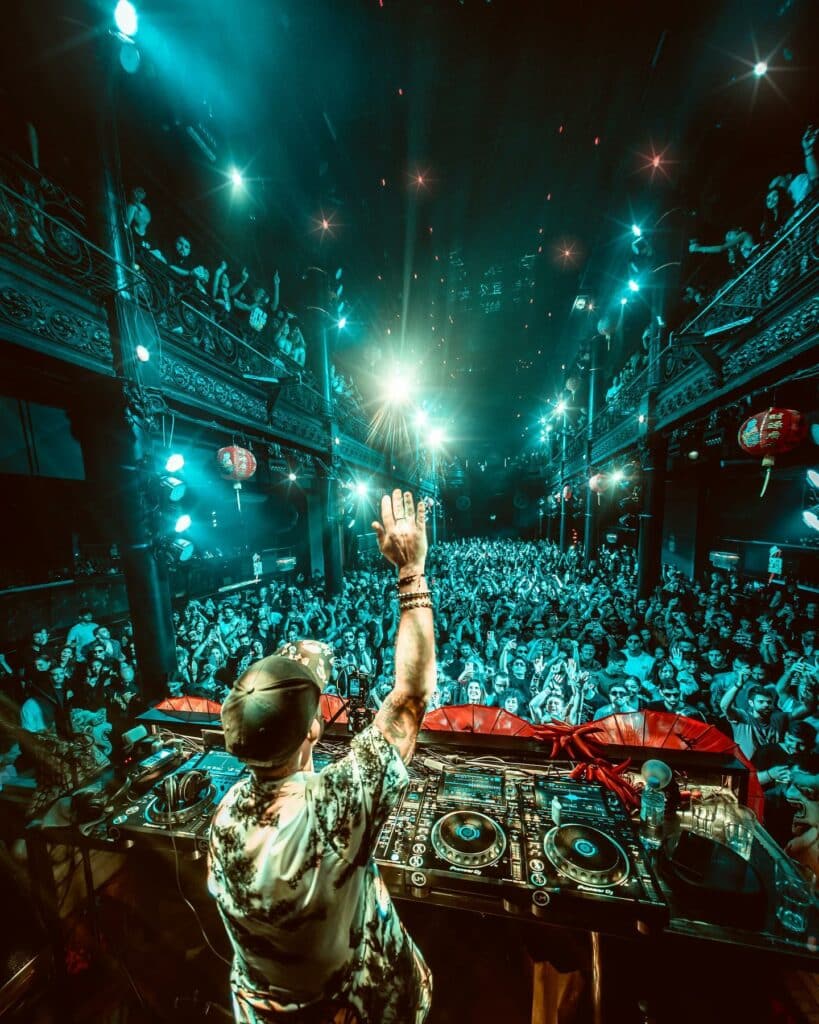 Similar to London's Printworks, Palacio Alsina strikes a balance between industrial aesthetics and nostalgic feels when it comes to decor. Boasting a jaw-dropping capacity of 2,000 party animals, it's easy to see why the nightlife spot is one of Buenos Aires' biggest clubs.
When it comes to audio-visual systems, Palacio Alsina does anything but disappoint. Expect nothing but boomin' beats, crisp sounds, and electronic hits.
Finish off your night with Lady Burger at Carrito El Chapulin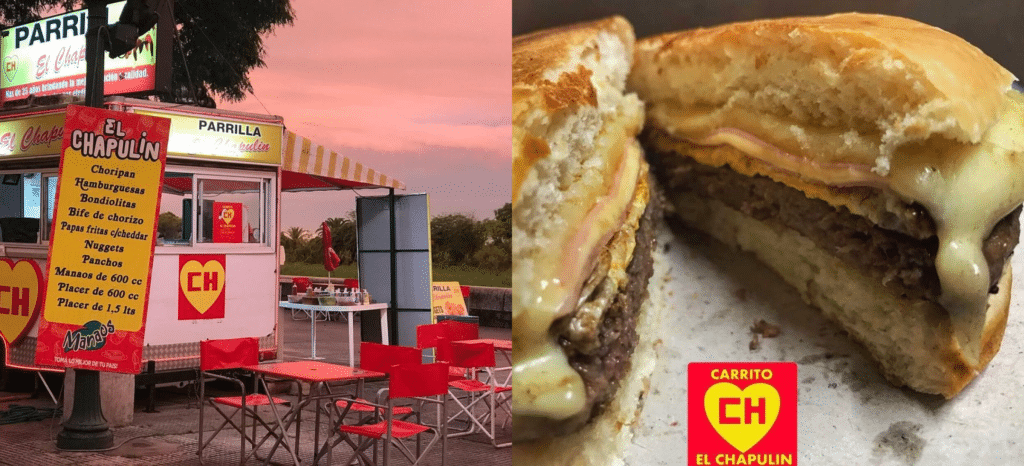 When the revelry begins to ebb and your belly sings a hunger aria, there's one name that steals the limelight. Not just a burger, but a celestial body on a brioche bun, garnished with an egg, cheese, ham, provoleta, and your choice of salads, Lady Burger is a mezzo-soprano of flavours.
Its creator? Carrito El Chapulin, a hidden gem in Buenos Aires' shimmering nightlife. Its decor marries urban chic with a dash of street-side grunge, proving that authenticity needn't be polished to be precious.
Dim lights flicker over graffiti-strewn walls, each table a cozy corner for conversations that are as flavorsome as the burgers.